by John Dye
The green singlets with white lettered "WILSON" on the front were much in evidence as Woodrow Wilson High School of Washington DC won three relays, as well as a US#4 long jump of 23-0.25 by Ivan Anderson.
Boys 4x400 3:26.4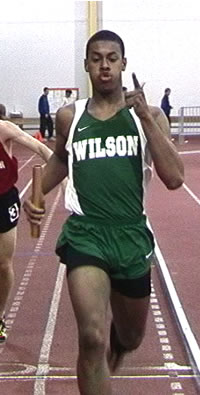 Wilson anchor Erik Green gives the "Number One" signal as he crosses finish line. He anchored both the 4x400 and 4x200 wins
Boys 4x200 1:32.79
It figured to be close, as Wilson (1:32.74 at Princeton) and Centreville (1:32.77 at Montgomery Inv) came in next to each other in the DyeStat Elite national rankings. Centreville led off with its ace, soph Daniel Bailey, 6.69 winner of the 55 meter dash earlier in the evening. Bailey gave Centreville the lead, which held up through two legs. But Wilson jr Marco Aguilar seized the lead on the third lap and anchor Erik Green preserved it.
Left, 1st exchange, Centreville leads.
Below, Aguilar hands off the lead for Wilson
Girls 4x400 4:10.1
Wilson exchange (left)
and anchor (below)