Brian Dalpiaz - hottest distance runner
in the nation, but not satisfied
by John Dye
After today's victory in the Millrose mile qualifier, Sayville NY jr Brian Dalpiaz had this scorecard for 3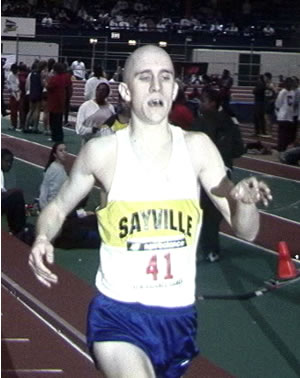 weekends in the Armory:
1/05 Hispanic Games - 4:16.71 mile
1/12 Stanner Games - 9:00.25 3200 meters
1/19 New Balance Games - 4:17.03 mile
But he wasn't satisfied. "I was hoping for 4:13," Dalpiaz said. That hope probably vanished when Marc Pelerin NJ (US#1 at 4:15.16) scratched, and Shane Stroup was a no show because of the snow storm in Maryland. Stroup's big kick would have made for a more interesting (and probably faster) finish. Dalpiaz finishes each race without emotion or apparent strain, so he seems to have something in reserve if challenged. That may come February 1 in Madison Square Garden, when Auburn WA sr Chris Lukezic (4:08.82 in 2001 outdoors) and Berkeley Prep FL sr Rolf Steier (3:53.62 1500m, equivalent to a 4:11 mile, at the 2001 World Youth Championships) join the Eastern elite in the Millrose Games high school mile. Even without top 2001 returnees Bobby Lockhart VA, Bobby Curtis KY, and Shane Stroup MD, the Millrose mile should be a crowd pleaser. Lockhart is training to qualify for the World Junior Cross Country championships as the USATF Winter Nationals in Washington February 9, and Curtis and Stroup declined invitations to Millrose. Dalpiaz is probably stronger at the 2-mile distance, where he is gunning for 8:50 this year outdoors.
In today's race, Dalpiaz was not challenged after he recovered from being boxed in on the first lap and took the lead on lap 2. Dalpiaz pulled the field into the fastest mile of the year, with two more runners under 4:20. Ocean City NJ jr John Richardson barely held off South Lakes VA sr Richard Smith in a photo finish for second, 4:19.63 to 4:19.64, and Vinny Ambrico, Choate Rosemary CT, was a close fourth in 4:20.36.
Splits:
Lap
Elapsed
Splits
Leader

1

32.5

32.5

Smith

2

64.8

32.3

64.8

Dalpiaz

3

Dalpiaz

4

2:07.4

62.6

2:07.4

Dalpiaz

5

2:39.5

32.1

Dalpiaz

6

3:12.2

32.7

64.8

Dalpiaz

7

3:44.8

32.6

Dalpiaz

8

4:17.03

32.2

64.8

2:09.6

Dalpiaz
The start - from left: Vinny Ambrico CT (red), Richard Smith VA (blue), Alex Bloom CT,
John Richardson NJ (red), Brian Dalpiaz NY, and Chris Platt NJ (black).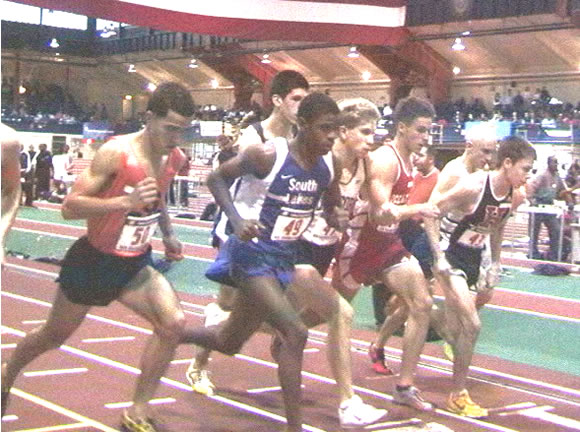 End of lap 1 - Richard Smith VA (blue) and Vinny Ambrico (Choate CT)
set the pace as Dalpiaz is buried behind 8-9 runners.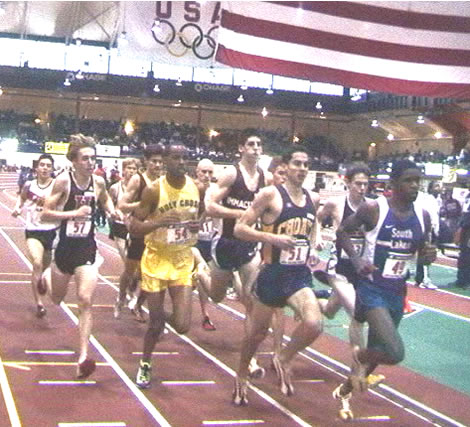 End of lap 2 - Dalpiaz digs out of hole and settles into the lead to stay.

The finish (read these photos from right to left):
Dalpiaz wins, with John Richardson NJ (red) moving into second in mid-stretch. Richard Smith VA (blue), who wasn't in the right hand picture, closed with a rush and almost caught Richardson for second.
Varsity Boys Invitational Mile
1 - Sayville 4:17.03* Meet Record
Bryan Dalpiaz
2 - Ocean City 4:19.63
John Richardson
3 - South Lakes 4:19.64
Richard Smith
4 - Choate Rosemary 4:20.36
Vinny Ambrico
5 - Haddonfield 4:23.15
Skip Stilles
6 - Immaculate Heart 4:23.38
John Mohn