Everyone leads, but Lukezic leads last
by John Dye
It seemed as if no one wanted this race. Six of the nine runners had the lead at some point, but all relinquished it up except one.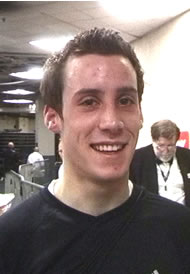 Auburn WA sr Chris Lukezic (left) made his move on lap 9 (of 11) and was in command after that to win in 4:21.14.
Sayville NY jr Brian Dalpiaz 4:22.41, who trailed the entire field after 3 laps, used himself up getting to the lead and gave way to fast closing Alex Tatu VA 4:21.50 on the last turn. Dalpiaz complained about the small oval. "It's too tight, no straights. You just keep turning." Tatu said he usually starts a kick with 400 meters to go, but because of the small oval, he waited until the last lap. He still enjoyed his trip to the big city, saying "I never ran before so many people before."
Not used to running indoors, Lukezic was content to watch his Eastern foes for most of the race, even though he had the best PR in the race. The result was a slow race, with no one running up to their best times. Lukezic had only one race under his belt before tonight and no speed work. "I wasn't worried about time tonight," Lukezic said. "Last year, I ran 4:31 indoors, but I was OK outdoors (4:08.82)." Now, he will prepare for a faster time at the Nike Indoor Classic at Landover MD March 9-10.
What next for Lukezic? sub-4?
"I probably shouldn't say this, but my goal this year is to run below 4 minutes for the mile," Lukezic said after the race. If you are a chartist in the stock market, here is the evidence:
Sophomore - sub-4:20
Junior - sub-4:10
Senior - sub-4:00 ?
"He can do it," said his coach, Greg Isham.
It's obvious that Alan Webb's historic achievements last year, becoming the first prep under 4:00 in 33 years, has raised the sights of high school milers.
The race in pictures, lap by lap:
| | |
| --- | --- |
| Lap 1 - big pack | Lap 2 - Platt, Steier, Keino |
Lap 3 - Pelerin, Platt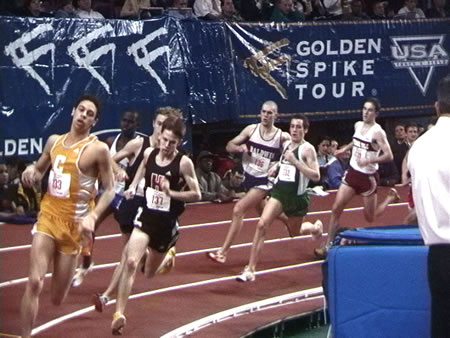 Dalpiaz trails the entire field.

Lap 4 - Pelerin, Keino.

| | |
| --- | --- |
| Lap 5 - Pelerin, Keino, with Dalpiaz now in contention. | Lap 6 - after 2:11 half, still one big bunch - Pelerin, Keino, and Dalpiaz, with Lukezic up to 4th. |
| Lap 7 - Dalpiaz moves on top, and Tatu joins him, with Steier in 3rd. | Lap 8 - Tatu moves on top, followed by Dalpiaz, Lukezic, and Steier. |
| | |
| --- | --- |
| Lap 9 - After Steier leads briefly, Dalpiaz moves up again, but Lukezic is close in 3rd. | Lap 10 - After making his move on lap 9, Lukezic leads Dalpiaz. |
Lap 11 backstretch - Lukezic in command, with Tatu moving up on Dalpiaz for 2nd.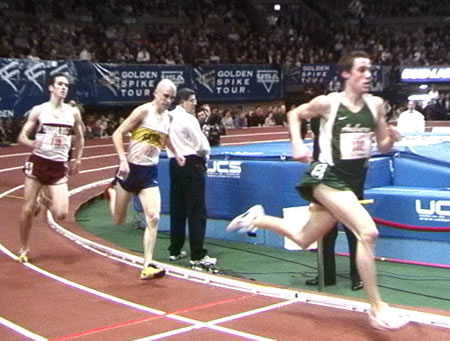 Millrose HS Boys Mile results
1. Chris Lukezic WA 4:21.14
2. Alex Tatu VA 4:21.50
3. Brian Dalpiaz NY 4:22.41
4. Marc Pelerin NJ 4:23.01
5. Rolf Steier FL 4:23.69
6. John Richardson NJ 4:26.08
7. Chris Platt NJ 4:27.66
8. Andrew Keino VA 4:27.97
9. Dan Mazzocco PA 4:31.08
The field
BRIAN DALPIAZ, Sayville HS, Sayville, New York
ANDREW KEINO, Fork Union Military Academy, Fork Union, Virginia
CHRIS LUKEZIC, Auburn HS, Auburn, Washington
DAN MAZZOCCO, Baldwin HS, Pittsburgh, Pennsylvania
MARC PELERIN, Cherokee HS, Marlton, New Jersey
CHRIS PLATT, Haddonfield HS, Haddonfield, New Jersey
JOHN RICHARDSON, Ocean City HS, Ocean City, New Jersey
ROLF STEIER, Berkeley Prep, Tampa, Florida
ALEX TATU, Thomas Dale HS, Chester, Virginia