High School Highlights
Boys - Walnut sr Ronald Hill 23-5.5 US#4t. Taft CA sr Billy Nelson 9:13.8 2Mile US#4. Poly Long Beach CA sr David Sutton 6-8 HJ. Aaron Corbett, Edison 15-0 PV (Mike Landers 15-0). Poly Long Beach 8:12.8 4x880y. Don LUgo sr Raphael Asafo-Agyei 1:57.13 880y. Cerritos sr Nathan Adkins 45-9.75. Helix CA jr Reggie Bush 5.87 50m (Trabuco Hills CA sr Matt Bruno 5.90).
Girls - LA Baptist CA jr Allison Felix 6.43 50m US#6t all time (Poly LB CA soph Shalonda Solomon 6.50). Maria Carillo CA sr Jenny Aldridge 4:54.19 mile US#2 Head Royce CA sr Clara Horowitz 4:58.38 US#8). Arroyo Grande CA sr Rachel Viau 12-6 PV US#5t, 3 more over 12 feet. Dos Pueblos sr Kaylene Wagner 5-8 HJ US#4t. San Dieguito CA sr Jenna Timinsky 2:13.6 880y.
The L.A. Invitational has a full slate of high school events for both boys and girls. 50-meters, 50-meter hurdles, 500-yards, 800-meters, mile, 2-mile, 4 x 160 relay, 8 x 160 relay, 4 x 400 relay, 4 x 800 relay, shot put, discus (shot and discus are outdoors at USC), pole vault, high jump, long jump, triple jump.
Billy Nelson 9:13.8 2Mile US#4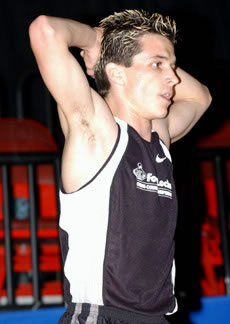 photo by Bill Leung
Best Marks - performances qualifying for DyeStat Elite 2002 indoor national ranking
(Many events were conducted in yards and were not converted, except for the 880y to 800m. Throwing events were not ranked because they were conducted outdoors.)
Event Mark By

BOYS
B-800 1:56.43 c Asafo-Agyei, Raphael, 2002, Don Lugo Chino CA
B-800 1:57.11 c Beglaryan, Argishti, , Glendale CA
B-800 1:57.7 c Patterson, Travis, 2002, Royal CA
B-2Mile 9:13.8 Nelson, Billy, 2002, Taft CA
B-2Mile 9:31.3 Batres, Mark, 2002, Don Bosco CA
B-2Mile 9:32.7 Robles, Juan, 2003, Valencia CA
B-2Mile 9:36.6 Napper, David, 2003, Cypress CA
B-2Mile 9:37.8 Mills, Randy, , St. John Bosco CA
B-HJ 6' 8 Sutton, David, 2002, Poly LB CA
B-HJ 6' 6 Fekenheinde, T.J., , Eastside Christian CA
B-HJ 6' 6 Nelson, Justin, 2002, Murrieta Val CA
B-LJ 23' 5.5 Hill, Ronald, 2002, Walnut CA
B-LJ 22' 6.75 McSwain, James, 2002, Las Vegas NV
B-LJ 22' 3.5 Casupanan, Denny, , Tustin CA
B-TJ 45' 9.75 Adkins, Nathan, 2002, Cerritos CA
B-TJ 44' 10.5 Weatherall, Jason, 2002, Banning Wilm CA
B-PV 15' 0 Corbett, Aaron, , Edison CA
B-PV 15' 0 Landers, Mike, 2002, Golden Val CA
B-PV 14' 6 Moore, David, 2002, Miramonte CA
B-PV 14' 6 Wilcher, Anthony, , Chino CA
B-PV 14' 6 Ruark, Adrain, , Point Loma SD CA

GIRLS
G-800 2:13 c Timinsky, Jenna, 2002, San Dieguito CA
G-800 2:13.5 c Kretzschmar, Yfa, 2002, University-SF CA
G-800 2:21.7 c Hampton, Whitney, 2005, El Toro CA
G-Mile 4:54.19 Aldridge, Jenny, 2002, Maria Carrillo CA
G-Mile 4:58.38 Horowitz, Clara, 2002, Oakland CA
G-Mile 5:08.02 Vince, Emily, 2002, Peninsula CA
G-Mile 5:16.14 Pugmire, Shalice, 2002, Esperanza CA
G-HJ 5' 8 Wagner, Kaylene, 2002, Dos Pueblos CA
G-HJ 5' 6 Gonder, Desirae, , Warren MS, Bakersfield CA
G-PV 12' 6 Viau, Rachel, 2002, Arroyo Grande CA
G-PV 12' 0 Woepse, Elizabeth, 2004, Mater Dei S-Ana CA
G-PV 12' 0 Rivera, Michele, , Birmingham Vnuys CA
G-PV 12' 0 Costa, Kira, 2003, Lemoore CA
G-PV 11' 6 Nichimura, Katie, , Bella Vista FO CA
G-PV 11' 0 Koffman, Pauline, , Arcadia
co-meet director Don Franken's announcement
The 42nd Los Angeles Invitational indoor track meet, the nation's
second oldest indoor track meet and the only undercover meet on the West
Coast, will take place Saturday, February 23, 2002, at the Los Angeles
Sports Arena.
The L.A. Invitational will feature Olympic caliber athletes and
collegiate standouts from renowned national programs such as USC, UCLA,
Stanford, Arizona, etc., competing in the night Invitational beginning at 6
p.m. The L.A. Invitational is also one of the great high school
competitions in the nation, showcasing nearly 2000 athletes from 500
Southland schools along with top talent from throughout the state and the
country. High school and youth (age group) competition begins at 11 am.
A total of 105 Olympic gold medalists have competed in the L.A.
Invitational over the years. Their names were inscribed on The Legends Lane
on the newly refurbished track last year. Such Hall of Famers as Wilma
Rudolph, Bob Beamon, Bob Seagren, Parry O'Brien, Jim Ryun, Kip Keino, Carl
Lewis, Steve Scott, Eamonn Coghlan, Henry Rono, Bob Hayes, Renaldo
Nehemiah, Randy Barnes, Evelyn Ashford, Jackie Joyner Kersee, Gail Devers,
and many more have trod the Sports Arena board.
"The L.A. Invitational has produced dozens of world and U.S.
records over the years, the last a 5.65 50-meter mark by Maurice Greene in
1999, which tied the world record" said meet Co-Chairman Don Franken. "This
tradition of excellence will continue, as we have sent out invitations to
some of the world's top performers."
Tickets for the Los Angeles Invitational will be on sale in
January at the L.A. Sports Arena Box Office, 3939 South Figueroa Street Los
Angeles, CA 90037; tel. (213) 748-6131.