Melissa Donais' second surprise
by John Dye
Melissa Donais said she likes to get out in front and push the pace. "At least I get some of the glory. And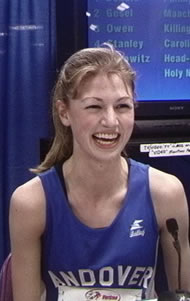 even if I don't win, I get a better time." In the Millrose mile she claimed all the glory in front of the big crowd at Madison Square Garden, getting both the win and the time -- a 5 second PR of 4:53.90, fastest in the nation this year and 4 seconds ahead of runnerup Liz Gesel NH.
Seizing the lead on the first turn, Donais just kept getting further and further ahead, and the race announcer counted down the laps to go until the gun lap arrived with Donais holding an insurmountable lead.
"I thought she was the rabbit," said Clara Horowitz, who came from California to run against the mostly Eastern field. Liz Maloy, Holy Names NY, and others were left shaking their heads, "I've been beating her all year . . . " Even so, Maloy got a PR 4:59.86, her first time under 5 minutes, as she was the 6th of the field of 9 to break 5:00.
Donais was not fazed when the announcer called a split of 2:24 for a half mile. "For a second, I thought, ooh that's a bit fast. But you can't always rely on splits, and being 11 laps instead of 8 it's kind of hard to judge pace. So I thought, ignore it. You know you're running fast. I felt great, and as we went round and round I kept getting more and more excited."
Donais scorned tactical racing. "Who wants to just hang back and steal a race in 5:12? You have to gamble a little."
Meeting the media afterward, Donais was shaking her head just like her competitors. "I'ts incredible. I never expected to win this race. I just broke 5 for first time (at Yale on her birthday, January 19, in front of her future coaches)." And the small Garden track is not conducive to good times (see the boys race, which was one of those tactical races Melissa scorns).
The stunning result, Melissa's first big meet win this season, called to mind Melissa's other big surprise -- winning the Foot Locker Northeast regional as an unknown sophomore in 1999. "I still tell everybody about that," Donais said. "It's like it happened yesterday."
Now she has something else to tell them.
First turn - the only time it was close, as Donais (blue) sprints to the lead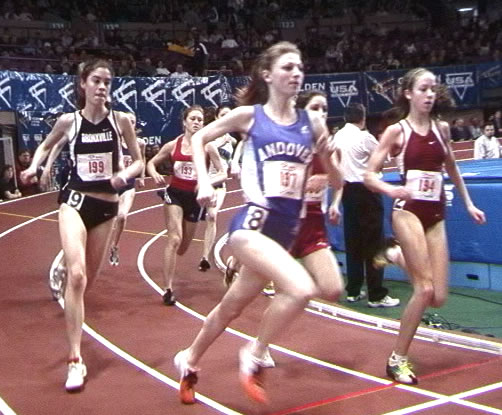 | | |
| --- | --- |
| Donais toured the next 10 laps alone | |
HS Girls Mile Results
1. Melissa Donais MA 4:53.90
2. Liz Gesel NH 4:57.80
3. Meghan Owen CT 4:59.10
4. Laura Stanley NC 4:59.56
5. Clara Horowitz CA 4:59.58
6. Liz Maloy NY 4:59.86
7. Michelle Rorke NY 5:05.77
8. Megan Olds NY 5:06.28
9. Sally Meyerhoff AZ 5:06.57
The field, as announced 1/20/02 by Jim Spier, chair of the selection committee:
-MELISSA DONAIS, Phillips Academy, Andover, MA
-LIZ GESEL, Central, Manchester, NH
-CLARA HOROWITZ, Head-Royce School, Oakland, CA
-MOLLY HUDDLE, Notre Dame, Elmira, NY
*ELIZABETH MALOY, Academy of Holy Names, Albany, NY
-SALLY MEYERHOFF, Mountain Pointe, Phoenix, AZ
-MEGAN OLDS, Gloversville, NY
*MEGHAN OWEN, Killingly, Danielson, CT
-MICHELLE RORKE, Bronxville, NY
-LAURA STANLEY, Carolina Day School, Asheville, NC
[Huddle did not run because of a 2-sport ruling by the New York PHSAA.]