Near perfect conditions greeted the athletes and a crowd of 5,000 on Saturday
with cloudless, blue skies and temperatures in the 60s.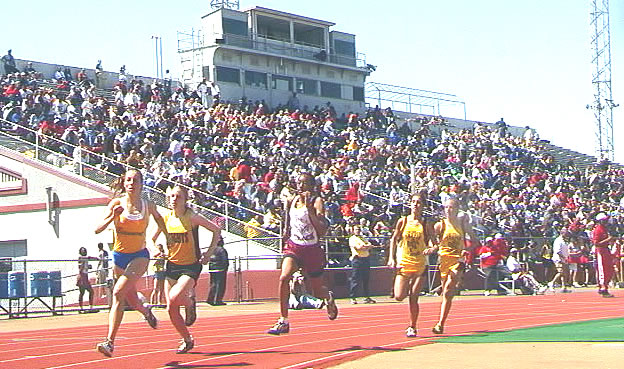 Mumford MI sr Kenneth Ferguson,
Elyria OH jr Tianna Madison
win Most Outstanding awards
Tianna Madison

12.02, 20-4 and 2 relay golds

Kenneth Ferguson

Hurdle double (13.61 and 36.73 pre)

and 46+ anchor split in 3:16.23 4x400
Ferguson gets hurdle double (13.61 and 36.73 pre) and 46+ anchor split in 3:16.23 4x400

Madison doubles 12.02 100m and 20-4 LJ and anchors 4x100 and 4x200 wins.

Middletown OH 85 (Mumford 79) is boys team champion with three relay wins.

Cleveland Heights 86 preserves girls team title with closing 4x400 win over neighbor rival Beaumont 83.

Rockford MI soph Nikki Bohnsack 4:55.15 1600m loses lead in stretch but wins it back by 0.04 over Maggie Infeld. Bohnsack also leads Rockford girls to relay double (4x1600 and DMR)

Merrillville IN sr David Neville doubles 21.48 and 47.03

Hudson OH sr Wesley Smith 9:02.41 wins great 3200 (4 under 9:06) and leads Hudson to DMR win.

Lawrence North IN sr Marcus Lewis doubles 10.61 and 23-4.

Vanderbilt signee Amanda Mullins-Hall, of Walnut Hills OH, won both girls hurdles in 13.94 +2.2 and 44.76.
Preview

- The 28th Roosevelt Memorial Invitational has attracted 110 teams (59 boys and 51 girls) from Ohio, Michigan, Indiana, Kentucky, Tennessee and Pennsylvania. Included are six 2001 state champions in cross country or track and field. Top individuals include 2001 Foot Locker cross country national finalists Nef Araia IN, Allen Bader OH, and Nikki Bohnsack MI; plus Nike Indoor Classic champions Kenneth Ferguson MI, Darryl Anglin MI, and Tianna Madison OH.

Entry Information - contact Meet Director: Randy E Waggoner email

[email protected]

-

phone 937-224-2537 & 937-837-3873
Dayton Roosevelt Pix Pages