The Brown Track and Field Invitational takes place on the campus of Brown University in the Olne-Margolies Athletic Center. The center has a distinguished record of performances at the college and high school level. This year 92 boys teams and 87 girls teams were registered in the high school invitational. It is one of the largest and most competitive invitationals held in the Northeast US.
Athletes
Midwood Boys-NY-(From Left) Nathaniel McDonald, Coach Sean Rice, Greg Sagnan, Peter Brooks, Marius Sharbauskas (Kneeling)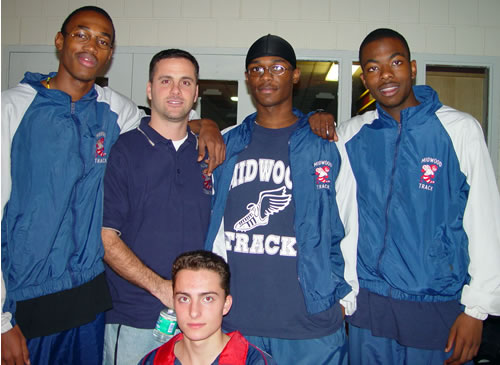 A P Randolph-NY: (From Left) Akilah Bates, Selena Sappleton, Kelly Wallace, Yendy Gilchrist.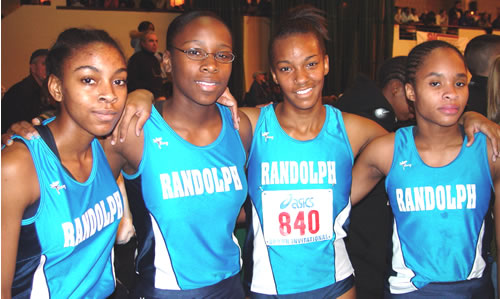 Uniondale-NY- 4x200 Team 3rd place finishers: (From Left) Esther Reid, Marie Blackwood, Monet Lee, Grace-Ann Long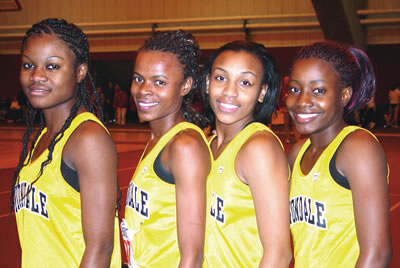 3rd Place Colonie 4x800 Team: (From Left) Stacy Kramer, Ashley Cuch, Coach Frank Meyers, Alexi Rodriguiz, Anna Janavko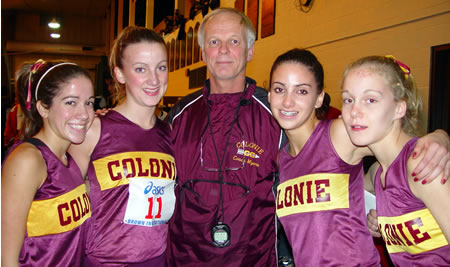 Winner of the 3000 Meter Run-Toni-Lynn Salucci-NR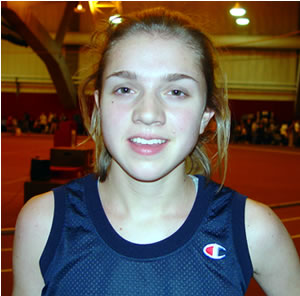 | | |
| --- | --- |
| 1st and 2nd in the high jump-Walter Fields, Shoreham-Wading River-NY and Keith Cashman-CBA-NJ. | 3rd in high jump:Bryan Tyrrell-CBA-NJ |
St. Dominic Academy-NJ-Shot Putters: (From Left) Britany Lynch, Christine Britt and Christina Williams.

Columbia-NY-Shot Putters: (From Left) Christin Hannessy, and sisters, Erica and Sara Schmidt.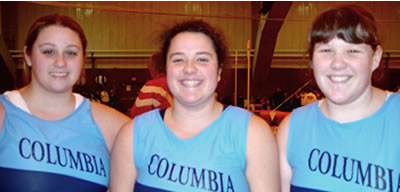 Bayview-RI-Shot Putters: (From Left) Amerlia Nyemah, Sarah Cross and Stephanie Searles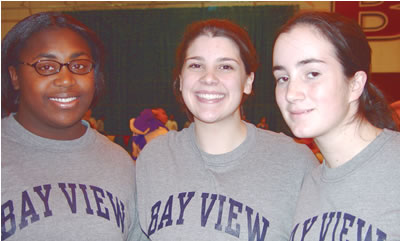 Saratoga Shot Putters: (From Left) Martha Adams, Latrice Brandon, Tina Villa. Saratoga finished 3rd.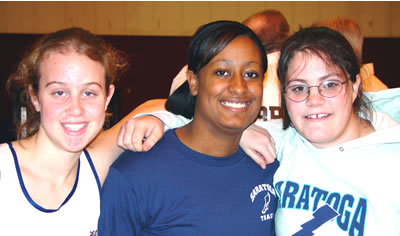 1st Place in the Shot Put: (From Left) Natasha Austin, Prema Winn, Toya Woods-New Rochelle NY.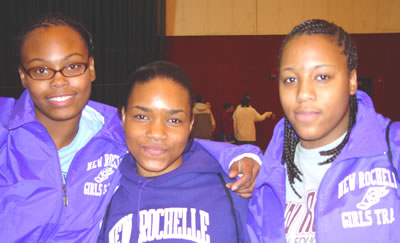 Donna on the Side at the Brown Invitational
Part 1 - The Scene and Athletes
Part 2 - More Athletes
Part 3 - Parents, Coaches, Fans, and Athletes
Part 4 - Pizza Relay winners
Part 5 - Workerbees