MD Montgomery Invitational
Mervo MD jr Frankie Wright doubles 22-8.25 and 44-9. Largo sr Indian Ransom 7.03. Largo sr Lakisha Brooks 57.59. Western Baltimore girls sweep relays in 1:45.65, 3:59.27, and 9:50.84.
Millrose Mile Qualifiers: Shane Stroup MD kicks away from slow pace (1:11, 2:22) with 59-second last quarter to win Millrose mile qualifier in 4:26.90. (Ben Stern MD 4:30.24, Dan Mazzocco PA 4:31.29, Billy Duffy MD 4:31.92). Tenke Zoltani MD wins girls Millrose qualifier in 5:14.25 in bizarre finish after lap count snafu.(Christine Myers, MD 5:16.70, Carrie Selmer MD 5:16.72, Debbie Huss PA 5:22.99, Karen Pulliam MD 5:23.62.) The lap count indicator turned to 1 after only 6 laps, the track announcer called the bell lap, and the bell rang. Selmer launched a big kick on the back stretch and passed front running Zoltani by 30 meters, only to have officials run onto the track in the home stretch shouting at the girls to run one more lap. On the real last lap, Zoltani easily passed the spent Selmer, who still got an 8-second PR.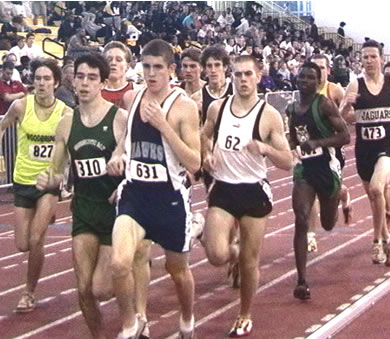 631
Shane Stroup
MD hangs with the pack in slow early going.
310
Ben Stern
MD and 62
Dan Mazzocco
PA were content to stay behind Stroup..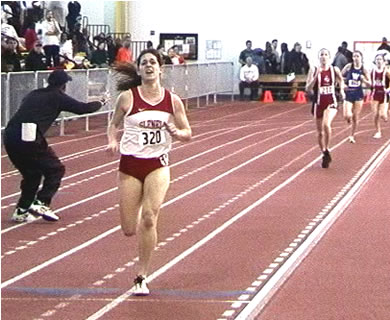 Lap Count Snafu
- Official (left) signals one more lap after
320 Carrie Selmer thought she had the race won over Tenke Zoltani.
Best Marks - 56 performances qualifying for DyeStat Elite national rankings
Event Mark By
BOYS
B-55 6.5 Caulley, Terry, 2002, Patuxent MD
B-55 6.53 Felton, Andre, 2002, Oxon Hill MD
B-55 6.57 Bailey, Daniel, 2004, Centreville VA

B-Mile 4:26.9 Stroup, Shane, 2002, River Hill MD

B-55H 7.6 Gibson, Bryon, 2002, Gaithersburg MD

B-LJ 22' 8.25 Wright, Frankie, 2003, Mervo Tech MD
B-LJ 21' 11.5 Liggins, Derek, 2003, Gar-Field VA

B-TJ 44' 9 Wright, Frankie, 2003, Mervo Tech MD
B-TJ 44' 2 Lewis, Eric, 2002, Garfield VA
B-TJ 44' 0 Hackett, Andrew, , Mervo Tech MD

B-PV 14' 3 Dixon, Nathan, 2002, Patuxent MD

B-SP 54' 6.5 Jackson, Kelley, 2002, Mervo Tech MD
B-SP 52' 1 Reed. Kareem, 2002, Annapolis MD

B-4x200 1:32.28 Boys Relay, , Mervo Tech MD
B-4x200 1:32.77 Boys Relay, , Centreville VA
B-4x200 1:32.93 Boys Relay, , W. Wilson DC
B-4x200 1:32.94 Boys Relay, , Gaithersburg MD

B-4x400 3:25.95 Boys Relay, , W. Wilson DC
B-4x400 3:26.97 Boys Relay, , Centreville VA
B-4x400 3:28.56 Boys Relay, , Oxon Hill MD
B-4x400 3:29.64 Boys Relay, , Mervo Tech MD

B-4x800 8:05.82 Boys Relay, , C.M. Wright MD
B-4x800 8:05.83 Boys Relay, , W. Springfield VA
B-4x800 8:11.85 Boys Relay, , Dulaney MD

GIRLS
G-55 7.03 Ransom, India, 2002, Largo MD
G-55 7.15 Gondo, Mariama, 2002, Western MD
G-55 7.28 West-Nesbitt, Ashley, 2003, Western Bal MD
G-55 7.29 Warren, Nina, 2004, Gaithersburg MD
G-400 57.59 Brooks, Lakisha, 2002, Largo MD
G-400 57.82 Johnson, Erica, 2002, Woodson DC
G-400 58.18 Wallace, Latosha, 2003, Western Bal MD

G-Mile 5:14.25 Zoltani, Tenke, 2002, Dulaney MD
G-Mile 5:16.7 Myers, Christine, 2002, Parkville MD
G-Mile 5:16.72 Selmer, Carrie, 2002, Glenelg MD

G-55H 8.48 Showell, Aajah, 2003, McDonough MD
G-55H 8.59 Amponsah, Afua, 2003, Annandale VA
G-55H 8.63 Shaw, Laura, 2003, W. Johnson MD
G-55H 8.66 Grigoriev, Lindsay, 2003, Atholton MD

G-HJ 5' 4 Pettes, Malaika, 2003, Armstrong Rich NJ
G-HJ 5' 4 Diggs, Maleka, 2002, Annapolis MD

G-SP 42' 9 Evans, Tiffany, 2003, Garfield VA
G-SP 40' 0 Grigoriev, Lindsay, 2003, Atholton MD

G-4x200 1:45.65 Girls Relay, , Western-Bal MD
G-4x200 1:46.24 Girls Relay, , Largo MD
G-4x200 1:46.47 Girls Relay, , Gar-Field VA

G-4x400 3:59.27 Girls Relay, , Western-Bal MD
G-4x400 4:00.53 Girls Relay, , Largo MD
G-4x400 4:05.19 Girls Relay, , Wilson DC

G-4x800 9:50.84 Girls Relay, , Western-Bal MD
G-4x800 9:53.65 Girls Relay, , Dulaney MD
G-4x800 9:56.97 Girls Relay, , Glenelg MD

G-DMR 12:40 Girls Relay, , W. Springfield VA