2001 Meet of Champions
Cross Country Invitational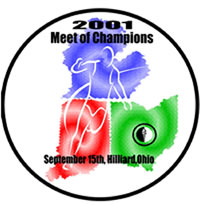 Hilliard is set in the heartland of the United States just outside of Columbus, Ohio. Here a few days after the horrific events on the east coast of the United States, flags flew as people expressed sorrow, grief and a real sense of patriotism. Although many miles from New York and Washington D.C. people here were affected by the tragedy. Relatives and friends were lost and missing. One received last minute emails from an associate in the World Trade Center. Feeling a real sense of frustration and longing to get back to normal, the Meet of Champions was conducted with spirit and demonstration of patriotism. With the help of a moment of silence, the pledge of allegiance and consoling words from a minister, runners and parents looked to cross country to move on.
The Setting
Hilliard is a small but growing community just outside of Columbus, Ohio. It is home to a diverse coporate base, from the high-tech communications field of MCI Worldcom, to the heavy manufacturing world of the Dana Corporation. It's history dates back to 1853 when it was founded by John Reed Hilliard. You can't find a nicer, friendlier group of people. In particular the parents, staff and school administrators of meet sponsors, Hilliard Davidson, were terrific.
The Meet
The Meet of Champions is the first meet of what organizers plan is a new, exciting annual meet in the tri-state area of Ohio, Indiana and Michigan. Planning for an expanded meet next year now begins.
Meet Grounds- Mill Run Association

| | |
| --- | --- |
| Fountains of Mill Run | ULAC The Church at Mill Run |
| A peaceful backside pond | Awards and Scoring Tent on the Island |
Donna on the Side - Hilliard OH - Meet of Champions
Hilliard Part 1 - the scene
Hilliard Part 2 - winners
Hilliard Part 3 - athletes
Hilliard Part 4 - parents, athletes, and fans