High School Relays Results, Stats, and photos - Friday Highlights - Saturday Highlights
Boys 4x800 - Girls 4x800 - Boys 4x400 - Girls 4x400 - 4x200: Eleanor Roosevelt sweep
Stacey Ann Livingston: 3 national records in 7 days
TV - March 3, 2002 from 4:00-5:30 pm ET on ESPN
Saturday
Girls 4x400: Boys and Girls NY again - edge Eleanor Roosevelt MD 3:43.63 to 3:44.56 in 4x400 -
3rd and 7th fastest US indoor times ever
In one of the great races of this or any year, superstar Stacey Ann Livingston blew open the race with a 54.9 third leg, giving Boys and Girls just enough of a lead to withstand Tiandra Ponteen's 55.2 anchor for Eleanor Roosevelt. Boys and Girls thus broke into the middle of Wilson Long Beach's top 6 all time marks in the US; today was the US#3 all time performance and, of course, the top 2 times of this season.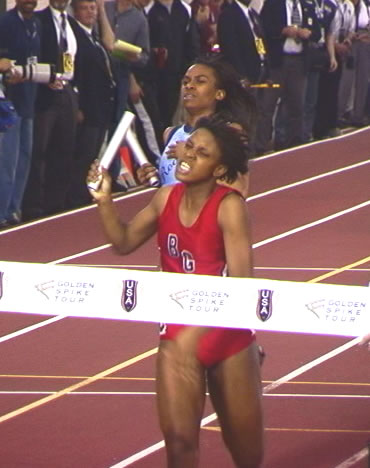 Boys and Girls anchor Keziah Fernandez (57.3 split) refused to give in
to Ponteen's big surge on the last lap as the SRO crowd roared. Both girls struggled down the home stretch completely spent.
Girls 4x400 story, stats and action photos
1 Boys and Girls HS 3:43.63
2 Eleanor Roosevelt HS 3:44.56
3 Willingboro HS 3:47.95
4 DeWitt Clinton HS 3:49.69
5 Largo HS 3:50.99
6 Bishop Loughlin HS 4:02.23
4x200: Eleanor Roosevelt MD's US#1 teams sweep
Getting redemption for the loss in the 4x400, Eleanor Roosevelt's girls won as they pleased, just 0.72 off their season US#1 time..
1 Eleanor Roosevelt HS 1:38.92
2 DeWitt Clinton HS 1:41.05
3 Willingboro HS 1:41.70
4 Boys and Girls HS 1:41.73
5 Paul Robeson HS 1:42.27
Later, the Roosevelt boys went wire to wire to move up from 8th on the all-time US list to 5th. Camden NJ anchor Jade Smith cut into the lead, but the result was never in doubt.
1 Eleanor Roosevelt HS 1:28.31
2 Camden HS 1:28.45
3 Woodrow Wilson HS 1:30.27
4 DeWitt Clinton HS 1:31.47
5 Kellenberg HS 1:31.70
6 Uniondale HS 1:31.80
Eleanor Roosevelt 4x200 story, stats, and photos
Boys 4x400: Mumford Detroit MI is easy winner
Kenneth Ferguson blew open this race on the second leg with a 47.2 split for Mumford, making Transit Tech sr Melville Rogers' brilliant 46.8 anchor split a runner-up effort behind Mumford anchor Hosea Jones (49.3). Camden NJ anchor Jade Smith (48.1) was used up in a futile effort to pass Rogers down the backstretch.
1 Mumford HS 3:17.51
2 Transit Tech HS 3:17.93
3 Camden HS 3:19.43
4 Suitland HS 3:21.11
5 Thomas Jefferson HS 3:21.57
6 South Shore HS 3:27.30
Friday
Boys and Girls NY 8:53.67 USR -
smash old record by 14 seconds
2nd US record this week for B&G (11:50.86 DMR in Eastern States Tuesday) - 3rd for Stacey Ann Livingston in 7 days (1:29.69 600m in Evian Mayor's Meet last Saturday) - Bronxville NY 9:09.80 only 2.23 seconds off old record (Boys and Girls 9:07.57 in 2000). Story, stats, pix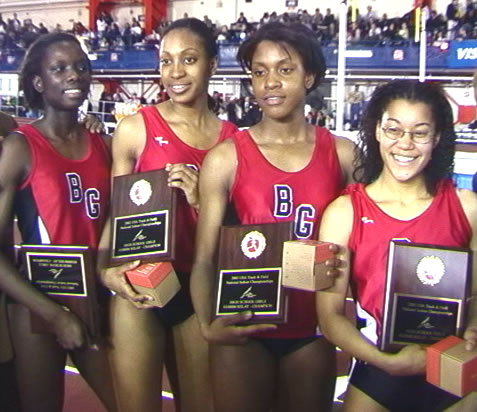 Boys and Girls -- Three rock steady legs set it up for Stacey Ann Livingston's sizzling anchor of 2:06.88 (revised from earlier reports after getting official auto-timed splits). From right in running order, Akilah Vargas 2:14.27, Keziah Fernandez 2:16.70, Meisue Francis 2:15.82, and Livingston. Considering that Francis split 2:10.8 in the record DMR Tuesday and Livingston has a 2:06.16 season best in the open 800, this group can run faster still.
Notre Dame NJ boys reclaim US#1 with 7:51.39 win over Mumford Detroit MI 7:52.56 US#2.Stats, story, and pix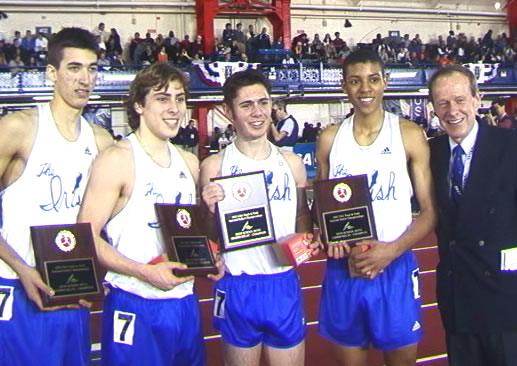 The Irish get their plaques from Dr. Norb Sander, president of the New York Armory Track and Field Center. From left, Jeff Zodda, Jerry DiColo, Dan Napiecek, and Esteban Olivarez.
USA Nationals on ESPN TV: Sunday March 3, 4:00-5:30 pm Eastern
HS Relays Preview
NEW YORK ARMORY 3/1/02 -- Six high school relays will be run tonight and tomorrow at the USA Indoor Championships at the New York Armory. The best teams from New York, New Jersey, and Maryland are entered, along with Mumford Detroit MI. National leaders competing are Eleanor Roosevelt MD, Boys and Girls NY, and Notre Dame NJ. USA Nationals home page - HS Relay Teams -
Friday night 4x800
Boys - Notre Dame NJ, running its B team while the A team ran the DMR, lost its US#1 ranking Tuesday at the Eastern States with a 6th place finish in 8:06.21 behind new US#1 Willingboro NJ 7:53.64. Willingboro's time was 14 seconds better than their previous season best, so the Armory extended a last minute invitation to this race. Moving up in the Easterns were Don Bosco NJ 7:58.64 and Mt. St. Michael NY 7:59.35, now US #6 and #7 and favorites tonight along with Mumford Detroit MI 7:57.95 US#5 and Notre Dame 7:55.80 US#2.
Girls - Five of the top 6 teams in the US are here, but none is likely to threaten Boys and Girls NY, led by Stacey Ann Livingston, who broke the US indoor record for 600 meters last week in the Armory. Next in line are New Rochelle NY 9:20.30 US#2, Bronxville NY 9:23.74 US#4, and Woodrow Wilson NJ 9:24.00 US#5. Perennial cross country power Saratoga NY weighs in at 9:28.1 US#6.
Saturday afternoon 4x400
Boys - Should be a battle royal as five of the top six teams in the country in the DyeStat Elite 2002 indoor rankings are on hand, and they all fit in a span of 0.6 second on their season bests. Five wide in the stretch? A very slight favorite is Camden NJ, which moved into US#2 with its 3:19.76 win in the Eastern States here Tuesday. Next are Thomas Jefferson NY 3:19.76, Mumford Detroit MI 3:19.95, South Shore NY 3:20.03, and Transit Tech NY 3:20.21.
Girls - Can Boys and Girls do it again? The road to victory runs through Eleanor Roosevelt MD, which came to the Armory twice during the regular season and beat the New York area's best. Roosevelt is US#1 with a time of 3:45.62. Boys and Girls is US#2 at 3:48.52, but has a history of not putting together their best squad until the big post-season meets. Another story line is Largo MD 3:55.0 US#10, which beat Prince Georges County rival Eleanor Roosevelt in the Maryland State Meet when Roosevelt star Tiandra Ponteen was sidelined with an injury. Also contending will be Dewitt Clinton NY 3:50.06 US#4 and Willingboro NJ 3:52.6 US#6.
Saturday afternoon 4x200
Boys - Another Prince Georges County MD rivalry is featured here with US#1 Eleanor Roosevelt MD 1:28.62, winner of two big meets at the Armory this season, the favorite over Oxon Hill MD 1:30.10 US#10. A split second is all that separates four other top 15 contenders: Newburgh NY 1:29.80, Woodrow Wilson DC 1:30.72, Kellenberg NY 1:30.46, and Dewitt Clinton NY 1:30.70.
Girls - Same story line as the 4x400, except that Paul Robeson NY 1:40.69 US#5 ranks ahead of Boys and Girls 1:41.17 US#6. Eleanor Roosevelt 1:38.20 is the national leader. Also in the race are Largo MD 1:41.94 US#8, Dewitt Clinton NY 1:42.74 US#9, and Willingboro NJ 1:43.5 US#13.
Miguel Pate
leaps again after seeing scoreboard read 28-2.25, the best long jump in the world this year and best in US since Carl Lewis set the indoor record 28-10.25 in the 1984 Millrose Games, and afterward Pate couldn't stop smiling.
High School relays added to USA Indoor Championships
NEW YORK 1/12/02 -- Six high school relay events have been added to the USA Indoor Track and Field Championships to be held at the New York Armory March 1-2.
The new events will be known as the National High School Relay Invitational, and they will be interspersed with the elite national championship events through both days. Boys and girls 4x800 relays will be run Friday evening March 1. The 4x400 and 4x200 will be run on Saturday March 2.
High school teams and their coach will have full access to all areas of the building, along with the elite stars. Winning teams will receive watches. There will be six high school teams per race. Interested schools should contact Armory operations director Lou Vazquez at 212-923-1803 extension 14.
Dr. Norbert Sander, founder and president of the Armory Track and Field Center, and Craig Masback, chief executive officer of USATF, said this move reflects the vital importance of the high school level to the sport of track and field in the US. "Both of us feel that high school is so important," Dr. Sander said. "It all goes together -- youth, high school, college, elite, and masters. That's why we include all levels in our schedule at the Armory." The Armory is hosting 90 meets this indoor season.
Ticket Information
Tickets for the 2002 USA Indoor Track & Field Championships are available through ticketmaster.com or by calling the Armory Track Center at 212-923-1803.
Single-day Two-day
General Admission: $20 $35
Reserved Seating: $35 $50

USATF release
FOR IMMEDIATE RELEASE
Tuesday, October 16, 2001
USA Indoor Track & Field Championships to return to New York
NEW YORK - The USA Indoor Track & Field Championships - the world's oldest
indoor track championships - this March will return to New York City for the
first time since 1993, USA Track & Field CEO Craig Masback announced Tuesday.
The final stop on USATF's Indoor Golden Spike Tour, the 2002 USA Indoor Track
& Field Championships will be held March 1-2 at the Armory Track & Field
Center at 168th in Washington Heights. The meet was previously held primarily
in New York from 1906 to 1993, most recently at Madison Square Garden, before
moving to Atlanta in 1994. It is televised nationally each year and is
broadcast to more than 50 countries worldwide.
"New York is the indoor track and field capital of America, and it has been a
gracious host to USA Track & Field for decades," Masback said. "The Verizon
Millrose Games each year provides a world-class kick-off to our Golden Spike
Tour, and the 2002 USA Indoor Championships will provide a fitting close to
the Tour. We are proud to be calling New York 'home' once again. Our thanks
go to our friends at the Armory and New York City officials for helping to
make this a reality."
Considered one of the fastest tracks in the world, the Armory hosts more than
80 track meets each year while serving as a training site for more than
40,000 athletes and attracting more than 300,000 athletes annually. USATF
last year announced that the National Track & Field Hall of Fame will
relocate to the Armory, with an expected opening in 2003.
Masback was joined in making the announcement at NYC & Company by Armory
Foundation President Dr. Norbert Sander, Armory Foundation Chairman Mike
Frankfurt, New York City Sports Commissioner Ken Podziba, NYC & Company
President & CEO Cristyne Nicholas, New York Road Runners President and CEO
Allan Steinfeld, and NYC 2012 President Dan Doctoroff.

"We are pleased to be hosting the USA Indoor Track & Field Championships as
the world's finest athletes will compete in the future home of the National
Track & Field Hall of Fame," Commissioner Podziba said. "After an eight-year
absence, it is fitting that this world-class event returns to the Sports
Capital of the World."
Also on hand for the announcement was world record holder, world champion and
Olympic gold medalist pole vaulter Stacy Dragila. Her track record at both
the Championships and in New York is unmatched: she is the six-time defending
U.S. Indoor champion in the women's pole vault, last February set a world
record at the Millrose Games, and in 2000 set a world record at the Pontiac
Grand Prix USA Indoor Championships in Atlanta.
The USA Indoor Track & Field Championships have a rich history in New York,
extending back to 1906. With the meet serving as the selection event for U.S.
national indoor teams, all of Team USA's greatest Olympic legends have
competed at the Championships, with world records falling regularly. Most
recently, Olympic 100m gold medalist Maurice Greene last March tied his own
world record in the 60m dash. More than 1,500 athletes, coaches, agents and
family members take part each year in the meet, with more than 10,000
spectators typically on hand.
USA Indoor Track & Field Championships Quick Facts
What: 2002 USA Indoor Track & Field Championships
When: March 1-2, 2002
Where: 168th Street Armory, New York
Who: America's finest track and field athletes
World's oldest indoor track championships, first held in 1906
Held in New York from 1906-1993 (most recently at Madison Square Garden)
Atlanta's Georgia Dome from 1994-2001.
The championships moved to other cities on rare occasion: Buffalo, N.Y., in 1922-23; Louisville, Ky., in 1925;
Chicago in 1926; Albuquerque, N.M. in 1966; Oakland, Calif., in 1967-68; and Philadelphia in 1969.
The Championships were not held in 1912.
More than 1,500 athletes and their support staff take part
More than 10,000 spectators
90 minutes of national television coverage, with international broadcast
to more than 50 nations