Joint coverage by Trackwire and DyeStat

DyeStat and the top college site

Trackwire

will team up for coverage of the USA Cross Country Winter Nationals at Vancouver WA February 9-10. Derek Dye will be live on

DyeStat Chat

and DyeStat's

TrackTalk

message board during the races, with an on-site feed from Erik Palmer of Trackwire. Afterward, DyeStat will carry Palmer's great action photos from Vancouver on the junior races, plus complete results.

Trackwire

will also have photos and commentary on the men's and women's races.

TV coverage by Fox SportsNet
MEN - 3:30 pm February 20 - repeat February 27
WOMEN - 3:30 pm March 8 - repeat March 21
Moore - Lockhart rivalry renews
from the web site of USATF Oregon, host of the 2002 Winter Nationals
In 2001, the two biggest names in American boys' high school distance running were Alan Webb from Virginia and Dathan Ritzenhein from Michigan.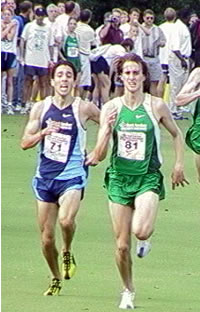 In 2002, perhaps the biggest rivalry between high school distance runners is between Tim Moore of Novi High School in Novi, Michigan, and Bobby Lockhart of John Handley High in Winchester, Virginia.
The competition between these two outstanding prep runners resumes on the grounds of the Fort Vancouver National Historic Site in Vancouver, Washington on Sunday, February 10th, as both are entered in the junior men's 8-kilometer race at the USA Winter National Cross Country Championships.
In what the nationally recognized high school track and field web site DyeStat.com called the "Battle for the Ages", Moore defeated Lockhart by 1.14 seconds (photo at left by DyeStat) to win the Foot Locker National Cross Country Championships in Orlando, Florida on December 8th, in a time of 14:50.41.
"High school distance running enthusiasts will have an opportunity to see these two young men race against each other and against the best 20-and-under distance runners in the country here in Vancouver," said USA Winter Cross Country Championships media relations consultant Paul Merca.
"Although eight kilometers is significantly longer than the five kilometers that high school athletes are used to racing in, just the fact that it's Moore and Lockhart battling at the Fort makes the junior men's race an intriguing one to watch."
In the 2001 edition of this meet, Dathan Ritzenhein finished behind University of Wisconsin freshman Matt Tegenkamp. Ritzenhein went on to earn a bronze medal at the World Cross Country Championships in Oostende, Belgium.
Ritzenhein is entered in this year's meet in the senior men's 12-kilometer race, the final championship race of the two-day meet at the Fort.
The Winter National Cross Country Championships brings together many of the USA's top distance runners, and serves as the selection meet for the USA national team that will compete in the IAAF World Cross Country Championships on March 23-24th in Dublin, Ireland.
The top six finishers in each of the six championship races (junior men, junior women, senior men, senior women, men's short-course, women's short course) earn berths on Team USA.
In last year's event, Deena Drossin won her fourth national women's eight-kilometer harrier title at the Fort in a time of 26:14, while Meb Keflezighi won the men's 12-kilometer championship in 34:11. Jacobs (12:37), and Tim Broe (11:03) each won the women's and men's 4-kilometer title, while Laura Zeigle (21:19) and Matt Tegenkamp (24:09) were the national junior champions.
Laura Zeigle returns to defend Junior Women's title
from the web site of USATF Oregon, host of the 2002 Winter Nationals
VANCOUVER WA 1/31/02 -- Defending junior women's 6-kilometer national cross country champion Laura Zeigle of South Jordan, UT., today confirmed her participation in next week's USA Winter Cross Country Championships at Fort Vancouver National Historic Site in Vancouver, WA.

According to her coach, Jeff Arbogast, Zeigle, a senior at Bingham High School in South Jordan, has been training exclusively for the national championships since her last major cross country competition, the Foot Locker West Regionals in Walnut, CA, on December 1st, where she dropped out after two miles.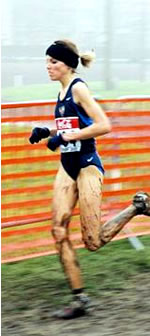 In 2001, Zeigle finished 47th at the World Cross Country Championships (photo at right by Paul Merca) in Oostende, Belgium; won the Utah state 5A 3200 meter title in a state record 10:47.52, and won the state 5A cross country title.
Arbogast also announced that Laura's twin sister Jackie, will compete at the national championships in Vancouver.
Jackie, who finished in the runner-up position to Laura in the Utah 5A championships in both the 3200 on the track and in cross country, finished seventh in the Foot Locker Cross Country Championships in Orlando, FL on December 8th.
The Foot Locker meet is considered by many athletes, coaches, and experts of the sport as the unofficial national high school cross country championships.


Schedule
Saturday, 9 February (revised to split masters field)

10:00 am--community 4k race
10:45, the junior women's 6k
11:30: senior men's 4k short cross race
noon--senior women 8k
12:45 pm masters' womens 6k
1:30 pm--masters' men's 6k race
Sunday, 10 February
10 am-Junior Men's 8-kilometer run
11 am-Senior Women's 4-kilometer run
11:45 am-Senior Men's 12-kilometer run