Part 1 - Introduction, and Workerbees
Part 2 - Athletes
Part 3 - Parents, Coaches, Fans, and their Athletes
Once again we were in New York City with all of the hustle and bustle and great track and field action at the New York Armory. You can count on an exciting time at the Armory with all of the music, great competitions and the fastest track in the country.


The Marty Glickman Award Winners
During the New Balance Games the Marty Glickman Award winners are honored. The award is named in honor of the recently deceased Hall of Fame Broadcaster and Track Star. Winners come from New York schools selected for their overall achievements in academics, team spirit and community service. This year Brooklyn Technical was the winner and Westmoreland Central was runner up.
Brooklyn Technical Winner for Outstanding Efforts in Academic, Team Spirit and Community Service--They receive a $10,000 Scholarship.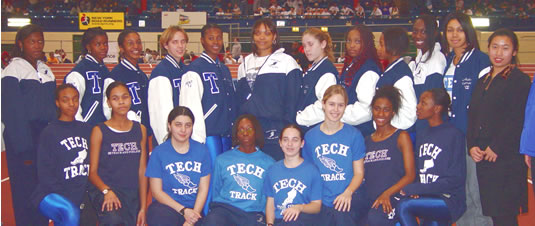 Westmoreland Central--Runner UP--earns a $5,000 Award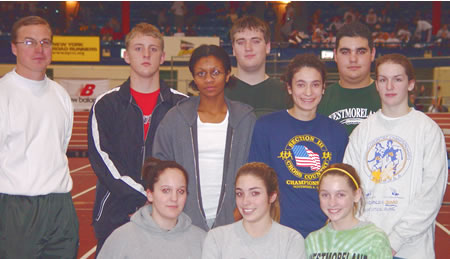 Outstanding Performers of the Games: Eleanor Roosevelt-MD
(From Left) Joshua Cotton, Kaprice Williams, Reneé Clarke, Kyle Postell, Tiandra Ponteen, Coach Colbert, Sammy Sesay (Front) Romona Modeste, Coach Ameerah Bello and Joshua Allen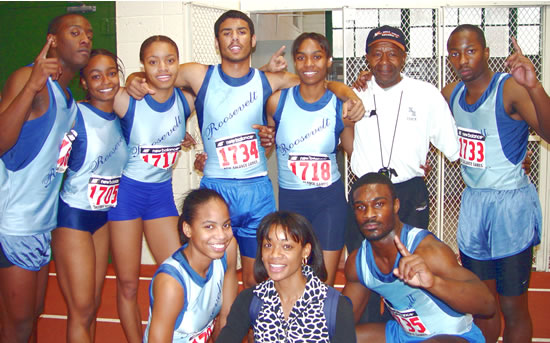 Workerbees
Andre Alfred and Diane Augustine. It's hard to believe, but Andre has done the photo timing at 55 of the 85 meets at the Armory this year. If that's not enough, his other job is Cook for the New York Yankees where he cooks them anything they want.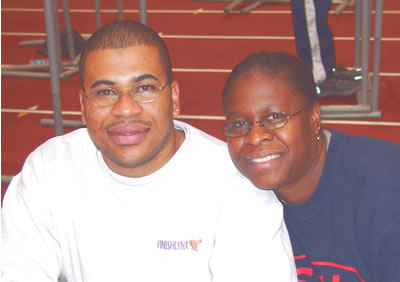 | | |
| --- | --- |
| Tom Cuffe-Monsignor Farrell NY. Today Tom was the upbeat, colorful announcer. Tomorrow he goes back to Coach Cuffe. Tom has an interesting background. He was named among the top ten coaches in America by the USATF. He was an all american in high school at Farrell in the 3000 steeplechase. He is in his 3rd year as head coach of the Monsignor Farrell Lions. | . |
| | |
| --- | --- |
| Ed Joyce at Work! | John Endres--One of the hard working finish line clerks |
Part 1 - Introduction and Workerbees
Part 2 - Athletes
Part 3 - Parents, Coaches, Fans, and their Athletes