Mt. SAC Relays
- DyeStatCal coverage with complete results - 123 DyeStat Elite performances -
USR stands in 1600 Sprint Medley after 5-hour DQ tug of war
Wilson Long Beach CA girls 3:53.28 break national record, lose it to jewelry DQ, win it back on Games Committee ruling. Ashley Freeman's 2:09.2 800m anchor keys the time, with Wilson winning by 25 seconds. William Penn PA's 1997 team held the old 3record of 3:54.39.
Allyson Felix 11.24 +2.7 100m - Kira Costa 13-1.75 PV - Poly Long Beach girls 45.36 4x100 and 9:06 4x800 (Wilson Long Beach 9:13.77) - Poly Long Beach boys 7:52.19 4x800 and 41.99 4x100 (anchor Derrick Jones comes from third over Taft and University City). Mohammed Trafeh doubles 3:53.78 1500m and 8:32.55 3000m. Claire Rethmeier 4:34.96 1500m. Jasmine Lee 53.98. Mario Cobian 1:54.30. Kelly McCann 2:12.51. Sparkling double for Sparkle Anderson 19-0.5 -2.1 and 40-4.5 +2.9.


David Kimani, 4-time NCAA champion distance runner, collapsed Wednesday April 16 in his University of Alabama dining hall and died. Ricky Quintana remembers Kimani.

photo by Mike Leary at the SEC cross country championships

Jim Arquilla, a coach of the powerful Wilson Long Beach CA team, has incurable cancer and has been told he has one month to live. He attended Wednesday's Moore League matchup with Poly Long Beach in a wheel chair. DyeStatCal photos - Kirby Lee story.

that Arcadia 3200
Ricky's Ramblings on the best 3200 ever - Solinsky was king, but everyone was a winner - lap by lap recap - what they said after - former champs Jeff Nelson and Thom Hunt were there.

Donovan Kilmartin
misses record attempt
Eagle ID sr Donovan Kilmartin's planned attempt for a new decathlon record was aborted due to illness (stomach flu) Wednesday. Kilmartin had been entered in the Mt. SAC Relays multi-events Wednesday and Thursday at Azusa Pacific College..The versatile athlete already owns the US junior record of 7440 points. He would have tried for the record with international implements (7359 Craig Brigham, South Eugene OR 1972), one of the oldest records in Jack Shepard's HIGH SCHOOL TRACK annual. Kilmartin may stay in California to compete in the open high jump and/or pole vault at Mt. SAC. His only other shot at the decathlon record could be the USA Jr Nationals in June.

photo by Bill Leung

images of Arcadia
Winners table, pix and quotes: Boys - Girls


Phillip Reid surprised a good field and himself in the 1600. - photo by John Dye

This Week
major meets around the country and highlights from the states
alphabetical by state

highlights
Paul Cross 1:49.27 800m in U. of Miami Gatorade Classic.
Steve Magness 4:01.58 1600m in Texas district meet.
Reggie Witherspoon 47.11 at Taco Bell in South Carolina.
Sam Bair loses, out with stress fracture in Pennsylvania.
Zoe Nelson 10:32.67 3200m at Missoula MT Invitational.
Ari Lambie opened her outdoor campaign with 10:38.5 2-mile in MA dual.
Nate Englin takes US lead in shotput at Pony Relays in Minnesota
Tiandra Ponteen double in Maryland

California
DyeStatCal
saturation coverage of the Golden State by Doug Speck and Rich Gonzalez

36th Arcadia Invitational
Arcadia CA April 11-12

When the Lights Go On, the Stars Come Out!
19 US records, 79 Olympians in first 35 years

277 performances qualifying for DyeStat Elite top 100 national ranking
| Home Page | Winners (all 3 sessions) plus pix and quotes : Boys - Girls |
| Friday results and quotes | Saturday Open results | DyeStatCal coverage |
Saturday night Invitational complete results
DyeStat on-site coverage by John Dye and Ricky Quintana

Saturday night - Invitational Division
This is where the nation's elite accept California's challenge. Some leave on Sunday chanting, "We came, we saw, we conquered." Others go back home vanquished by the throng of talented Golden State athletes. We have the whole story of Arcadia, in words and images.
Some of what happened when the stars came out Saturday night:
the Rocket blasts again, Chris Solinsky dominates perhaps the best 3200 ever.. the X-man, Xavier Carter wins first 100-200-400 triple in 37 years of Arcadia. Allyson Felix, older and faster. Poly Long Beach relays rack up wins in all three sessions, with the girls 4x100 the 2nd fastest team and 3rd fastest time ever. Megan Kaltenbach threepeats. Trotter twins mete out slow death in 4x1600 and 1600. Ashlee Brown rules the hurdles. - Magic Man Mike Morrison doubles 7-3 and 24-3.5. Amy Menlove wins LJ on last jump. PowerZinger Steve Huntzinger wins SP on last throw. Mountain View UT Heidi's go 1-3 in 800. Billie Jo Grant 178-8, discus record must wait another meet. Super soph Brittany Daniels 42-0 TJ. another Arrhenius in discus (206-6).. . . and much, much more. Complete Invitational Results - Winner's Table and Pix: Boys - Girls |

Friday Night Relays
2 national records! 800m sprint medley and shuttle hurdle marks are
shattered by Poly Long Beach and J.W. North, Riverside

Good Things Happen to Those That Stay With the Program
-- the story of Utah's Amy Menlove, Arcadia long jump champion
by Van Phillips


Florida
Gatorade Classic
Apr 12 at U. of Miami FL
Paul Cross saves money and finds competition right at home, instead of travelling to California or Arkansas meets. Cross outkicked college runners including Christian Smith of Kansas State to win in 1:49.27, second fastest ever for a Florida prep.

Kansas
KS week by Anthony Bozarth
Morgan Bonds and Trisa Nickoley trade wins at Woodman Classic.

Maryland
Morgan State Invitational
Apr 12 at Morgan State U., Baltimore MD
Tiandra Ponteen double, fast 400H times
Boys - Anthony Wiseman 10.53 100m (Robert Woodard 10.55). Robert Woodard 21.21 200m. Randy Lee 48.16 400m. Adam Durham 53.62 400H. Michael Whitehead 48-6.
Girls - Kandis Worthington 11.71 100m. Tiandra Ponteen 23.59 200m (Juanita Broaddus 23.97) and 55.49. Nicole Leach 59.15 400H (Christina Smith 59.33). West Catholic PA 3:52.41 4x400. Toni Aluko 5-9 HJ.

Massachusetts
Ayer dual
Bromfield sr Ari Lambie opened her outdoor season with a 10:38.5 2-mile, splitting 5:38 and 5:00 and winning by 1:44.

Minnesota
Pony Relays
Apr 12 at Stillwater MN
Mounds View MN jr Nate Englin won the shot put with a throw of 65-6, a Minnesota state record and US#1 this season.

Montana
Missoula Invitational
Zoe Nelson won the 3200 in 10:32.7, splitting 1:13, 1:20, 1:22, 1:20. 1:20, 1:20, 1:19, 1:18

North Carolina
NC Honor Roll Apr 16
Gene Cherry's comprehensive lists.

Pennsylvania
Sam Bair loses, out with stress fracture
After a surprising loss in the 800 meters at the Butler Invitational, Shaler PA star miler Sam Bair found that he ran the race on a stress fracture in his right foot. PA Week by Don Rich.

South Carolina
Taco Bell Invitational
Apr 11-12 at Spring Valley HS, Columbia SC
Reggie Witherspoon 47.11. Sara Young 12-7. Aries Merritt 13.91. Chase Shealy 16-8. Doubles by Rachel Wilson and soph Mackenzie Pierce.
Boys - Carrollton 60. Carrollton sr Stan Rowe 10.61 +1.3 100m. Stephenson GA jr Michael Grant 21.23 +2.9 200m. Wheeler Marietta GA sr Reggie Witherspoon 47.11 MR 400m. Wheeler Marietta GA sr Aries Merritt 13.91 +3.5. Stephenson GA sr Jeremy Burton 52.01 400H MR. Westlake GA 41.84 4x100 MR. Carrollton GA 3:17.34 4x400 MR. Brookland-Cayce SC sr Chase Shealy 16-8 PV MR.
Girls - Collins Hill 49. Collins Hill jr Courtney Champion 11.73 +0.3 100m. Holy Trinity NY sr Shana Cox doubles 23.63 +1.8 200m MR (Courtney Champion 24.06) and 54.99 400m. Forsyth County soph Mackenzie Pierce doubles 4:59.01 mile MR and 2:13.70 800m MR. Bay Shore NY soph Laura Cummings 10:58.60 3200m. Groves Savannah GA sr Rachel Wilson doubles 13.94 +2.5 100H and 1:01.38 400H MR (Lauren Tillman 1:01.74). Collins Hill GA 47.83 4x100. Bay Shore NY 9:17.00 4x800. Thornwell SC sr Sara Young 12-7 PV MR. Lower Richland SC sr Deborah Hawkins 18-7.5 LJ and 39-3.5 TJ.

Tennessee
40th Volunteer Classic
Apr 18-19 at Knoxville TN - Performance Lists - Preview -
1,200 athletes from 10 states - Chase Shealy - Cade Liverman - Carrollton GA - Dusty Miller - Brandon Winbush - Courtney Champion - Natalie Knight - Collins Hill GA - Whitney Marsh - Sara Young.

Texas
District Championships
The pressure is on in Texas. District meets, first of three rounds of the state championships, are underway. Only the top 2 in each event advance to the four regionals, where in turn the top 2 advance to the state meet in Austin next month. There are five classes, each having 32 districts and four regions.
5A-15 The top 2 rule always sidelines top athletes in talent-rich districts and regions. For example, the class 5A 1600 meter race in District 15 had three sub-4:10 runners: The Woodlands jr Brian Sullivan, Klein jr Eric Stanley, and Klein Oak sr Steve Magness Only two could advance to the regionals. Steve Magness won in a stunning Texas state record 4:01.58, with Stanley second in an unofficial 4:03.77, also better than the old state record, and Sullivan third in 4:11.14.

Virginia
Allen Johnson Invitational
Apr 12 at Lake Braddock HS
Hurdlers double: Craig Gallimore 14.15 and 37.75. Afua Amponsah 14.32 and 45.75, adding a 12.48 100m for a triple..

NLI signing
period starts
The NCAA national letter of intent late signing period starts April 16 and runs until August 1. Athletes who did not sign in the fall period can sign now. Send your college choices to [email protected]. More than 300 early signing choices are listed in Choices 2003.

NEW!
Parents Guide
to HS Track & Field
and Cross Country
First of 3 books being published in 2003 by DyeStat / Harrier Books, a collaboration of DyeStat and Harrier publisher Marc Bloom.
Shipping April 20.
ORDER NOW!
Parents Guide $12.95
Book Club (all 3 books) $30

Shop DyeStat
Purchases help support this site.
WHAT'S THERE?






Jim Ryun Running Camp

Ryun finishes with 51-point last lap

in 1972 Olympic Trials 1500m

June 15-20 Gettysburg PA
July 27 - Aug 1 Fort Collins CO


click here to shop at Eastbay;
purchases help support DyeStat


27th Golden South Classic


May 31 Orlando FL
a DyeStat featured meet




28th Great Southwest Classic
May 22-24 Albuquerque NM




June 13-14 Raleigh NC




Sept 26-27, 2003 Cary NC

NSSF announces

details

for 2003 Great American Cross Country Festival.

Loucks Games
May 9-10 White Plains NY
Pentathlon added!
Pentathlon info |
Web Site

DyeStat uses Hy-Tek
for meet results
In Memory Of David "Kim" Kimani
April 16, 2003
by Ricky Quintana
It is with great sadness that I read of David Kimani's death today. I watched him run over the past few years and last year, I had the opportunity to watch him in person as he decimated a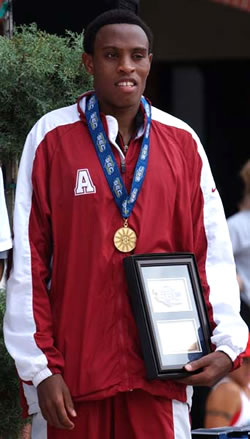 great field to win the NCAA 5k Outdoor Championships in Baton Rouge.
It was a win that I had predicted to my friend, Bruce Kritzler, and I celebrated as he finished with a 58 second last 400m slowing in the last 15 meters to a mere jog. It was truly an awesome performance. Through my friendship with his coach Joe Walker, Jr., I was granted an interview prior to the SEC XC Championships with David. He was cordial and kind. He was forthcoming and honest. His demeanor overshadowed the intense competitor I watched compete that June evening.
At the SEC XC Champs, he again showed what he was capable of when he was on. Walker had said that he was in awesome shape. He pulled away from eventual NCAA runner-up, Alistair Cragg as though he were standing still. He did it with so much ease. One could see he was on top of his game and knew it. Something that was just pure beauty to watch. Afterwards, he was gracious and wore his typical wide grin. It is a memory that will live with me forever; the ferocious competitor and the gracious winner. A few weeks later, I watched as David finished out of the running at the NCAA XC Championships. Coach Walker was in disbelief. I later learned from Joe that David had suffered a stress fracture and had run on it. The last time I saw David run was at the Gator Invitational. Joe had said that David was coming back from his injury and was debating whether he would run him or wait until the following week at Iowa State. As I sat in the announcer's perch high above in the O'Connell Center in Gainesville, I could see David with his teammates. He was not entered in any individual events, only the DMR. He took the baton and with great anticipation, I announced his name over the PA. All the achievements I could remember came bellowing out. Using his shuffling effortless style he began to rattle out 30 second 200's. It was something to behold. He kept going, but one could see that he was not the same. He began to slow. Unable to maintain and far ahead of his nearest competitor, David came home with a victory, but his time was a sub standard 4:11 for him. He tried once more at Iowa State the following week, but he again finished in an unDavid like time. It was sad because that ended his season indoors and his college career. The anticipated rematch with Alistair Cragg and Daniel Lincoln at the SEC's was gone as was the another NCAA Championship run. Life is very simple to me. I enjoy watching people compete and enjoy this sport which has brought so much excitement to me. David's performances made my life just a little bit better and I thank him for that. Words can not express how much I will miss seeing this great runner compete. I am in disbelief that he is gone forever. My condolences go out to his family, wife and all that knew him. My deepest sympathies go out to Joe Walker, who I'm sure is reeling from the news. Walker brought "Kim" to the United States when he was at the University of South Alabama. They shared a strong bond that was apparent to anyone who saw them together. "Kim" trusted Joe and spoke very highly of him. When Joe spoke of "Kim," a wide grin would appear on his face. "Kim" died with a wonderful string of achievements and admirers everywhere. He lived life to his fullest and I can only wish that he died painlessly and is in a better place now.......................................... He has to
be. -ricky

photo by Mike Leary at the SEC championships
DyeStat Elite
2003 Outdoor Cutoff Table
What will it take to be ranked in the DyeStat Elite top 100 national rankings in the 2003 outdoor season? What did it take to be US#1 in 2002? US#50? What did it take to win the major meets last year? What did it take last year to be All-American (6th at the adidas Outdoor Championships)? What will it take to get in AOC or Junior Nationals this year? The answers are in the DyeStat Elite cutoff table. First outdoor rankings will be posted this week.
National Indoor Rankings
DyeStat Elite lists 3,200 performances
DyeStat Elite -- 3,200 performances from 436 meets meeting DyeStat Elite cutoffs for top 100 national ranking with data received by March 12.. There are 10 new national leaders among 400 new marks since the last update. March 12 update
Indoor rankings will be updated one final time during the week of April 21.
Jim Spier's Top 5 - separate lists for banked and oversized ovals - March 20 update
Roth's Race Walk 2003 indoor race walk national rankings - March 22 final indoor - Roth's Race Walk All Americans
Gourley's List 2003 indoor weight throw national rankings - March 30 update
Crowded post-season schedule
Eight days in June present high school athletes a crowded schedule of post-season meets.
Those we know of are:
13-14 adidas Outdoor Championships
14 New England Championships
14 Midwest Meet of Champions (MI, OH, WV, IN)
14 Iowa Senior Spotlight (IL, WI, NE, IA)
15 Golden West Invitational
16 Holmdel Invitational
17-18 Connecticut Multi-Events
19-21 USA Outdoor (Junior Nationals)
major meets around the country and highlights from the states
alphabetical by state
DyeStat on-site in Mobile and Austin plus much more action around the country. Sharon Day 6-2, Billie Jo Grant 182-2 in California. Donovan Kilmartin 17-3.5 in Idaho. Usain (Thunder) Bolt 20.25 and 45.35 in Jamaica.
Weather: 70 degrees, muggy, calm air, no rain. Invitational Division - Sat
Xavier Carter FL 45.88! US#1. Arthur Davis AL 46.88. Reggie Witherspoon, reportedly driving from Marietta GA today, did not make the race. Carter doubled in the 200 later in 21.08 -0.7 to win the boys MVP award. The junior from Palm Bay HS, Melbourne FL, who is also a wide receiver in football, now leads the US in both events.
Ashlee Brown's hurdle double in two US#1 times earned her the girls MVP award. The J.W. North, Riverside CA star, signed for Penn State University next year, ran 13.86 -0.3 and 42.76.
California girls dominate - J.W. North, Riverside won the 4x100 over Wilson Long Beach, but Wilson won the 4x800 and 4x400 behind Ashley Freeman's great anchors.
Arizona
AZ girls pole vault record falls in two meets at once
Corona del Sol jr Katie Morgan vaulted 12' 8 at the Gilbert Invitational 4/4/03
Lake Havasu sr April Kubishta vaulted 12' 8 at the Peoria Invitational 4/4/03
Arizona
Peoria Invitational
Apr 5 at Peoria AZ
Mountain View sweeps. Jessica Onyepunuka doubles. April Kubishta triples.
Boys - Prescott sr Ben Clark 4:15.86 1600m. Mountain Pointe sr Brandon Glenn 16-0 PV. Mountain Ridge's Jason Perkins 179-5 DT.
Girls - Peoria sr Jessica Onyepunuka 11.84 +1.8 100m and 24.42 +1.1 200m. Lake Havasu sr April Kubishta 12-8 PV, 15.30 +0.4 100H and 44.29 300H. Deer Valley's Janine Sandell 140-10.
California
DyeStatCal - All time top 10 performances
by Sharon Day 6-2 and Billie Jo Grant 182-2
saturation coverage of the Golden State by Doug Speck and Rich Gonzalez
More than 20 meets featured this week, including:
San Luis Obispo County - Arroyo Grande sr Billie Jo Grant 182-2 DT US#5 all time according to Jack Shepard's High School Track record book.
Trabuco Hills Inv - Costa Mesa CA sr Sharon Day 6-2 HJ, US#9t all time and the best in 7 years (6-2.75 Erin Aldrich 1996). Also, San Clemente's Kate Hutchinson 170-9 DT US#26 all time.
Oakland Relays - Merrill West Tracy CA soph Brittany Daniels has spectacular LJ/TJ double 19-5 and 42-7.
Georgia
Smith-Benson Relays
Mar 29 at Albany GA - (all times handheld)
Boys - Rodney Coley, Americus 10.7h 100m and 21.8h 200m.
Girls - Miaie Williams, Lowndes 11.6h 100m (Ashley Cousin 11.7h). Stephanie Smith, Northeast Macon 23.7h 200m (Shequita Draper 23.8h) and 55.9h 400m. Monroe HS 46.8h 4x100 (Northeast Macon 47.9h) and 1:40.2h 4x200.
Georgia
Georgia Honor Roll 4/9
Andrew Hudson's Peach State lists
Idaho
Donovan Kilmartin maxes out PV standards
Eagle ID multi-events star had to quit at 17-3.5, best in the US this season, because the standards would go no higher. On a rainy, 43-degree night in Idaho, Kilmartin opened at 16-0, missed once at 16-6 before clearing on a bigger pole, and then raised the bar to 17-3.5, the highest the standards would go, clearing on his first attempt. He will have to wait until the Arcadia Invitational this weekend to go higher. He is doing only the pole vault at Arcadia and then will stay in SoCal to compete in the collegiate decathlon at Mt. SAC next week. In the Idaho meet Friday night 4/4, Donovan ran 14.3 in the hurdles, high jumped 6'5 (one jump and quit), and ran a 51.3 split on the 4 x400 relay in addition to the pole vault.
Jamaica
Usain (Thunder) Bolt 20.25 and 45.35
in Jamaican National Championships
Apr 2-5 at National Stadium, Kingston Jamaica - Complete Results
This meet is a preview of Jamaican athletes who will run in the Penn Relays.
Highlights
Boys - Usain Bolt 20.25 +1.9 200m (Jermaine Barton 21.25, Orion Nicely 21.36, Winston Hutton 21.43) and 45.35 400m. Jermaine Myers 1:50.63 800m. Akeem Smith 13.65 +3.0 110H (Simon Dickens 13.67). Camperdown 40.52 4x100 (Vere Tech 40.95, St. Georges 40.95). Kingston College 3:14.78 4x400 (Holmwood Tech 3:15.20). Carlos Mattis 51-1 TJ (Wilbert Walker 50-6.25). Tesfa Latty 10.24 +1.1 100m. Kimani Williams 50.93 400H.
Girls - Aneisha McLaughlin 23.19 +0.6 200m and 53.06 400m. Kerron Stewart 11.34 100m +1.1 and 23.50 -0.1 200m. Sheryl Morgan 52.69 400m and 58.20 400H (Camille Robinson 58.38, Carlene Robinson 59.69). Carlene Robinson 2:04.98 800m. Latoya 13.39 +1.4 100H (Monique Morgan 13.55). Holmwood Tech 45.19 4x100 (Manchester 45.78, St. Jago 45.97). Holmwood Tech 3:36.72 4x400 (Vere Tech 3:39.23, Manchester 3:42.69, St. Jago 3:43.84). Kedine Geddes 20-1.5 -1.0. Althea Duncan 41-8.75 +4.0
Kansas
Kansas Week by Anthony Bozarth
Meets still plagued by wind, rain, and snow.
Maryland
Woodlawn Warrior Invitational
Apr 5 at Woodlawn HS
Western (Baltimore) girls sweep sprint relays and team title. Atholton sr Lindsay Grigoriev doubled in the throws at 42-3 and 134-1. Robert Woodard doubles in meet record times in 100/200.
Maryland
Woodward Relays
Apr 5 at Walter Johnson HS
Walter Johnson girls, Middletown boys win.
Maryland
Capital Beltway Classic
Apr 5 at Bowie State University, Bowie MD
Eleanor Roosevelt sweeps.
Maryland
Carroll County Invitational
Apr 5 at Century HS, Westminster MD
Lansdowne MD sr Glen Edwards 59-7.75 SP.
New York
Hornet Relays
Apr 5 at Midwood HS; Brooklyn NY - 119 teams
Syosset NY boys 10:25.01 DMR.
North Carolina
Gene Cherry's NC Honor Roll #5
latest rankings from the Tarheel state
Ohio
Hilliard Davidson Invitational
Apr 5 at Hilliard OH
Pickerington sr Adam Kellermeyer 63-11 SP US#1.
Oregon
Sandy Invitational
Apr 5 at Sandy OR
Tommy Skipper, who broke his left thumb going for the indoor pole vault record at the Nike Indoor Championships, scored 28 points for his team anyway. Skipper, who is hoping to be able to vault again in late May, won the javelin (190-2) and 100 and was second in the 200.
Pennsylvania
4/5 PA Week by Don Rich
Doubles by Ryan Blood and triple by Angie Saterstad
South Carolina
Outback Classic
Apr 5 at Summerville SC
Both PV records broken - Brookland Cayce sr Chase Shealy soared to 17-1, which was 16 inches better than the old meet record. Aiken sr Beth Jordan raised her own meet record one inch to 11-1. Team titles went to the Stratford boys and Lower Richland girls. Lower Richland SC sr Deborah Hawkins 19-0 LJ. A.C. Reynolds NC sr Christina Hernandez doubles 43-3 SP and 141-10 DT (Precious Akins 141-3). . Reynolds NC jr Cade Liverman gets 110/400 hurdle double in 14.62 and 56.77. Midland Valley SC jr Courtney Thomas doubles 12.80 and 25.53 100/200.
Texas Relays
Apr 2-5 at Austin TX DyeStat on-site coverage with Ricky Quintana
| Preview | Entries | Day 1 | Day 2 | Complete Results |
| Saturday morning | Saturday afternoon
| Saturday highlights by Ricky Quintana | more action photos coming
Virginia
Five Forks Classic
Apr 5 at Dinwiddie HS
Atlee boys, Salem girls
Salem sr Amy Seward 18-10 LJ
Virginia
Colonial Relays
Apr 4-5 at William & Mary College, Williamsburg VA
Doubles by Steve Huntzinger and Jennifer Boyd
Boys - Ocean City NJ sr John Richardson 4:18.11 mile (Mark Korich PA 4:18.99). Robinson Fairfax VA sr Steve Huntzinger double 62-8.5 SP and 177-1 DT.
Girls - Hickory sr Jennifer Boyd double 5:01.59 mile MR (Jessica Fanning 5:01.64) and 10:03.64 3000m. Kellam 9:22.77 4x800. Cardinal O'Hara PA 12:35.16 DMR.
College choices
Sara Young - Thornwell SC pole vaulter (12-7) has chosen Clemson.
Cole Herron - Sanger CA high jumper (7-0) has accepted an appointment to the US Naval Academy.
Distance runners Pete Hess of Toms River North NJ and Patrick Bailey, four-time Maryland state champ, will run for the University of Maryland.
Darren Woods - Tacoma WA sprinter has committed to UC-Berkeley.
Chase Shealy - South Carolina pole vaulter (17-0) will attend Arkansas State to be close to Earl Bell's pole vault camp.
Briene Simmons - Georgia 800 meter champion (2:08) will sign with Penn State.
Meghan Braffet - Illinois distance star has chosen the University of Maryland.
Mullen twins - Bronxville NY distance stars Caroline and Catha Mullen will go to Princeton.
Amy Seward - Virginia state LJ/TJ champ will fly south to the University of Miami FL.
Steve Hassen and Ryder Leary Florida distance standouts will stay in state to run for the University of Florida (from Ricky Quintana on RunFlorida.com)
Jennifer Boyd - Hickory VA distance star (4:56.34 mile, 10:53.40 2 mile indoors) chooses North Carolina State.
Laura Meyers - CA Div 4 cross country champion, will travel across the continent to New York City to run for Columbia University.
Janice Davis - of Natchez MS, will give Stanford a sprinter (11.33, 23.38, and 52.92) to go with their mighty distance corps.
Chaime Breaux - Killeen TX sprinter (6.73 US#1) and triple jumper (48-7.75 US#3) has chosen Texas Christian.
Bobby Mack - North Forsyth Winston Salem NC miler (4:12.11 US#4 this season) will attend North Carolina State.
Rachel Umberger - Concord NH, 2:09.67 800m national champion at Raleigh last June, has chosen Duke.
Amy Menlove - Alta UT sprint and long jump champion will attend Brigham Young
Deyon Williams - Suitland MD sprint, hurdle, and high jump champ has signed with Virginia.
Kelly Reynolds - Toll Gate RI hammer/weight thrower (Golden West champion) has committed to Duke.
See 300 college choices by the class of 2003 listed by state and college. Signing Pix too

Announcing
RacePacer
a handheld computer driven, wireless, programmable training aid invented by the coach of the national record setting United Stars of Philadelphia.
Read about it and buy online
---
Hail to the Cross Country Parents
A special edition of Donna on the Side - Donna Dye's survey of cross country moms and dads tells their emotions, dreams, and fears as they watch from the sidelines.
Hail to the Parents
SCHOLAR-ATHLETE Donna Dye's guide to the college recruiting game: eligibility rules, recruiting rules, experiences, organizations, helpful web sites, scholarships & loans, and careers & majors.
---