Saratoga girls - Nicole Blood
Shenendehowa boys - Brendan Fennell
All-day rain turned parts of the course into ankle-high mud, but it didn't stop the rugby players next door and it didn't stop 9,000 high school runners.
US#1 Saratoga NY girls crushed the Eastern States Championship field with a 24 point score, 89 points ahead runner-up Argyle, 3rd ranked team in the Northeast.
Saratoga freshman Nicole Blood won easily in 14:25.4, 10th best on the all-time Manhattan list despite the conditions.
Pearl River sr Brendan Fennell was easily the fastest boy of the day at 12:30.2, 13th on the all-time list, and observors thought he would have had a top 5 time on a dry day.
US#11 Shenendehowa boys had the fastest average team time at 13:15.8.
| | |
| --- | --- |
| Nicole Blood | Brendan Fennell meets the press (Marc Bloom) |
| | |
Jim Patchin, of Corcoran Syracuse, (right) bellyflopped in the mud near the finish, but laughed about it afterward.

Other runners dove into an impromptu pool to clean up.
and afterwards.
The South Bend Cafe, across Broadway from Van Cortlandt Park, is popular for after-meet
parties. Saratoga NY fans were among those present this year.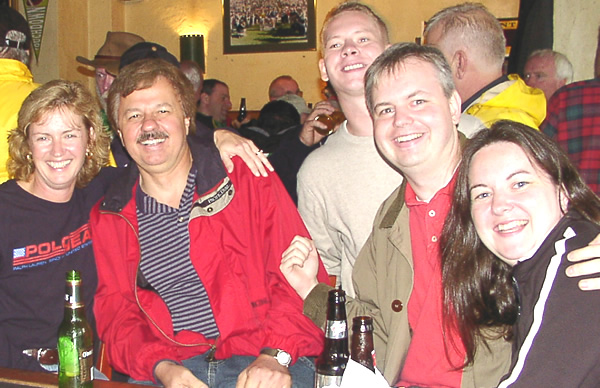 From left: Kathy Kennedy and Fran Wilusz, parents of Girls JV B runner up Carli Wilusz of Saratoga;
Joe McWilliams, Steve Kennedy, and Stacy Kennedy.