Donna on the Side | Preview | Schedule | Meet Info |
2000 meet on DyeStat | the meet's own web site | Contacts |
Results and photos
BOYS
GIRLS
Div 1 - Dustin Voss 15:41. Rockford 90.
Voss was 2 seconds ahead of Sarnia's Doug Currie for the fastest time of the day. Rockford's boys completed a sweep for the black and orange powerhouse. Favored Bedford was fourth after Voss's Saline team 116 and Traverse City West 122.
Div 2 - Riley Klingel 15:47.3 (Tim Kelsh 15:47.7). Dexter 58. Easy win for Michigan #1 Dexter; defending state champion Big Rapids was 6th. .
Div 3 - Kyle Shropshire 16:17 and Stockbridge 88.
Seventh ranked Stockbridge edged 4th ranked Jackson Lumen Central by 4 points, with three sophs including race winner Shropshire leading the way. Shropshire prevailed in a close stretch duel with Hillsdale jr Josh Perrin 16:19.3.
Div 4 - Stephan Shay 16:19. Vandercook Lake 67.
Shay, whose brother Ryan Shay was an NCAA 10,000 meter champion for Notre Dame, was a 19-second winner. Michigan 6th ranked Vandercook Lake beat higher ranked teams in a close score (Jonesville 73, Central Lake 75 and Saranac 78).
JV Div 1/2 - Kevin Dorn 16:55. Rockford 19.
JV Div 3/4 - Nick Lovachis 18:14. Kelloggsville 29.
Middle School (2.5k) - Tyler Morey 8:33. Portage MI North 110.
Div 1 - Amy Kohlmeier 17:33. Rockford MI 57.
Sarnia Ontario sr Kohlmeier won her first big race since a stress fracture in a personal best time which was within 2 seconds of the course record. Amy and her junior sister Aly ran 1-2 the entire race. Even without ace Nikki Bohnsack, still out with a hip injury, Rockford won handily, scoring 5-6-11-16-19, with Brighton 86 and Saline 91 the only other teams under 100 points. Sarnia is a club team and was not counted in the scoring.
Div 2 - Kelly Sampson 18:49. Lakeview 98.
After three straight seconds in invitationals, Renaissance Detroit soph Sampson broke through for a big win by 17 seconds.
Div 3 - Nicole Bush 18:17. Hillsdale 79.
Kelloggsville jr Bush cruised home 48 seconds ahead of seasonal rival Jaime Watson, Allendale soph. Third ranked Hillsdale looks to move up after its decisive win.
Div 4 - Cassidy Edwards 18:57. Greenhills Ann Arbor 42.
Defending state and Portage Inv champion Greenhills won easily. Glen Lake soph Edwards was a 32 second winner over North Huron sr Katie Kelly.
JV Div 1/2 - Kaitlin Baker 19:59. Rockford 18.
JV Div 3/4 - Jessie Olds 21:54 and Jackson Lumen Christi 30.
Middle School (2.5k) - Kayla O'Mara 9:11 (Kaitlyn O'Mara 9:13). Portage IN 58.
first high school and middle school meet in Michigan
to time all of it's races using the ChampionChip timing system
Contacts
Dan Wytko - Work 269/323-5233 email | Home 269-324-7368 email | Cell: 269/806-7001
Bill Fries - Work: 269/323-5745 email | Home/Cell: 269/806-7000
Dathan Ritzenhein's 14:41.9 in 2000 is the course record by 32 seconds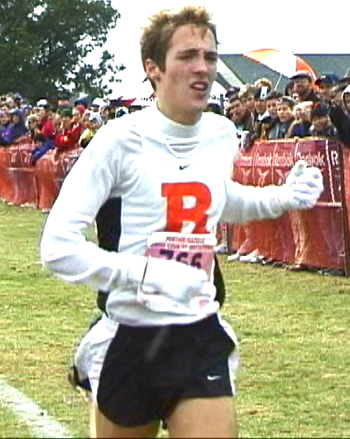 SESSION 1
9:00 Middle School Girls (report 8:50)
9:30 Middle School Boys (report 9:20)
SESSION 2
9:55 National Anthem
10:00 Division 4 Women (report 9:50)
10:30 Division 3 Women (report 10:20)
11:00 Division 4 Men (report 10:50)
11:30 Division 3 Men (report 11:20)
12:00 Division 3/4 Reserve Women (report 11:50)
12:30 Division 3/4 Reserve Men (report 12:20)

SESSION 3
1:00 Division 2 Women (report 12:50)
1:30 Division 1 Women (report 1:20)
2:00 Division 2 Men (report 1:50)
2:30 Division 1 Men (report 2:20)
3:00 Division 1/2 Reserve Women (report 2:50)
3:30 Division 1/2 Reserve Men (report 3:20)
DIVISIONS ARE BASED UPON 2002 MHSAA CROSS COUNTRY DIVISION ALIGNMENT SYSTEM