Results (click on highlighted events for pix and quotes) - Complete Results -
BOYS
GIRLS

55D Dematha MD soph Anthony Wiseman 6.39
300 Transit Tech sr Melville Rogers 34.25
600 Fordham Prep NY sr Conrad Dalton 1:21.09
1000 Eastern NJ sr Andrew Riviello 2:30.81
Mile Hunterdon Central NJ jr Chris Pannone 4:24.71
3200 Cherokee NJ sr Keith Krieger 9:30.22
55H Suido Ezike, Port Richmond 7.42
HJ Willingboro NJ sr Mike Morrison 7-2
LJ Willingboro NJ sr Mike Morrison 23-8.25
PV Fordham Prep NY sr Gavin McMahon 14-6
TJ Eric Church, Westbury 45-4
SP Dematha MD sr Marlon Powells 54-8.75
4x200 Dematha MD 1:30.79 (Transit Tech 1:30.79)
4x400 Westbury 3:25.70
4x800 Fordham Prep NY 8:01.43

..........................................................................................................

55D New Rochelle NY Karen Robinson 7.03
300 final Holy Trinity NY sr Shana Cox 37.59 USR, overhauling Juanita Broaddus 38.44 on the backstretch.
300 heats Shana Cox 38.70, Juanita Broaddus 39.40
600 A.P. Randolph jr Natasha Hastings 1:32.60
1000 New Rochelle NY sr Nana Hanson-Hall 2:59.79
Mile Tri Valley NY jr Heather Iatauro 5:12.34
3200 Bronxville sr Catha Mullen 10:49.08 MR.
55H Bronx Science sr Fatmata Fofanah 8.09 (Kim Henry 8.22)
HJ Shoreham Wading River soph Lauren Biscardi 5-6
LJ New Rochelle sr Karen Robinson 18-7.5
TJ Yanique Sharpe, Mount Vernon NY 36-7
PV Washingtonville NY sr Lindsay Rosales 11-6
SP Toya Woods, New Rochelle NY 43-3.25
4x200 William Penn PA 1:44.72, with anchor Juanita Broaddus coming from third place with a 24.3 split after William Penn stumbled into the railing on the second exchange and lost its lead.
4x400 Willingboro NJ 3:57.95, with anchor Okechi Ogbuokiri holding off Natasha Hastings' 55.7 anchor for A.P. Randolph 4:00.00.
4x800 Bronxville 9:33.68

New York Armory
Bishop Loughlin Games
12/21 New York - DyeStat on-site coverage - NEW Donna on the Side
Most Outstanding Performers: Shana Cox 37.59, Mike Morrison 7-2
Team winners: Fordham Prep boys 24 (Dematha MD 22), New Rochelle NY girls 27
Shana Cox 37.59!
new US record

Holy Trinity NY sr Shana Cox won this meet last year in 38.00 for a meet and Armory record, but Natasha Hastings' national record 37.77 later in the season surpassed her. So Cox today got her meet and Armory record back with a national indoor record in the bargain. Cox overpowered William Penn PA sr Juanita Broaddus on the backstretch. Broaddus finished in 38.44, putting her 9th all time.
Cherokee NJ's Keith Krieger wins 3200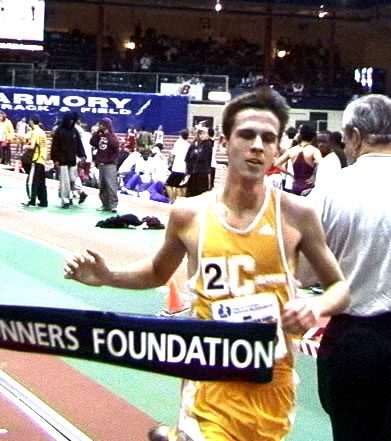 Natasha Hastings 1:32.60 wins 600 meters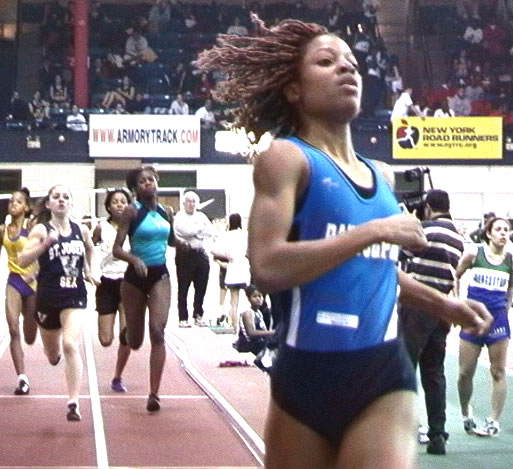 Spiffed up Armory sports new giant video screen above far turn.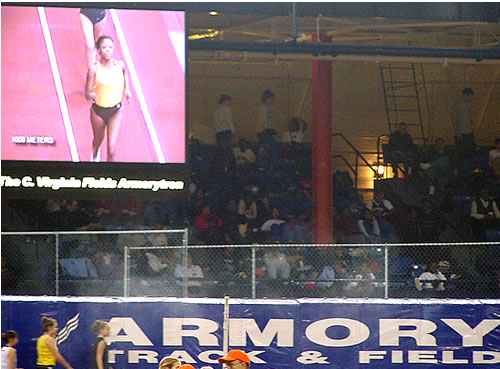 A new addition to the New York Armory this year is the C. Virginia Fields Armorytron, with live video and replay of the events. It is named after the Manhattan Borough President and city councilwoman and longtime supporter of The Armory
First major meet of the big New York Armory season features the third round of the New York Road Runners Foundation Grand Prix Series for high school distance runners. After two rounds -- the Manhattan Invitational and the 2.5 mile portion of the New York Marathon -- the leaders are Mark Horton, of Suffern, and Toni Lynn Salucci, Shoreham Wading River. They are entered today, along with other leaders such as Mark Alizzi, Jeremy Zagorski, John Fox, and Caroline and Catha Mullen. The fourth and final round is the 3200 of the Hispanic Games January 11 at the Armory.
3200 Entries
BOYS
GIRLS
M. Alizzi Syosset
K. Krieger Cherokee
M. Webley Transit Tech
J. Zagorski Parsippany Hills
S. Sullivan Port Jefferson
J. Fox Hunterdon Central
B. McCabe Fordham Prep
M. Reyes North Rockland
C.J. Jamieson North Rockland
D. Johnson Walt Whitman
S. McDermott Chaminade
G. Preis Chaminade
L. Van Hassel U.N. Int'l School
C. Biggs Moore Catholic
J. Bach Collegiate
M. Horton Suffern
T. Williams Arlington
M. Harbus Collegiate
S. Iannaccone Toms River East
B. Konczewski Somers
D. Debski St. Benedict's Prep

Caroline Mullen Bronxville
Catha Mullen Bronxville
S. Seiles Hopewell Valley
T. Salucci Shoreham-Wading River
K. Hayden Columbia
K. Kemink Arlington
C. Brady Sayville
A. Gregory Hackley
N. Reynolds Stuyvesant
M. Parks Cicero-North Syracuse
M. Tursi St. John Villa
C. Mannaerts Summit
K. Donovan Half Hollow Hills
K. McKenna Suffern
K. DiCamilla Holy Trinity
C. Sellanowitz Hopewell Valley
C. Mullen Bishop Kearney
M. Edkins St. Joseph by the Sea
N. Roman Monroe Township
J. Moore Curtis
A. Kifer Ward Melville
B. Reilly Ward Melville
New York Road Runners Foundation
Grand Prix Series for high school distance runners.
Rankings after two events.
Boys   Points  
Runner  Team Manhattan Marathon Loughlin Hispanic  
Mark Horton Suffern 28 50  78 
Brendan Fennell Pearl River 50  50 
Laurent Van Hassel United Nations  50  50 
Matt Redden Xavier  50  50 
Kevin Tschirhart Northport 49  49 
Maximo Collado Nazareth  49  49 
Victor Gras Belmont  MA 48  48 
Anthony  Tanzi Mahopac  48  48 
Hakon DeVries John Jay 47  47 
Daniel  Obaseki St Francis Prep  47  47 
Andrew Whitbeck East Rochester 46  46 
Mike Smayda White Plains  46  46 
Ahmed Haji Conard CT 45  45 
Michael Webly Transit Tech  45  45 
Sean Quigley Archbishop Williams 44  44 
John  Weselcouch Fairfield  44  44 
Mark Alizzi Syosset 43  43 
Francisco Tapia Curtis  43  43 
Keith Krieger Cherokee 42  42 
James  Caufield Xavier  42  42 
Dan McKenna Liverpool 41  41 
James  Piekarski Scarsdale  41  41 
Chris Pannone Hunterdon Central 40  40 
Matt Murtagh Regis  40  40 
Brad Liber University City CA 39  39 
Brendan Phillips Mahopac  39  39 
Jake Gurzler Shenendehowa 38  38 
Victor Guaiquil Stuyvesant  38  38 
Daniel Naughton Kellenberg 37  37 
Anleish Patel South Brunswick  37  37 
Brendon Stanley Suffern  36  36 
Matt Roberson Brookwood 35.5  35.5 
Justin Seheid Pope John 35.5  35.5 
Jesus Girau Bishop Ford  35  35 
Jeff Day West Springfield 34  34 
Ryan  Harris Regis  34  34 
Ryan Witt Midlothian 33  33 
Prisco Acevado Middletown  33  33 
Will Melofchik CBA Lincroft 32  32 
Scott Lapiedra Xavier  32  32 
Steven Tobin West Springfield 31  31 
Carlos Rivera LaSalle  31  31 
Mike Kenny Hatboro-Horsham 30  30 
Christopher Strumolo New Dorp  30  30 
Steven Furst Goshen 29  29 
Angel Alsina Lasalle  29  29 
Ridley Gunderson Bronx HS Science  28  28 
Sean Swift Donbosco Prep 27  27 
Dennis Desposito St Francis Prep  27  27 
Kyle Fiasconaro Commack 26  26 
Tom Daly Mahopac  26  26 
Stephen  Walsh Bishop Hendricken 25  25 
Mike Lawler Suffern  25  25 
Teddy Quinn Rush-Henrietta 24  24 
Peter Porcino Regis  24  24 
Brandon Miles Midlothian 23  23 
Michael  Williamson Bronx HS Science  23  23 
Craig Elbert Floyd 22  22 
Guy Menard Bishop Loughlin  22  22 
Connor Farrell Bayport 21  21 
James  Mulligan Bronx HS Science  21  21 
Johathan Anderson Cinnaminson 20  20 
Brian Connolly Shoreham-Wading River  20  20 
Christopher Dennis Hillsborough  19  19 
Sean  Barrett St. Augustine 18.5  18.5 
Pat Zagorski Northport 18.5  18.5 
Jean Pierre Anacreon Bishop Loughlin  18  18 
Ryan Gaedge Shenedehowa 17  17 
Brian Auer Petrides  17  17 
Jon Fox Hunterdon Central 16  16 
Richard Jones St Francis Prep  16  16 
Conor Lanz VSC 15  15 
Eric  Zorrilla St John's Prep  15  15 
Peter Gerboth DonBosco Prep 14  14 
William Schoenberg Yorktown  14  14 
Tom Hammer Ithaca 13  13 
Ross  Edelman Suffern  13  13 
Scott Mirdel Shenedehowa 12  12 
Seth Silverman Fieldston  12  12 
Pat Ryan CBA Lincroft 11  11 
Adam  Flocke Middletown  11  11 
Kurt Kimmmons Brookwood 10  10 
Philip Petrullo Xavier  10  10 
Nate Lockett Lansing 9  9 
Dan  Gallen Suffern  9  9 
Michael Klueber Hillsborough 8  8 
Doug Swiatucha Somers  8  8 
Kyle Paolangeli Ithaca 7  7 
Josh Laster Warwick Valley  7  7 
Miguel Reyes North Rockland 6  6 
Albert Co Suffern  6  6 
Jeremy Zagorsky Parsippany Hills 5  5 
Anthony  Santosus Smithtown  5  5 
Kern Huerta University City CA 4  4 
Steven D'Ambrosio Iona Prep  4  4 
2333  3  3 
Brian Horowitz Suffern  3  3 
Bryan Buchanan Cicero North Syracuse 2  2 
Justin Dishart Somers  2  2 
Phil Roach Shenedehowa 1  1 
Matthew Duelka Townsend Harris  1  1 
   

  
Girls   Points  
FIRST NAME LAST NAME SCHOOL Manhattan Marathon Loughlin Hispanic  
Toni-Lynn Salucci Shoreham-WadingRiver 45 48  93 
Catha Mullen Bronxville 38 49  87 
Anjelica Gregory Hackley 23 45  68 
Caroline Mullen Bronxville 15 50  65 
Nicole Blood Saratoga Springs 50  50 
Laura   Cummings Bayshore 49  49 
Elizabeth Maloy Holy Names 48  48 
Lindsay Sundell Northport 47  47 
Melissa Salerno Rocky Point  47  47 
Lindsey Ferguson Saratoga Springs 46  46 
Kara McKenna Suffern  46  46 
Catherine Rossi Saratoga Springs 44  44 
Rolanda  Bell Sacred Heart  44  44 
Kirsten Hornbach Saratoga Springs 43  43 
Lindsey Scherf Scarsdale  43  43 
Ashley  Hughes Phoenix Central Schools 42  42 
Carli Wilusz Saratoga Springs  42  42 
Aislinn Ryan Warwick Valley 41  41 
Alysha McElroy Saratoga Springs  41  41 
Emily Graney Tappen Zee  40  40 
Heather Iatauro Tri Valley 39  39 
Tricia Monteforte Middletown  39  39 
Dana Mitchell Bronxville  38  38 
Jessie Ooms University City CA 37  37 
Helen Millson Bronxville  37  37 
Jessica Neal Riverdale Baptist 36  36 
Beth Butler Bronxville  36  36 
Tara Whalen Monroe-Woodbury 35  35 
Megan Collins Ward Meville  35  35 
Alison Rowe Saratoga Springs 34  34 
Caroline Mannaerts Summit  34  34 
Marie  Parks Cicero North Syracuse 33  33 
Emma Pace Saratoga Springs  33  33 
Melissa Trauscht Saratoga Springs 32  32 
Alexandra Swiatocha Somers  32  32 
Mary Rose Consiglio Suffern  31  31 
Anna Jankowski Colonie 30.5  30.5 
Nicki  Junod Cicero North Syracuse 30.5  30.5 
Avigail Kifer Ward Meville  30  30 
7219  Saratoga Springs 29  29 
Alexandra Berenis Saratoga Springs  29  29 
Cheryl Dingman North Penn  "PA" 28  28 
Megan Murphy Millbrook  28  28 
Katie  White Burlington,VT 27  27 
Kate Kearney Bronxville  27  27 
Lauren Noble Little Falls 26  26 
Hanna  Robinson Nyack  26  26 
Robyn Ellenbrock Ithaca 25  25 
Linda Michlik Bishop Kearney  25  25 
Sarah Rogers Shenendehowa 24  24 
Cassandra Ungers Lafayette  24  24 
Katie Morton John S Burke  23  23 
Jackie Gniewek Shenendehowa 22  22 
Erin Hays Shoreham-WadingRiver  22  22 
Jesse Mizzone Passaic Valley 21  21 
Amy Rhein South Brunswick  21  21 
Sara Best Voorhees 20  20 
Cristen  Mullen Bishop Kearney  20  20 
Adornetto Gian Clarence 19  19 
Tory Morgan Summit  19  19 
Kathleen Henry Ridge 18  18 
Rachel Cresswell Commack  18  18 
Ashley Ferriero Columbia 17  17 
Erin Linehan Pleasantville  17  17 
Hannah Davidson Argyle 16  16 
Rita Suzuki Somers  16  16 
Brittany Hoefener Ward Meville  15  15 
Lauren Schmidt Bayshore 14  14 
Caitlin Fennessy Fox Lane  14  14 
Laura McCloskey John Jay 13  13 
Meghan Mcevoy Ursuline  13  13 
Kristin  Clark Washingtonville 12  12 
Emily Kifer Ward Meville  12  12 
Joanne Smith Monroe-Woodbury 11  11 
Angelic Zambrana St John's Prep  11  11 
Kayleigh Wheeless Westhill 10  10 
Tara Jakeway Ursuline  10  10 
Rachel Papin St. Huberts 9  9 
Hiller Burton Bronxville  9  9 
Kristin Farley Poly Prep 8  8 
Samantha Schierle Ursuline  8  8 
7216  Saratoga Springs 7  7 
Marissa Goldstein Ward Melville  7  7 
Nicole Soblosky Colonie 6  6 
Erin McEvily Ursuline  6  6 
Meghan O'Conor Saratoga 5  5 
Vanessa Wilczewski Bronxville  5  5 
Naehi Reynolds Stuyvesant 4  4 
Lauren White South Brunswick  4  4 
Kara McKenna  3  3 
Valerie Mellon St John's Prep  3  3 
Emily Fung Argyle 2  2 
Sara Kaurman South Brunswick  2  2 
Katie DeRusso Fairport 1  1 
Clare Halligan Ursuline  1  1 
Caitlin Lane Argyle 40