The highly anticipated 3200m at Arcadia lived up to it's billing and more on Saturday night. Everyone thought that 6 under 9 minutes last year was the best in years. But beginning under a light rain which by race's end left the track and everyone drenched, an amazing 11 runners went under the magical nine minute barrier leaving everyone scrambling for their record books. Of the 11 who went under, only two had ever done so before this year. Ten were seniors and the other a junior.
The night belonged to the king of big time racing, Chris Solinsky. The National Footlocker Champion has had a stellar senior campaign. He notched yet another major victory against the best field in years. Wins at Great American, Footlocker XC Nationals, the NIKE Indoor Championship two mile and now the Arcadia have to go down as one of the most remarkable achievements of any high school distance runner in this age of national caliber events.
At the end of the race, nearly all the competitors were thrilled. The majority of this very special group was celebrating not only their achievements, but the achievements of their peers. Curtis congratulated Moe. Debole and Curtis were eager to see their time. After showing them their splits, Debole agonized over the mere tenths that he had missed breaking 8:50. Solinsky congratulated Vaughn exclaiming " What is it with you Colorado guys? [Bret Schoolmeester made a run at Solinsky in the stretch here last year]. I just can't seem to shake you? It must be the girls you train with!" He then turned to Matt Debole [who sprinted out to a swift early pace] and said " Matt, what were you doing?!!!" Handshakes and pats on the back were the norm as the runners knew that they had been in a very special race on very special night.
In an unrelated though humorous (to me) side note, Solinsky was left scrambling for the coveted NIKE Arcadia bag after the meet. On Friday, he said "Hey, where do I get my bag? They didn't give it to me at registration." After a long warm down after his race, he was still without a bag. Somewhat jokingly, he said, " Hey, I didn't get my bag! They say they are out of them. I better get it. It's all that I came for. I like bags." Luckily, meet director Rich Gonzalez came to the rescue and gave one of the two remaining bags to Solinsky who I'll bet is a very happy camper.
The huge field left Hassen with blood running from his leg, and others with battle scars and even worse outcomes. Alec Wall went down after three laps nearly taking out the entire field before popping back to his feet and finishing with one shoe.
So, we look towards next year where Rich Gonzalez will be left with a huge task of putting together another excellent field. With runners taking large chunks off their PR's in nearly every single 3200m race, one can expect that the task will be made a lot easier. We may, just may, be in store for another memorable race.
Race Recap - lap by lap

The race brought to the line the nation's best. All the pre race hype had each of the runners on the rain drenched track visibly focused. Obviously, they realized the enormity of the race at hand.

Lap 1 - 62.0 - The gun went off and everyone burst into the first corner. The runners, staggered in three alleys, jostled for the best position, but got away very cleanly. Matt Debole got away best and going into the curve before the break, had a visible lead. As he raced down the backstretch, the others settle in a few meters behind. The smooth striding Debole reached the 200m mark in a seemingly suicidal 29 which explained the large margin. As the group made their way into the homestretch, Solinsky moved into second. The other major players also tried to make their way to the front as the pack ran two abreast. Debole reached the 400 in 62.0.
Lap 2 - 69.0 and 2:11 - At 600m, Trafeh made a move into second as Debole continued to lead by a few meters. Solinsky, always near the front during the entire race, shadowed Trafeh in second. Reaching the 800m in 2:11 (69.0), Curtis made his presence felt as he moved into second.
Lap 3 - 69.2 and 3:20.2 - Debole's began to dwindle as they ran down the backstretch. By the 1k mark, 2:45, Debole's lead was gone as the runners bunched up behind him and the pace slowed.
At the end of the third lap, the pack was now pretty tight behind Debole and Solinsky. Right before the finish line, there was some bumping and Alec Wall fell to the track tumbling. A few others went down, but quickly rose as the other runners leaped and dodged them. Hassen nearly was taken down, but at the last minute side stepped the fallen runner. The race slowed significantly as the runners turned the third circuit in 69.2( 3:20.2).
Lap 4 - 66.9 and 4:27.0 - Sensing the fall behind him and feeling the pace was slipping, Solinsky took charge as Curtis followed. The next lap went in 66.9 as Solinsky hit the 1600m mark in 4:27.0. Hassen made his first appearance near the front at that stage moving in right behind Debole for third. The runners were beginning to get antsy, and Solinsky, who had said that he was going to negative split, took one big sigh, and went to work. The race was on.
Lap 5 - 65.3 and 5:32.5 - Solinsky stormed down the backstretch uncoiling a 32 for the next 200m. Solinsky was now clear and had a gap. The runners behind him were strung out. Feeling the urgency created by the sudden move, they began to cover it with ones of their own. Vaughn was able to get past Debole. Curtis and Moe also moved up. Solinsky kept his pace. He used a 65.5 to hit the 2k mark in 5:32.5.
Lap 6 - 65.3 and 6:37.8 - Solinsky was now on his own pushing the pace as his initial surge left him with a 5 meter gap. Vaughn matched Solinsky's surge. Debole was hanging tough in third with Curtis, Hassen, and Moe in tow. Solinksy put down another 65.3 (6:37.8) as Vaughn continued to maintain the pace a few meters behind him.
Lap 7 - 64.3 and 7:42.1 - Looking for more, Solinsky continued to press and ran the next 200 in 32.
He turned the lap in 64.3 (7:42.1) as the crowd, already on its feet screaming, got even louder. As he had done at Great American, Vaughn kept chasing, not buckling under the torrid pace. Curtis moved into third into the final backstretch. Moe, having the race of his life, had been making his way up to the front over the last few laps and was right on Curtis' heels. Debole was still hanging tough in fourth.
Lap 8 - 61.2 and 8:43.24 - Solinsky covered the next 200 in 29 (8:11 for 3k) as he scratched for every ounce of energy from his body. Vaughn was still matching him. Curtis seemed to be on the cusp of going into his patented kick as he neared the 200 to go mark. Moe was right on his shoulder though, battling.
As he entered the homestretch, Solinsky grimaced as he raced to get under 8:40. Not slowing, he crossed the line in just over 8:43. Vaughn, never able to bridge the initial gap, came home a strong second.
Curtis and Moe were together at the top of the straight, but as they neared the finish, the surprising Moe challenged Curtis on the outside. Moe kept going by to edge Curtis. Debole came home next with Hassen a tired sixth.

What they said
" The first lap, Debole took it out. I started to go with him, but then I
heard 29 at 200 and I had to back off. I wanted to go out hard that first
lap, but not that hard. I wanted to be well on pace to break 8:40. I wanted
to be conservative, but it was so hard to. The next three laps were a big
mess especially with Alec Wall falling. Curtis almost tripped me up a few
times. I tried to keep contact. To be honest, I didn't think Debole would
hold it. I wanted to keep contact with Curtis because he was moving up and
catching Debole.
"I just wanted to run smart and come through in under
4:25, but you know, you can't get everything. Once I saw it was 4:27, I
just put my head down and said, "alright, I got to get going because I knew
I needed to come back hard. I was trying for a negative split because I knew
no one was going to take it out amazingly hard. I put a good effort out
there and the scary thing is I felt really great there at the end. I was
tying up because the speed was catching up with me , but crossing the
line I felt pretty good.
"I don't know if there are more steps to keep on
improving for the next few weeks. I'm just going to keep on working hard and
maybe take another shot at the record.
"I ran a 4:07.16 indoors and I got boxed in the last 150 so I think I could
have run 4:05 or 4:06. I don't really know what I want to focus on now. I'm
debating whether to do the mile at AOC or two mile at AOC. I don't know
really what I'm going to do yet. I'm going to see how those events pan out
during the rest of the season. Keep my training up and hopefully… I know
Steve Magness went 4:01 so it gives me some motivation that I won't be the
only one pushing if I do the mile at Adidas.
"I was close to the national record here and I didn't get it, but I may focus
my attention on the Wisconsin mile record at our state meet, but I don't know yet. I
don't know what I'm going to do yet. It'd be nice to go into the state meet
and get the national record… A lot of thinking."
[ Did he think he could run a 4:16 last mile]
"I was hoping for that. I was
hoping to be under 4:25 at the mile and split like a 65, 65, 63 and
hopefully a 60 or under. I was planning on being a little faster, but the first
mile didn't agree with it. I was running by myself that whole second mile."
[ Did he hear Brent Vaughn behind him]
" Yeah. I could hear running and
splashing on the track and I heard the fans were yelling for him. It
definitely gave me something to drive for, but I think if he was there right
on my shoulder too, we could have gone maybe a little bit faster. But
Vaughn, he's good. I barely…. I beat him by six seconds at Great American.
He's an amazing runner. He's got a great coach. It's going to be fun.
Hopefully, I see him at adidas. I'm just hoping to watch him at adidas if I
do the mile.. It's going to be an interesting end of the year."
Brent Vaughn: Solinsky ran a great race. I couldn't really do anything about it. I was training with the best of ability that God gave me and that's all I had today.
RQ: You came out of nowhere. All this talk about these other guys. What was your race strategy?
Vaughn: I had a horrible race in Wisconsin trying to qualify for nationals. I just wanted to come here and prove to myself that I could run with these guys. I've been training hard and that's all I had.
RQ: Did you ever doubt yourself that you could ever run like this?
Vaughn: I thought I could from my training, but I train at altitude so I had no idea what I could do down here. I ran as hard as I could.
RQ: When Chris went, were you surprised that you could go with him?
Vaughn: I raced against him at Great American and lost by six seconds. He outkicked me there and he outkicked me here so… it's something I have to work on.
RQ; You look really recovered.
Vaughn: I feel pretty good.
RQ: Do you have more in the tank?
Vaughn: Yeah, I think so.
RQ: You were the real surprise here.
Moe: I thought I was going to run ten seconds slower today. Coming in last year to all these races, I'd kind of sit in the back. Kind of like "these guys are awesome. I can't hang with these guys." Coming in today, I just said I'm going to stay close to the front and just race seven laps. Coming into the seventh lap, I took off. In the last half, I just said, I'll just keep it going. It was really amazing.
RQ: I know your xc season must have been really disappointing for you.
Moe: Yeah, I came through… I was running awesome my last couple of races. I kind of talked to a lot of people before regionals and I should have just run my own race. I sat too long. You can't sit on that course. You get on those hills and they're just gone.
RQ: What have you been doing during the winter?
Moe: I bumped up my mileage. My workouts have been ok. They haven't been fantastic.
RQ: Finishing third in this field, what can you say?
Moe: It was an amazing day. I don't think… I've never had a race like this in track or cross country. This makes amends for a lot of disappointing races.
Look at my leg. [ Pointing at his leg which was bleeding from a spiking]. It went out fast. I thought it was going to go out fast. I kind of wanted to relax a little more on that first lap. I tried to relax. I think we came through in like 63 or so. I don't even know. It went out fast. I just wanted to hang in as long as I could. I thought, to be honest, I could hang with Solinsky until he made the last move, but he made a huge move with two laps to go. I tried to go as fast as I could. He's a great runner. It came down to the last lap. I was with some guys and they kind of pulled away from me some. I'm kind of upset about that. I'm not a real strong kicker, but the fast pace might have hurt me a little bit. Overall, I thought it was a good race. I ran 8:52.5, is that right? That's good. I think I'm capable of doing better. I don't know if I'll have the chance to run on a track like this in a while. Hopefully, I can work hard and just keep improving. It felt good. The fast pace…. I knew it was going to be fast. I just wanted to hang in it. I moved up some. I thought I did a good job. The first lap, I was probably tenth or so, and then I moved up from around the top five. I just tried to hold on to Solinsky as long as I could.
I'm really happy with the time. Brent Vaughn….. he kind of came out of nowhere, that's fine. As did Moe. I would have liked to get first or second, but I came into the race wanting to run under 8:50. I got a great two mile out of the way and now I can focus on the mile and 800. All I wanted to do is make sure ran under 8:50 and I did that. Great race. Everyone ran well. You can't be disappointed at all.
RQ: Steve Magness ran 4:01 yesterday. What do you think about all these guys running fast?
Curtis: That gets everyone pumped. Just in a race like this when you have everyone going at it. There is going to be some great times no matter what place you come in. You know, Magness running 4:01 something and I've beat him a bunch of times so that makes me think I can run faster than that so……
[ Eavesdropping meet director, Rich Gonzalez: Ohhhhhhhhhhhhhhhhhhhhhhhh……….. ]
Curtis: It's just great that it gives you something to work for during practice. It gives you something to look forward to during the race. I'm really pumped about only focusing on the mile.
RQ: So you're not disappointed with your place?
Curtis: Obviously, you'd like to get the win or get a higher placing, but with a time like that considering my background and how little mileage I run, it's a great time so I mean, take it out of a race and say I ran it in an open race.
RQ: Where you surprised that Carl could outkick you?
Curtis: Yeahhhhhhhh! I was like "What the ….?" I started to go with like 300m and he's still going and I'm like "What the hell is this?" [Laughing] He's a great runner. I've always known… I met him at Golden West last year. He's a tough runner. Better things to come form him this season. If he wouldn't have went with me, I wouldn't have got the time that I did. Me and him really pushed each other. It as great for both of us.
RQ: What were you thinking there at the beginning?
Debole: Well, I was in the second water fall stagger. I wanted to make sure I got out aggressively. At least, the first turn, just to make sure that I wouldn't have to jostle with everyone who was coming in. I ended up being out there and nobody was really on my shoulder. So I was like " This is good. I don't have to deal with everybody for position. " I just kind of kept it going. I just wanted to enjoy it a little bit….. free running. I was just expecting everyone else to come up on me. I guess they came through on the third or fourth lap or so. Going into the next mile, Solinsky took over. In the beginning, I wanted to make sure we where going out at an honest pace. I know everyone came out here to run fast. Going through at 4:30 and everyone being at the front, that's not going to set everybody else for a good time. I figured we came through at like 4:25, right on the button. I just wanted to make sure that it was honest early.
RQ: At indoors, that certainly wasn't a good race for you.
Debole: No, it surely wasn't. Even though I came out on to the track for a duel meet a week and a half ago, Wednesday. I ended up running a 4:20. We were trying to make it a two mile pace. Just nice and easy to make it seem like the race this weekend. It ended up being faster than nationals. I came back and really went after an 800 and went 1:55. I guess I had an actual tune-up a week and a half ago. Actually, I worked out on Monday. I did a tempo on Thursday of this week. I didn't taper or really anything for this meet. It's my only two mile of the year so I wanted to make sure I ran fast. I haven't really started gearing up for racing shape for the mile and 800. This is more of my base still. I hope to get things going in the next couple of weeks.
RQ: Mile or two mile at the end of the year?
Debole: It's certainly going to be a mile. Mile and we're actually doing an SMR relay team with J-Mee Samuels, Anthony Paulson and John Wiley. We're going to put up a nice SMR and really go after that as well. So it's going to be a little bit shorter than the two mile at the end of the year.
Former champs on hand
Two highly decorated distance runners from year's past were seen milling around during Arcadia. Thom Hunt,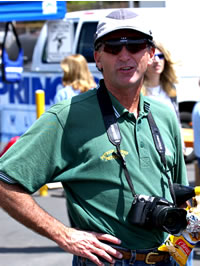 Arcadia two mile/3200m record holder (1976), now a coach at his old school, Patrick Henry in San Diego, attended, but was unable to stay for the 3200m. Chomping down on a huge cheeseburger, he reflected on the state of distance running and his record run. Surprisingly, it was the first time he had been back to Arcadia since his record run.
Jeff Nelson, two mile record holder(8:36.3 in 1979) was also in attendance, and another famed high school runner, Alan Webb, was proudly showing off Jeff's autograph "to a fellow high school record holder."
Thom Hunt
Arcadia 3200m record holder (8:42.30) - his record withstood the onslaught. [photo by Mike Leary ]
RQ: Can you talk about the Arcadia record?
Thom Hunt: Well, this is what I tell people about that. The thing that I was doing was trying to win the race. The year before I was second. When you finish second, you work harder the next year to come back and win. That's what really fuels the marks. It's the competition. It's all about winning.
RQ: Was Eric Hulst second in that race?
Hunt: Yes. There were seven guys under 9 minutes. So you didn't slack off or you were going to get your rear kicked.
RQ: The record was set when? 1976?
Hunt: Yeah, 1976.
| | |
| --- | --- |
| | Solinsky was dismayed when he was told the finish clock time. He had missed Thom Hunt's Arcadia Invitational record by less than a second. |
RQ: Why do you think it's been so long for the resurgence?
Hunt: Well, for a while there, I don't think they were training as much as we used to train. I wasn't really involved in it so I'm not really the best opinion. I've only been back in the game for about five years. I know that the top top people are training pretty hard. But on a whole, when you look at the masses, people aren't training as much as they used to train.
RQ: What kind of training are you talking about?
Hunt: I'm just talking about, in terms of just overall bulk. The amount that is being trained. Not the specifics like who does what workout and who does what other workouts. Just in general, more people ran more. More people trained harder I think in the 70's than they were there for a while. Your top kids seem to be training at that level, but not as many kids train at that level.
And it's a process. I know now that I'm at Patrick Henry coaching, we've slowly built up over the last few years the amount that they can do. You can't just throw them to the wolves and all of the sudden have them train. But when I came in, they weren't able to handle the training load. They are slowly, but surely building so they can do more and more and the program is getting more successful.
RQ: The mileage you were doing, how much are we talking about?
Hunt: In high school, I probably started at 50 miles a week and then ended at 75 or something like that. Nothing that's like "oh my gosh" type mileage. It's not about only running miles. It's not about the mileage. It is about the volume of good quality training. It's also training year round and also really prepping and preparing and doing what is necessary to be successful at that top level.
RQ: Will you be watching the race tonight?
Hunt: Actually not. My kids are here during the day. I'll be heading back down. This is the first time been here since I ran here which is interesting. I've got three little kids so my priorities are I've got to go home and see them. If I don't, I'll miss them two days in a row and that kind of exceeds my level of commitment there.
RQ: So if this record goes down tonight, what will you think?
Hunt: Well, it should. Eventually, they have to. It's like my indoor mile record with Alan Webb a couple of years ago. It was going to happen. Somebody at that level was going to get that. Some of these things are pretty amazing that they've stood around as long as they have. It will go. If not tonight, it ill go some other time soon. You know guys are shooting for it and will get together and go after it.