Saturday Night - Invitational Division
DONNA ON THE SIDE AT MOBILE
the City of Mobile - with Iraq in Mind
Saturday morning - swimming pool and radio broadcast
Saturday night
Part 1 - Intro
Part 2 - Moms, Dads, Kids
Part 3 - Relays
Part 4 - Distance
Part 5 - Sprints
Part 6 - Throws
Part 7 - Jumps

Saturday Night Introduction
Outstanding Athletes
Outstanding Girl Athlete:
Ashlee Brown-CA

Outstanding Boy Athlete:
Xavier Carter-FL
In The Stands--On the Sideline
Fans from Pensacola FL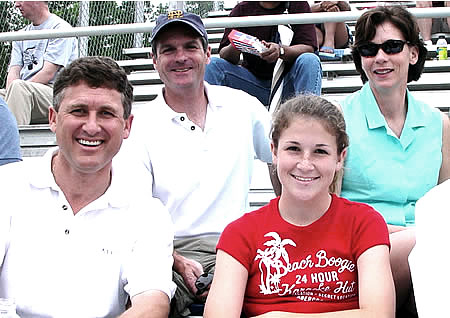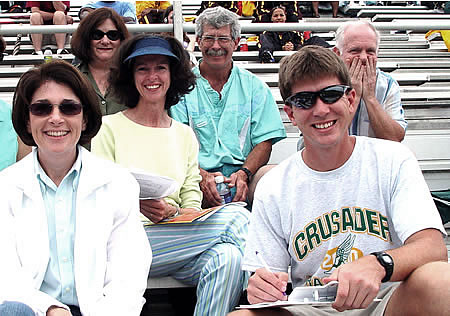 From Baton Rouge-LA: (top left) Christopher Ware, Brenda Ware (bottom left) Denise Townsend and Faye Taylor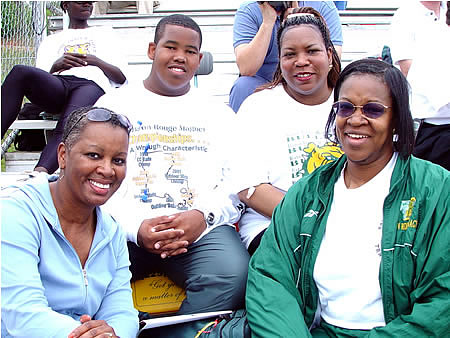 Niceville-FL: (from top) Robin Chamberain (daughter Kara), Pat and Rick Sander (daughter, Adie)
(bottom left) Jeanne Lofay and Terri Rechard.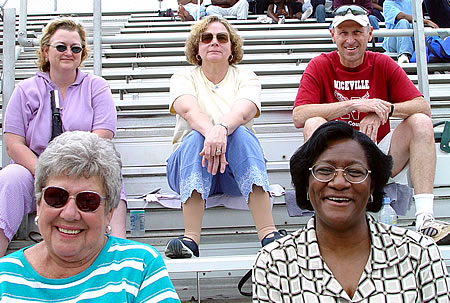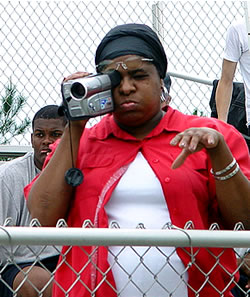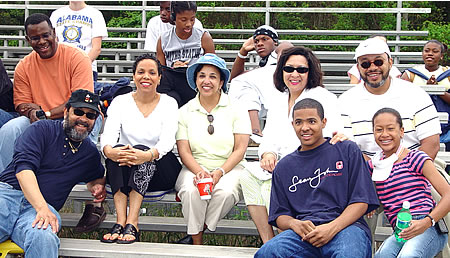 Workerbees
Honored during the meet were several special people whoare dedicated to track and field and have given time and effort to the sport.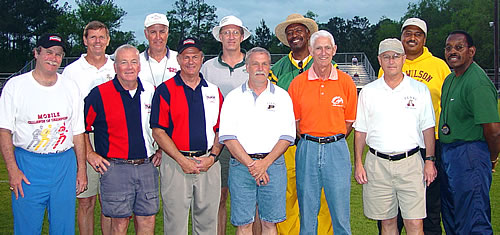 Opening Ceremonies were complete by Jessica Rushing signing the National Antheam and Heather Hunt singing "God Bless America." Color Guards were provided by Sargeant Brad Stuart and Sargeant Joe Ellsworth.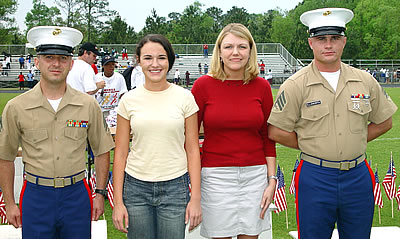 From the Mobile Sports Commission:
Danny Corte (l) and Carol Hughes
The Mobile Sports Commission presented the 2003 Challenge of Champions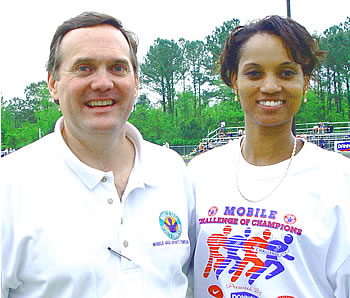 The Awards Group: (from left) Carol Hughes, Bob Woodworth and daughter, Heather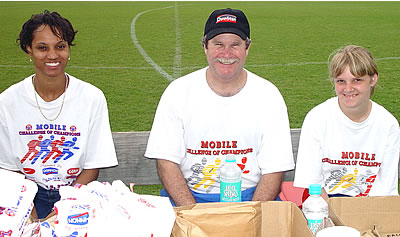 Meet Director, Steve Schoenewald-AL Steve has worked hard to provide a quality track and field meet.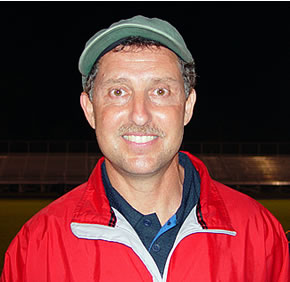 Assistant Meet Director Mike Cambre-LA with his family, wife, Crystal, daughter, Melissa and son, Jacob. Together Mike and Steve have built a quality meet.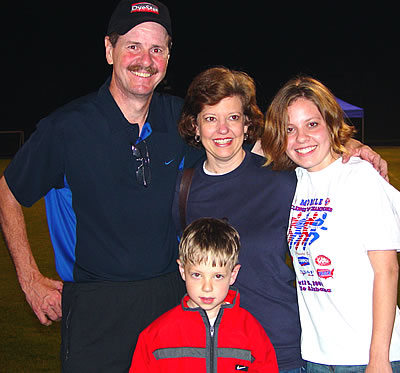 That's All Folks and Goodnight to all!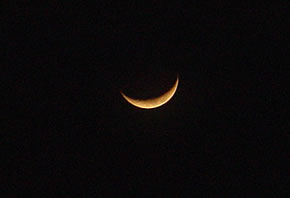 DONNA ON THE SIDE AT MOBILE
the City of Mobile - with Iraq in Mind
Saturday morning - swimming pool and radio broadcast
Saturday night
Part 1 - Intro
Part 2 - Moms, Dads, Kids
Part 3 - Relays
Part 4 - Distance
Part 5 - Sprints
Part 6 - Throws
Part 7 - Jumps