sprint superstar Allyson Felix signs with USC (Southern California)
| | |
| --- | --- |
| | Allyson joins brother Wes, already at USC. Both were on the USA team at the World Junior Championships in Jamaica last summer. |
Sprint superstar Allyson Felix signs with Southern California on her 17th birthday. USC also signed California LJ/TJ champ Michelle Sanford, Michigan hurdles champ Candace Davis, and Poly Long Beach CA sprinter Dominique Dorsey.
Florida improves its strong recruiting season (Kerron Clement and Reggie Witherspoon) by signing WI sprinter Demi Omole (10.37w and 21.04, AAU JO double gold) and KY pole vaulter Chip Heuser (16-0, KY and Florida Relays champ).
Penn State gets two California champs from J.W. North, Riverside:
Ashlee Brown (300H) and Lena Bettis (LJ). Penn State also signed blue chippers Shana Cox NY, Kamilah Salaam DE and Kara Dickman MA
University of Texas keeps 5 great ones in state:
US#1 shot putter Michelle Carter | Team USA (World Juniors) sprinter and long jumper Marshevet Hooker | 5A state 100H champ Angel Boyd | 4A state 400m champ Jerrika Chapple | and Foot Locker cross country finalist Brooke Stewart.
but Texas hurdler Kerron Clement will be a Florida Gator and high jumper Meggie Schuelke heads for Virginia.
Chris Solinsky pleases home state fans by signing University of Wisconsin letter of intent in Thomas (Pre) Jensen's "Club Men" , a barn converted into a running club headquarters.

The Rocket Chooses Wisconsin - STEVENS POINT WI 11/15/02 -- Chris (the Rocket) Solinsky, US#1 2-miler last spring and 3rd in last year's Foot Locker national finals, tonight announced he will run for the University of Wisconsin next year.


The Stevens Point Area Senior High runner's decision came down to Wisconsin and Stanford. "Both schools are very good," Solinsky said, "but the coach and the team atmosphere at Wisconsin made me feel like it was a perfect fit for me."

Solinsky signed the letter of intent before a crowd of 80 fans and family in Thomas (Pre) Jensen's "Club Men," a barn that has been converted into a shrine to running. Local television interviewed Solinsky in front of a wall devoted to his running accomplishments. When a music group sang the national anthem and came to "the rocket's red glare," the crowd roared and hugged The Rocket.

Solinsky gave DyeStat his answer to the question posed on TrackTalk: Who is the better runner from Stevens Point, Suzy Favor-Hamilton or Chris Solinsky? "I'd have to say Suzy Favor right now. But I'm still working on it."
Smoky Hill CO distance stars sign: Brent Vaughn for Colorado, Megan Kaltenbach for North Carolina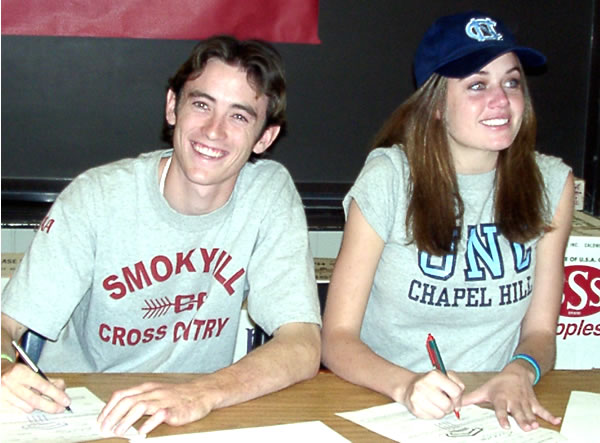 Kara Dickman MA - Penn State


Makeatha Cooper MO
Texas Christian

Ashleigh Keats KS
Virginia Tech
Penn State gets two California champs from J.W. North, Riverside:
Ashlee Brown (300H) and Lena Bettis (LJ)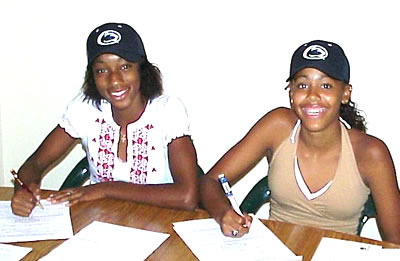 | | |
| --- | --- |
| | Texas high jumper Meggie Schuelke signs with Virginia. below, Meggie with her parents, Janie and Jim Schuelke, and her Houston Memorial HS coach Danny Jones. |