Friday - With Iraq in Mind
Saturday Night - the Invitational Division
Saturday Morning
Day 2 started with breakfast, a Fellowship of Christian Athletics prayer service and a radio broadcast with interviews by Mobile's Prep Sports Report Voice, Rick Cleveland. At the broadcasting mike with Rick were Meet Director, Steven Schoenewald; Assistant Meet Director, Mike Cambre; Sports Reporter, Arthur Mack; Athletes: Ashlee Brown (J.W.North-CA) and Tara Lenn (St. Paul's Episcopal-AL); Jim Spier from NSSF; and John Dye from DyeStat. By mid morning there was some pooling sitting.
Breakfast and Pool Sitting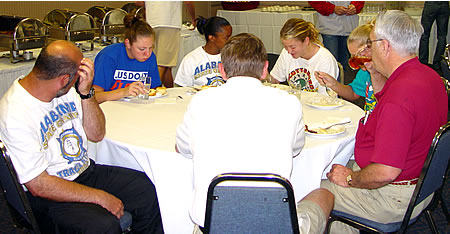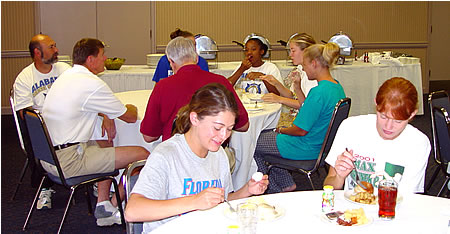 Baton Rouge Magnet-LA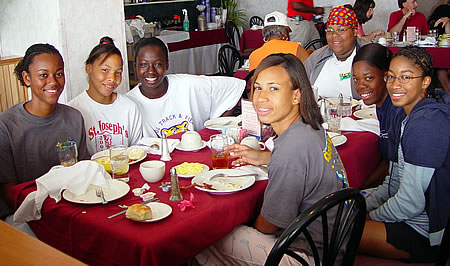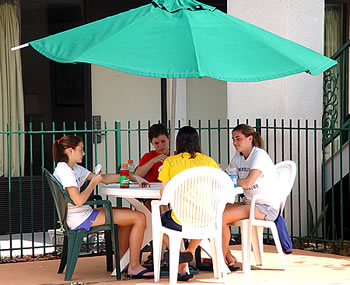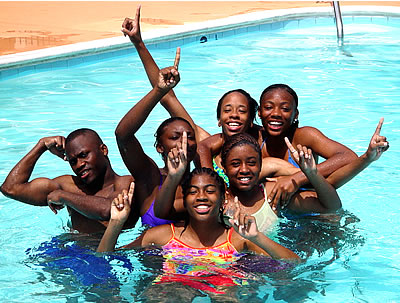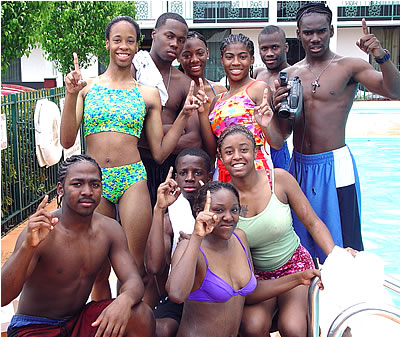 Kids and Parents
West Knoxville-TN 4x800: (from left) Starr Gager, Kay Sanford,
Erin Leonard, Mary Bailey Sharp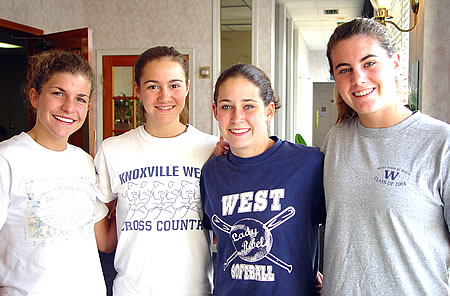 Cullman-AL 4x8: (from left) Preston Miller, Stephen Calvert,
Trent Ricketts and E.C. Gibbs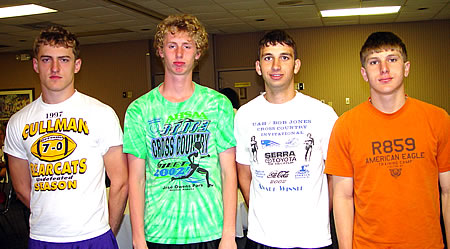 Collins Hill Parents-GA: (from left top) Patrice Tillman, Janet Wilson, Charlotte Boncfay (bottom) Louis Tillman. These good natured parents are cheering for all of Collins Hill but especially their daughters: Lauren Tillman; Katie Wilson and Cassie Boncfay.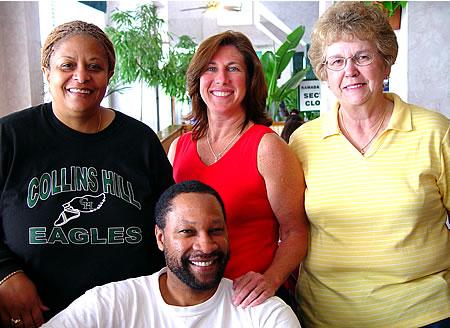 Collins Hills-GA: (from left) Rayven Tirado, Lydia Ruiz, Jen Shogren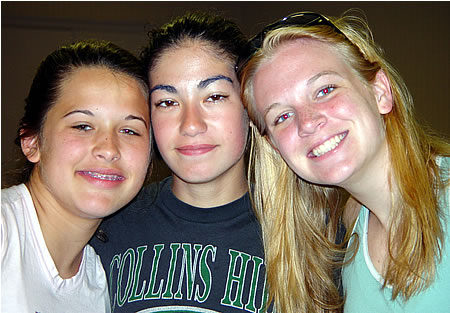 Manual-KY: (from left)
Christina Hamm, Emily Pellegraina, Melissa Massey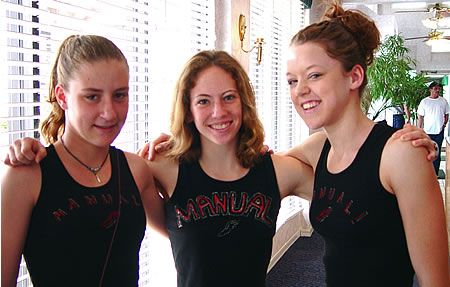 Ashlee Brown with Coach Robert Attical-CA. Ashlee is a CA State Champion in the 300 hurdles . Ashlee has signed with Penn State for her college career.

Tara Lenn with Dad, Tom-AL. Tara is an Alabama State Champion in the 3200. Also,she won the 3200 at the 2003 Nokia Meet and was 2002 Footlocker finalist.

Amanda and Edward Clark-AL. Amanda is a coach with UMS Wright and Edward is along to watch and cheer.

Cedric Goodman with Dad, Harold-Newman H.S. GA. Cedric runs the 400.

Alex Payne with Dad, Chris-FL. Alex ran the 1600 at 4:58 and the 3200 at 10:47.

Elisabeth Molen with Mom, Susie-AL. Elisabeth, an 8th grader runs the 1600 and 3200 and cross country.

Trent Ricketts with Mom, Cindy from Cullman-AL
The Radio Broadcast on WNSP-105.5 in Mobile
Prep Sports Report broadcasted from meet headquarters at the Ramada Inn. Reporting is Rick Cleveland. With him are Mobile Challenge of Champions Meet Director, Steve Schoenewald, Assistant Director Mike Cambre, Arthur Mack from the Mobile Register and John Dye of DyeStat.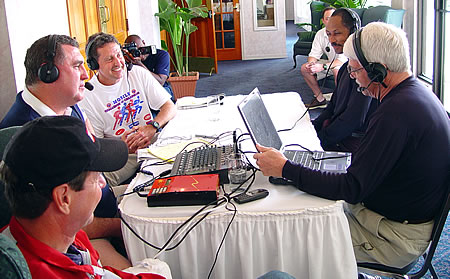 Also participating in the show were Ashlee Brown (front left) and Tara Lenn Steve Schoenewald discusses their strategy for competition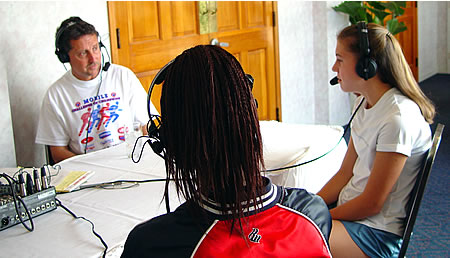 John Dye points out the statistics available on DyeStat.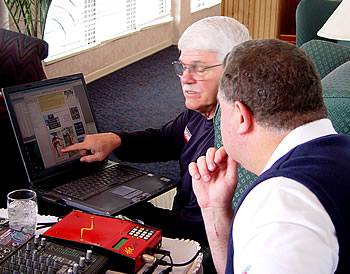 Faces at the Broadcast
| | | |
| --- | --- | --- |
| Rick Clevland-AL Radio show host and football coach. | Steve Schoenewald, Meet Director | Mike Cambre, Assistanct Meet Director |
| | | |
| Ashlee Brown-CA Ashlee is a CA State Champion in the 300 hurdles . Ashlee has signed with Penn State for her college career. | Tara Lenn-ALTara is an Alabama State Champion in the 3200. Also,she won the 3200 at the 2003 Nokia Meet and was 2002 Footlocker finalist. | Arthur Mack-AL |
| | | |
| Robert Attical-CA Jumps Coach and photographer J.W. North High School | John Dye, DyeStat | Jim Spier, Director NSSF |
| | | |
| Arthur Mack and Mike Cambre | Tara Lenn and Ashlee Brown | Rick Cleveland and Steve Schoenewald |
| | | |