Megan Kaltenbach and Chris Solinsky
report from the Rocket Boosters fan club - "very proud of our boy"
Midwest Girls
1. Megan Kaltenbach CO 18:08
2. Amber Smith MI 18:09
Kaltenbach and Smith duelled most of the race, Kaltenbach wins the kick
3. Michelle Sikes OH 18:16
4. Katie Harrington IN 18:17
5. Katelyn Kaltenbach 18:23
6. Sunni Olding OH 18:29
7. Nikki Bohnsack MI 18:30
8. Stacy Honeyman ND 18:30
9. Nicole Bush MI 18:33
10. Tiffany Redlarczyk IN 18:34
Midwest Boys
1. Chris Solinsky WI 14:48
led throughout
2. Nef Araia IN 15:07
3. Wesley Smith OH 15:28
4. Garrett Heath MN 15:30
5. Christian Wagner IN 15:40
6. David Van Orsdel MN 15:40
7. Stephen Pifer IL 15:41
8. Josh Harper MO 15:44
9. Chris Kollar OH 15:52
10. Trent Hoerr IL 15:54

Runners fight single digit wind chills on frozen turf.

Kaltenbach and Smith


photos by John Ceplina

Solinsky


.
Two of Ohio's best runners ran in the Midwest freshman race instead of the seeded race and finished 1-2: Ohio champion Angela Bizzari 18:28 and Emily Thompson 19:06. Bizzari's time would have been 6th in the seeded race.
DyeStat Foot Locker Favorites - the top contenders to win the coveted 8 tickets to San Diego
Entries - as of 11/27 or look up name or state on regional web site
Prior Year Midwest Region on DyeStat - 2001 | 2000 | 1999 |
Foot Locker's own web sites - Midwest Region
photographer John Ceplina: This is the boys - I mean men's - race. At this point, 600m in to the race, they are running up hill into a 25 mph wind generating wind chills in the single digits. definitely men!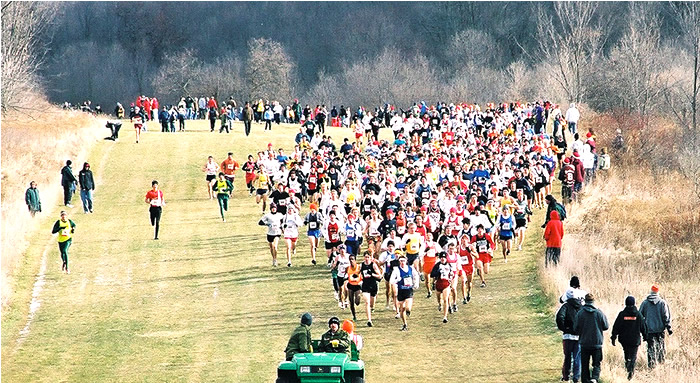 photos by John Ceplina
the weather didn't faze these fans either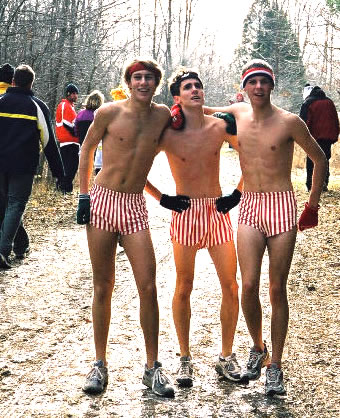 50 degrees in Wisconsin?
"Yeah right, some smart announcer said it best, it was 25F in the morning and 25F in the afternoon.....so it was 50F all day. Well, the weather never made it above 24F.....and that was after I had left the course, and it was very very windy....it was expected to have an over nite low of 12F," photographer Victah Sailer.
Kaltenbach sisters
both going to San Diego


photos by Victah Sailor

Champions

: Nef Araia, NCAA winner Jorge Torres, Chris Solinsky
Races
10:00 a.m. Boys Freshman/ Sophomore - Ryan Gasper, Fort Atkinson WI 16:37
10:45 a.m. Girls Seeded - Megan Kaltenbach, Aurora CO 18:09
11:30 a.m. Boys Seeded - Chris Solinsky, Stevens Point WI 14:49
12:15 p.m. Girls Freshman/Sophomore - Angela Bizzari, Cincinnati OH 18:28
1:00 p.m. Boys Junior/Senior - Andrew Van Nurden, Owatonna MN 16:47
1:45 p.m. Nike Open Race - Todd Moroney, Memphis TN 16:05
States in Midwest region
Arkansas, Colorado, Illinois, Indiana, Iowa, Kansas, Michigan, Minnesota, Missouri, Nebraska, North Dakota, Ohio, Oklahoma, South Dakota, and Wisconsin
Foot Locker Championship home page