Saturday Morning - radio broadcast and swimming
Saturday Night - the Invitational Division
With Iraq in Mind!
Located off of Mobile Bay near downtown Mobile, sit instruments of war once used in major battles, confrontations and war. These instruments help to visualize war and to imagine the perils experienced by our troops in Iraq. "See Courage Up Close," is the slogan of The USS Alabama Battleship Memorial Park. The Park is dedicated to the Alabama veterans who served in the armed forcers during World War II, the Korean War, the Vietnam War and Operation Desert Storm. The USS Alabama and the submarine, USS Drum, are the main attractions in the park. Other sites include a variety of aircraft such as the "Blackbird" spyplane, the P51-D Mustang Redtail (the plane flown by the Tuskegee Airmen) and aircraft flown in Desert Storm. All in all, the park has a sobering effect.
We support and salute our troops, while we anticipate their safe return.

Battleship Memorial Park

Fort Condé
| | |
| --- | --- |
| Considerably older but still a part of military history is Fort Condé built by the French to protect settlers in 1702 and siezed by the Spanish back in the American revolution days. But in1813 American troops captured Mobile and it soon became a part of the United States. | |
After visiting the park, refreshments are near by.
Now to the Meet
This is the 10th anniversary of the Mobile Area Sports Commission "Challenge of Champions." What began as a tri-county meet, now draws nationally ranked athletes. Yet there is still room for athletes at all levels. Day 1 is an open division that typically includes approximately 700 athletes. Day 2 is an invitational meet designed for top athletes in each event. The Open Meet is held at UMS-Wright School while the Invitational Meet takes place at St. Paul's Episcopal School.
Day 1 - Open Division
Pascagoula-MS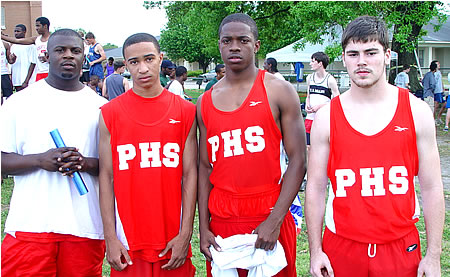 B.C. Rain 4 x 100: (from left) Natalyn Howard,
Courtney Golston, Aisha Edwards, Sochi Young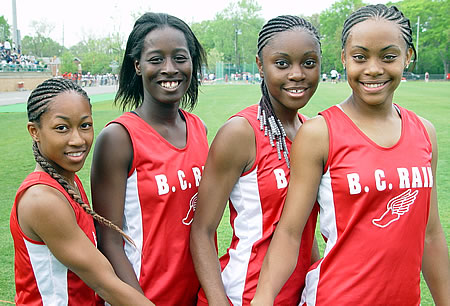 Pole Vaulters from TN: (from left) From Barlett HS: Jerry Clements and Nicole King; from Cordova: Ben Johnson and Jonathan Draper