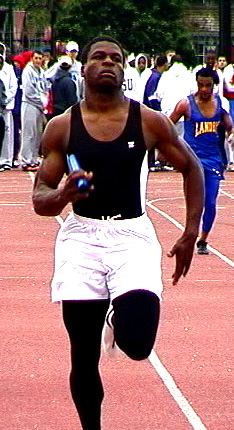 photo by John Dye in New Orleans
At the Nokia Sugar Bowl Classic in New Orleans March 29-30, Willie Hordge broke the meet records in the 100 and 200 in the prelims Friday night. It was a good thing because the finals Saturday were slowed by wind and rain that followed a fierce lightning storm.
So Willie showed his brilliance in the 4x100 and 4x200 relays on Saturday. Reminiscent of his stunning legs at the World Junior Championships in Jamaica last July, when he anchored Team USA to a new world record 4x100, Hordge came from behind in both the 4x100 and 4x200. In each race, he made up the deficit almost instantly and won going away to give him 4 gold medals and 3 meet records for his visit to the Big Easy.
Hordge's goal for the year: Texas state record in the 100 (10.07) and a sub-10 second 100 meters. That may seem audacious, but he only needs a slight improvement on last May's Great Southwest Classic performance, when he beat an all-star field in 10.21.
Willie Hordge past performances
Event Mark Meet
2003 Outdoor
B-200 21.34 p 3/29/2003, Sugar Bowl LA, # 1
B-100 10.61 p 3/29/2003, Sugar Bowl LA, # 1
2002 Outdoor
B-100 10.53 -2.1 7/28/2002, USATF JO YM/YW NE, # 1
B-100 10.25 +3.9 p 7/21/2002, World Juniors , # 3
B-100 10.48 -0.4 7/12/2002, Bahamas Pre-World , # 2
B-100 10.51 +0.3 p 7/7/2002, YAC YM/YW FL, # 1
B-100 10.39 -0.2 6/21/2002, USA Jr Nationals CA, # 2
B-200 21.03 -0.9 5/25/2002, Great Southwest NM, # 4
B-100 10.21 +2.0 5/25/2002, Great Southwest NM, # 1
B-100 10.16 +2.5 5/11/2002, 4A State Meet TX, # 2
B-100 10.3 p 4/27/2002, 4A Reg 3 Huntsville TX, # 1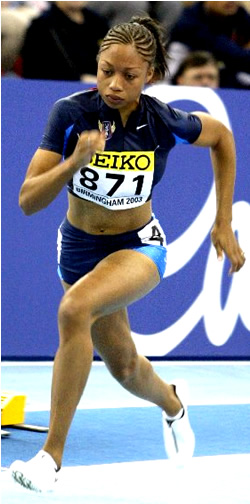 photo by Shawn Price at World Indoors
After grabbing a spot in the national and world elite ranks indoors, Allyson Felix turned to outdoors and the quest to take down Marion Jones' national record for 200 meters (22.58). Felix set a new national indoor record (23.21) when she finished second in the USA Indoor Nationals to win a trip to the World Indoors in England, where she advanced to the semifinals.
In her last season outdoors before going to the University of Southern California, Felix will be challenged by Jones' records in many meets, including Arcadia (22.87) and the California State Meet (22.71).
She got off to a good start March 29 at the Pasadena Games, winning the 200 in 23.21 and 400 in 52.26. The 400 is supposed to be just to build strength for the shorter distances, but Felix is so good that she hit the all time list in Jack Shepard's High School Track annual at #19.
Allyson Felix past performances
Event Mark Meet
2003 Outdoor
G-200 23.21 +1.9 3/29/2003, Pasadena Games CA, # 1
G-400 52.26 3/29/2003, Pasadena Games CA, # 1
2002 Outdoor
G-200 23.48 -0.2 7/21/2002, World Juniors , # 5
G-200 23.34 -3.5 6/21/2002, USA Jr Nationals CA, # 2
G-200 22.83 -1.3 6/1/2002, State Meet CA, # 1
G-100 11.4 p +0.9 6/1/2002, State Meet CA, # 1
G-200 22.95 +0.4 5/24/2002, SS Masters CA, # 1
G-100 11.48 -0.8 5/24/2002, SS Masters CA, # 1
G-200 22.99 +1.3 5/18/2002, SS Division 4 CA, # 1
G-100 11.7 +0.0 5/18/2002, SS Division 4 CA, # 1
G-200 23.05 -0.4 4/20/2002, Mt. SAC Relays CA, # 1
G-200 23.08 -0.1 4/13/2002, Arcadia Inv Div CA, # 1
G-100 11.54 +0.2 4/13/2002, Arcadia Inv Div CA, # 1
G-400 55.01 4/6/2002, Oakland Inv CA, # 1
G-100 11.71 +0.7 4/6/2002, Oakland Inv CA, # 1
G-200 23.62 +2.0 3/30/2002, Pasadena Games CA, # 1
G-100 11.56 -2.8 3/30/2002, Pasadena Games CA, # 1