Meet Calendar
Send us missing information. We have a lot of meets with no dates or incorrect dates. We want information now for the entire 2004-2005 school year.
NOTE: Hamdheld times will not be considered for US#1 at 400 meters and below. Marks missing wind readings may also be ignored.
BOYS
100 - J-Mee Samuels NC 10.25
200 - Xavier Carter FL 20.49
400 - Lashawn Merritt VA 45.25
800 - Jacob Hernandez TX 1:48.48
1500 - Victor Gras MA 3:45.19
1600 - Mike Booth PA 4:07.77
Mile - Galen Rupp OR 4:01.8
3000 - Galen Rupp OR 8:03.67 USR
3200 - Brian Sullivan TX 8:52.92
2 Mile - Shadrack Kiptoo NM 8:45.44
110H - Jason Richardson TX 13.38
300H - Kevin Craddock CA 35.93
400H - Jason Richardson TX 49.79
HJ - Scott Sellers TX 7-5
LJ - Robert Rands NE 25-1.25
TJ - Ken Hall LA 54-10.25
PV - Adam Sarafian NJ 17-4.5
SP - Zach Lloyd NV 66-7.25
DT - Zach Lloyd NV 211-5
JT - Chad Brown LA 218-6
HT - Nate Rolfe WA 237-1
4x100 - Lancaster TX 40.28
4x200 - Glenville OH 1:23.78
4x400 - Dorsey CA 3:11.45
4x800 - Saline MI 7:40.68
SMR - Cinco Katy Ranch TX 3:25.39
DMR - Saline MI 10:03.15

GIRLS
100 - Ashley Owens CO 11.13
200 - Shalonda Solomon CA 22.82
400 - Natasha Hastings NY 52.04
800 - Sarah Bowman VA 2:04.94
1500 - Sarah Bowman VA 4:23.36
1600 - Elizabeth Yetzer MN 4:46.14
Mile - Nicole Blood NY 4:42.40
3000 - Nicole Blood NY 9:24.03
3200 - Caitlin Chock CA 9:58.51
2 Mile - Nicole Blood NY 10:10.73
100H - Shantia Moss FL 13.39
300H - Ebony Collins CA 40.81
400H - Katya Kostetskaya AR 56.49.
HJ - Viktoria Andonova FL 6-1
LJ - Brittany Daniels CA, Gayle Hunter CA and Shana Woods CA 20-7.75
TJ - Brittany Daniels CA 44-11.75 USR
PV - Tiffany Maskulinski NY 13-5
SP - Sarah Stevens CO 50-4.5
DT - Jocelyn White NJ 172-2
JT - Rachel Yurkovich OR 161-11.
HT - Erin Donnelly RI 165-7
4x100 - Poly Long Beach CA 44.50 USR
4x200 - Poly Long Beach CA 1:33.87 USR
4x400 - Poly Long Beach CA 3:35.49 USR
4x800 - Bay Shore NY 8:57.48
SMR - West Catholic PA 3:52.22 USR
DMR - Bay Shore NY 11:33.42 USR
ShopDyeStat


unique items
for the HS athlete
--Camp Directory
--Parents Guide

--Training G
uide
--Training Profiles
--Pace Calculator
--the Harrier
--HS Track 2004
Great American adds Mountain View
Mountain View UT, #1 ranked boys team in the NTN Southwest region, is one of several teams azdded to the the Race of Champions at the Great American Cross Country Festival at Cary NC Oct 1-2. There are now 24 boys teams in the ROC and 26 girls teams. Great American entries
THIS WEEK
results, rankings, and other news posted through Sept 16
. Zoe Nelson breaks own course record in MT. Hatboro-Horsham and Gwynedd Mercy girls lose in PA, but Cedar Cliff boys win easily. Fountain Valley CA girls win big in Las Vegas. Marie Lawrence leads Reno sweep at Reed. Roosevelt DesMoines IA boys fall at Luther; Iowa City West girls dominate. Laura Cummings leads powerful Bay Shore NY at Penn State. Jennifer Harper and West Plains MO girls win in Memphis. Ed Grant's New Jersey report. Ramsey Kavan leads Yankton SD in Heartland region. Southwest week. California week - US#5 Royal boys, US#8 Don Lugo boys, US#11 Fountain Valley girls all win. Northwest week - US#3 Jesuit Portland OR boys and US#4 Ferris Spokane WA boys breeze in preps for Stanford next week. South week - US#1 The Woodlands boys and SO#2 Kingwood girls are perfect. Southeast week - SE#1 teams Jesuit boys and Holy Trinity girls win; Brian Sharkey and Kelly Parrish impressive.
Brian Sharkey smashes Moise Joseph course record at Tropical Park FL. Southeast Week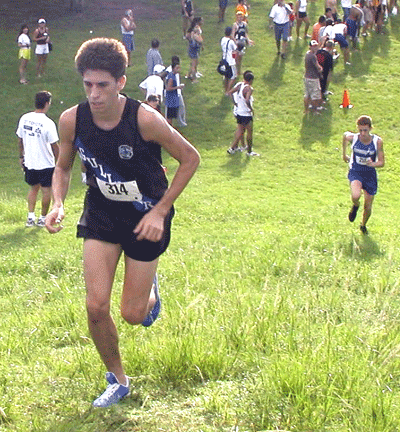 photo by Morgan Bojorquez
Manheim Twp PA's redheaded Miller twins were 1-2 at Gettysburg. Pat Caulfied (168) was 3rd to lead team winner US#20 NE#3 Cedar Cliff. Northeast Week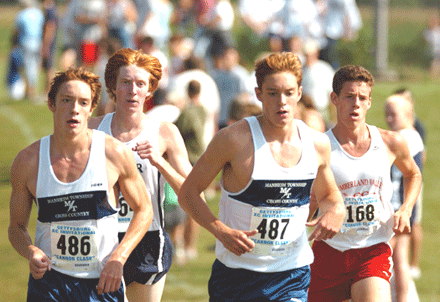 1 Northeast CT, MA, ME, NH, NJ, NY, PA, RI, VT
Northeast Week Sep 11 - US #16 Christian Brothers Academy NJ boys and US#1 Saratoga Springs train and aim for the upcoming big races. US#7 Bay Shore NY girls win big meet at Penn State. US#25 Fayetteville Manlius NY boys get perfect score in bid for higher ranking. US#14 NE#3 Hatboro Horsham girls lose again; US#16 NE#4 Gwynedd Mercy girls too. US#20 NE#3 Cedar Cliff boys win easily at Gettysburg. US#16 NE#1 Christian Brothers Academy loses with starters on sidelines resting for California trip.
PA - Spiked Shoe Invitational - Laura Cummings 18:10 wins by 51 seconds to lead US#7 NE#2 Bay Shore NY 39 in powerful 1-2-3 sweep at Penn State U. Eleanor Roosevelt MD, better known for its sprint relays, showed distance strength with young runners finishing second behind Bay Shore and first in the Boys White race.
NJ - Ed Grant's New Jersey report - Morris Hills boys win. Jen Clausen returns from injury. US#16 Christian Brothers boys rest first string for California trip and finish second.
2 Southeast AL, DE, FL, GA, MD, NC, SC, KY, TN, VA, WV, DC, PR
Southeast Week Sep 11 - Southeast is heating up. Region leaders Jesuit FL boys and Holy Trinity FL girls are solid winners. Brian Sharkey FL smashes Tropical Park FL course record. Kelly Parrish FL impressive in college race.
TN - Memphis Twilight Classic - Jennifer Harper 17:41 3-mile leads US# 20 MW#3 West Plains MO girls 19 to 70-point margin. SE#3 Hoover AL boys 42 win behind Robert Bedsole 14:41.
3 South AR, LA, MS, OK, TX
South Week Sep 11 - Boys - US#2The Woodlands is perfect at Montgomery in warmup for new Nike South Invitational. Girls - SO#2 Kingwood TX is perfect at Mayde Creek. US#6 SO#1 Carroll Southlake TX has the week off.
4 Midwest IL, IN, MI, OH, WI
5 Heartland IA, KS, MN, MO, NE, ND, SD
Heartland Week Sep 18 - HL#2 Iowa City West IA girls and HL#3 Liberty MO boys headline the Rim Rock Farm Invitational.
Heartland Week Sep 11 -Top 10 scoreboard. Ramsey Kavan blows field away to lead US#8 HL#1 Yankton SD girls to victory at Augustana. .US#7 HL#1 Roosevelt DesMoines IA boys are third at Luther. US#12 HL#2 Iowa City West girls dominate. HL#4 Shawnee Mission Northwest KS boys and HL#7 Marian Omaha girls win at Millard South. HL#9 Kearney NE boys roll. Eden Prairie MN boys beat HL#4 Stillwater MN. HL#4 Staples-Motley MN girls edge HL#6 Lakeville 31-32. HL#8 Marquette MO girls win.
IA - Cedar Rapids Invitational - US#12 HL#2 Iowa City West girls scored 44 points to trounce a field of state-ranked teams including HL#10 Iowa City. Pleasant Valley's Kelsey Bulat 14:23 was the individual winner, followed by Iowa City West's Sarah Wickman 15:02.
6 Southwest AZ, CO, NV, NM, UT
CO Liberty Bell Invitational - US#2 Smoky Hill Aurora CO girls tower over girls field, but boys field is well balanced with regional ranked teams such as Denver South CO, Fort Collins CO, Albuquerque Academy NM, and Campbell County WY.
Southwest Week Sep 11
John McGuire wins by 29 seconds over good field at Cherry Creek;, SW#6 Cherry Creek CO girls 55, SW#10 Fort Collins CO 76. US#11 CA#2 Fountain Valley girls 26 win by 65 points at Las Vegas. Marie Lawrence 18:43 5k (winning by 2:06) leads Reno sweep (US#19 SW#3 gilrs 18, SW#7 boys 33) at Reed. Kaltenbach-Schulz tandem is powerful 1-2 punch for US#2 SW#1 Smoky Hill Aurora CO. Los Alamos sweeps at U. New Mexico.,
7 Northwest AK, HI, ID, MT, OR, WA, WY
Sep 11 Northwest Week - Boys - US#3 Jesuit Portland OR and US#4 Ferris Spokane WA breeze in preps for Stanford next week. Girls - Brie Felnagle course record leads US#10, NW#1 Bellarmine Prep wins easily on home course.
MT Flathead Invitational - Flathead sr Zoe Nelson 17:40 3mi breaks home course record by 13 seconds..US#18 Flathead girls, ranked 4th in the NTN Northwest region, won with 23 points.
For all the news of California, go to DyeStatCal .
California Week Sep 11 - Boys - US#5 CA#1 Royal wins Seaside with two starters resting. Fitsum Tesfa leads US#8 CA#2 Don Lugo at Colton. Girls - US#11 Fountain Valley wins big in Las Vegas. US#5 Ventura in non-scoring meet.
325 Mike Anderson and 339 Dana Pitcock lead
US#17 Milford MI boys to repeat title. They have now won three of the four MMOC meets and they lost the other one by only one point.
--
photo by John Dye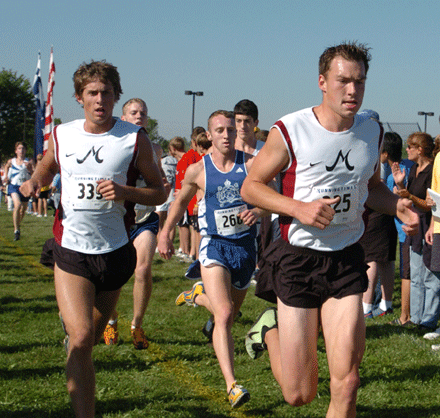 Dozens more photos coming.
a Michigan sweep
US#3 Clarkston MI girls and US#17 Milford MI boys win, with US#9 Bowling Green OH girls and unranked Hamilton Southeastern IN boys close seconds.
Clarkston's Jenny Morgan wins girls race, and Hamilton Southeastern goes 1-2 with Justin Roeder and Jordan Kyle.
BOYS

GIRLS

1. Milford MI 51
2. Hamilton Southeastern IN 59
3. St. Xavier Cincinnati OH 81
4. Dexter MI 103
5. LaSalle Cincinnati OH 122
6. Davidson Hilliard OH 146
1. Clarkston MI 76
2. Bowling Green OH 83
3. St. Ursula Cincinnati OH 151
4. Goodrich MI 172
5. Cathedral Indianapolis IN 173
6. Colerain Cincinnati OH 210
1. Justin Roeder, Ham. Southeastern 15:44
2. Jordan Kyle, Ham. Southeastern 15:55
3. Mike Anderson, Milford 15:59
4. Lex Williams, Dexter 16:06
5. Dana Pitcock, Milford 16:11
6. Tony Nallie, Dexter 16:17

1. Jenny Morgan, Clarkston 17:54
2. Bekah Smeltzer, Monroe Jefferson MI 18:11
3. Liz Mengyan, Clarkston 18:28
4. Christy Titus, Bowling Green 18:36
5. Jenee Jones, Goodrich MI 18:40
6. Katie Haines, Rockford MI 18:42
Great American seeds announced
The Nike Race of Champions this year will include 24 boys teams and 26 girls teams, including more than 20 teams that are top 10 in the NTN regional rankings. In addition, the ROC will include 8 boys and 17 girls running unattached, including such elite runners as Brian Sharkey FL, Jennie Barringer FL, Carmen Mims KY, Bria Wetsch MN, Kate Niehaus SC, Erin Bedell TX, and Sarah Bowman VA. Seeds were also announced for the invitational races (seeded, red, white, and blue), small school, and JV races. The Great American Cross Country Festival will be held Oct. 1-2 at Cary NC, with college races on Friday night and high school races all day Saturday.
2004 Wrapup
exploits of US high school athletes in the 2003-2004 scholastic year.
Our AOY rolls include 38 athletes, 17 boys and 21 girls, from 18 states and 35 high schools. West Catholic Philadelphia (Latavia Thomas and Nicole Leach), Poly Long Beach CA (Shalonda Solomon and Shana Woods) and James Logan CA (Kevin Craddock and Talia Stewart) have two AOY athletes. California has 7 athletes to lead the states, with Florida, New York and Texas claiming 4 each and Colorado 3. Fifteen AOY's will return in 2005 -- 12 girls and 3 boys. World Junior champs Lashawn Merritt (above left) and Ashley Owens (above right) lead the AOY parade. We have performance stats of all 37 athletes and photos by John Dye, Donna Dye, Vic Sailer's PhotoRun, Kirby Lee, Margaret Gallagher, Dave Casper, Doug Speck, Bert Richardson and Greg Armstrong. AOY BOYS - GIRLS.
DyeStat Elite - 12,601 performances that qualified for DyeStat's national rankings. There were 4,038 in cross country - 3,891 indoor - 4,672 outdoor.
Top Returnees - DyeStat Elite performers who will be back in 2005 -- 1,311 outdoor and 1,172 indoor.
New Faces - These are the freshmen (and even younger) performers who earned national ranking in the DyeStat Elite indoor and outdoor lists. There were 289 new faces, including 22 boys and 267 girls, proving again that girls mature earlier than boys. These are the stars of the future, and for some the future is now.
Big Meets - index to all the big interstate meets - cross country - indoor - outdoor
College Choices - where the class of 2004 will attend college. Choices 2004

The Harrier
by Marc Bloom
XC Pre-season issue in August. Free Yearbook to new subscribers

DyeStat uses Hy-Tek
for meet results