DyeStat at the Armory

a record setting place - kids and commuters mix - Armory's own web site
Armory stars of 2004

photos by John Dye unless noted otherwise

Elzie Coleman

by Greg Armstrong

Andra Manson

Natasha Hastings

Devon Williams

Fordham Prep

Nicole Leach

Hakon Devries

Camden NJ

Heather Iatauro

Boys & Girls NY

Nicole Blood

Jason Richardson

Hakon Devries - Gavin Coombs

Felipe Reyes

by Greg Armstrong
the Armory is a record setting place
With high banks and the latest Mondo surface, the New York Armory lays claim to the fastest indoor track in the world. Whether that's true or not, every year sees a stream of national high school records set at the Armory. The board below has a plaque for the Armory record in each event.
HS national records at the Armory, 1920 to 2004.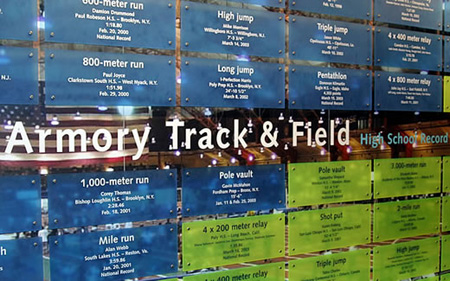 the scene in Washington Heights
On any afternoon from December to March, high school kids with running shoes and back packs mix with the crowd of homebound commuters at the Washington Heights subway station at 168th and Broadway. They are headed for a massive old brick building a block away at 168th and Fort Washington Avenue to run, jump and throw in a track meet. A few years ago, they also had to mix with the crowd of homeless living in the infield, as the Armory had fallen on hard times. Enter Dr. Norb Sander, a Manhattan internist and a New York Marathon champion. Appalled at how the Armory had fallen, he led a 10-year effort to restore the Armory to its former greatness. Energetic fund raising efforts paid off with millions of dollars in donations and grants. The culmination of the renovation of the Armory came with the dedication of the National Track and Field Hall of Fame on January 24, 2004, with 20 Hall of Fame members on hand. It was fitting that the Hall of Fame be moved from Indianapolis to New York because many members of the Hall launched their career as high school runners at the Armory in its heyday as a mecca for young runners. So, as the New York Times proclaimed, the Armory has come full circle.