D1/2 action pix
by John Dye
Boys Individual
Boys Team
Girls Individual
Girls Team

DyeStatCal's Saturday Sweeps
by Rich and Doug

Mt. SAC Div 1-2 sweepstakes
Royal boys, Murrieta Valley girls,
Brandon Bethke and Marie Lawrence

Highland jr Alyssa Craft (R) catches Buchanan soph
Lauren Saylor in the very last stride of the most
thrilling finish of the day.--- photo by John Dye



the story of the featured Div 1/2 sweepstakes races in text and photos by Rich Gonzalez and Doug Speck, editors of DyeStatCal, the internet home of California track
Division 1/2 Sweepstakes
text and photos by John Dye

Boys Team - CA#1 US#5 Royal Simi Valley 92 (10 13 15 23 31) won as expected over five California top 10 teams, but the runner-up was a surprise, CA#10 Dana Hills 124 (7 18 22 38 39), followed by CA#4 Madera 134 (14 19 25 35 41), CA#2 Don Lugo 147 (1 5 9 47 86), CA#5 Murrieta Valley 162 (3 28 30 45 56) and CA#3 El Camino 177 (2 4 54 55 63). Don Lugo's Fitsum Tesfa 14:43 was a 14-second winner over A. J. Acosta of El Camino.
Boys Individual - El Toro sr Brandon Bethke put his name high on the all-time Mt. SAC list with a 14:30 win, just 2 seconds off the record shared by Ryan Hall (2000) and Mohammed Trafeh (2003). Loyola sr Mark Matusak was second in 14:43, 10 seconds slower than his time here last year. El Toro won the team title with 122 points (1 34 35 44 48)
Girls Individual - Reno NV soph Marie Lawrence 16:48 won by 15 seconds over Gunn Palo Alto CA sr Tori Tyler 17:03 and Corona CA jr Alma Escobar 17:24. Lawrence pulled away in the second mile climbing the Switchbacks and went on to the third fastest time on the all-time Mt. SAC list (Amber Trotter 16:16 and Anita Siraki 16:38). Reno won the team title with 87 points (1 9 16 23 50).
Girls Team - CA# 3 US#22 Murrieta Valley 122 (11 23 24 28 36) was a 16-point winner over CA#6 Ayala (7 20 29 39 43), with CA#7 Canyon next at 153 (12 16 27 45 53). Highland jr Alyssa Craft won the most thrilling individual race of the meet in 17:41 over Buchanan soph Lauren Saylor 17:42. Front running Craft lost the lead late, but rallied in the last 20 meters and won with a desparate lunge from Saylor's left side. The margin was undoubtedly closer than the full second in the official timing.

left, Marie Lawrence

Royal's lead runner Dylan Jaedtke


Murrieta Valley's lead runner,
Liana Boucher


Fitsum Tesfa


Brandon Bethke (blue) passes Mark Matusak with 400m to go
and finishes in 14:30, just 2 seconds behind Mt. SAC course record.

photo by Bill Leung.
SWEEPSTAKES RESULTS
Complete results are on Mt. SAC web site.
Div 1-2 Boys Team - Royal 92. Don Lugo sr Fitsum Tesfa 14:43
Div 1-2 Boys Individual - El Toro sr Brandon Bethke 14:30. El Toro 122.
Div 1-2 Girls Team - Murrieta Valley 122. Highland jr Alyssa Craft 17:41.
Div 1-2 Girls Individual - Reno NV soph Marie Lawrence 16:48. Reno 87.
Div 3 Boys - Servite 103 (Page 105). Redwood sr Jake Schmitt 14:47.
Div 3 Girls - Miramonte 101. Harvard Westlake sr Anna Farias-Eisner 18:01.
Div 4 Boys - Hopi 41. Big Bear soph Chad Hall 15:26
Div 4 Girls - Half Moon Bay 41. Half Moon Bay sr Liza Hitchner 18:14
Div 5 Boys - Woodcrest Christian 83. Flintridge Prep sr Tom McLean 15:53.
Div 5 Girls - Woodcrest Christian 56. Woodcrest Christian jr Ashleigh Pratt 19:30
Jake Schmitt - king for the weekend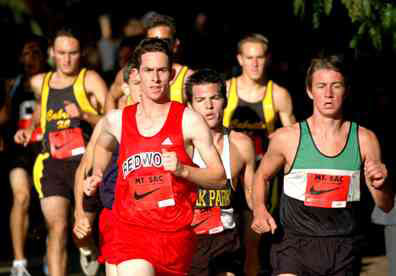 Redwood CA sr Jake Schmitt (bright red) ran 14:47 Friday afternoon, fastest of the Div 3-4-5 sweepstake races, and then ran off to Northern California for homecoming festivities Saturday. He is class president and a member of the royal court. -- photo by Rich Gonzalez.
About Mt. SAC
This is the giant of high school cross country meets in the US, with 16,000 runners entered in 90 races. Races start as close as 8 minutes apart, putting three races on the course at one time. Mt. SAC is run on one of the most demanding courses in the country. After one mile of flat racing in two loops, runners climb the big hill above the football stadium and criss cross side hill through the Switchbacks. Coming down off the hill and crossing the old air strip at about 1.75 miles, the runners face a short but very steep climb up Poop Out Hill. After that, they go through 2 miles on flats behind Reservoir Hill and then climb Reservoir Hill. From the crest, it is 800 meters to the finish, and experienced runners know to start their kick there. Heat and dust sometimes compound the difficulties inherent in the hilly course. But the crowds encourage the runners in one of the most accessible courses in the country, with five passes near the air strip. In 2003, a huge jumbotron screen made the finish chute and awards visible to all.

Schedule
Sweepstakes Races
Friday
**SWEEPSTAKES RACES - DIVISIONS 3, 4 & 5**
27 B Sweeps-D3 4:15 PM Red
28 G Sweeps-D3 4:32 PM Yellow
29 B Sweeps-D4 4:49 PM Blue
30 G Sweeps-D4 5:06 PM Green
31 B Sweeps-D5 5:23 PM Red
32 G Sweeps-D5 5:40 PM Yellow
Saturday
**SWEEPSTAKES RACES - DIVISIONS 1 & 2**
47 B Ind. Sweeps 9:05 AM Green
48 B Team Sweeps 9:35 AM Red
49 G Team Sweeps 10:00 AM Yellow
50 G Ind. Sweeps 10:30 AM Blue

Prior Years on DyeStat
2003 - Loyola jr Mark Matusak gets the lead from Duarte sr Mohamed Trafeh late in the Division 1/2 Boys Individual Sweepstakes on top of Reservoir Hill and goes on to run the fastest time of the day (14:33). Matusak set a new record for a junior at Mt. SAC and tied 2002 winner Tim Nelson for third fastest ever at Mt. SAC (Ryan Hall 14:28 in 2001 and Jeff Nelson 14:32 in 1978). Winners of the Div 1-2 Team championships were Don Lugo CA boys and Murrieta Valley CA girls. photo by Eric Pederson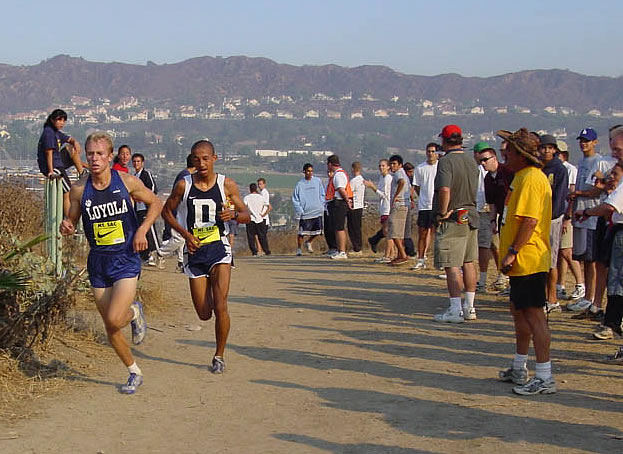 2002 - Tim Nelson 14:33, Rachel Bryan 17:08, Sultana girls, Poly boys excel.
2001 - Amber Trotter 16:16 smashes course record in a highlight of her magical season that led to the Foot Locker national championship. Yong-Sung Leal 14:43 is fastest boy. Canyon boys, Esperanza girls are top teams.
The ordeal of Mt. SAC's hilly, winding course shows even in the faces of the winners. photos by John Dye
Amber Trotter

Yong-Sung Leal

2000 - Anita Siraki 16:39 breaks Julia Stamps' 1995 course record. J. J. Duke 14:56. Poly Long Beach boys, Buchanan girls.
1999 - Sara Bei, Josh Spiker, San Lorenzo Valley girls, Don Lugo boys have fastest times
1998 - Sara Bei, Alfonso Leon, Long Beach Poly boys, University SF girls win top honors