Snohomish WA wins by 1 and 4.
Lauren Ho wins thriller over Amanda Patterson.
Jordan McNamara breezes.

2106 Lauren Ho HI rallies back in closing strides to beat Amanda Patterson VA. Ho is the first Hawaiian girl to win Iolani since Vickie Chang won the inaugural event in 1999. photo by John Dye

BOYS

GIRLS

photos by John Dye

NW#4 Auburn-Riverside WA's Jordan McNamara 16:39 (left) ran away from the pack in the first mile and won as he pleased. Teammate Josh Clough 17:14 gapped the rest of the field to give A-R the first two spots. But back in the pack, unranked Snohomish WA was bunching big time. Snohomish poured in all five scorers before A-R's fourth and won by one point.

Snohomish WA 54
(4 10 11 14 15)
Auburn-Riverside WA 55
(1 2 9 18 25)
Lake Braddock VA 127
Moreau CAtholic CA 137
Poly Long Beach CA 138

1. Jordan McNamara 12 A-R 16:39
2. Josh Clough 12 A-R 17:14
3. Brad Clark, 12 Lake Brad VA 17:26
4. Bobby Carlson 12 Snoh 17:47
5. Jeremy Kamaka'ala 11 HI 17:48
6. Neil Rodriguez 11 St. Joe 17;52
7. Tony Quintana 12 Moreau CA 17:54

1. Lauren Ho 11 HBA 20:00
2. Amanda Patterson 12 VA 20:02
3. Nicole Anderson 12 HI 20:23
4. Shannon Murakami 10 CA 20:29
5. Amanda Stopa 11 Snoh WA

Local favorite Lauren Ho (left) and Midlothian VA's Amanda Patterson waged a scintillating duel that wasn't settled until the very last strides. Ho, a junior at Hawaii Baptist, opened up a 10 meter lead in the last mile. Then Patterson, who was third in the Nike Indoor Championships last March, looked like the winner when she edged in front with 100 meters to go. But Ho rallied and broke the tape 2 seconds ahead of Patterson as both collapsed in the finish chute. Host Iolani sr Nicole Anderson 20:23 was third to give Hawaii two of the top three finishers.

Ho was Hawaii 1500m champ as a freshman and then finished second to Tia Ferguson last year in both 1500 and 3000, with PR's of 4:47 and 10:22. Her coach, Ross Mukai, said he was not surprised at the win. "Her work ethic is so great. She just continues to improve."

In team scoring, NW#4 Snohomish's first three (4-7-10) gained a four-point margin over Lake Braddock (5-8-12) and the fourth and fifth place runners were a push.

Snohomish WA 58
Lake Braddock VA 62
Midlothian VA 110
Redlands E. Valley CA 135
Redwood 160
Jordan McNamara strides out from starting line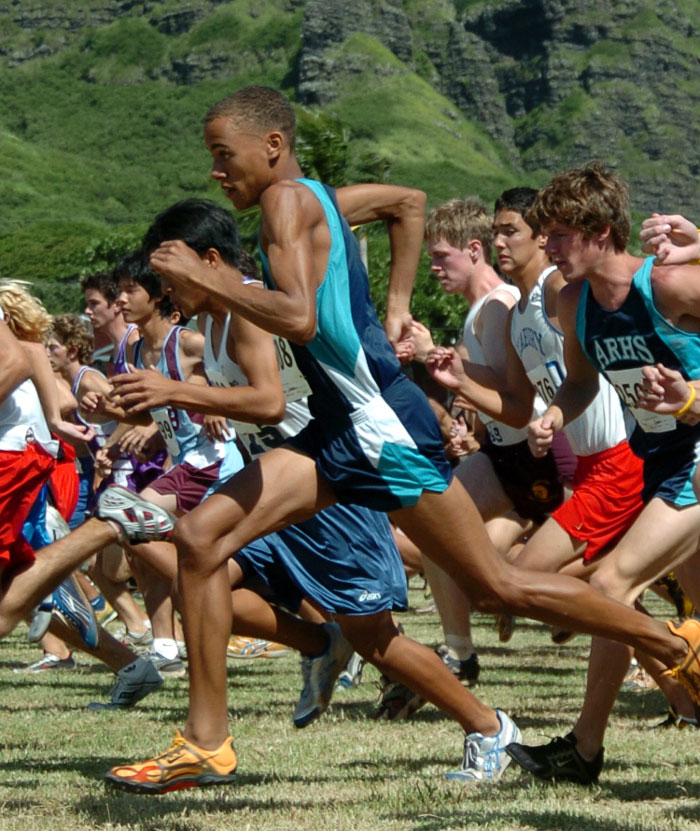 Big meet in spectacular setting at Kualoa Ranch on windward Oahu is set for Saturday morning. Two Northwest region #4 ranked teams -- Auburn-Riverside WA boys and Snohomish WA girls -- are the favorites. Host Iolani has the defending Hawaii boys and girls champs. Schools travelling the furthest, Midlothian VA and Lake Braddock VA, arrived Tuesday to see the Hawaiian sights and shake jet lag before the races. Individual favorites include Midlothian veteran Amanda Patterson; California soph sensation Shannon Murakami; Snohomish's trio of Alyssa Modrell, Amanda Stopa and Kara Sporrong; Hawaii champ Nicole Anderson; and Auburn-Riverside's Jordan McNamara and Josh Clough.
Preview
by Rich Gonzalez, editor of DyeStatCal
Iolani continues to grow in its 6th year
After months of anticipation, the wait is finally over. With talented national-caliber entries from the state of Washington leading the record onslaught of mainland teams participating, the Iolani Invitational continues to grow in its 6th year, both in size and stature. Once regarded as a showcase for national-class individual talent (including boasting three eventual FootLocker national champions on the girls' side), the meet has since evolved in recent editions to include powerhouse teams as well.
This year should prove no exception, with nationally regarded Pacific Northwest juggernaut Snohomish High School (ranked 17th nationally) leading the list of girls' teams entered. Snohomish, which was pinned with a narrow loss in a battle of national megapowers here a year ago, enters as the favorite in 2004. There are prime contenders for the podium spots, however, with California power Saugus, East Coast force Midlothian of Virginia, regional standouts East Valley of Washington and Long Beach Poly of California joining the hosts and three-time defending state champion Iolani High.
Individually, the pacesetters could very well be Midlothian senior standout Amanda Patterson and California sophomore sensation Shannon Murakami, although Snohomish checks in with a trio of decorated All-State performers. Patterson, who clocked a lifetime-best 5:00.55 for 1600 meters in May, might have the edge in terms of big-meet experience, often crossing state lines in search of top-flight competition in recent years. Murakami was the fifth-fastest freshman in California at the 2003 state meet, clocking 18:14 to earn Division I All-State accolades. For Snohomish, Alyssa Modrell, Amanda Stopa and Kara Sporrong are all leading entries in the field. Former Hawaii state champion Nicole Anderson of host Iolani leads the island contingent.
On the boys' side, Auburn Riverside aims to make it a possible sweep of the team titles Pacific Northwest squads, with pre-race individual favorite Jordan McNamara leading five returnees from an A-R unit that placed 7th at the 2003 Washington State 4-A championships. McNamara and senior classmate Josh Clough spearhead a vaunted attack that has the crew ranked fourth in this week's just-released Nike Team Nationals Northwest Region poll. Other top teams entered include perennial area powers Midlothian and Lake Braddock ogf Virginia and Long Beach Poly of Southern California. Locally, defending state champion Iolani headlines the entries. Aloha!
Iolani course is a true strength test.


Runners stream along like ants during the first mile as a majestic backdrop takes shape.
The Iolani course (pronounced 'eee-oh-lonnie', by the way) is quite competitive along the
final two miles, as repeated mountain-loop climbs are segmented by challenging stretches
around the mountain partway up the incline. Come ready for a true strength test, or you
might as well save yourself the strain and stay on the beach sipping on pineapple juice!
In its sixth year, this meet continues to grow in stature with 44 teams entered -- 22 from Hawaii and 22 from the mainland. In addition to lots of California and Washington schools, this year's meet includes Midlothian VA and Lake Braddock VA. Top ranked teams are the Snohomish WA girls and Auburn Riverside WA boys, each ranked 4th in the NTN Northwest region.
Prior Years on DyeStat
2003 - Nationally ranked teams show well on the slopes of Kualoa Ranch. Sultana CA girls edge Snohomish WA, 48-52. Eisenhower Yakima WA boys parlay 1-2-3 pack of Robbie Barany, Chuy Chavez and Charles Cummings (below) to near perfect 19-point score. Shelby Leland CA wins girls individual title.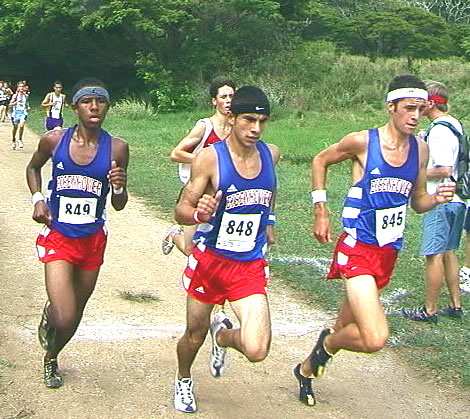 2002 - Carl Moe WA and Ruth Graham CA win individual titles. Eisenhower Yakima WA boys and Montgomery Santa Rosa CA girls win team titles.
2001 - Amber Trotter CA is the third straight girl to win Iolani and go on to win the Foot Locker cross country national championship.
2000 - Sara Bei CA and Nick Millar CA.
1999 - Local favorite Victoria Chang wins inaugural meet.