National rankings
DyeStat Elite - July 23 lists have 4,253 performances from 605 meets ranked.
Gourley's list - Hammer Throw rankings updated July 21. Nick Owens and Kristen Callan are US#1.
Jim Spier's Top 5 - Jim's June 11 update.
Roth's Race Walk -- updated June 11

College Choices
College Choices 2003 updated 7/23 with 1,303 choices now listed. Only a week left in national letter of intent signing period. Send email on other choices to John Dye with name, high school, college choice, your connection to the athlete, and a way to verify the information.

11th Pan Am Juniors
Barbados July 18-20

| Home Page |

Day 3 Sunday
Shalonda Solomon 22.93 breaks Pan Am 200m record -
US piles up 48 medals

"It was a magnificent sight," reports Jim Spier on Solomon's come-from-behind charge in the home stretch.

W-200: Poly Long Beach CA jr Shalonda Solomon claimed her third gold of the meet by winning in 22.93 +0.0 over Aneisha McLaughlin of Jamaica 23.34, smashing the Pan Am meet record she had set in the prelims at 23.21 +0.4. Solomon broke the Pan Am championship record (23.29 by Liliana Allen of Cuba in 1989). Penn State bound Shana Cox of New York was third in 23.39.
Team USA swept all four closing relays

M-4x100: USA 39.29, Jamaica 39.40, with Willie Hordge holding off Usain Bolt. Team USA: 1) Moore, Carlos 2) Collins, Aaron 3) Collins, Ashton 4) Hordge, Willie
M-4x400: USA 3:02.88, Canada 3:11.56. Team USA: 1) Coleman, Elzie 2) Wariner, Jeremy
3) Fergusson, Kenneth 4) Collins, Ashton
W-4x100: USA 44.00, Jamaica 44.24. Team USA: 1) Owens, Ashley 2) Broaddus, Juanita
3) Sherman, Alndra 4) Soloman, Shalonda
W-4x400: USA 3:34.08, Jamaica 3:41.26. Team USA: 1) Lee, Jasmine 2) Perkins, Angel
3) Hastings, Natasha 4) Smith, Stephanie

W-PV: Brigham Young-bound Julene Bailey of Idaho 13-3.5 (4.05m) won a tricky 4-way battle over Kira Costa of California 13-1.5 (4.00m), Karla Silva of Brazil 13-1.5, and Adrianne Vangool of Canada12-9.5 (3.90m). An opening miss at 3.70 left Bailey 4th when the bar was raised to 3.90. Bailey passed this height as Vangool took the lead by clearing on her first attempt while Silva and Costa each missed once and then made it. At 4.00 meters, Bailey, Costa and Silva tied for the lead with first-attempt clearances as Vangool dropped out. Silva passed at 4.05m while Bailey cleared on her second attempt and Costa dropped out. Both Bailey and Silva missed three times at 4.10m, so Bailey was the winner and Silva and Costa tied for second.
W-400H: Wilson Long Beach CA sr Mackenzie Hill, who will attend UCLA next year, was third in 58.61 behind Brazil's Amanda Dias 58.09. USA's Tawana Watkins was DQ'd for hooking the hurdles after finishing third.
W-1500: Home schooled New Hampshire soph Chantelle Dron 4:26.66 and Georgetown bound Elizabeth Maloy NY 4:26.87 won silver and bronze behind Cuba's 800-meter winner Yuneisi Santiuti Caball 4:24.56, who ran the last lap in 66 seconds.
M-1500: Cuba's Maure Sur Castillo Gera 3:47.13 outdistanced USA's Raymond Tyler 3:52.96 (4th) and Sam Vazquez 4:01.63 (7th).
W-HT: USA's Beth Mallory 189-5 was second to Argentina's Jennifer Dahlgren 192-3.
M-400H: U. South Carolina's Kenneth Ferguson 50.07 was an easy winner.
W-TJ: USA's Alyce Williams 42-2.75 +0.5 won silver behind the amazing 45-7 +0.0 by Cuba's Yudelkis Fernandez Luis.
M-200: Jamaican superstar Usain Bolt 20.13 +0.0 won easily, breaking the meet record and tying the world junior record of Roy Martin (USA) set in 1985. USA's David Neville 20.63 was a distant second and Aaron Collins 20.83 fourth.
M-TJ: Cuba picked up another TJ gold with David Girart Rivero soaring 55-6.5 -0.5. USA was out of the medal hunt with Solomon Welch 50-10 +0.1 finishing 5th and Devon Fanfair 48-2.5 +0.0 9th.
M-3k Steeple: USA's Kevin Davis 9:06.20 was a close second to Ecuador's Christian Patino 9:05.70.




Durham NC
Russell Blunt East Coast Invitational - July 18-20 - Complete Results

Highlights

Young Men

TJ: Rowan Express swept the top three spots: Andre Tillman 47-9.5, Terry Wood 47-5.5, and Mark Sturgis 45-2. Tillman doubled in the long jump at 23-2.5.
200 pre: Christopher Davis NC 22.15 +0.0.
110H: Terry Thornton VA 14.23 +0.0
400H: Reuben McCoy NJ 54.49.
PV: Phillip Childers NC 15-0.

Young Women

100H: Shantia Moss FL 13.99 -1.4, and she also won the 100m in 12.44 -2.2.
PV: Jennifer Hansen WV 12-0.
TJ: Deborah Hawkins SC 38-7.

Intermediate Boys

100: J-Mee Samuels NC 10.93 -1.8.
400: Justin Oliver of Track Phi Track won in a swift 47.49 and also won the 200m in 21.89 -1.5 as fastest qualifier J-Mee Samuels (22.14 -2.8) skipped the final.
Brandon Cathcart NC doubled in 22-1 and 45-3.75.

Intermediate Girls

Kaetlyn Brown of River City Elite doubled in 200/400 in 25.20 -1.2 and 55.50.
TJ: Camillia Morman NC 40-6.25.
Deandra Doyely FL got a hurdle double in 14.72 -0.3 100H and 1:03.08 400H.
Latroya Darrell of Bermuda won the high jump at 5-8 and was second in triple jump (38-9).

Youth Girls

Devon Williams MD doubled 400/1500 in 55.53 and 4:51.22.
Nwaneri Ogechi of Comets Track doubled 100/200 in 12.58 -0.8 and 25.60 -1.0.

Rocky Mountain high for Foot Locker finalists

Megan and Katelyn Kaltenbach (in middle at right) hosted a retreat of 9 Foot Locker finalists and one special guest (below) at the Kaltenbach family condo at Breckenridge CO.

Who are these runners? Matt Orwick was the first to write and also the first to be 100 % correct.


Top: Nicole Bohnsack, Megan Kaltenbach, Katelyn Kaltenbach, and Liza Pasciuto
Bottom: Ryan Deak, Stephen Pifer, Brent Vaughn, Neftalem Araia, Chris Solinsky, and Bobby Curtis


California sprint queen Allyson Felix and Ohio basketball king LeBron James were named Gatorade high school athletes of the year at a lavish luncheon in Hollywood Wednesday (7/16). Afterward, they got the red carpet treatment at the ESPY Awards at the Kodak Theater.

DyeStatCal covers the luncheon in Hollywood.

photo by Kirby Lee
Ryan Deak to Colorado -- Florida distance star has moved to Colorado for his senior season and will run for Smoky Hill Aurora HS, home of the Kaltenbach sisters and Brent Vaughn. Deak was a Foot Locker cross country national finalist last year, finishing 12th at San Diego, and is the fifth ranking returnee for 2004.
High school track is getting bigger and better,
and the Internet is a big reason -- Jeff Hollobaugh on espn.com.
2003 Cross Country - less than 2 months away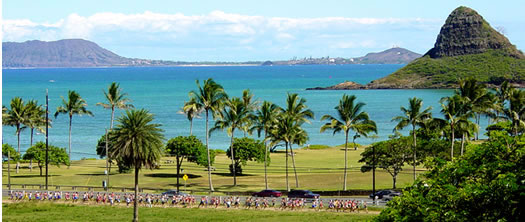 5th Iolani Big Aloha Invitational will be held September 20 at Kualoa Ranch in Hawaii. This is a photo of one of last year's races. After the races, runners ran across the road to cool down in the ocean. Thirty mainland high schools are expected to run in this year's Iolani, twice as many as last year. Last year's winners were Ruth Graham, Carl Moe, Montgomery CA girls, and Eisenhower WA boys. The University of Hawaii Big Wave Invitational for college teams will run in conjunction with the high school meet. a DyeStat on-site meet
Day 5 - Sunday
US women 2:03.87 crush medley relay field by more than 3 seconds.
ThunderBolt strikes in the rain! - Usain Bolt JAM 20.40 -1.1 (Michael Grant GA 21.04).
US men 1:52.03 beat Poland 1:53.08
USATF story Team USA wins medal count for second straight time
IAAF story Championships close in a blaze of glory
Surgery for Alan Webb - His appendix burst Wednesday (7/9), requiring immediate surgery. Webb's agent, Ray Flynn said he had cancelled Webb's entry in some low-key races in Europe this summer. "He's O.K.," Flynn said. "He's looking forward to healing up and doing some cross country in the fall." [Walt Murphy's News and Results Service]


Nike ID shoes - purchases help support DyeStat
Post-Season Pix Pages - with the rush of big meets and great performances, we piled up a huge backlog of action photos to process from Golden West, AOC Raleigh, Golden South., and USA Nationals. Here are the latest pix pages uploaded:
AOC throws: Maysville KY senior Josh Fryman, who crashed into the national spotlight with his last-throw win of the Nike Indoor shotput in March, swept both shot and discus at the adidas Outdoor Championships.
AOC - Ted Ginn: Brightest of the new stars at AOC Raleigh was Glenville OH jr Theodore Ginn, anchoring a national record 800 SMR and "upsetting" US#1 and US#2 in the 110m hurdles.
Post Season Best Marks - There have been hundreds of performances in the post season meets that qualify for DyeStat Elite top 100 national rankings. Age group meets will be reported separately.
XC Coaches:
Get the Parent's Guide for all your runners' parents. Team discounts available. Write John Dye, [email protected], for rates.
WANTED!
2003 Cross Country meet information for our calendar page. Send specifics - name of meet, date, place, contact information, and any other significant information by email to John Dye at [email protected]

click here to shop at Eastbay;
purchases help support DyeStat
California news
DyeStatCal
complete coverage of the Golden State by Rich Gonzalez and Doug Speck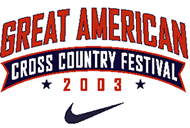 Sep 26-27 Cary NC
SteveU
reviews
sub-4:00
"The most important thing I have to say is this: BUY THIS BOOK. If you love track and field, do it on principle alone. Not only will you be in for a very enjoyable ride, but in a very real sense, you'll also be contributing to the sport."