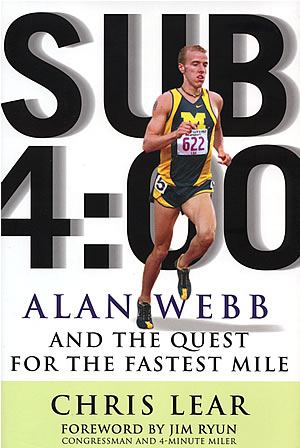 Chris Lear's second book
Sub 4:00
Alan Webb and the quest
for the fastest mile
the story of a young track hero's journey
At the age of 18, Alan Webb was already a legend, the wunderkind who broke a 36-year-old record in 2001 by running a 3:53.43 mile -- a full 2 seconds faster than former record holder Jim Ryun.
Today, after appearing in newspapers and magazines nationwide, the fastest high schooler in history is now a 19-year-old, Nike-sponsored professional whose life is awash in challenges. In Sub-4:00, Chris Lear gives readers a look into Webb's world as he tries to balance the demands of college, media attention and injuries, all while keeping focused on the sport he loves. Runners everywhere will find Webb's story an inspiration, especially younger athletes who will unearth life lessons in his successes, setbacks and overwhelming commitment.
Chris Lear -- Chris Lear ran a 4:09 mile at Pingry School, the fastest high school mile of the 1990s in New Jersey. Later, he was an All-American miler at Princeton. Lear's first book was the smash hit Running with the Buffaloes, a chronicle of Adam Goucher and the 1998 University of Colorado cross country season.