| Winner's Table & links to action pix, splits & quotes | Donna on the Side | Results on Penn Relays site
| Thursday | Friday | Ed Grant notes | US wins battle of Jamaica this time |
| Pearl Watts reports on Virginians at Penn | 205 DyeStat Elite performances |
| Preview | Penn Memories with Walt Murphy | Prior Years on DyeStat |
Poly Long Beach CA wins 4 relays
Boys 4x400 and 4x800, Girls 4x100 and 4x400 USR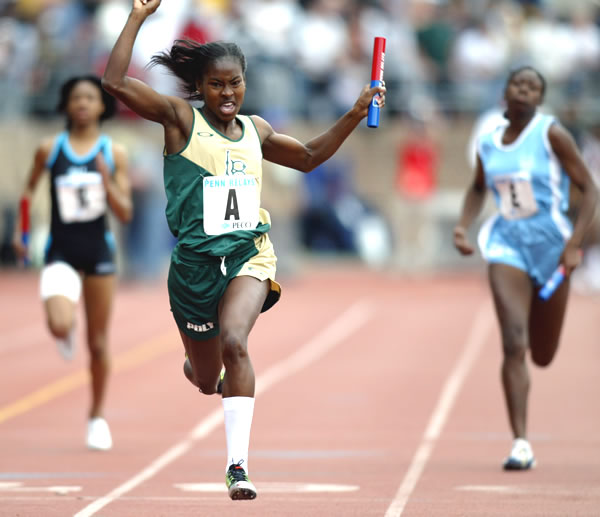 Poly's Shalonda Solomon finishes USR 4x400 --- photo by Errol Anderson
BOYS

GIRLS

4x100: Deep Creek VA 41.19
4x400: Poly Long Beach CA 3:11.22
4x800: Poly Long Beach CA 7:43.43
DMR: Northport NY 10:15.70
Mile: John Richardson NJ 4:11.80
3000: Brian Dalpiaz NY 8:28.16
400H: Javier Culson PR 52.32
HJ: Adam Linkenauger VA 6-9.75
LJ: Anthony Miles NJ 24-6.5
TJ: Carlos Mattis JAM 49-1.25
PV: Andrew Rademacher PA 15-1.25
SP: Tyree Suber PA 62-2.5
DT: Rabun Fox LA 184-0
JT: Brad Zimmerman PA 215-3
4x100: Poly Long Beach CA 44.96 US#2 all time
4x400: Poly Long Beach CA 3:35.55 USR
4x800: Edwin Allen JAM 8:52.99
DMR: Red Bank NJ 11:46.59 US#7 all time
Mile: Ari Lambie MA 4:42.21 US#8 all time
3000: Victoria Webster ENG 9:33.97
400H: Sheryl Morgan JAM 58.15
HJ: Peaches Roach JAM 5-9.75
LJ: Kadine Geddes JAM 20-5.75
TJ: Yvette Lewis VA 41-5.75
PV: Lindsey Rosales NY 11-11.75
SP: Kelly Fazekas NJ 44-8.75
DT: Lindsay Grigoriev MD 160-5
JT: Leida Feliociano PR 153-3
Ari Lambie
Girls Mile


Deep Creek VA Boys 4x100

Red Bank NJ Girls DMR

John Richardson Boys Mile

Northport NY Boys DMR

Brian Dalpiaz Boys 3000

Victoria Webster Girls 3000

Sheryl Morgan 400m hurdles

Edwin Allen JAM Girls 4x800
US wins the battle of Jamaica this year - wins 7 of 8 relays
Old Franklin Field rocks whenever US and Jamaican athletes go head to head, with thousands of fans cheering on each side.

right, DyeStat photo of A.P. Randolph NY (Natasha Hastings) and St. Jago JAM runners matching strides on the far turn of a relay trial heat in 2001.
US teams won 7 of 8 relays this year, at least interrupting many years of success by foreign teams, mostly from Jamaica, which brings thousands of foot stomping, flag waving fans to Franklin Field every year.
Here is the background of the US-Caribbean rivalry at Penn Relays:
BOYS

GIRLS

4x100 - Teams from Jamaica and Trinidad & Tobago had won 20 of the last 24 years, including the last three.
4x400 - Jamaica had won 12 of the last 18 years, but the US is improving now with wins in 5 of the last 8 years by Poly, Camden NJ, Northwestern MD, and Muir Pasadena CA (twice).
4x800 - US had won only 3 times in 17 years, but has now won four of the last 7 (Poly this year, South Lakes VA, Boys & Girls NY, and West Springfield VA).
DMR - Ireland, not Jamaica, is the US' recent nemesis in this event, with Irish teams winning 5 straight years through 2000. But the US has now won three in a row with Northport NY this year, North Penn PA last year, and South Lakes VA in 2001.

4x100 - Jamaica had won 21 of the past 22 years, with Poly Long Beach CA's win in 1995 the only interruption until this year.
4x400 - Jamaica had won 14 of the past 18 years, including the last three. US is now improving with victories in 5 of the last 9 years (Poly this year plus 1997 and 1995, Willingboro NJ in 1999 and William Penn PA in 1996).
4x800 - Jamaica had won 16 straight years until Boys & Girls NY won last year in a US record 8:50.41. Edwin Allen resumed Jamaica's dominance this year.
DMR - This event was added to the Relays in 1990, and Hayes of Jamaica won the first 6 times, but the US has now won 8 years in a row, including San Lorenzo Valley CA's US record 11:41.28 in 2000.
Prior years on DyeStat
2002 - Boys & Girls girls set US record in 4x800, Holmwood Tech boys get big double
2001 - Alan Webb's South Lakes VA and Boys & Girls NY girls sweep 4x800 and DMR.