| Complete Junior results & Pix | Previews | High School Highlights: Thursday - Friday - Saturday - Sunday | Best HS Marks |
| USATF stories: Seniors - Juniors | Start Lists: Thursday | Friday | Saturday | Sunday |
| Schedule | Media Conference | top 10 US junior qualifiers | USATF web site | Prior Meets | Junior Standards ||

Third place finish in senior USA Nationals 200 puts Los Angeles Baptist HS senior on Team USA for the senior World Outdoor Championships in Paris in August.
Allyson Felix

Named outstanding athletes of the junior division, which will send a US team to the Pan American Games in Barbados next month, were Poly Long Beach CA jr Shalonda Solomon (100-200 double), U. South Carolina fr Kenneth Ferguson (110-400 hurdle double), and Notre Dame fr Molly Huddle (meet record 9:19.52 in the 3000 meters).

photo by John Dye
Most Oustanding Athletes in USA Junior Nationals
Shalonda Solomon, Kenneth Ferguson, and Molly Huddle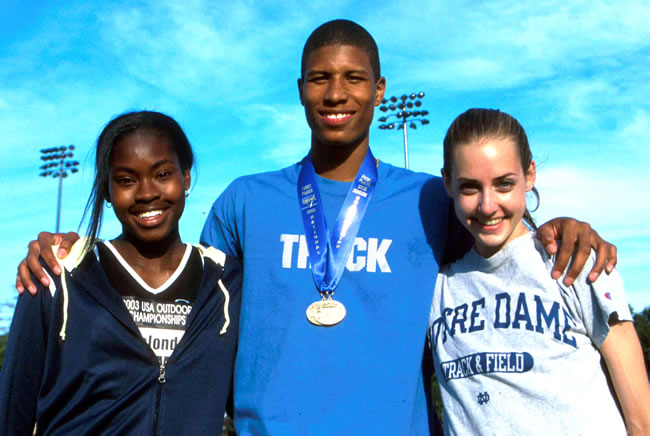 photo by Victah Sailer
all eyes and lenses point to the finish line at USA Nationals at Stanford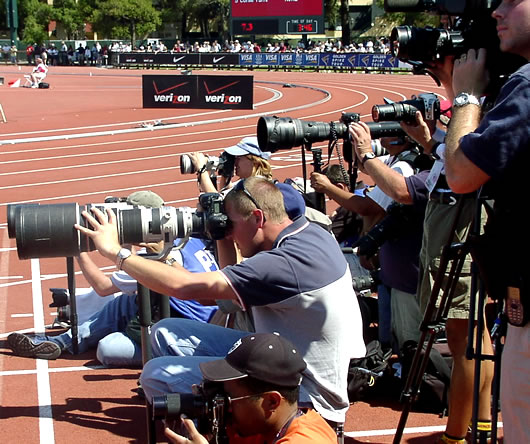 photo by John Dye
New Yorkers (Syosset and Bay Shore) enjoyed a top down day in California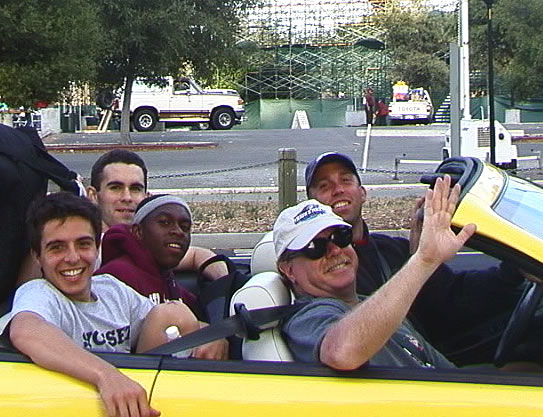 photo by John Dye (substituting for Donna on the side)
Sunday high school highlights
Allyson Felix wins ticket to Paris in senior women's 200
W-100H:Alandra Sherman TX 13.36 +2.3 was second to UCLA's Dawn Harper 13.28.
M-110H: Kenneth Ferguson 13.60 -0.4 led collegians to the first four spots, with James Logan CA soph Kevin Craddock fourth in 14.36.
W-2k Steeple: Heather Iatauro NY 7:01.36 was fourth, with Baylor's Angela Marvin 6:42.82 winning.
W-Hammer: Danielle Dufresne RI 177-6 was the best high schooler at 4th, with Syracuse U's Kristen Michalski winning at 187-10..
W-100: Poly Long Beach CA jr Shalonda Solomon 11.40 +0.7 and Colorado Springs sr Ashley Owens 11.60 made the US team.
M-TJ: Devon Fanfair TX 49-4.5 +1.9 was second behind Stanford's Solomon Welch 50-2.5 -2.4.
M-100: Mount San Antonio College's Carlos Moore 10.38 +0.0 was the day's most ecstatic winner, followed by Kenny O'Neal 10.40. High schoolers, Willie Hordge TX and Earvin Parker TX were given the same time (10.48) for third and fourth.
W-TJ: Erica McLain TX 42-2 -2.3 missed repeating on Team USA by 2 inches as collegians Alyce Williams 42-7.5 -2.9 (George Mason) and Ychlindria Spears 42-4 -2.5 (Texas) finished 1-2.
W-1500: Bromfield MA senior Ari Lambie 4:20.20 was a convincing winner, challenged only by home schooled soph Chantelle Dron NH 4:26.08.
M-1500: Georgetown freshman Chris Lukezic 3:49.69 defended his title, and AOC Raleigh mile champion Sam Vazquez FL 3:50.85 kicked from 7th to 2nd in the stretch.
W-400: Macon GA sr Stephanie Smith improved on her US#1 ranking by winning a very fast race in 52.04, followed closely by college freshman Angel Perkins 52.06 and A.P. Randolph NY jr Natasha Hastings 52.09.
M-400: Newburgh NY jr Elzie Coleman 47.06 was third behind collegians Ashton Collins 45.64 (Texas) and Jeremy Wariner 46.41 (Baylor).
W-800: Topeka KS jr Trisa Nickoley 2:08.13 made the US team with a game second to collegian Ashley Patten 2:07.60.
M-800: Portland OR sr Mike McGrath, the year's fastest prep 800m runner, rallied for second in 1:49.36 behind Kent State's Michael Inge 1:47.89, with Russell Brown NH kicking to third in 1:50.16.
W-400H: Wilson Long Beach CA sr Mackenzie Hill 58.39 was barely beaten by South Carolina's Tawana Watkins 58.39.
M-400H: Stephenson GA sr Jeremy Burton 51.92 was the best high schooler at 4th as South Carolina's Kenneth Ferguson 50.70 completed his MVP double.
W-3000: Smoky Hill Aurora CO sr Megan Kaltenbach 9:44.21 held off Jenks OK sr Brianna McLeod 9:46.66 for second, but both were far behind Notre Dame freshman Molly Huddle 9:19.52, who broke the 22-year-old meet record (Ceci Hopp 9:21.0h).
M-5000: Portland OR jr Galen Rupp 14:28.00 looked like the winner when he overhauled front running Colorado U. freshman Tim Nelson on the next to last lap, but Nelson responded with a scorching 57-second final lap to win going away in 14:21.46.
Saturday
5 HS winners - Allyson Felix wins first round against pros
High School winners
in junior finals Saturday:

photo at right, Poly Long Beach CA jr Shalonda Solomon 23.37 -1.5 200m
Elyria OH sr Tianna Madison 20-3.5 +4.1 LJ (Renee Williams CA 20-2.5 +2.7). Defending champion Erica McLain TX had a bad day, with two fouls and then a sub-par 16-9.25 on her last attempt.
Skyview Nampa ID sr Julene Bailey 13-6.5 PV US#3 all time. Kira Costa, who set the national record at 13-8.5 at the Golden West last Sunday, was off her form, but made the US team for the Pan Am Games with her second place at 12-11.5.
Red Oak TX sr Michelle Carter, the high school national record holder, won the shot put with a throw of 52-8, with Liz Podomonick MN a strong second at 52-4.75.
Sandy OR sr Tommy Skipper, who set the high school record last Sunday at the Golden West (18-3), went over 18 feet again at 18-0.5. He missed three times attempting to raise his record to 18-4.5.

photo by John Dye
Friday
Donovan Kilmartin 7,431 -- 9 points short of his own Jr Decathlon record
Bernard Williams wins men's 100
1 Bernard Williams NIKE 10.11 1.6
2 Tim Montgomery NIKE 10.15 1.6
3 Jon Drummond NIKE 10.18 1.6
Kelli White wins women's 100
1 Kelli White NIKE 10.93 -1.1
2 Torri Edwards adidas 11.13 -1.1
3 Gail Devers NIKE 11.16 -1.1
4 Inger Miller NIKE 11.17 -1.1

Junior Decathlon
Event 6, 110H - Donovan Kilmartin ID won his third event of the decathlon in 14.95
Event 7, Discus - Kilmartin was third with 125-9. After 7 events Kilmartin had 5,364 points, 71 behind last year at this point.
Event 8, Pole Vault - Kilmartin won at 16-00.75, his fourth event win. Total for 8 events: 6,244.
Event 9, Javelin - With a third place mark of 167-10, good for 606 points, Kilmartin boosted his total through 9 events to 6,850, just 590 points short of his HS record decathlon score of 7,440 last year. His 2002 time of 4:43.15 in the closing 1500m was worth 661 points, so he can run slower today and still beat the old record.
Event 10, 1500m - Kilmartin ran 4:56.31 for 581 points, leaving him just 9 points short of his record.
Junior Decathlon
Favored defending champion Donovan Kilmartin, Eagle ID senior, gets off to a good start with an 11.20 100 meters, best in the field. But a sub par long jump of 23-0.75 (his best is 24 feet) and high jump of 6-6.25 (he is usually in the 7-foot range) left Kilmartin behind last year's pace (when he scored a HS junior record total of 7,440). At the end of Day 1, Kilmartin had 3,877 points, 72 behind last year.
The best athletes ages 14 to 19 compete for spots on Team USA at the Pan American Junior Championships at Barbados July 17-19. Top preps and college freshmen generally make up the team, which is drawn from the top 2 finishers in the Junior Nationals.
Super-elite juniors sometimes step up to the seniors. This year it is Allyson Felix. The Los Angeles Baptist HS senior has the fastest 200m time in the world this year (the world junior record 22.11 at Mexico City), and she will run in the senior women's 200.
Officials march in with chairs for the long day ahead.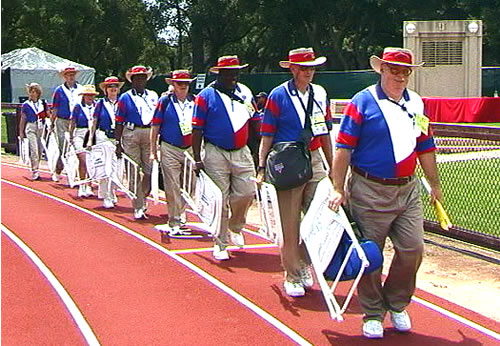 Sprinters woofing at Media Conference Wednesday
Tim Montgomery

"Would you like to have your world record back?

Maurice Greene

"I WILL get it back."

Justin Gatlin

"I don't train for second or third."
Prior USA Junior Nationals on DyeStat
2002 - Palo Alto CA - Sanya Richards doubles over Allyson Felix and Monique Henderson. Donovan Kilmartin runs away with decathlon title. Bershawn Jackson beats Kenneth Ferguson in 400H. Richard Smith wins 800 and Chris Lukezic the 1500.

2001 - Richmond VA
2000 - Denton TX
1999 - Denton TX
1998 - Edwardsville IL