the entire AOC Raleigh story in words and pix:
Ari Lambie - Sam Vazquez - Red Bank NJ girls - Winslow Twp NJ boys - Theodore Ginn and Glenville OH boys - Shana Cox - Katya Kostetskaya - Scott Sellers - Erica McLain - Andy Fryman - Davidson Hilliard OH boys - Saratoga NY girls - Christian Wagner - Vineland NJ boys - Skyline Dallas TX girls - Bay Shore NY girls - Juanita Broaddus
On-site coverage by John Dye, Donna Dye, Derek Dye, Steve Underwood, Conrad Haber, Ricky Quintana, Pete Cava, and Elliot Denman.
| Results & Pix | Donna on the Side | Results Friday | Complete Results: BOYS - GIRLS | 463 DyeStat Elite marks |
| Stories: Pete Cava boys: Friday - Saturday | Elliott Denman girls: Friday - Saturday |
| SteveU's Distance Report: Friday - Saturday |
| Heats | Previews | Entries | Schedule | Prior Years | the meet's own web site |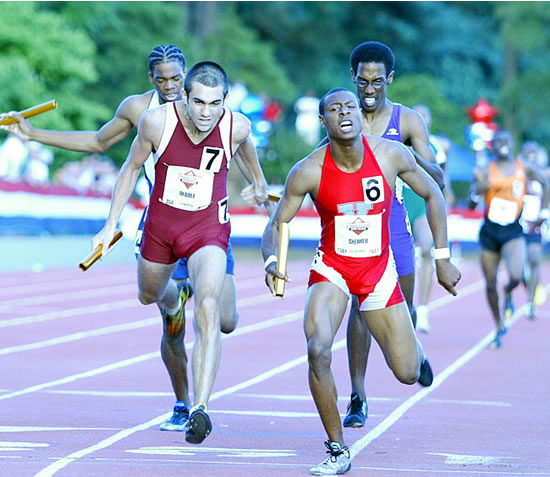 Boys SMR: In one of the most thrilling races of the meet, 6 Vineland NJ holds off 7 Mt. Tabor NC by 0.01 with top 4 finishers hitting the top 15 all time list. - photo by Victah Sailer, PhotoRun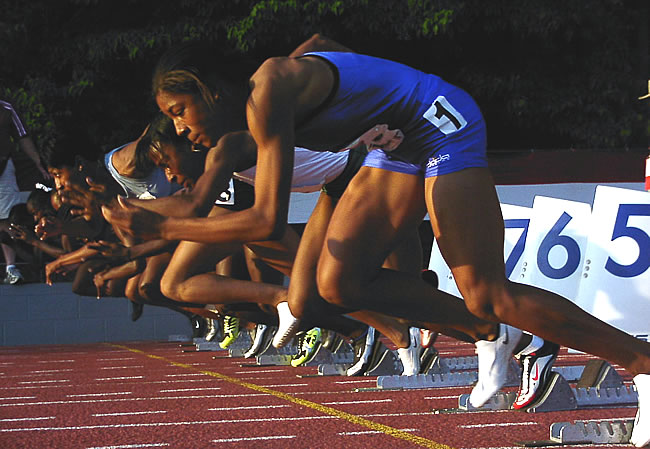 G-100 finalists push off. photo by Conrad Haber
Daily Highlights
Saturday
Glenville OH boys 1:28.95 800 SMR, breaking the national record of Wheeler GA (1:29.68 in March 2003) and fulfilling their expectations "to do something big.". Theodore Ginn anchored this effort, and then upset Kerron Clement and Jason Richardson, ranked 1-2 in the country, in the 110m hurdles in 13.62.
Red Bank NJ girls 11:37.86 DMR for a new national record, breaking the 11:41.28 standard of the Ale Barrientos-led San Lorenzo Valley CA team at the Penn Relays in 2000.
Ari Lambie humbles "the best girls mile field ever" in 4:39.05, a meet record and the 3rd best ever by US high school girls, with a 10-second margin over last year's champion, Megan Kaltenbach.
Sam Vazquez 4:03.87 toppled both Steve Magness and Chris Solinsky in "the best boys mile field ever" with a 57-second last lap. Solinsky, who took the lead on the backstretch, was second in 4:05.30. Jeff See of Middletown OH was third in 4:06.07, taking the sophomore class record held by Alan Webb, who in turn took it from Jim Ryun in 1999. Seven runners ran under 4:08.
Katya Kostetskaya dominated Heidi Magill, best in the US the last 2 years, to win the girls 800m in 2:05.95, best in the US this year.
Shana Cox doubled 200/400 over stellar fields in 23.24 and 52.94.
Ohio 800m champion Derrick Hoye 1:50.34 hammered the field throughout and held off the late charge of John Richardson 1:50.67.
Skyline Dallas girls 3:38.35 4x400 beat Miami Northwestern by 8 seconds and became the first Texas team to run under 3:40.
Winslow NJ boys 3:10.47 won the 4x400 with a fabulous anchor by Antraye Miles coming from third place for their third relay win of the meet ( 1:24.49 4x200 and 40.92 4x100).
Scott Sellers TX edged Mike Morrison in high jump by clearing 7-3.25 on his first try. Morrison made it on his second try, and both missed three times at 7-5.
Andy Fryman completed a throws double by winning the discus at 192-6. He won the shot put Friday night at 65-6.25.
4xMile - In the cool of Saturday morning, early rising runners competed in the rarely run 4xMile relays. The winners were Davidson Hilliard OH boys, despite Steve Magness' 4:06.7 anchor split for FMR Klein TX. Magness got the stick in 7th place and burned himself out with 56.5 first lap that carried him into third place. But he could not catch Davidson's Chris Nichols, who finished in 4:11.3 to fulfill a seasonal goal of the Hilliard OH crew. Saratoga Springs NY, despite missing Nicole Blood due to a hamstring injury, won the girls race easily.. steveu's distance report
Friday
Willie Hordge wins 100 in first race back from injury.
Christian Wagner shows the country his Hoosier form.
Cardinal O'Hara PA wins loaded 4x800
Skyline Dallas TX girls 1:35.65 beat national record holder Alief Elsik TX 1:36.26.
Winslow Twp NJ boys 1:24.29 become third fastest team ever, with two more teams under 1:25 (Glenville OH 1:24.77 and Reagan Austin TX 1:24.89)
Vineland NJ runs 6th fastest 1600 SMR ever (3:22.75) as Matt DeBole's 1:50+ anchor falls 0.01 short for Mt. Tabor NC (3:22.76 US#7 all time). Deep Creek VA 3:23.15 and Willingboro NJ 3:23.56 also hit all time list in Jack Shepard's HIGH SCHOOL TRACK record book.
Andy Fryman KY 65-06.25 adds outdoor crown to his Nike Indoor shot put title.
Juanita Broaddus PA smokes stellar 100m field.
Sunni Olding OH edges Katie Harrington in 2-mile.
Tianna Madison OH 20-07.25 hits US#1 long jump
Bay Shore NY girls end Bronxville's 4x800 record bid by posting US#3 all time mark themselves (8:53.26).
Penn Relays champion Lindsay Grigoriev MD wins discus at 153-4.
After 13 years, AOC has become the biggest post-season meet, with the most entries (nearly 2,000 this year) and the most events. The meet managers, the National Scholastic Sports Foundation, bill AOC as "the nation's premier high school outdoor event." US#1 bragging rights and even national records will be on the line this year. AOC Previews:
a new distance peak?

- You might have thought the high school distance running resurgence peaked 2 years ago with the graduation of Alan Webb, Dathan Ritzenhein, and Ryan Hall. You would have been wrong. Meet managers are calling this year's AOC boys mile field the best ever assembled, and the girls mile features Ari Lambie, who ran 4:37.23, US#3 all time, in the Massachusetts state meet June 7.

Michelle Carter - like father, like daughter. Michelle and dad Michael are the first parent-child pair to hold national HS records.
Boys - Pete Cava's event by event analysis
Girls - Ricky Quintana's event by event analysis
Last year