now on sale ...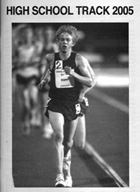 Want to know who has the all time record in the 4xMile relay? Or the freshman record in high jump? You need Jack Shepard's HIGH SCHOOL TRACK 2005. "I never leave home without it," says John Dye.
USATF Youth Championships
June 28 - July 3, 2005 Knoxville TN
INDEX - Results - 107 DyeStat Elites -

Ebony Collins 57.87 400H US#3 (new IG record) - David Klech 51.28 400H US#3 (Taveris Washington 51.63 US#4) - Khrystal Carter doubles 11.72 and 23.97. Kamorean Hayes doubles 48-8 and 150-3.
Another record for Walt Henning - the St. Anthony's NY soph threw the 16-pound hammer 180-9 at the Empire Games trials on Long Island, setting a new national sophomore record (was 180-0 by Alvin Jackson RI in 1970) and New York state record (was 176-4 by Steve Dering in 1987).
JO - Britany Parker 13-6.25 PV - Some top marks are being recorded at regional qualifiers for the national Junior Olympics meets later in the summer. McKinney TX jr Britany Parker claimed US#2 ranking at the USATF Southwest meet in Hallsville TX. At the Pacific Association meet in California, Napa sr Fletcher Carlyle high jumped 7-1. In Indiana, Homestead soph Hunter Hall pole vaulted 16-0 and Northrop sr Brianna Neumann 13-2.25. In North Carolina, Cummings soph Latoya James ran 1:01.66 400H.
DyeStat Elite at Post-Season Meets
State Highlights at Nike Outdoor Nationals
Michigan by David Mitchell - 6 national champions and 20 All-Americans
Pennsylvania by Don Rich - Briggs (Jav), Fritz, Leach, Whiting, Miller
Jordan Hasay talks about her season
California 8th grader tells Joe Hartman on DyeStatCal she can't wait to enter high school this fall.
Stat of the Week
All time top 100 miles grouped by meet
John Sullivan is a track nut who can't get enough track stats. He cranks out lists for his own amusement -- and now he can amuse you as well. This week, All Time top 100 high school miles grouped by meet. Two thirds of the boys top 100 were run in post season meets, but more than half of the girls were run in-season. Cutoff for all time top 100 ranking is 4:07.3 for boys and 4:48.85 for girls.
DyeStat Featured Meets
Meets featured on DyeStat with on-site coverage.
Great Southwest Classic
- June 2-4 Albuquerque NM
adidas Golden West Invitational - June 12 Folsom CA
Nike Outdoor Nationals - June 17-18 Greensboro NC
USA Junior Nationals - June 24-25 Carson CA
Pan American Juniors - July 28-31 - Windsor Canada
Iolani Invitational - Sep 10 - Kualoa Ranch, Oahu Hawaii
Great American Cross Country Festival - Sep 24 - Cary NC
Sunfair Invitational - Oct 1 - Yakima WA
Manhattan Invitational - Oct 8 - Van Cortlandt Park, NYC
Mt. SAC Invitational - Oct 21-22 - Walnut CA
Foot Locker Cross Country regionals - November
Nike Team Nationals - December - Portland OR
Foot Locker Cross Country Championships - December - San Diego CA
Holiday Classic - December - New York Armory
Hispanic Games - January - New York Armory
New Balance Games - January - New York Armory
Millrose Games - February - Madison Square Garden
Armory Collegiate Games - February - New York Armory
Simplot Games - February - Pocatello ID
Nike Indoor Nationals - March - Landover MD
Texas Sweeps GHAC Relays
Cinco Ranch Katy boys, A&M Consolidated girls
win first online high school track meet
Cinco Ranch added the GHAC crown to their second straight Texas 5A championship. They were led by the stellar trio of Scott Sellers (HJ), Queito Teasley (LJ) and Trevor Gerland (110H). A&M Consolidated's strength is in distance (Jocelyn Gardner) and throws (Candis Kelley). Those events are undervalued in the sprint-centric Texas state meet scoring system, but they played well in the GHAC Relays, which test the spectrum of skills in track and field. MORE
VISIT

TRACK-TECH.COM
for


USA Open T&F Camp, FL,
USA Open XC Camps, CO,
USATF Jr Elite Camps CA
T&F TRAINING software
USATF Development Videotapes

DyeStat uses Hy-Tek
for meet results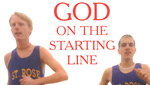 Steve (steveu) Underwood says: "God On The Starting Line is a wonderful gift to the world of prep distance running. It's kind of like eating, oh, a premium triple chocolate fudge brownie ice cream sundae. You might feel stuffed and a little woozy, but like you've never devoured anything so delicious."
ShopDyeStat


unique items
for the HS athlete
--Parents Guide

--Training G
uide
--Training Profiles
--Pace Calculator
--the Harrier
--HS Track 2005