Donna on the Side
Photo Albums
John Dye - 138 action shots

Conplete Results -
Winners Table - links to event pages with photos, notes and Elliott Denman's summaries

NIN vs. NSIC

State highlights
NJ Ed Grant
MI David Mitchell

Favorites -
by John Dye
Boys Preview -
by Pete Cava
Girls Preview -
by Ricky Q.

Final Instructions to athletes
Heats
Entries
Past Performances
Schedule
Prior years

Sunday highlights - Saturday highlights
Winners Table and links to event by event coverage -

the thrills kept coming
2 national records (Mary Saxer 14-2 PV, Saratoga NY girls 19:59.24 4-mile relay) - Ken Cormier's late charges - Sarah Bowman's wire to wire runs - Bumby's mile - LJ/60m double by Sarah Matthews - great hurdlers Kira Robinson and Jared Huske - blazing sprinters J-Mee Samuels, Trindon Holliday, Justin Oliver, Bianca Knight, Sade Williams - Ryan Whiting's clutch throw - the great team from Cinco Ranch Katy TX.

John Dye's photo albums

Sprints - J-Mee Samuels, Trindon Holliday hit US top 10 all time
Hurdles - Kira Robinson, Jared Huske hit US top 10 all time
Distance - Boys - race sequences & notes - Bumby takes charge in mile, Cormier's killer kick is almost too late in 2-mile
Distance - Girls - Race sequence & notes - 2-Mile saw seesaw duel between Krista Anderson ND and Katie Niehaus SC. Sarah Bowman VA went wire to wire in Mile and almost did it again 90 minutes later in the 800.
Field Events -

Kamorean Hayes NC got a national sophomore class record and Ryan Whiting PA came from behind on his last throw. Sequences of both.

0.

True Confessions of a TV Rookie
David Mitchell of Pinckney MI was a coach at the first Nike Indoor Nationals in 1999 when he received a "battlefield commission" as an announcer. He is an experienced announcer now, but he never did TV before this year's NIN in Maryland. Read about his experience.

42 States participate in NIN - AL, AR, AZ, CA, CN, CO, CT, DC, DE, FL, GA, IA, IL, IN, KS, KY, LA, MA, MD, ME, MI, MN, MS, NC, ND, NE, NJ, NM, NV ,NY, OH, OR, PA, RI, SC, SD, TN, TX, UT, VA, WA, WI, WV, and WY
BOYS

EVENT

GIRLS

Trindon Holliday Zachary, LA 6.64
Sarah Matthew Longmont, CO 7.45

J-Mee Samuels Winston-Salem, NC 21.22

Bianca Knight Ridgeland, MS 24.05
Justin Oliver Stone Mountain, GA 47.90
Sade Williams, Alta Loma, CA 55.47
Karjuan Williams River Ridge, LA 1:52.79
Geena Gall Flint, MI 2:10.62
Andrew Bumbalough Brentwood, TN 4:12.60
Sarah Bowman Warrenton, VA 4:46.79
Andrew Perkins Juneau, WI 4:23.39
Lindsay Anderson Leeds, ND 5:03.08
Kenneth Cormier Douglas, AZ 9:11.33

Kate Niehaus Columbia, SC 10:31.87

Jared Huske Topeka, KS 7.78
Kira Robinson Denver, CO 8.37
Scott Sellers Katy, TX 7-02.50
Erin Hannon Bradford, PA 5-08.75
Dennis Boone Chester, VA 24-07.75
Sarah Matthew Longmont, CO 19-06.25
Nkosinza Balumbu 05 CA 48-04.75
Decontee Kaye 05 CA 39-8.75
Eric Sparks Hermitage, PA 16-00.00
Mary Saxer Lancaster, NY 14-02.00
Ryan Whiting Harrisburg, PA 65-01.25
Kamorean Hayes Charotte, NC 48-11.00
John Freeman 05 RI 72-7.75
Tara Cooper 05 Circleville, OH 56-02.00
Cinco Ranch TC 1:29.76
Bethel TC 1:40.59
Da Stable MD (C.H. Flowers) 3:22.95
Rancho Cucamonga CA 3:53.78
Syosset NY 7:53.80
Kinetic RC (Saratoga NY) 9:20.34
Council Rock, PA 18:00.05
Kinetic RC (Saratoga NY) 19:59.24
J.R. Tucker Richmond VA 10:20.26
Ocean City TC 12:12.22
Archbishop Carroll DC 3:33.85
Hopewell Valley TC 4:03.85
Christopher Daiz 05 TX 6:47.05
Katy Hayes 05 Oconomowoc WI 7:28.84
Wayne TC 30.56
Westside Tc/Quick Striders TC 33.51
Daniel Kinsey OH 3736
Pentathlon
Lauren Stewart 05 TN 3640
Field Events - Kamorean Hayes NC got a national sophomore class record and Ryan Whiting PA came from behind on his last throw. Sequences of both.

Distance - Boys - Race sequence & notes - Bumby takes charge in mile (below), Cormier closes in on Murdock on last turn of 2-mile (right)


Distance - Girls - Race sequence & notes - 2-Mile (below left), seesaw duel between Krista Anderson ND and Katie Niehaus SC. Sarah Bowman VA (below right) went wire to wire in Mile and almost did it again 90 minutes later in the 800.
---
3 wise men
As the meet wound down Sunday, we spotted Mike Byrnes, Larry Byrne and Jim Spier chatting in the infield and realized this trio combines 100 years of high school track knowledge and service to the sport. Mike, NIN meet director emeritus, is co-founder of the National Scholastic Sports Foundation. Larry, meet historian, is a long time official and the high school statistics guru of the Northeast. Jim, NIN meet director, is co-founder with Mike of NSSF, which pioneered the national high school championship concept and currently runs four national meets -- Nike Indoor, Nike Outdoor, Nike Team Nationals (cross country), and the Great American Cross Country Festival. -- John Dye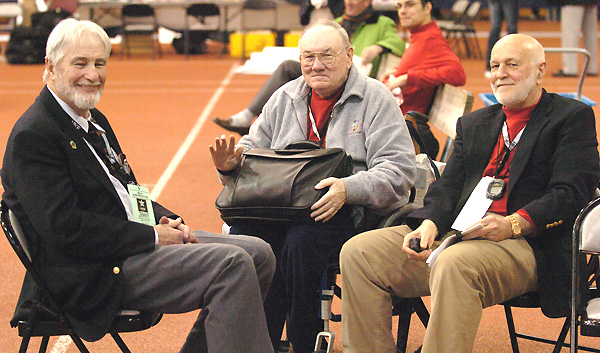 ---
| | |
| --- | --- |
| When the St. Ursula Academy girls of Cincinnati arrived at NIN Saturday, they found themselves parked next to the DyeMobile. So there was nothing to do except have coach Jeff Branhan take their picture with "DyeStat" | |
---
Olympians talk to kids at Friday night clinic
"Everything I've ever accomplished was based on hard work," Olympic long jump king Dwight Phillips told his audience of eager-eyed listeners. "Whatever you put in, that's what you're going to get out; my biggest disappointment helped me accomplish my greatest achievement."
SETS clinic Friday night - Learn Speed - Endurance - Technique. Meet Olympic coaches.
---
7th edition of this meet presented by the founders of the modern national high school championships - the National Scholastic Sports Foundation . This is the meet's fifth year at the Prince George's County Sports and Learning Center (PG Sportsplex) in Landover MD next to the Washington Redskins stadium.
---
Last Year

Scott Sellers soars 7-5.25 for a new national record, breaking the 26-year-old mark of Gail Olsen. Sellers will be back this year with his great Cinco Ranch Katy TX team, Texas 5A champions last year.


Lashawn Merritt doubles 200-400, foreshadowing his World Junior triumphs later in the year.


Katelyn Kaltenbach

stalks and catches

Nicole Blood

in the fastest mile of the season.
Prior Years on DyeStat
2004 - Scott Sellers 7-5.25 USR, Saratoga girls 20:08.72 USR, Katelyn Kaltenbach 4:45.32, Lashawn Merritt 21.73 and 47.88, Ashley Owens 7.32, Shadrack Kiptoo 9:00.30, Corey Brown 6.73, Laura Cummings 10:38.79, Jeremy Jackson 7.83, Shantia Moss 8.47, Gayle Hunter 19-10.75, Erica McLain 41-6.5 TJ, Andre Tillman 48-10.25 leads 1-2-3 North Rowan NC sweep over 48'), Michaela Wallerstedt 46-10 SP, Nate Rolfe 72-1.5 WT, James Logan girls 1:39.87 and 3:47.87.
2003 - Bobby Curtis threepeats in mile. Michelle Carter sets new national record in shot put. Nicole Blood and Chris Solinsky win 2 miles. Sarah Bowman enters the elite with killer kick in the mile. Mike Morrison doubles in LJ/HJ. Broken pole costs Tommy Skipper a national record.
2002 - Big winners include Molly Huddle, Ken Ferguson, Megan Kaltenbach, Kelly Willie, Richard Smith, Bobby Curtis, Bobby Lockhart, Glenn DiGiorgio, and Rockford girls.
2001 - Alan Webb runs 8:45 2 mile, 3rd best ever.
2000 - Doubles by Erica Whipple and Allen Simms. Rockford girls triple. Other big wins by Lashinda Demus, Alejandra Barrientos, Alan Webb, Dathan Ritzenhein, Kevin Bookout.
1999 - Inaugural meet at Columbus OH sees Casey Combest rocket to national record 6.57 in 60 meter dash, faster than the NCAA champion the same weekend. Other notable winners are Ricky Harris, Perdita Felicien, and Sheena Johnson. Wilson Long Beach CA girls triple in relays and Istrouma LA boys double.
Schedule
Saturday, March 12, 2005
PENTATHLON
60m Hurdles
G - 9:30am
B - 9:50am
Long Jump
G - 3:00pm (estimated)
B - 10:45am (estimated)
Shot Put
G - 1:15pm (estimated)
B - 12:30pm (estimated)
High Jump
G - 10:30am (estimated)
B - 2:00pm (estimated)
800m / 1000m
G - 4:30pm (estimated)
B - 4:15pm (estimated)
TRACK EVENTS
12:00noon
G - One Mile Walk
FINAL including Awards Ceremony
12:15pm
B - One Mile Walk
FINAL including Awards Ceremony
12:30pm
G - Shuttle Hurdles
FINAL including Awards Ceremony
1:00pm
B - Shuttle Hurdles
FINAL including Awards Ceremony
1:30pm
Youth - 4x400m
G/B Bantam, Midget, Youth
2:10pm
G - 4x1 Mile Relay
FINAL including Awards Ceremony
2:35pm
B - 4x1 Mile Relay
FINAL including Awards Ceremony
3:00pm
G - 400m
Trials
3:45pm
B - 400m
Trials

4:30pm

G - 200m
Trials
5:15pm
B - 200m
Trials
6:00pm
G - Distance Medley
FINAL including Awards Ceremony
6:30pm
B - Distance Medley
FINAL including Awards Ceremony
7:00pm
Youth - 4x200m
G/B Bantam, Midget, Youth
7:30pm
G - Sprint Medley
FINAL including Awards Ceremony
7:55pm
B - Sprint Medley
FINAL including Awards Ceremony
FIELD EVENTS
2:00pm
B - Triple Jump
FINAL including Awards Ceremony
3:50pm
G - Weight Throw
FINAL including Awards Ceremony
4:00pm
B - Pole Vault
FINAL including Awards Ceremony
4:30pm
G - Triple Jump
FINAL including Awards Ceremony
6:00pm
B - Weight Throw
FINAL including Awards Ceremony
Sunday, March 13, 2005
TRACK EVENTS
7:30am
2 Mile Runs
G/B Unseeded Sections
8:15am
800m
G/B all but top 2 sections
8:40am
60m Hurdles
Trials
9:30am
60m Dash
Trials
10:10am
G - 60m Hurdles
Semis
10:20am
B - 60m Hurdles
Semis
10:30am
G - 60m Dash
Semis
10:40am
B - 60m Dash
Semis
10:50am
Freshman 1 Mile Run
G/B FINALS ( 2 sections each-Max )
11:20am
One Mile Run
G/B All but top 2 sections - if any
11:45am
Opening Ceremonies
12:00noon
G - One Mile Run
Top 2 sections , including Awards Ceremony
12:20pm
B - One Mile Run
Top 2 sections , including Awards Ceremony
12:40pm
G - 400m
FINAL including Awards Ceremony
12:48m
B - 400m
FINAL including Awards Ceremony
12:56m
G - 60m Dash
FINAL ("seeded") FINAL including Awards Ceremony
1:04pm
B - 60m Dash
FINAL including Awards Ceremony
1:12pm
G - 60m Hurdles
FINAL including Awards Ceremony
1:20pm
B - 60m Hurdles
FINAL including Awards Ceremony
1:28pm
G - 800m
Top 2 sections , including Awards Ceremony
1:42pm
B - 800m
Top 2 sections , including Awards Ceremony
1:56pm
G - 200m
FINAL including Awards Ceremony
2:04pm
B - 200m
FINAL including Awards Ceremony
2:12pm
G - 2 Mile Run
Seeded section , including Awards Ceremony
2:32pm
B - 2 Mile Run
Seeded section , including Awards Ceremony
2:50pm
G - 4x200m Relay
FINAL including Awards Ceremony
3:15pm
B - 4x200m Relay
FINAL including Awards Ceremony
3:45pm
G - 4x800m Relay
FINAL including Awards Ceremony
4:10pm
B - 4x800m Relay
FINAL including Awards Ceremony
4:35pm
G - 4x400m Relay
FINAL including Awards Ceremony
5:00pm
B - 4x400m Relay
FINAL including Awards Ceremony
FIELD EVENTS
10:30am
B - Long Jump
FINAL including Awards Ceremony
10:40am
G - High Jump
FINAL including Awards Ceremony
10:50am
G - Shot Put
FINAL including Awards Ceremony
12:00noon
G - Pole Vault
FINAL including Awards Ceremony
1:00pm
G - Long Jump
FINAL including Awards Ceremony
1:45pm
B - High Jump
FINAL including Awards Ceremony
2:00pm
B - Shot Put
FINAL including Awards Ceremony