Highlights
Friday - Saturday
Donna on the Side
Blogs and videos
544 DyeStat Elite marks
State highlights: MI - PA

NON Video Vault
- by Marc Davis.

Video of 100, 200, 400, 800, mile, 2-mile and steeple chase. Video interviews by Marc Davis with Ken Cormier, Brie Felnagle, Sarah Bowman, Alexandria Anderson, and Nicole Blood. Pre-race blogs by Cormier, Blood and Anderson. (Works best with high speed internet connection.)

Sully's NON Stat - Impact on all time lists of boys 2-mile and girls mile

Previews
John Dye - event by event
Pete Cava

Entries - Heats - Schedule -
Prior Years - Directions -
the meet's own web site

Directions - the meet is in a new city and new venue this year.

COMPLETE RESULTS - Winners Table - links to event coverage, with action photos.
Photo Sequence of distance races
those magnificent miles - Bowman-Felnagle is one for the ages; Jeff See scores. Album of miles
Double your pleasure - Mark Matusak and Elizabeth Yetzer outkick favorites in 2-mile races.
relays hit top 10 charts - 4x800 relays end with Syosset NY boys US#6 all time, Shaker NY boys US#15t, and Bay Shore NY girls US#8.

Mark Matusak and Elizabeth Yetzer win thrilling 2-miles. Clarkston MI girls and Lindsey Ferguson beat national records. Sprint doubles for Alexandria Anderson and J-Mee Samuels. Justin Oliver (400), Kamorean Hayes (SP), Dennis Boone (LJ) and Geena Gall (800) get indoor-outdoor national championship doubles. Arantxa King MA doubles LJ/TJ. Syosset NY boys 4x800 team ends perfect season.

Girls - Sarah Bowman

Sarah Bowman 4:36.95 outruns Brie Felnagle 4:39.71 in greatest high school girls mile race ever (the only faster times were run in college or elite races). Bowman is US#3 all time and Felnagle is US#5 all time.
Elliott Denman story - "Determination was written all over Sarah Bowman's face"
Doug Speck story on the girls mile: the track announcer reflects on "a truly monumental event," complete with half-lap splits for Sarah Bowman and Brie Felnagle.

Boys - Jeff See

photos by Vic Sailer / PhotoRun

Jeff See wins star-studded boys mile on last lap surge past Justin Switzer and Craig Miller.

Pete Cava story: See came, he saw, he conquered
BOYS

GIRLS

J-Mee Samuels NC 10.34

Alexandria Anderson IL 11.39

J-Mee Samuels NC 20.76

Alexandria Anderson IL 23.05

Justin Oliver GA 46.11

Brittany Jones FL 52.44

Rob Novak NJ 1:49.84

Geena Gall MI 2:05.05

Jeff See OH 4:04.83

Mile

Sarah Bowman VA 4:36.95
Isaac Wendland IA 4:25.11

Aurora Scott VA 4:54.08

Mark Matusak CA 8:51.13

Elizabeth Yetzer MN 10:15.73

Cory Thorne NH 5:49.11 MR

Lindsey Ferguson NY 6:39.60 USR

Jared Huske KS 13.71

Pavi'Elle James FL 13.74

Greg Offerman IA 50.61

Krystal Cantey NJ 56.83

Ryan Fritz PA 6-10.25

Bettie Wade MI 5-08.75

Dennis Boone VA 24-05.00

Arantxa King MA 19-09.50

Brandon Cathcart NC 50-05.25

Arantxa King MA 41-10.00

Scott Roth CA 17-2.25

Mary Saxer NY 12-09.50

Steve Marcelle WI 68-00.25

Kamorean Hayes NC 51-1

Tommy Killen LA 204-10

D'Andra Carter TX 158-4

John Freeman RI 215-10

Ashley Muffet OH 171-05

Osayi Osunde PA 209-03

Meghan Briggs PA 132-08

Lincoln Tallahassee FL 41.12

Middle College HS 46.22

Bulldog Striders (Simon Gratz PA) 1:25.93

Skyline Dallas TX 1:36.37

Dematha MD 3:13.53

West Catholic Philadelphia PA 3:45.31

Syosset NY 7:35.15

Bay Shore NY 8:56.21

Red Tide (Milford MI) 17:27.01

Clarkston MI 20:01.70 USR

Bordentown NJ 3:24.19

West Catholic Philadelphia PA 3:53.78

Milford MI 10:05.53

Corona del Mar CA 11:42.07

Michael Kazmierczak NY 7:27.81

Jenna Monahan NY 7:52.71
Saturday
Clarkston MI girls and Lindsey Ferguson beat national records. Sprint doubles for Alexandria Anderson and J-Mee Samuels. Justin Oliver (400), Kamorean Hayes (SP), Dennis Boone (LJ) and Geena Gall (800) get indoor-outdoor national championship doubles.
Alexandria Anderson IL

photos by John Dye

J-Mee Samuels NC

DMR - Red Tide MI (Milford) completed a great same-day double 12 hours after winning the 4-mile relay as anchor Mike Anderson (4:12 split) won a 4-way battle with Newton North MA 10:05.76 (Chris Barnicle 4:11.5), Colts Neck NJ and Kroy IL (York). Corona Del Mar CA 11:42.07, with anchor Annie St. Geme catching Clarkston MI's Jenny Morgan in the last strides with a 4:49.3 split.
4x400 - West Catholic PA girls 3:45.31 in a rout, giving them two relay golds. Dematha MD 3:13.07, two seconds better than Transit Tech NY.
Super Miles - Sarah Bowman VA 4:36.95 ran her usual wall to wall sprint and shrugged off Brie Felnagle's late charge. It was US#3 all time (4:35.24 Polly Plumer 1982 and 4:36.94 Kim Gallagher 1982) and fastest ever in a high school only race. Bowman went out in 67.2 and 2:17.2 for a quarter and half mile, losing all but Felnagle. Felnagle closed steadily and seemed ready to pass on the far turn with her patented finishing kick. But Bowman reached down and repelled the charge to win convincingly. "I told myself, 'You did it this far, you might as well keep going.' " Afterward, Bowman admitted she was going for the record. "I tried, I tried. I wouldn't have told anyone before the race, but I did want the record."
Jeff See OH 4:04.83 won a see saw boys tussle. . Ken Cormier led through a half mile in 2:05. Craig Miller PA then took over the lead through 3:06, followed by Justin Switzer MI at the bell. But See was always near and shot in front on the far turn for an impressive win. Miller 4:07.19, Switzer 4:08.13.
Check Marc Davis' play by play for a recap of the mile races
400 - Justin Oliver 05 Stone Mountain, GA 46.11, giving him a Nike Indoor / Nike Outdoor double.
800 - Geena Gall MI 2:05.05 completes a Nike Indoor / Nike Outdoor double. Janine Davis NJ 2:06.06 led through one lap in 61.9, but Gall took charge in the second lap. Rob Novak NJ followed up his brilliant 1:48+ split in the sprint medley Friday night by winning a tough race. Novak was buried in the pack after one lap led by Karjuan Williams LA 1:50.14. But Novak worked his way up to first on the far turn and was in charge down the stretch.
400H - Greg Offerman 05 Charles City, IA 50.61 takes the 400m hurdles, upsetting Justin Gaymon NJ 50.84. Krystal Cantey 06 Sicklerville, NJ 56.83 wins the girls 400m hurdles, passing Penn Relays champion and US#1 Nicole Leach PA 57.26 when Leach stumbled after the last hurdle and almost fell.
Aurora Scott 99 Chesapeake, VA 4:54.08 sets a new Meet record in the Girls Frosh mile
200 - Florida soph Brittany Jones 23.20 in prelim takes US#1 ranking from Alexandria Anderson IL, but Anderson took it back in the final with a 23.05 to 23.13 win, completing a sprint double. J-Mee Samuels NC 20.76 +1.2, completing a sprint double and breaking the meet record of Xavier Carter (20.77 in 2003).
4x400 -
Saratoga NY jr Lindsey Ferguson (1) 6:39.60 broke her own national record and teammate Hannah Davidson (6) 6:48.64 chops 17 seconds off the national freshman class record.

photo by John Dye
4-Mile Relay - (for the earlybirds at 8:30 am)

Michigan sweeps.
Clarkston girls 20:01.70, breaking the national record by 10 seconds (20:11.56 by Bronxville NY 2002).
Red Tide (Milford) boys 17:27.01, with anchor Dana Pitcock edging Matt Dettman of Kroy (York IL) 17:28.21 in a last lap that saw three lead changes..




Clarkston anchor Jenny Morgan


photo by John Dye
Friday
Marc Davis live postings on 2-mile
2-mile - Surprise finishes in each race. Mark Matusak CA 8:51.13 gets through on the rail in last 100 meters to catch Chris Barnicle MA. DyeStat Video. Elizabeth Yetzer MN surprised Aislinn Ryan if not herself in the last lap to win in 10:15.73. Yetzer came off a great state meet last Saturday (1600/3200 double in 4:47.12 and 10:16.59 SR). DyeStat Video
Nike takes over the title sponsor role this year for the premier post season meet for high school track and field athletes, which is presented by the National Scholastic Sports Foundation, the leading manager of national high school track and field meets in the US.

NON Previews by Pete Cava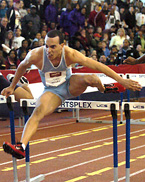 Jared Huske, purebred hurdler - despite the name, he will be a Duck. Huske has had no competition in Kansas for the last 2 years, and he won a national title at Nike Indoor Nationals in March. His 7.78 60m hurdle win was the US#1 time for 2005 and the 9th best all time. On top of all that, he is the student body president, valedictorian, and editor of the school newspaper.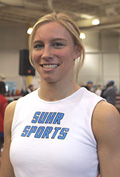 Mary, Queen of Heights - Lancaster NY senior Mary Saxer (right) has morphed in the last year from a good long jumper to the best female prep pole vaulter of all time. She broke the national record seven times in 100 days.
the green monster - This year's outdoor national championship moves to a new venue - North Carolina A&T University. Forty years ago, athletes from A&T and other historically black colleges of North Carolina rode a bus they nicknamed "The Green Monster" to track meets. Present-day North Carolina A&T coach Roy Thompson recalls those rides with great athletes like Bob Beamon and Elvin Bethea.