Click
for California news
Tell us about it
Don't forget to give us the distance of XC races so we can rank the top runners.
DyeStat Elite XC
National individual lists meeting cutoffs. See
How to Get Ranked
. First lists soon.
NTN XC
Top 10 regional team rankings updated weekly. Rankings support selection to Nike Team Nationals in Portland Dec. 3.
SUPER 25
Marc Bloom's Harrier Super 25 national cross country team rankings
2006 US Juniors
Top 10 performers born 1987 or later (eligible for World Juniors at Beijing in 2006) - by Jim Spier and John Blackburn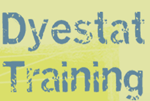 Training logs of Bob Kennedy's US record year, and Ari Lambie's 4:37 mile. Plus Central Catholic OR 2005 XC preparation,
Daniel Gerber of
SO#6 The Woodlands,
and from Tyson's Army
(Mead WA), Taylor Nepon.
Jeff Arbogast's
Championship Cross Country
3 tapes covering the 4-season approach, strength training, and race form and tactics.
"Best I've seen," says Tony Bozarth
DyeStat Elite - 3,517 performances now
Cross Country list #5 has 3,517 national ranking performances, an increase of 336 since last week, as the season winds down.
Nov 15 Lists - Boys - Girls
College Choices 2006 - 2 days left in early signing period. We have first 180 choices by STATE and COLLEGE and PHOTOS
The early signing period is Nov 9-16. Send information on choices to [email protected]. Provide the name of the athlete, school, state, event, college of choice, and relationship to the athlete (athlete himself, coach, media, family, etc). Send photos too.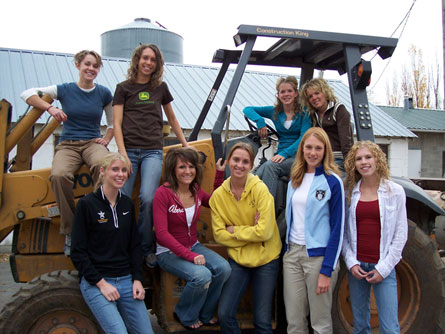 The girls of Fremont UT high school want you to know they are from farm country as they take a break from training for a return trip to the NTN Championships as the Plain City XC Club. They have been ranked #1 in the Southwest region all year and won the Utah 5A state championship. They finished fifth in the inaugural NTN last year.
12 more teams invited
on Selection Sunday II
Boys - Chapel Hill (NC), St. Xavier (KY),
King (TX), Flower Mound (TX), Mead (WA),
& Rock Springs (WY)
Girls - Greenbelt (MD), Episcopal (FL),
Carroll (TX), Kingwood (TX), Boise (ID),
& Rocky Mountain (CO)

These selections are based on results through Nov. 12th. California and Northeast Automatic Bids, plus the remaining 2 at-large bids will be made after California and Northeast regions finish their seasons.
NTN Invitations

1. Chapel Hill XC Club NC *
2. St. X XC Club KY *

1. Greenbelt XC Club MD *
2. Episcopal XC Club FL *

1. King XC Club TX *
2. Flower Mound XC Club TX *

1. Carroll XC Club TX *
2. Kingwood XC Club TX *

1. Elmhurst XC Club IL *
2. Warren XC Club IN *

1. Clarkston XC Club MI ***
2. Westfield XC Club IN *
3. Naperville XC Club IL *

1. Yankton XC Club SD *
2. Willmar XC Club MN *

1. Yankton XC Club SD *
2. Lakeville XC Club MN *

1. Fort Collins XC Club CO *
2. Mountain View XC Club UT *

1. Plain City XC Club UT *
2. Boulder Area XC Club CO *

1. Catholic XC Club OR *
2. Ferris XC Club WA *

1. Jesuit XC Club OR *
2. Harbor XC Club WA *

Mead XC Club WA *
Rock Springs XC Club WY *

Boise XC Club ID *
Rocky Mountain XC Club CO *

* = accepted --- *** = declined due to state restrictions
NTN Selection Sunday I - Nov 6 - The first 16 cross country teams were selected from the Midwest, Heartland, Southwest and Northwest.
NTN regional rankings - Week 9
Ninth edition of the in-season lists. Based on results through Nov 5
Northeast | Southeast | South | Midwest |
Heartland | Southwest | Northwest | California |
How the rankings process works. - NTN home page
Teams are shown as clubs because the runners at NTN will compete as clubs rather than schools. State meet results shuffled teams at the top, resulting in four new #1 teams -- Southeast girls Greenbelt XC Club MD, Heartland boys Yankton XC Club SD, Northwest boys Catholic XC Club Portland OR, and Northwest girls Jesuit XC Club Portland OR.

Top two teams in each region this week are:
BOYS

GIRLS

NE 1 Manlius XC Club Manlius NY
NE 2 Brothers XC Club Lincroft NJ

NE 1 Saratoga XC Club Saratoga Springs
NE 2 Hilton XC Club Hilton NY

SE 1 Chapel Hill XC Club Chapel Hill NC
SE 2 St. X XC Club Louisville KY

SE 1 Greenbelt XC Club Greenbelt MD *
SE 2 Episcopal XC Club Jacksonville FL *

SO 1 King XC Club Corpus Christi TX
SO 2 Flower Mound XC Club TX


SO 1 Carroll XC Club Southlake TX
SO 2 Kingwood XC Club Kingwood TX

MW 1 Elmhurst XC Club Elmhurst IL
MW 2 Warren XC Club Indianapolis IN

MW 1 Clarkston XC Club Clarkston MI
MW 2 Westfield XC Club Westfield IN

HL 1 Yankton XC Club Yankton SD *
HL 2 Willmar XC Club Willmar MN *

HL 1 Yankton XC Club Yankton SD
HL 2 Lakeville XC Club Lakeville MN

SW 1 Fort Collins XC Club Fort Collins CO
SW 2 Mountain View XC Club Orem UT

SW 1 Plain City XC Club Plain City UT
SW 2 Boulder Area XC Club CO *

NW 1 Catholic XC Club Portland OR *
NW 2 Mead XC Club Spokane WA *

NW 1 Jesuit XC Club Portland OR *
NW 2 Harbor XC Club Gig Harbor WA *

CA 1 Simi Valley XC Club
CA 2 Carmichael XC Club

CA 1 Newport XC Club Newport Beach
CA 2 Central Valley XC Club Clovis

* = new ranking this week
DyeStat on-site with Don Rich at New York Public Schools Championship. Saratoga sweeps Hilton girls and F-M boys! Ranked teams all win, except NE#10 Jackson girls, at NJ Group championships at Holmdel... Danielle Tauro 18:06; Ben Massam 15:45. Michael Eaton 15:06 breaks Bobby Curtis' state record in KY, while SE#2 St. Xavier boys win. SE#3 Holy Trinity boys and SE#2 Episcopal girls rule in FL. SE#9 Midlothian girls and Brad Siragusa 15:21 are surprise winners in VA. SE#1 Eleanor Roosevelt girls tame the hills of the Hereford course with the best performance ever in Maryland. Kevin Schwab (Mustang, OK) rolls to a 15:21 for the victory at the Arkansas/Oklahoma All-Stars Meet.
NY Shocker! Saratoga Sweeps!
Saratoga boys 39, Fayetteville-Manlius 43
Saratoga girls 46, Hilton 47
Brian Rhodes-Devey (left) won the race, but Steve Murdock's runner-up finish started the winning effort in New York's AA boys race for Saratoga.

photo by Don Rich / PennTrackXC/Milesplit


Running on their sectional home course at Queensbury, NE#4/US#12 Saratoga NY boys toppled NE#1/US#1 Fayetteville-Manlius NY in the New York Public Schools State Meet. Later, the US#1/NE#1 Saratoga

girls

barely held off upset-minded NE#2/US#5 Hilton by one point, 46-47. All four teams will go at it again next week in the New York Federation Championships, which brings in the New York PSAL and Catholic leagues.

Defending Foot Locker national champion Aislinn Ryan won the girls race in 17:24 and then came the brawl between Saratoga and Hilton. Saratoga finished 2-3-18-20-27 (before elimination of incomplete teams), and Hilton was 7-8-11-17-25. Saratoga was led, as usual, by Hannah Davidson 17:33 and Lindsay Ferguson 17:40. Hilton ace Amanda Griggs was still bothered by shin splints, which had her in the pool all week; she finished 11th in 18:22. Meanwhile,

Caroline Schultz

and Allison Sawyer picked up the slack with a 7-8 finish in 18:07. Amazingly, the scoring almost exactly duplicated the prediction of tullyrunners.com, whose computer simulations forecasted a 47-47 tie.
Flash report from Don Rich, DyeStat Northeast editor

1
NORTHEAST
- CT, MA, ME, NH, NJ, NY, PA, RI, VT
Northeast Report #10 - By Regional Editor Don Rich

CT --

New England Private School Champs - Sintayehu (15:29) and Ayalew Taye (15:35) 1-2 in D2 race.
MA -- MIAA Eastern Girls and Boys Champs - NE#9 Brockton boys hold on in D1; Mark Amirault 16:10 and Kirsten Kasper 18:34.
MA -- MIAA Western Champs - Amherst-Pelham boys and girls; Steve Czupryna 16:22 and 7th-grader Cate Costley 19:50.
MA -- MIAA Central Champs - Gardner - Thompson Olgilvie 14:44, Emily Jones 17:32 for 2.9M. Best teams: Bromfield girls and St. John's boys.
NJ -- NJ Group Championships - NE#2 CBA and NE#3 Morris Hills boys, and NE#4 Colts Neck (Bri Jackucewicz 18:22) and NE#9 Pope John girls all win; NE#10 Jackson girls upset, Fastest time of the day: Danielle Tauro 18:06; Ben Massam 15:45. Preview - by Ed Grant
NY -- NYSPHSAA State Class Championships - Full Results And Reports Now Posted - NE#4/US#12 Saratoga NY boys toppled NE#1/US#1 Fayetteville-Manlius NY and NE#1/US#1 Saratoga girls barely held off upset-minded NE#2/US#5 Hilton by one point, 46-47. Aislinn Ryan (17:24) and Brian Rhodes-Devey (15:26) were fastest of the day. PREVIEW
VT -- New England Championships - Lyman CT over NE#7 Champlain VT girls; Amity CT boys over Bishop Hendricken RI. Indiv. winners Amie Schumacher 19:33 over Kelly Sorrell and Georgia Griffin; Thomas Webb 16:27 over Jay Koloseus and Tradelle Ward.
2
SOUTHEAST
- AL, DE, FL, GA, MD, NC, SC, KY, TN, VA, WV, DC, PR
Southeast Report #10 - By Regional Editor Ben Ackerly
AL -- Alabama State Meet - SE#7 Mountain Brook (43 over Hoover 95) and SE#8 Scottsboro (23 over St. Paul's Episcopal 47) girls dominate 6A and 5A with nearly identical times. Sr. Laurel Pritchard 17:58 (5k) and Fr. Billy Matthews 15:53 finish best.
DE -- Delaware State Meet - SE#3 Tatnall girls 23 points in D2 race to 105 for 2nd. Tatnall boys complete sweep. Fastest of day: Anna Brousell 19:04, Dominic DellaPelle 16:46.
FL -- Florida State Meet - Dade City - SE#3 Holy Trinity boys win 1A race by 90, while SE#2 Episcopal girls get 2-3-4 finish and win by 75 in 2A. SE#10 Buchholz girls dominate 4A, too.

Michael Anderson

15:53 and Ashley Brasovan 17:47 are fastest overall (Kelly Parrish 18:00, Bona Jones 18:02 in other races).
KY -- Kentucky State Meet - Michael Eaton 15:06 breaks Bobby Curtis state record; SE#2 St. Xavier boys win. Report from Charlie Zimmerman
| | |
| --- | --- |
| | |
Battles at the MD State Meet: At left, Mikias Gelagle leads Matt Centrowitz, but Centrowitz would eventually win. Photo by John Roemer. At right, winner Marika Walker of SE#1 Eleanor Roosevelt climbs
out of the infamous Dip in the lead, pacing her team to victory.
Photo by David Austin.
MD -- Maryland State Meet - SE#1 Eleanor Roosevelt girls 61 over Dulaney 93 in 4A. State's fastest:

Matt Centrowitz

16:01 (Mikias Gelagle 16:15),

Katie Hursey

19:13. Report from David Austin.
NC -- North Carolina Junior Olympics - Web Site.
VA -- Virginia State Meet -

In 3A

action, SE#9 Midlothian girls rock SE#4 Oakton by 52, but SE#5 Oakton boys beat SE#6 Jefferson by 3 and unranked Midlothian by 4 in 3A. Brentsville's SE#5 girls and SE#7 boys each take AA. Brad Siragusa 15:22 shows old form to outkick Mike Spooner 15:26. Catherine White 17:49 and Rachel Rose 17:58 fastest girls.
3
SOUTH
- AR, LA, MS, OK, TX
South Roundup #12 - by Regional Editor John Sullivan
AR -- Arkansas-Oklahoma All Stars - The Sooner State takes both the girls and boys team titles. Leading times were by Kristen Radcliff 14:43 (4K), and Kevin Schwab 15:21 (5K).
TX -- Texas State Meet - Winners include: 5A SO#1 Corpus Christi King boys and SO#1 Southlake Carroll girls, 4A Fort Worth North Side boys and Hereford girls, Decatur boys and girls in 3A, 2A Boys Ranch boys and Holliday girls, and Sundown takes both boys and girls in the 1A division. Top times include: Duncan Phillips running 15:19 for 1st and Colby Lowe just 2 seconds back in 15:21 (5000m). Brooke Upshaw runs 10:46, while Nicole Jones was just 8 seconds back in 10:54 (3200m). WITH TONS OF PHOTOS!!!
HI -- Hawaii State Meet - Iolani boys and Punahou School girls wins the titles. Sr-Jeremy Kamaka'ala (Kamehameha - Oahu) goes 15:22, while Sr-Lauren Ho (Hawaii Baptist Academy) runs 18:11 for the victory.
SteveU's Foot Locker - Nov 11 Update
Steve Underwood analyzes impact of last week's meets on Foot Locker favorites. Noteworthy performances by: Jack Bolas NC, Kenny Klotz OR (a Rupp-like run), Craig Miller PA, Mike Torchia MN, Landon Peacock MI, Jeremy Stevens IL, Josh Mathis MO, Jeff Helmer WA, Matt Tebo NM, Ben Hubers GA, Liz Yetzer MN, Bria Wetsch MN, Betsy Bies SD, Megan O'Reilly WA, Marie Lawrence NV, Kari Hardt AZ, Vanessa Ortiz NM, Bridget Franek OH, Katelyn Bastert IL, Lauren Haberkorn IL, Eileen Creutz MI, Rebakah Smeltzer MI, Meredith Snow MO, Jackie Drouin GA, Kate Niehaus SC, Callen Fike NC, Liz Costello PA.
This was the finish of a marathon, not a sprint.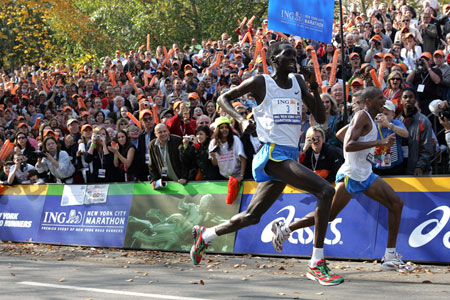 New York Marathon - Paul Tergat KEN (left) edged Hendrick Ramaala RSA by less than a second. photo by PhotoRun
Sugar Bowl meet may still be on
Despite Hurricane Katrina damage to Tad Gormley stadium in New Orleans, the Nokia Sugar Bowl Classic managers still hope to run the meet March 24-25 as scheduled. Contact Mike Corn for information.
"Wait A Minute, Did You Say Alaska?"
6 weeks after winning their 2nd straight State meet title, West Valley Fairbanks AK girls are hoping they get one of the elusive at-large bids to the NTN Champs. So you think you're tough? Try training in sub-freezing temperatures in October!
Harrier Super 25 #3
Fayetteville-Manlius boys & Corona del Mar girls still #1
Stability at the Top - The top five boys teams, led by Fayetteville-Manlius NY, and top three girls teams, led by Corona del Mar CA, remain the same. Three new boys teams and seven girls teams crack the Super 25; which are produced by Marc Bloom, now in his 30th year publishing The Harrier.
Rankings are based on results received through Oct. 30
27th running of National Cross Country Individual Championships
Dec 10 - Balboa Park - San Diego

Schedules, returning runners, & prior years

steveu's Foot locker - rankings and analysis of the top contenders in the regionals and national finals by senior editor Stephen (steveu) Underwood - Warning: strictly for DyeStataholics and Distance Nuts
Oct 27 update - Stellar showings by Marie Lawrence (NV), Jordan Hasay (CA), New Jersey girls, Diego Mercado (CA), Ben Sitler (CA), Michael Eaton (KY), Brock Hagerman (IN)

New Foot Locker Qualifying Procedure
Top 2 West region runners at NTN qualify for San Diego.
Other 3 regions expanded to 10 qualifiers.
Announcements by Foot Locker and Nike resolve schedule conflict between Foot Locker West region and Nike Team Nationals. Announcements

DyeStat uses Hy-Tek
for meet results
ShopDyeStat


unique items
for the HS athlete
--Parents Guide

--Training G
uide
--Training Profiles
--Pace Calculator
--the Harrier
--HS Track 2005
Marc Bloom's distance running magazine is now in its 30th year