now on sale ...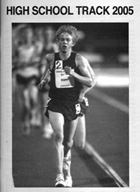 Want to know who has the all time record in the 4xMile relay? Or the freshman record in high jump? You need Jack Shepard's HIGH SCHOOL TRACK 2005. "I never leave home without it," says John Dye.
ShopDyeStat


unique items
for the HS athlete
--Parents Guide

--Training G
uide
--Training Profiles
--Pace Calculator
--the Harrier
--HS Track 2005
CHAMPIONSHIP WEEK
For the 7th straight year we close the high school indoor season with two national meets on the same weekend -- NIN at PG Sportsplex at Landover MD next to the Washington Redskins stadium and NSIC at the New York Armory off Broadway at 168th street in Manhattan.
With two national stages there are twice as many opportunities for athletes to bask in the limelight. But some events inevitably are deprived of the face to face showdown you expect in a national championship. The girls 800 suffers the most this time -- talent in the deepest HS event of the season is split between the two meets.
Entries - as of Wednesday midnight.
Very strong in the sprints (J-Mee Samuels NC, Nate Yorks CO, Ahmad Rashad MI, Trindon Holliday LA, Trenton Guy NC, Darrius Heyward-Bey MD, Dennis Boone VA, Eddie Rush GA, J.T. Scheuerman CO, Justin Oliver GA, Afolabi Aromire MD, Sarah Matthews CO, Francena McCorory VA, Tenille Wilson AL, Bianca Knight MS, Sade Williams CA, Krista Simkins PA, Shakirra Pinnock VA) and hurdles (Kevin Craddock CA, Jared Huske KS, Myles Bradley CT, Trevor Garland TX, Kira Robinson CO, Theresa Lewis VA) plus some terrific matchups:
Girls 800 - Sarah Bowman VA, Katie Doswell VA, Geena Gall MI, Brittany Sheffey NY

Boys mile - Andrew Bumbalough TN, Laef Barnes WA, Ken Cormier AZ, Cody Harper NM

Girls mile - Nicole Blood NY, Sarah Bowman VA, Katie Doswell VA, Caitlin Lane NY, Brittany Sheffey NY

Girls 2-mile - Katelyn Kaltenbach CO, Lindsey Ferguson NY, Brittany Sedberry NJ, Kate Niehaus

SC.

Relays - national 4x800 record setting Syosset NY boys, Texas state champs Cinco Ranch Katy boys, Saratoga NY girls (could be first ever under 20 minutes in 4-Mile relay and a national record threat in DMR also).

Boys HJ - Cinco Ranch Katy TX sr Scott Sellers set the national record here last year (7-5.25). Can he top that?

Long Jump - Dennis Boone VA, Brandon Cathcart NC, Myles Bradley CT, and Justin Oliver GA all soar beyond 24 feet. Tianna Madison's little sister Christina Madison OH will challenge US#1 Sarah Matthews CO

Triple Jump - US#1 Nkosinza Balumbu, the 2004 California champ..

Shot Put - Ryan Whiting PA shoots for 70 feet, all time top 10 range. US#1 Michaela Wallerstedt NE and US#2 Ashley Muffet OH.

Weight Throw - the top 7 girls and the top 6 boys on Bob Gourley's List.
1 Mile Walk - the top 7 girls and 6 of the top 7 boys on Michael Roth's Race Walk lists.
SETS clinic Friday night Speed - Endurance - Technique
Meet Olympic medalists and coaches.
Free to athletes - $10 for others
Nike Indoor will be televised
NIN will be televised on Comcast CN8 Sports in a 2-hour show March 20 at 9 pm and repeated March 26 at 3 pm. People outside the Mid-Atlantic and Northeast regions can see the show on the Internet at www.cn8.tv.
Mar 11-13 New York Armory -
INDEX
DyeStat on-site with Don and Aaron Rich and Matt Soja
Preview - NSIC claims eight national record holders, 13 returning champions and 15 U.S. #1 ranked athletes -
Field - Sprints - Distance - Relays
Final Instructions for athletes and coaches
Entries (updated Wed evening) - strong and deep in relays, with West Catholic PA, Long Beach CA rivals Wilson and Poly, and the familiar crowd of NY-NJ teams from the Armory meets. Other great matchups:
Girls 800 - Top 2 girls this season off their stirring Simplot battle -- Heidi Houle UT and Libby Jenke CA -- plus 600m national record holder Janine Davis NJ, 500m national record holder Devon Williams MD, Latavia Thomas PA and Samantha Gawrych RI.
Girls 400 - US#1 Nicole Leach PA will face strong competition from Brandi Cross TX, Jessica Jones MI and Jeavon Benjamin NY. US#2 Elan Hilaire MD, who had that incredible photo finish with Leach at Simplot, is recovering from the flu and will not run the 400.
Girls 60/200 - US#1 Santana Lowery MS, Lynne Layne NY, Tiaerra McLaurin SC. .
Boys 400 - Clemore Henry NY, Quentin Young TX. .
Boys 800 - Brian Scotland NJ, US#1 in 800m and 1000m.
Girls Mile - US#1 Chantelle Dron NH.
5000m - Cassie Hintz ME, Mohamud Ige CO.
Pentathlon - Shana Woods CA set the national record here last year and she is older and stronger.
Girls PV - national record holder Mary Saxer and teammate Tiffany Maskulinski, 2004 outdoor national champion
TJ - Brittany Daniels CA holds the outdoor national record and is coming close to the indoor record.
Outdoor Cutoffs
Minimum standards for DyeStat Elite top 100 national ranking in the 2005 outdoor season have been established (Yes, the outdoor season has already started in Texas, California and Florida.). Based on the 2004 database, which contained 8,224 performances, some cutoffs were raised and some lowered. We are now open for input. First rankings: March 17. 2005 outdoor cutoffs - How to Get Ranked
THIS WEEK
News items posted to DyeStat in the week ending March 10
NY, VA and New England meets
highlight end of regular season
The last regular season weekend of the indoor season features two of the best state meets -- the Virginia AAA meet at George Mason University on Saturday and the New York state meet at Syracuse University on Sunday, plus the big New England Championships. Next week come the nationals -- the Nike Indoor Nationals in Maryland and the National Scholastic Indoor Championships in New York, with DyeStat on-site coverage of both meets.
AR Arkansas State Meet - Young pole vaulters win big. Bryant soph Spencer McCorkel 16-1 US#5 (left) and Hot Springs fr Stephanie Foreman 12-0 won 5A-4A titles, and Mena fr Staci Yahn 11-9.5 won 3A-2A-1A.
McClellan boys 48.25, Northside girls 85 win 5A-4A team titles. Ashdown boys 76, DeQueen girls 68 (Mansfield 66) win 3A-2A-1A team titles.
Jonesboro's Avery Taylor doubles 23-6 LJ and 46-2 TJ.
31 DyeStat Elite performances.
AZ Desert Vista AZ's Dutch Perryman vaulted 15-5 and his sister Jaci Perryman cleared 12-9.5 (an Arizona indoor record) at Northern Arizona U. recently. Coach Jeff Guy wants to know if any brother-sister combination has ever done better. Send email if you know of any. Jack Shepard (HIGH SCHOOL TRACK publisher) reports Olympian Jan Johnson's son and daughter in Atascadero CA -- Chelsea 13-6 in 2002 (USR outdoors at the time) and Clay 15-3.75 last year -- but can't recall any better same meet, same year combination.
FL 1st NACAC Championship - USATF Training Center, Clermont FL - Oviedo FL sr Jenny Barringer (left) and David Mock (Westmont Hilltop PA, William & Mary freshman) lead US Junior teams to sweep. Senior teams victorious, as well. Results

photo by flrunners.com
IL SIU Carbondale HS Inv - Cahokia jr Kali Jackson 48-1 TJ is 5th best in the country this season.
KY Mason Dixon Games - Louisville - Ballard and Sacred Heart girls tie for AAA title with 47 points (Central 46 and Eastern 43). Covington Catholic 55 wins boys title. .
MA New England Championships -
John Carroll's Report - X 2 + G 2 + 2Taye = EXCITING!!
Xaverian, Westerly and Taye brothers thrill SRO crowd at Reggie Lewis Center - Complete Results
Portland's Sintayehu Taye's 9:16.65 2-mile took 12 seconds off the national freshman class record (9:29.10 by Ryan Deak in 2001) per Jack Shepard's HIGH SCHOOL TRACK 2005.
There were 153 DyeStat Elite performances, including five US top 7 times in the 2-mile races won by Maine's Cassie Hintz 10:37.18 US#2 and Taye. Taye's brother Ayalew, a junior won the mile in 4:17.44. Doubles by Myles Bradley CT, Westerly RI girls and Xaverian MA boys.
MI MITS State Championships - Michigan Indoor Track Series) - U. of Michigan, Ann Arbor - Ann Arbor - Tiffany Ofili, Ypsi 8.61 60H US#3 - Geena Gall Infinity 2:08.77 US#3 break 27-year-old state record - Daniel Kinney Mich. Accelerators 7.94 60H US#3 - Ahmad Rashad Maximum Output 21.85 US#4
Geena Gall 2:08.77 800m US#3 breaks 27-year-old state record (2:10.9 by Delisa Walton).
at the bell

at the finish

photo by Tim Fulton

photo by Dan McManamon

NY New York state meet - Nicole Blood wins role reversal 3000m over Aislinn Ryan - Defending state champion Nicole Blood 9:35.40 catches front running Foot Locker and Millrose Games champion Aislinn Ryan 9:36.26, two fastest times in the US this season. National PV record holder Mary Saxer (left) doubles with 13-5 PV and 19-2 LJ LUS#8. Carlos Jamieson 4:19.61 1600m (Kevin Tschirhart 4:19.85). John Martinez 9:19.09 3200m (Steve Murdock 9:19.88). Syosset boys 7:57.29 4x800 (Shaker 8:00.55), a rerun in slower time of the national record race at the Armory Feb 5. Saratoga girls 9:12.37 4x800 US#5, holding their runners out of the 1500. COMPLETE RESULTS -
173 DyeStat Elite performances
Allison Stokke ties sophomore class record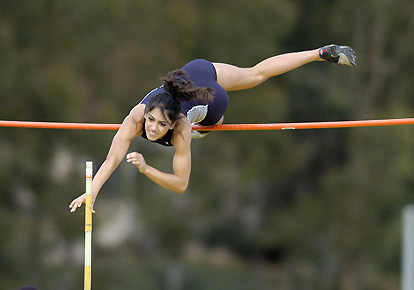 CA - Newport Harbor sophomore Allison Stokke cleared 13-4 on her third attempt to tie Stacie Manuel's 5-year-old 10th-grade outdoor national record at the season-opening Eagle Invite on Saturday afternoon. Stokke, who set the national frosh outdoor record of 12-08 in 2004, had three misses at an all-time outdoor national record height of 13-9. photo by David Kennedy


photo by John Dye at 2004 Nike Indoor
Lashawn Merritt
signs Nike contract
On the eve of the NCAA championships, East Carolina University freshman Lashawn Merritt has signed a professional contract with Nike. In his short college career, Merritt had already run a 44.93 400 meters, third fastest ever indoors behind two Michael Johnson races and a world junior record, and coach Bill Carson was predicting Merritt would run under 44 seconds this year. At Wilson Portsmouth VA high school last year, Merritt was World Junior champion as well as Nike Indoor, USA Junior Nationals, Loucks Games, Virginia state meet, and AOC Raleigh. ECU release - Track & Field News story
VISIT

TRACK-TECH.COM
for


USA Open T&F Camp, FL,
USA Open XC Camps, CO,
USATF Jr Elite Camps CA
T&F TRAINING software
USATF Development Videotapes

DyeStat uses Hy-Tek
for meet results
The Harrier
by Marc Bloom