WINNERS TABLE - event winners and links to photos and detailed results
Results: Invitational - Open Track - Open Field - Friday Relays - Friday Field
DyeStat Elite performances - 210 marks qualifying for DyeStat Elite top 100 national lists.

"when the lights go on, the stars come out"

Arcadia riddles NIKE LIST of US leaders.
Doubles by Sade Williams CA (23.63 US#1 and 53.56), Ryan Whiting PA (66-3 US#1 and 199-7 US#1), Brittany Daniels CA (19-5 US#1 and 43-5 US#1), David Klech CA (14.13 and 36.28) - Brie Felnagle WA 4:48.42 US#1 and Ken Cormier AZ 4:12.67 win miles - Chris Barnicle MA 8:56.20 US#1 and Kelly Parrish FL 10:27.65 US#1 win 2-miles - David Gettis CA 46.81 and anchors Dorsey 3:11.49 US#1 - J-Mee Samuels NC 21.10 US#1 - Jamere Holland CA 10.52 -0.2 over Samuels - West Catholic PA girls add third relay win in 3:42.52 - Latavia Thomas PA 2:06.76 US#1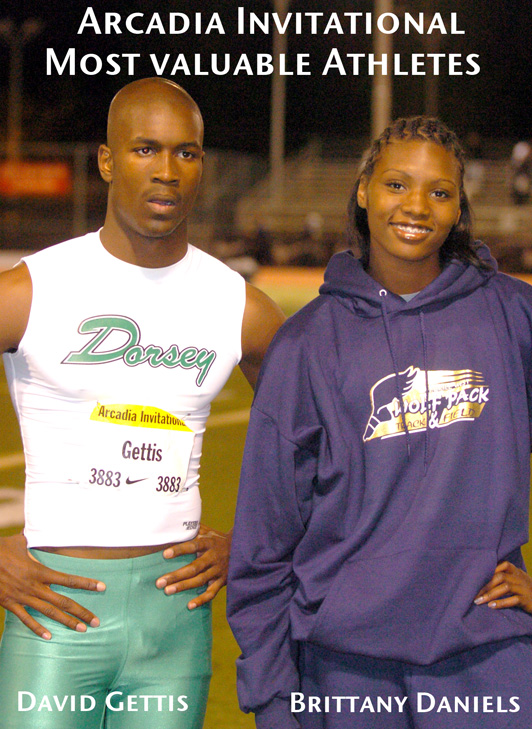 photo by Dave Casper
BOYS

GIRLS

Jamere Holland CA 10.52 -0.2
Yasmin Woodruff 9 CA 11.75 +0.2
J-Mee Samuels NC 21.10 +0.7
Sade Williams CA 23.63 +0.9
David Gettis CA 46.81
Sade Williams CA 53.56
Colin Campbell CA 1:51.26
Latavia Thomas PA 2:06.76

.Ken Cormier AZ 4:12.67

.Brie Felnagle WA 4:48.42
Chris Barnicle MA 8:56.20
Kelly Parrish FL 10:27.65
David Klech CA 14.13 -0.4
Shana Woods CA 14.11 +0.2
David Klech CA 36.28
Shevell Quinley CA 43.21
Nick Armstrong CA 6-9
Desiree Gonder CA 5-7
Rashad Toussaint CA 23-2 +0.0
Brittany Daniels CA 19-5 +0.5
Nkosinza Balumbu CA 49-8 -0.8
Brittany Daniels CA 43-5 +1.4
Scott Roth CA 16-3
Kate Mattoon CA 12-3
Ryan Whiting PA 66-3
Julie Dufresne CA 43-11
Ryan Whiting PA 199-7
Margaret Giuffre CA 150-7
.Poly Long Beach CA 41.03
.Rancho Cucamonga CA 46.64

Poly Long Beach CA 1:26.79

West Catholic Philadelphia PA 1:38.39

Dorsey Los Angeles CA 3:11.49

West Catholic Philadelphia PA

3:42.52

Shaker NY 7:46.43

Archbishop Mitty CA 9:12.71

Fremont CA 3:31.53

West Catholic Philadelphia PA 4:00.44

Madera CA 10:19.21
Corona del Mar CA 11:51.66

Royal Simi Valley CA 17:48.59

Maria Carrillo CA 21:20.12

Wayne Huber Heights OH 1:00.81

John Muir CA 1:01.73
Highlights
Saturday Invitational
B 4x400 - Dorsey took the US#1 ranking with a blazing 3:11.49 including a 45.8 anchor by open 400 champion David Gettis.
G 4x400 - West Catholic Philadelphia PA 3:42.52 wo n their third relay of the meet after a great anchor duel between Nicole Leach 53.0 and Sade Williams 54.1 of Rancho Cucamonga 3:44.26. Williams had won the open 400 after Leach scratched.
B DMR - Madera CA 10:19.21 ran down Ridgewood NJ 10:21.18 in a long, hard anchor duel, getting the lead only in the last 300 meters.
B 2-Mile - Chris Barnicle MA 8:56.20 took the lead from Mark Matusak CA 9:01.40 after a first mile in 4:29.1 and was clearly the best thereafter. Laef Barnes WA 9:03.13 closed strongly for third.
B 200 - J-Mee Samuels NC 21.10 +0.7 US#1, breaking on top and never headed.
G 200 - Sade Williams 23.63 +0.9 US#1, completing a 200-400 double over Bianca Knight 23.94.
G DMR - Corona del MarCA 11:51.66 in a romp for a meet record and US#1 time.
G 300H - Shevell Quinley CA 43.21
B 300H - David Klech 36.28 to complete a hurdle double as he was taking an excused absence from the high jump.
B 400 - David Gettis CA 46.81 US#2, just held off Poly soph Bryshon Nellum 46.92.
G 400 - Sade Williams CA 53.56 led Bianca Knight MS 54.84 the entire route. Nicole Leach PA scratched.
G 2-mile - Kelly Parrish FL 10:27.65 sprinted in front on the last lap to win with authority. Whitney Anderson CO set the pace through a half mile in 2:34.5 and a mile in 5:16.7. Parrish was in the lead pack of four. Fellow Floridian Nicole Schappert took over on lap 5 and she and Parrish were 1-2 at a mile and a half in 7:58. Tori Tyler CA moved into contention and took the lead on the first turn of the last lap. But Parrish countered with a big move down the backstretch. Schappert 10:30.84.
G 800 - West Catholic PA jr Latavia Thomas 2:06.76 took charge on the far turn and cruised in ahead of Libby Jenke CA 2:07.57 and Heidi Houle UT 2:08.67.
B 800 - Ventura CA sr Colin Campbell won a gang finish after running fourth behind Fremont's Travis Bradford at 400 meters in 52.1
G 100 - St. Mary's Inglewood freshman Yasmin Wokodruff 11.75 +0.2. Kristina Davis false started and was disqualified.
B 100 - Taft CA jr Jamere Holland defended his new US#1 ranking by edging last year's US#1 J-Mee Samuels NC 10.52 to 10.58 -0.2.
G 100H - Shana Woods 14.11.+ 0.2
B 110H - San Ramon CA jr David Klech 14.13 -0.4 started what may be a hurdle/high jump double.
B Mile - Foot Locker champion Ken Cormier AZ 4:14.14 held two big charges in the last lap, first by Cody Harper NM and then by Evan Anderson CA. Anderson was second in 4:14.83.
G Mile - Breie Felnagel 4:48.42 blew open an even race with a 31 second last 200 meters to win by 5 seconds in 4:48.42.
G 4x100 - Rancho Cucamonga 46.64. Merrill West was in contention until running out of the zone on the last exchange.
B 4x100 - Poly Long Beach CA 41.03. Taft finished 3 hundredths behind but was disqualified for an infraction on the first turn.
FIELD
B SP - Ryan Whiting PA 66-3, completing a throws double.
B DT - Ryan Whiting PA 199-7
B HJ - Nick Armstrong CA 6-9
FRIDAY NIGHT RELAYS
West Catholic Philadelphia PA girls - Poly Long Beach boys - Archbishop Mitty CA girls - Shaker NY boys - Wayne OH boys - Muir CA girls - Maria Carrillo CA girls - Royal Simi Valley boys
West Catholic Philadelphia PA starts a double with 4x200 win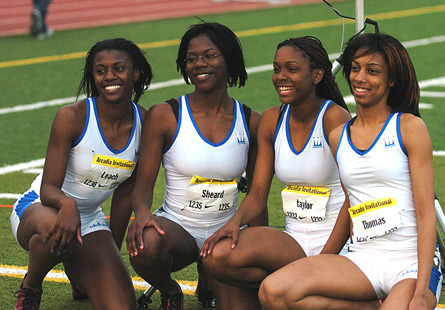 Previews
Arcadia preview - Boys - Mile and 2-Mile have truly elite casts including Ken Cormier AZ, Mark Matusak CA, Chris Barnicle MA, Dan McManamon NY, Yosef Ghebray CA, Brandon Bethke CA, Cody Harper NM, Jared Rohatinsky UT, Laef Barnes WA, Jake Schmitt CA, Sandy Roberts NC, and three from Florida -- Justin Harbor, Jeremy Criscione and Bryan Sharkey. Kevin Craddock CA has no peers in the hurdles and is aiming for the record book. Typical California vs. the US matchups abound, especially in the 100, 800 and DMR. In the 100m, 2005 US#1 Jamere Holland CA takes on 2004 US#1 J-Mee Samuels of North Carolina. They are also in the 200. Ryan Finn of Canada, Cody Harper NM, and Sean Tully NY challenge California's best in the 800m. The DMR features Shenendehowa NY, Ridgewood NJ, Monsignor Farrell NY and Shaker NY from the East, and Royal, Don Lugo, Murrieta Valley, and La Sierra Riverside from California. Other top events:
400 - David Gettis CA, 2-time defending California champion
HJ - David Klech CA 7-0.75 US#1 has boomed to the top of the charts in his junior season, with elite LJ and hurdle marks also to his credit.
TJ/LJ - Nkosinza Balumbu CA is a household name after winning the California TJ title last year and leading the country indoors.
PV - US leader Derek Scott CA is one of several 16+ sky walkers that include NSIC champion Brian Duggan NY, and Granite Bay CA teammates Scott Roth and Ryan Schuler.
Arcadia preview - Girls - Meet claims deepest girls 800m field ever with Heidi Houle UT, Latavia Thomas PA, Libby Jenke CA, Shannon Leinart MO, Brianna Felnagle WA, Evelyn Wing CA, Stacy Slight WY. Nicole Leach and her West Catholic Philadelphia PA gang are on hand for the sprint relays, and Leach will do battle with Mobile champ Bianca Knight MS and Nike Indoor champ Sade Williams CA in the 400. National triple jump record holder Brittany Daniels CA is entered in both horizontal jumps and will have multi event star Shana Woods CA (US#1 indoors) to contend with in the LJ. The latest pole vault sensation, Allison Stokke CA, keeps raising the national sophomore class record and is 6th all time for any class at 13-5.25. Other top events:
2-Mile - Five Foot Locker finalists -- Morgan Schulz (11th in 2003) and Whitney Anderson (4th in 2004), both from Colorado, and Natasha Labeaud (25th), Lauren Saylor (14th) and Tori Tyler (27th), all three from California.
Mile - Briana Felnagle WA was 6th at Foot Locker finals last December. She is also entered in the 800m just 60 minutes earlier, so one of the two events may suffer or be a scratch. Also figuring to be strong are Annaliese Chapa OR and Californians Anne St. Geme, Evelyn Wing, Shannon Murakami, and Krystal Duke.
200 - Bianca Knight, Sade Williams, and Shana Woods.
SPARQ for track debuts at Arcadia - new measure of T&F athleticism
Under lights at Arcadia High School east of Los Angeles, the Arcadia Invitational is one of the magic moments in high school track. California's great athletes take on the best the nation has to offer and the results are usually spectacular. In recent years, the 2-mile has become the signature event, with some of the fastest and deepest races ever run. There are more than 100 events in the Friday Night Relays, the Saturday Open Session, and the Saturday night Invitational. More than 300 teams will be here in 2005.
the hills above Arcadia

Prior Years
2004 - Poly Long Beach girls sweep relays from 4x100 to 4x800, with one national record and two US#6 all time marks - Shalonda Solomon 11.50 US#1 - Elzie Coleman doubles 200-400 - Katelyn Kaltenbach over Zoe Nelson in great battle of Foot Locker champs - Ryan Deak catches Laef Barnes in mile - Andrew Bumbalough 8:49.87 beats Shadrack Kiptoo in super 2-mile - Nicole Leach 53.58 - Erica McLain 43-0.5 TJ - Dan Hutson 1:51.79 - Nate Rolfe 204-0 first throw discus win - Poly Long Beach boys win 4x400 finale over Glenville OH by 0.002 - Don Lugo CA boys double in 4-Mile relay and DMR.
| | |
| --- | --- |
| Poly anchor Shalonda Solomon | Katelyn Kaltenbach and Zoe Nelson |
2003 - The X-man Xavier Carter sweeps the 100, 200, and 400, first time that's ever been done at Arcadia. Allyson Felix wins the 100 and 200 for the third straight year, matching Marion Jones' feat. Poly Long Beach girls win four relays, with USR in 800 SMR. Chris Solinsky dominates best boys 3200 ever. Megan Kaltenbach threepeats in girls 3200.
| | |
| --- | --- |
| Xavier (X-Man) Carter | Chris Solinsky, Brian Dalpiaz, Bobby Curtis in "best 2-mile ever" |
| | |
| --- | --- |
| | 2002 - Allyson Felix (left) doubles 11.54 and 23.08. Chris Solinsky 8:48.44 3200m. Heidi Magill 2:06.34 |
2001 - Alan Webb runs away from star studded mile field in last 200 meters. Soph Megan Kaltenbach wins first of three straight Arcadia 3200's.
2000 - Ricky Harris 13.51 110H and 47.04 400m and Lashinda Demus 40.97 300H. Ale Barrientos 4:46.60 mile.
1999 - Casey Combest is devoured in Darrell Rideaux's lions den. Erica Whipple 11.57 and 23.46. Coming out party for soph Ale Barrientos 4:47.94 1600m.
Schedule
"Burnin' Batons" /Added Field Events Session (Friday - Evening)
Field Events
5:45 – Men's Discus
5:45 – Women's Shot Put
5:45 – Men's Long Jump
5:45 – Women's Triple Jump
5:45 – Men's Pole Vault
5:45 – Women's High Jump
6:00 – Women's Pole Vault
7:45 – Men's High Jump
7:45 – Men's Shot Put
7:45 – Women's Discus
7:45 – Men's Triple Jump
7:45 – Women's Long Jump

Running Events
5:45 -- Women's 4x800 Seeded
5:59 – Women's 4x800 Invit'l

6:13 -- Men's 4x800 Seeded
6:25 – Men's 4x880 Invit'l

6:39 – Men's 4x200 Rated
6:45 -- Men's 4x200 Seeded
6:51 – Men's 4x200 Invit'l

6:59 – Women's 4x200 Rated
7:06 – Women's 4x200 Seeded
7:14 – Women's 4x200 Invit'l

7:24 – Men's Shuttle Hurdles Seeded
7:29 – Men's Shuttle Hurdles Invit'l

7:36 – Women's Shuttle Hurdles Seeded
7:41 – Women's Shuttle Hurdles Invit'l

7:50 – Men's Sprint Medley Rated
7:57 – Men's Sprint Medley Seeded
8:04 – Men's Sprint Medley Invit'l

8:12 – Women's Sprint Medley Rated
8:19 – Women's Sprint Medley Seeded
8:25 – Women's Sprint Medley Invit'l

8:32 – Men's 4xMile Seeded
8:54 – Men's 4xMile Invit'l

9:16 – Women's 4xMile Invit'l
9:39 – Women's 4xMile Seeded

"Open Session" (Saturday - Day Meet)

Field Events
11:00 – Men's Discus
11:00 – Women's Shot Put
11:00 – Men's Long Jump
11:00 – Women's Triple Jump
12:00 – Men's Pole Vault
12:00 – Women's Pole Vault
1:00-- Men's High Jump
1:00-- Women's High Jump
1:30 – Women's Discus
1:30 – Men's Shot Put
1:30 Men's Triple Jump
1:30 – Women's Long Jump

Running Events
11:00 – Men's 400m Relay #1
11:04 – Men's 400m Relay #2
11:08 – Men's 400m Relay #3
11:12 – Men's 400m Relay #4
11:16 – Women's 400m Relay #1
11:20 – Women's 400m Relay #2
11:24 – Women's 400m Relay #3
11:28 – Women's 400m Relay #4
11:33 – Women's 1600m #1
11:41 – Women's 1600m #2
11:49 – Men's 1600m Run #1
11:56 – Men's 1600m Run #2
12:04 – Men's 110m HH #1
12:08 – Men's 110m HH #2
12:12 – Men's 110m HH #3
12:16 – Women's 100m HH #1
12:20 – Women's 100m HH#2
12:24 – Women's 100m HH #3
12:28 – Men's 100m #1
12:32 – Men's 100m #2
12:36 – Men's 100m #3
12:40 – Women's 100m #1
12:44 – Women's 100m #2
12:48 – Women's 100m #3
12:54 – Men's 800m #1
12:59 – Men's 800m #2
1:04 – Women's 800m #1
1:09 – Women's 800m #2
1:14 – Women's 3200m
1:28 – Women's 400m #1
1:32 – Women's 400m #2
1:36 – Women's 400m #3
1:40 – Men's 400m #1
1:44 – Men's 400m #2
1:48 – Men's 400m #3
1:52 – Men's 3200m
2:05 – Men's 300m IH #1
2:09 – Men's 300m IH #2
2:14 – Men's 300m IH #3
2:19 – Women's 300m LH #1
2:24 – Women's 300m LH #2
2:29 – Women's 300m LH #3
2:35 – Women's Dist Med Relay
2:51 – Women's 200m #1
2:55 – Women's 200m #2
2:59 – Women's 200m #3
3:03 – Men's 200m #1
3:08 – Men's 200m #2
3:11 – Men's 200m #3
3:17 – Men's Distance Medley Relay
3:32 – Women's 1600m Relay #1
3:38- Women's 1600m Relay #2
3:44 – Men's 1600m Relay #1
3:50 – Men's 1600m Relay #2

"Invitational Session" (Saturday - Night Meet)

Field Events
4:00 – Men's Discus
4:30 – Women's Shot Put
5:00 – Women's High jump
5:30 – Men's Long Jump
5:30 -- Women's Triple Jump
6:15 – Men's Pole Vault
3:30 -- Women's Pole Vault
6:30 – Men's Shot Put
6:30 – Women's Discus
7:30 – Men's High Jump
7:45 – Women's Long Jump
7:45 – Men's Triple Jump

Running Events
5:45 – Men's Seeded 400m Relay
5:49 – Men's Invt'l 400m Relay
5:53 – Women's Seeded 400m Relay
5:57 – Women's Invt'l 400m Relay
6:01 – Women's 1600m Run
6:09 – Men's Mile Run Invit'l
6:16 – Men's 110m HH Seeded
6:21 – Men's 110m HH Invit'l
6:26 – Women's 100mHH (33") Seeded Hurd
6:31 – Women's 100mHH (33") Invit'l Hurd
6:36 – Men's 100m Seeded Dash
6:41 – Men's 100m Invitational Dash
6:46 – Women's 100m Seeded Dash
6:51 – Women's 100m Invit'l Dash
6:56 – Men's 800m Run Invit'l
7:01 -- Women's 800m Run Invit'l
7:07 – Women's 3200m Run
7:23 – Women's 400m Dash Seeded
7:28 – Women's 400m Dash Invit'l
7:33 – Men's 400m Dash Seeded
7:38 – Men's 400m Dash Invit'l
7:45 – Men's 3200m Run Seeded
8:00 – Men's 300m IH Seeded
8:05 – Men's 300m IH Invt'l
8:10 – Women's 300m LH Seeded
8:15 – Women's 300m LH Invt'l
8:22 – Women's Dist Med Relay
8:40 – Women's 200m Seeded Dash
8:45 – Women's 200m Invt'l Dash
8:50 – Men's 200m Seeded Dash
8:55 – Men's 200m Invt'l Dash
9:00 – Men's 3200m Run Invit'l
9:15 – Men's Distance Medley Relay
9:31 – Women's Seeded 1600m Relay
9:39 – Women's Invit'l 1600m Relay
9:47 – Men's Seeded 1600m Relay
9:55 – Men's Invt'l 1600m Relay