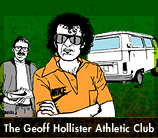 HIGH SCHOOL TRACK 2006
48th edition of Jack Shepard's all-time stats - the indispensable HS T&F reference book. John Dye says, "I never leave home without it."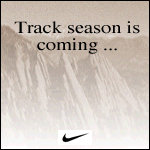 Click
for California news
more photos of the big track weekend in New York City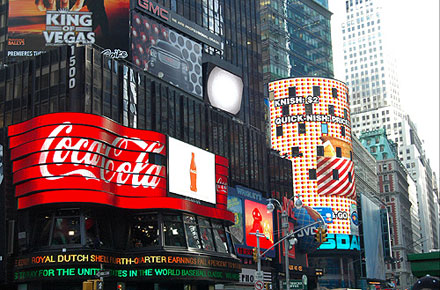 Dematha MD

- US#4 all time in 4x400

Craig Forys - Colts Neck NJ junior breaks 4:10 in the mile

HS Highlights
Suffern NY girls 9:03.36 is US#3 all time 4x800.
Dematha MD boys 3:16.39 is US#4 all time 4x400
US#1 times by Nicole Blood NY 4:46.82, Latavia Thomas NY 2:51.48, and Shaker NY boys 7:52.63.
Girls 4x200 - Uniondale NY 1:39.88 US#2, with US#1 Eleanor Roosevelt MD finishing first but disqualified for veering out in the stretch and interfering with Uniondale's stretch run.
Boys 4x200 - Camden NJ 1:30.43, Newburgh NY 1:30.75
Girls 4x800 - Suffern NY 9:03.36 US#3 all time (Boys and Girls NY 2002 8:53.67, A.P. Randolph NY 2002 8:59.82), Eleanor Roosevelt MD 9:11.53, Bay Shore NY 9:12.14
Junior Women's 1000m - Latavia Thomas PA 2:51.48, blowing away a close race on the last lap.
Women's Open Mile - Nicole Blood NY 4:46.82, improving on her own US#1 time for the season. Blood confirmed afterward that she is indeed moving to California, confirming rumors on TrackTalk. Her step father is transferring to a new job later this month in the Simi Valley area.
Men's Open Mile - Craig Forys NJ 4:09.77 US#2 in the men's open mile.
Girls 4x400 - Eleanor Roosevelt MD breezes in 3:48.46, just off their US#1 time of 3:48.04.
Boys 4x400 - Dematha MD 3:16.39 running all alone is US#4 all time (John Muir CA 1996 3:13.34, John Muir CA 1997 3:13.68, and Camden NJ 2001 3:15.78)
Boys 4x800 - Shaker NY 7:52.63 US#1 (Msgr Farrell 7:52.91)
Boys Weight Throw - Walter Henning NY 80-7.
photos by John Dye
Danielle and Dan are best

HS Girls Mile Danielle Tauro's 4:51.89 is
3rd fastest Millrose ever


HS Boys Mile

Dan McManamon wins with authority in 4:17.18
Millrose Games on TV

Is track more important than the Super Bowl? You can decide Sunday night when the Millrose Games is on ESPN2 at 6:30-8 pm Eastern time. Two TV's in your living room would also take care of the problem. Network TV consultant Walt Murphy says it looks good for the HS miles to be included in the telecast.
Stats by Sully Top 10 HS Milers PR Progression - Boys
John Sullivan is a track nut who can't get enough track stats. He cranks out lists for his own amusement -- and now he can amuse you as well. He's back this week with Top 10 HS Milers PR Progression - Boys.
Smoky Hill CO X-C Coach Greg Weich Resigns
Feb. 6 - Coach Weich tells DyeStat.com why he's stepping down, some of his philosophies on coaching (he's coached five FL finalists and his girls were runner-up at the 2004 NTN), and what his long-term plans are after he gets used to fatherhood in this feature story.
THIS WEEK
news posted through Feb. 9
Mtn. Brook fr. Billy Matthews during his 4:22 mile (left); Hoover's Tyler Boswell (right) clears 6-10
AL -- AHSAA Indoor State Meet - Feb. 3-4, Valley Sports Coliseum, Priceville - Mountain Brook fr. Bill Matthews 9:28.16 3200m (1st)/4:22.28 1600m (2nd) double "on a plywood track inside of a horse barn." Boys winners: Mountain Brook, Homewood, UMS-Wright. Girls: Hoover, St. Paul's Episcopal, Altamont.
AR -- ATCA Indoor Classic - (now Full Results) Feb. 4, U. of Arkansas, Fayetteville - Bryant AR jr. Spencer McCorkel over 17' for second time this year with 17-0 (leads US at 17-3.5).
CA -- Cuesta Open - Feb. 4, Cuesta Coll., San Luis Obispo - Mission Bay Prep fr. and Foot Locker champ Jordan Hasay opens with 4:25.08 1500m outdoors. See DyeStatCal.
CO -- Colorado USATF Indoor - Feb. 4-5, CU, Boulder - Eaglecrest jr. Ashley Cruder 7.39 (1st), G. Washington sr. Talaya Owens 7.67 (3rd) in 60m. G. Washington sr. Darius Reed US#1 7.91 60H (1st/39"). Niwot sr. Sarah Griffen Matthews 19-10 LJ (1st).
DC -- DCIAA Championships - Prince George Sportsplex, Landover MD - Team titles to Ballou girls, Woodson boys. Banneker sr. Emani Lee-Odai 6.43 55m/7.69 55H. Dunbar so. Deanna Brown 40.69 300m.
MA -- Coaches Elite meet - Feb. 5, Reggie Lewis Center, Boston. Medford jr. Aranxta King US#1 20-2.75 LJ. Dennis Yarmouth jr. Colleen Weatherbee 2:54.81 1000m. Report from John Carroll.
MA -- Coaches Invitational - Feb. 4, Reggie Lewis Center, Boston
NC -- Carolina Invitational (college/open) - Feb. 4 - West Charlotte jr. Trenton E. Guy US#1 6.76 winning 60m (also 22.19 5th 200m). SE Raleigh jr. Gabby Mayo 8.57 60mH (college) leads qualifiers, DNF in final.
NH -- NHIAA State Meet - Dartmouth Coll, Hanover
Feb. 4 Class 'L' Results - Titles to Londonderry boys, Bishop Guertin girls (1-2-3 HJ, sweeps relays). Nashua North sr. John Shroeder US#1 3:58.63 1500m; Central sr. Alex Hall 2:31.71 1000m.
Feb. 5 Class 'I-M-S' Results - Titles to Merrimack Valley boys, Lebanon girls.
NJ -- Varsity Classic -- Feb. 6, New York Armory
Boys: Pope John sr. Anthony LaMastro US#1 1:54.1 800m leads 3 sub-1:55, Chatham sr. Ben Massam 9:12.4 3200m, West Deptford's AJ Bunton 6.2 55m/21.7 200m, West Orange sr. Ryan Manning 23-10 LJ/6-6 HJ.
Girls: Colts Neck jr. Ashley Higginson 4:54.7 1600m, , Roxbury girls 12:05.3 DMR/9:18.1 4x800, Parsippany sr. Celeste Holder 18-10/57.6.
NY -- 6th New Balance Collegiate Invitational - New York Armory.DyeStat On-Site
NY -- Millrose Games - Madison Square Garden, New York City. DyeStat On-Site
NY -- Colgate Games Finals - Feb. 4, Madison Square Garden, New York City. Results
OH -- Cedarville Early Bird - Feb. 4, Cedarville U. - Wayne girls and boys sweep titles.
PA -- Penn Roundup by Don Rich - Feb. 7.
TN -- Nashville Track Classic - Feb. 4, Nashville - CANCELLED
WA -- Dempsey Indoor Series - U. Washington, Seattle - Some top performances already in so far this season. FULL RESULTS from the UW Invitational & UW Open #2. Day 1 Invite had former High School standout Galen Rupp going 14:17 for 5000m. Day 2 saw a great double (mile/3000m) from Isaac Stoutenburgh, while at the Open meet, a US#1 600m (1:33.93) from Devon Williams (former Towson Catholic MD National Record Holder who now competes for Churchill HS in Eugene, OR). Coming up is the Gerry Lindgren 5000 meter Invitational on Feb 11th, with video coverage of the event.
Vic's Pix from Boston photo album of miles by Vic Sailer, PhotoRun
Some of the same runners at Boston were in the Millrose Games HS miles, including Lindsey Ferguson of Saratoga NY.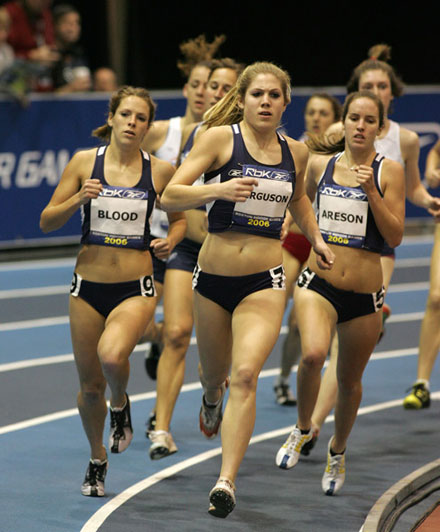 Indoor National Rankings Update
DyeStat Elite indoor lists now have 1,664 performances, up 404 from the Jan. 25 lists. DyeStat Elite #6
Honor Roll Jan 31 - 594 DyeStat Elite marks received in past week.
Jim Spier's Top 5 updated Jan 29 lists the top five performers in each event, with separate lists for flat and banked tracks. Spier's List #4
Gourley's Weight List - Feb. 7
College Choices 2006 - We have updated our lists with the early signing period and other individual announced choices. Lists by STATE and COLLEGE now have 427 names. Some noteworthy additions to our lists since the last update in December:
Aislinn Ryan NY, distance, to Colorado. The 2004 Foot Locker cross country champion said, "I felt that was the best place to go to really reach for my running dreams.''
Brandi Cross TX, sprints, to South Carolina
Queen Harrison VA, sprints/jumps, to Virginia Tech
Owen Kimple NY, distance, to Cornell
Ben Sitler CA, distance, to Princeton
Brittany Washington TX, sprints, to Rice
Valerie Flournoy FL, hurdles, to Florida State .
Foot Locker Statistical Analysis - High school students Richard Randall and Andrew Jervis of Pennsyslvania analyze trends at the Foot Locker Cross Country National High School Championships from 1979 through the recent 2005 champs.

Auto accidents claim two high school runners
Whitnall Wisconsin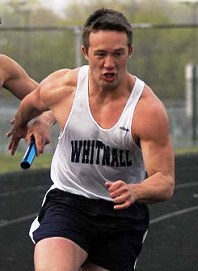 Whitnall (WI) HS sr. Clint Erickson, a captain-to-be for his track team and football player, was killed in a Saturday, Jan. 28 auto accident that injured two more of his classmates and where alcohol was involved with the driver of the other vehicle. See stories here and here.
Goodrich Michigan
Thursday, Jan. 26 - Goodrich, Michigan HS student-athletes Kaitlin O'Mara and Danielle Bila reportedly remain in critical, but stable condition this morning after a Tuesday, Jan. 24 auto accident that killed Kaitlin's twin sister, Kayla. All three girls were juniors on the Goodrich cross-country team that won its third straight D-3 state title last fall. New story from the Flint MI Journal at mlive.com - Another story - Original Story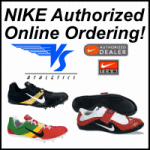 ShopDyeStat


unique items
for the HS athlete
--Parents Guide

--Training G
uide
--Training Profiles
--Pace Calculator
--the Harrier
--HS Track 2005

DyeStat uses Hy-Tek
for meet results