Nicole Blood goes out in style, while Michael Eaton represents for high school.
Nicole Blood of Saratoga Springs (now a California resident) holds off the field in the 200 meters, while Michael Eaton of Bowling Green, KY shows how his modest 13th finish at the recent Foot Locker Champs was just a bad day, as he slips in for the final 6th spot on the US Junior Team for the World Champs in April.
Dyestat Cal's Rich Gonzalez' Report
See the Post-Race Review by Marc Davis

--------------------------------------------------------------------------------------
The 2006 USA Junior Cross Country Championships and World Junior Cross Country Team Trials, which will be conducted in New York City's famed Van Cortlandt Park on February 18-19, 2006, features the top High School and Junior Age distance runners in the USA vying for a spot on the team that will represent the USA at the 2006 IAAF World Junior Cross Country Championships in Japan on April 1st and 2nd. The weekend will also include the USA Senior Mens and Womens Championships/World Championship qualifying races, as well as the Masters 8 km Cross Country Championships.
photos courtesy of photorun.net
Junior Men

Junior Women

2005 Galen Rupp
2004 John Janson
2003 Bill Nelson
2002 Timothy Moore
2001 Matt Tegenkamp
2000 Franklyn Sanchez
1999 Luke Watson
1998 Not held
1997 Gabe Jennings
1996 Brent Hauser
1995 Brad Hauser
1994 Gregory Jimmerson
1993 Corey Ihmels
1992 Chris Georgules
1991 Graham Hood
1990 Niall Bruton
1989 Chris Schultz
1988 Raymond Pugsley
1987 Daniel Lopez
1986 John Nuttall
1985 Todd Giszack
1984 Anthony Williams
1983 Tim Wakeland
1982 Not held
1981 Jessie Torres
1980 Darren Lazaruk
1979 Karsten Schultz

2005 Elizabeth Pasciuto
2004 Alison Costello
2003 Clara Horowitz
2002 Maria Cicero
2001 Laura Zeigle
2000 Shalane Flanagan
1999 Erin Sullivan
1998 Melinda Campbell
1997 Jen Schindler
1996 Sally Glynn
1995 Casi Florida
1994 Kortney Dunscombe
1993 Becki Wells
1992 Heather Hollis
1991 Vanessa Malloy
1990 Katherine Wesseling
1989 Jamie Park
1988 Lianee McVey
1987 Anita Philpott
1986 Karen Rayle
1985 Kristy Orre
1984 Renee Harbaugh
1983 Kelly Madden
1982 Kimberly Ryan
1981 Marilyn Davis
1980 Lesley Welch
1979 Kim Gallagher
1978 Aileen O'Connor
1977 Lynn Jennings
1976 Aileen O'Connor
1975 Kathy Mills
1974 Pamela Allen
1973 Lynn Bjorklund
1972 Debra Johnson
1971 Eileen Claugus
1970 Carol Frederick
1969 Beth Bonner
2005 - Jr Women 6k - U. Colorado freshman Liza Pasciuto wins with preps Erin Bedell TX, Jenny Barringer FL, and Lindsay Flacks CA, and HS 5000m record holder Caitlin Chock, now with the Oregon Project, also making the World Cross team.
Jr Men 8k - Flying down the hill U. of Oregon freshman Galen Rupp left no doubt that he would be the eventual winner. His fellow Oregonian, Stuart Eagon, meanwhile was hard at work in cementing his position, yet Rupp still increased his lead to around 45 meters. Rolling up the final hill Eagon opened up a large lead in second place but he still lost ground in the 'race' for first. (photo by Brian Myers)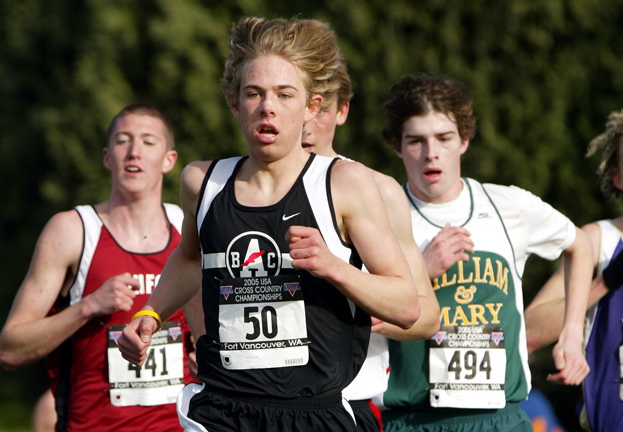 2004 - Jr Men 8k - John Janson wins by 10 seconds over Ryan Deak and Trent Hoerr. Jr Women 6k - Alison Costello crushes the field to win by almost 30 seconds over Kathleen Trotter and Amber Harper.
2003 - Jr Men 8k Results - Jr Women 6k Results
2002 - Jr Men 8k Results - Jr Women 6k Results