Click
for California news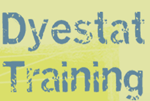 NEW
-- training logs of Bob Kennedy's US record year, Ari Lambie's 4:37 mile, and Portland Central Catholic's 2005 XC preparation.
UNM Invitational - Big meet at University of New Mexico in Albuquerque attracts most of the top teams in New Mexico. Winners are Albuquerque Academy boys, Eldorado Albuquerque girls, Matt Tebo and Vanessa Ortiz. Results and pix - Donna on the Side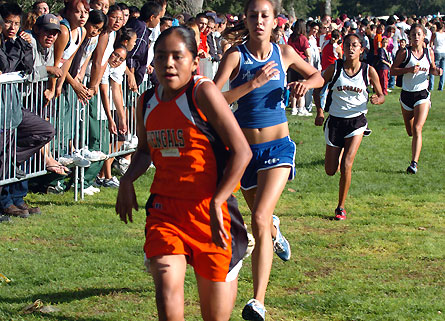 THIS WEEK
news posted through Sep. 8 - alphabetical by state
CALIFORNIA - see all the news of the Golden State on DyeStatCal, by Rich Gonzalez and Doug Speck


AZ

- Peaks Inv - SW#4/US#25 Page boys win big. And Tiger Inv, where SW#6 Flowing Wells girls fall to two unranked teams.
CA

-

Granite Bay Inv - Unranked Madera boys 53 beat CA#2 Jesuit 65.

Marie Lawrence

17:59 5k (

Alex Kosinski

18:25) leads SW#3 Reno girls 61 to easy win.

CO -

Harrison Invitational

-

SW#5 Cherry Creek boys beaten. SW#7 Rocky Mountain girls win.
GA - Clara Bowl - Mixed results for Mountain Brook AL. SE#2 girls 43 win convincingly. SE#6 boys 139 are fourth behind unranked Parkview 81, unranked Brookwood 84 and SE#9 Marist GA 101.
IL - Lancer Invite - Naperville North's #4MW girls and #6MW boys win by solid margins.
IN - Indiana State Preview Meet - Cathedral 51, with

Katy Achtien

14:28 over 4k, over MW#9 Carmel and Westfield in Girls AA. Details to come.
IN - Rushville Invitational -

MW #3 Columbus North

dominates Division 1 with 25 points.
IN - Pendleton Heights Arabian Roundup - Pendleton sr

Brock Hagerman

wins in 15:29, ahead of Adam Lenz of Blackford 15:45, and led Pendleton to the team victory with 30 points.
MI - Michigan Week - Dave Swarts reports that St. Clair's

Addis Habtewold

, a soph from Ethiopia, has won three early-season meets with a best of 15:35.
MI - MW#10 Rockford girls and

Rachel Wittum

roll in Benzie Central Invite.
NC - Chapel Hill,

Jack Bolas

, Cardinal Gibbons win at Western NC Carnival
NH - Dartmouth Invite -

Nicole Blood

(3rd/19:23) and

Caitlin Lane

(6th/19:53) run unattached in Dartmouth College Invite against teams from Boston College and others.
NM - Del Norte Invitational - SW#2 Albuquerque Academy boys 22 claim 5 of top 8 positions and 7 of 12 to beat SW#9 Gallup 68 at 6,000 feet altitude.
NY

JUST IN!

Defending Foot Locker champ

Aislinn Ryan

runs 16:38 in Warwick Lions 5k Sept. 5 in Warwick, NY. More details to come.
OH - Avon Lake Early Bird - Unranked Jackson Massillon OH girls beat MW#2 Bowling Green, 41-49. Beaumont Cleveland soph

Emily Infeld

19:05 5k wins in mud.
OH - Treaty City Invitational, Greenville - MW#8 LaSalle Cincinnati boys 64 beat MW#5 Middletown 147, with unranked Alter Kettering 130 second. Unranked Alter Kettering girls 68 topple MW#7 Colerain Cincinnati 77.
OR - Canby Invitational - featuring NW#2/US#15 Jesuit girls & NW#3/US#15 Jesuit boys. Also - Mt Hood Invitational - with NW#2/US#8 Central Catholic boys in action.
PA - Northampton Invitational - Soph Chanelle Price leads unranked Easton PA girls over NE#10 Allentown Central Catholic.

PA -

Big Valley Invitational, Reedsville - NE#4 Coatesville PA boys 26 put five in top 10, with Kyle Dawson running 16:07 for the win.
PA

Craig Miller 14:56

Manheim Twp PA sr Craig Miller, a leading contender for Foot Locker national honors this year, was impressive at the Gettysburg Invitational in beating Conestoga Valley soph Vince McNally, 14:56 to 15:02 at 5k. The two are in the same league, so this is the first of several meetings.

photo by Don Rich
SC - SE#4 Smith's Station AL boys travel to Eye Opener Invite in Spartanburg and are beaten by team from another visiting state, unranked T.C. Roberson NC.
SD - At the Northern Hills Invite, HL#8 Rapid City boys & HL#5 Rapid City girls both take loses to unranked teams. And HL#6 Eden Prairie is upset at the Matterhorn Invititational.
TX - Kingwood Invitational - More Texas results with SW#2/US#21 A&M boys, and SW#2/US#9 Kingwood girls.

Marcus I Invitational - 6 Region ranked teams, with 3 US ranked teams, Including US#6 Carroll girls & US#14 Flower Mound boys. right, super soph Colby Lowe of Carroll Southlake, 30th at NTN as a frosh, was an impressive winner in 15:17 5k. photo by Brad Cooper.

Also in the Big State, SO#3 The Woodlands boys are beaten in their own invitational by SO#9 Cinco Ranch Katy and both Marcus teams lose to lower ranked teams In Greenhill/Luke's Locker 6-mile relay, . SO#1 Carroll win big, led by senior star Brooke Upshaw. Check out the South Roundup - Regional editor, John Sullivan's breakdown from last week's action.
UT - Bulldog Invitational - SW#1 Fremont girls continue to roll, with 3 other region ranked boys teams battling it out. Plus - Grass Relays - SW #1 Fremont UT girls win big. SW#3 American Fork boys lose. And S. Utah University Invite - SW#7 Mountain View boys & SW#10 Mountain View girls both win.
WA - Washington Coaches Poll Sep 1 - Coaches rank pre-season NW#4 Ferris boys ahead of NW#1/US#4 Mead. NW#1 Gig Harbor is top ranked girls team.
DyeStat Elite XC rankings open
We are now accepting performances for national ranking in cross country for the 2005 season. See How to Get Ranked for the procedures to follow.
NEW THIS YEAR: Girls 4k and 3200m lists for those unfortunate states that consider girls the weaker sex and make them run shorter distance than boys.
Cutoffs for 2005 cross country rankings:
| | | |
| --- | --- | --- |
| | Boys | Girls |
| 3 miles | 15:30 | 18:30 |
| 5k | 16:00 | 19:00 |
| 4k | | 15:12 |
| 3200m | | 11:45 |
Louisiana relaxes transfer rule after Katrina
The Louisiana High School Athletic Association will allow anyone from the hurricane disaster area to transfer to any other school. See www.lhsaa.org. Some schools are expected to be closed for the entire school year.
Great American - Entries Announced - 11 NTN regional ranked boys teams; including 6 of 10 from SE, and SW#1 Denver South. 11 NTN regional ranked girls teams; including 6 of 10 from SE, and NE#1 Harrier US#1 Saratoga Springs.
Harrier Super 25
York and Saratoga Springs ranked No. 1
Now in his 30th year publishing distance running magazine The Harrier, Marc Bloom announces his 2005 pre-season Super 25 rankings of the top 25 high school cross country teams in the country. The York IL boys and Saratoga Springs NY girls ended last year ranked number one after winning the inaugural Nike Team Nationals meet in Portland OR, and they start this year on top despite losing their top runners.
BOYS

GIRLS

1. York Elmhurst IL
2. Fayetteville-Manlius NY
3. Royal Simi Valley CA
4. Mead Spokane WA
5. Christian Brothers NJ
1. Saratoga Springs NY
2. Clarkston MI
3. Fremont Plain City UT
4. Yankton SD
5. Corona del Mar CA
Grand Finale of 2005 outdoor rankings
NSSF director Jim Spier's final lists of 2005
Nike Truck Schedule
The Nike truck has become a familiar site at high school meets. Actually there is more than one. A stepped up schedule will find them all over the country in the 2005 cross country season. See Nike Truck XC Map
NTN pre-season kit
Here is all the information needed to size up the second year of the Nike Team Nationals cross country meet. Regional pages, pre-season rankings, last year's results. Pre-season regional #1 teams include the top four boys teams from the inaugural event in 2004 -- York IL, Fayetteville-Manlius NY, Mead WA, and Royal CA -- plus girls defending champ Saratoga NY.
Rich Gonzalez preview - "The rules are different here. This is cross-country -- a real team sport where you truly are only as good as your support crew. Last year's NTN leaders all lost their star runners but they still wear the favorite's mantle this year."
NTN home page - Northeast | Southeast | South | Midwest | Heartland | Southwest | Northwest | California |

DyeStat uses Hy-Tek
for meet results
ShopDyeStat


unique items
for the HS athlete
--Parents Guide

--Training G
uide
--Training Profiles
--Pace Calculator
--the Harrier
--HS Track 2005