Results
John Dye action photos
49 Boys - Ben Sitler
50 Boys - Diego Mercado, Royal Simi Valley
51 Girls - Marie Lawrence, Buchanan
52 Girls - Jordan Hasay
Video Vault
- by Marc Davis
-

all 10 sweepstakes races


Donna on the Side -

121 shots of the sideline scenes


Rich Gonzalez previews/sums

Meet's Own Website
Entry Information

SPARQ is at Mt. SAC
SPARQ RATING INFORMATION

Click on the logo to go to the
SPARQ Main Website

Video Vault of all 10 sweepstakes races - Donna on the Side



Course records for Diego Mercado 14:24 and Royal Simi Valley boys 76:22 - #2 all time for Marie Lawrence 16:29 - Jordan Hasay makes up for Stanford - Anne St. Geme leads US#1 Corona del Mar - Cabrillo Lompoc CA boys beat US#11 Page AZ - Ben Sitler and Buchanan girls win

Mt. SAC

58th running of the biggest high school cross country meet in the nation
Oct 21-22 - Walnut CA

DyeStat on-site with Rich Gonzalez, Doug Speck, John & Donna Dye, and Marc Davis
See much more from Mt. SAC on DyeStatCal

Saturday - Div 1/2 Sweepstakes




Race

Winners

photos by John Dye

Race 49 Boys Individual

St. Francis Mountain View CA sr Ben Sitler 14:42 held off Crater Or sr Isaac Stoutenburgh 14:47. Team scoring was close between Rancho Bernardo CA 104, Reno NV 129 and St. John Bosco CA 133.

Race 50 Boys team

Course records by US#3 NTN CA#1 Royal Simi Valley boys 76:22 and West Covina CA sr Diego Mercado 14:24.
Royal scored 69 pts to demolish a field of ranked teams ( CA#6 Murrieta Valley CA 141, CA#3 El Toro 147, CA#4 El Rancho 149, CA#8 Dana Hills 179, DeLaSalle CA 192, CA#9 Upland 192). Royal did it without team captain Erik Pederson, who is injured.

Royal coach Ryan Luce on DyeStatCal: "We wanted the course record. Without Jason in there, we wanted it even more."

Diego Mercado and his twin brother Danny Mercado duelled with El Camino Oceanside sr A.J. Acosta through 2 miles until Diego pulled away to win in 14:24, four seconds better than the joint course record holders Ryan Hall and Mohamed Trafeh and 15 seconds ahead of Acosta 14:39, who edged out Danny Mercado 14:40 for second. Michael Cybulski 14:53 led the Royal charge.

When DyeStatCal gently told the Mercado brothers not to get bigheaded, Danny said, "We won't. We know what we gotta do. We're not really finished yet with that record."

Diego Mercado thanks A.J. Acosta


Div 1/2 Boys Team Sweepstakes -- from left, Michael Cyblulski, A.J. Acosta and the Mercado twins after a half mile in the Valley loop. On the awards stand after the race, the announcer asked Diego Mercado how he felt about setting a new course record. "I just have to thank the tall dude over there," Diego said, nodding toward A.J. Acosta. Diego told DyeStat he was referring to the good pace set by Acosta before the Mercado brothers broke away in the third mile. Acosta said he couldn't complain after getting a 20-second Mt. SAC PR.

Race 51 Girls Team

CA#2 US#6 Buchanan 88 won a torrid battle with CA#5 La Costa Canyon 93. Reno NV jr Marie Lawrence chopped 19 seconds off her winning time last year to win in 16:29, second best ever at Mt. SAC (Amber Trotter 16:16 in 2001).



Marie Lawrence has her best race of the year


Div 1/2 Girls Team Sweepstakes - at the start, gum chewing Marie Lawrence (left) blows her first bubble and Lauren Saylor gets out fast for Buchanan. Marie said it was her best outing of the year. "I felt really good - I was pumped having good girls to push me." That pushing only lasted through the first mile as Lawrence broke away on the switchbacks in the second mile just as she did last year. Lawrence now has the #2 and #4 all time fastest races at Mt. SAC.

Race 52 Girls Individual

Freshman Jordan Hasay breezed to an easy win in 16:48, tied for fourth best all time at Mt. SAC and a new freshman record (Kauren Tarver 17:06 2004). Hasay runs for Mission College Prep in San Luis Obispo CA. Peninsula CA 104 won the team title over Corona CA 108.



Jordan Hasay learned a lesson at Stanford


Div 1/2 Girls Individual Sweepstakes - Freshman

Jordan Hasay,

with a Jordanesque tongue wagging as she nears the finish line.
Jordan made up big time for her disaster at Stanford last month, where she went out in a sizzling 5:02 first mile and paid for it when she collapsed 150 meters from the finish. Today, she consciously tried to take it easy at the start and passed the mile mark in 5:15. "It was still a little too fast, but it felt slower," Jordan said. Comparing the Stanford and Mt. SAC experiences, Jordan said: "I learned the difference between being tired and being too tired." She didn't look too tired today as she cruised up the short hill to the finish line, with her time of 16:48 tying for fourth best all time at Mt. SAC and setting a new freshman record (Kauren Tarver 17:06 2004).. It was Jordan's first crack at the legendary hills of Mt. SAC, and she looks forward now to returning for the Foot Locker West regional Dec. 3 when she will try to earn a trip to San Diego Dec. 10 for the Foot Locker national finals. Jordan can point to Foot Locker and train through the California State Meet because she runs in the less intense Division 5 for Mission College Prep school in San Luis Obispo. .
photos by John Dye
Anne St. Geme

Friday
Corona del Mar girls,
Cabrillo Lompoc boys
Anne St. Geme and US#1 Corona del Mar CA girls breeze in Div 3 Sweepstakes. St. Geme's time of 17:08 tied for 10th on the all time Mt. SAC list. See Marc Davis videos of all six Friday sweeps. DyeStatCal coverage - Corona del Mar kept intact its plan to run together and cruised in trainers to 92:42, the 8th-fastest team time since course upgrades in 1999. Michael Coe runs smooth en route to 14:50 win in leading his NTN CA#10 Cabrillo Lompoc CA team to 91-97 win over SW#4 Page AZ. see Rich Gonzalez summaries on DyeStatCal.

| | |
| --- | --- |
| | Winners |
| | Corona del Mar CA 38. CDM sr Anne St. Geme 17:08 |
| | Cabrillo CA 91 (Page AZ 97). Cabrillo sr Michael Coe 14:50 |
| | San Lorenzo Valley CA 50 (Half Moon Bay 56). SLV soph Taylor Johnson 18:18 |
| | McFarland CA 27. Parier CA jr Erick Garcia 15:25 |
| | Flintridge Prep CA 42 (Chadwick 56). Scottsdale Christian AZ jr Jillian Klassen 18:45. |
| | Woodcrest Christian 35. Fall River jr Brent Handa 15:31 |

US#1 Corona del Mar's top 3 lead the pack in the first mile

Michael Coe digs up Poop Out Hill all alone.
2005 Schedule
Friday, October 21st:                             1:00pm-6:00pm

 

Division 3 Boys and Girls                         1:00pm-2:30pm

Division 4 & 5 Boys and Girls                  2:30pm-4:00pm

Division 3, 4, & 5 Sweepstakes Races       4:00pm-6:00pm

        
Saturday, October 22nd:                        7:15am-3:00pm

Division 1 Boys and Girls                         7:15am-12:00pm

Division 1 & 2 Sweepstakes Races            9:00am-10:30am

Division 2 Boys and Girls                        12:00am-3:00pm
      

*All Times Are Approximate
Prior Years
2004 - In the Boys Team Race, Royal Simi Valley 92 (10 13 15 23 31) won as expected over five California top 10 teams. Don Lugo's Fitsum Tesfa (14:43) was a 14-second winner over A. J. Acosta of El Camino. And in the Boys Individual Race, El Toro sr Brandon Bethke put his name high on the all-time Mt. SAC list with a 14:30 win, just 2 seconds off the record shared by Ryan Hall (2000) and Mohammed Trafeh (2003). Loyola sr Mark Matusak was second in 14:43, 10 seconds slower than his time here last year. In the Girls Team Race, Murrieta Valley 122 (11 23 24 28 36) was a 16-point winner over Ayala (7 20 29 39 43), with Canyon next at 153 (12 16 27 45 53). Highland jr Alyssa Craft won the most thrilling individual race of the meet in 17:41 over Buchanan soph Lauren Saylor (17:42). And in the Girls Individual Race, Reno NV soph Marie Lawrence (16:48) won by 15 seconds over Gunn Palo Alto CA sr Tori Tyler (17:03) and Corona CA jr Alma Escobar (17:24).
Highland jr Alyssa Craft (R) catches Buchanan soph Lauren
Saylor (below) in the very last stride of the most thrilling finish
of the day. Royal's lead runner Dylan Jaedtke (below right)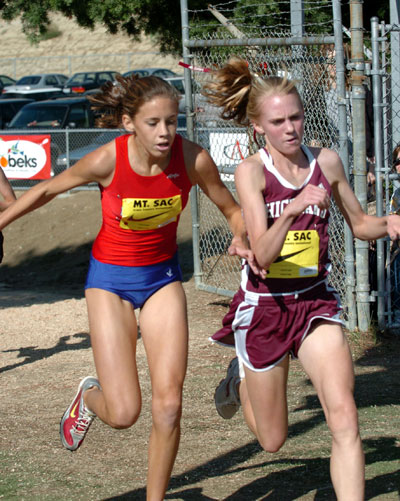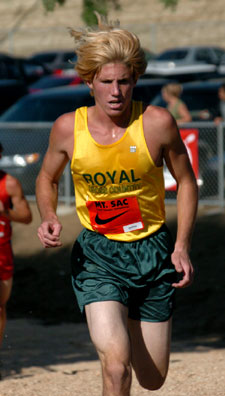 2003 - Loyola jr Mark Matusak gets the lead from Duarte sr Mohamed Trafeh late in the Division 1/2 Boys Individual Sweepstakes on top of Reservoir Hill and goes on to run the fastest time of the day (14:33). Matusak set a new record for a junior at Mt. SAC and tied 2002 winner Tim Nelson for third fastest ever at Mt. SAC (Ryan Hall 14:28 in 2001 and Jeff Nelson 14:32 in 1978). Winners of the Div 1-2 Team championships were Don Lugo CA boys and Murrieta Valley CA girls.
Matusak leads Trafeh (below)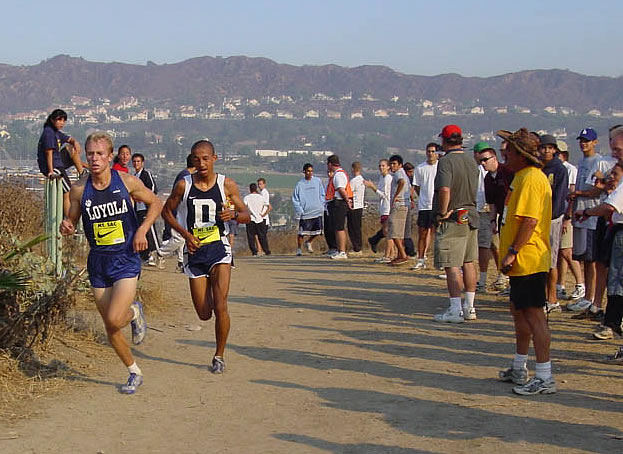 2002 - Tim Nelson 14:33, Rachel Bryan 17:08, Sultana girls, Poly boys excel.
2001 - Amber Trotter 16:16 smashes course record in a highlight of her magical season that led to the Foot Locker national championship. Yong-Sung Leal 14:43 is fastest boy. Canyon boys, Esperanza girls are top teams. The ordeal of Mt. SAC's hilly, winding course shows even in the faces of the winners.
Amber Trotter (below), Yong-Sung Leal (below right)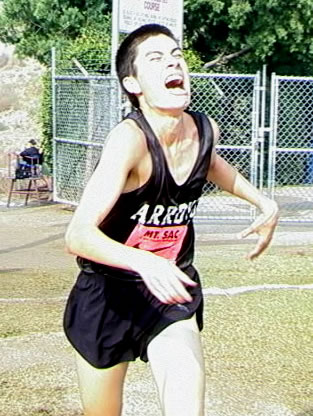 2000 - Anita Siraki 16:39 breaks Julia Stamps' 1995 course record. J. J. Duke 14:56. Poly Long Beach boys, Buchanan girls both win.
1999 - Sara Bei, Josh Spiker, San Lorenzo Valley girls, Don Lugo boys have fastest times.
1998 - Sara Bei, Alfonso Leon, Long Beach Poly boys, University SF girls win top honors.