Cross Country DyeStat Elite
We list the best 5k and 3-mile times in the United States.
the lists -
How to Get Ranked
THE NIKE LIST
fastest in the US
Boys 5k
14:34 Scott MacPherson TX
14:45 Kevin Schwab OK
14:58 David Raucci NY
15:01 Cory Thorne NH
15:02 Brock Hagerman IN
15:02 Jeremy Criscione FL
15:04 Ben Schulz TX
15:05 Dan Gerber TX
15:06 Guor Majak NH
15:06 Dan Roberts MI
15:06 John McGuire CO
15:07 Kiel Uhl IA
Girls 5k
16:55 Nicole Blood NY
16:56 Whitney Anderson CO
16:57 Aislinn Ryan NY
16:57 Brittany Tinsley OH
17:03 Jordan Hasay CA
17:08 Marie Lawrence NV
17:08 Jenny Barringer FL
Boys 3m
14:22 Brandon Bethke CA
14:30 Brett Campfield CA
14:30 Sean McNamara IL
14:35 Mark Matusak CA
14:36 Fitsum Tesfa CA
14:41 Rob Barany WA
14:41 Robert Bedsole AL
14:43 Ted Price CA
Girls 3m
16:36 Aislinn Ryan NY
16:42 Nicole Blood NY **
16:42 Melissa Dewey VA
16:48 Marie Lawrence NV*
16:51 Katelyn Bastert IL
16:52 Tori Tyler CA *
17:00 Zoe Nelson MT
* 2.91m Mt. SAC
** 3.05 miles
ShopDyeStat


unique items
for the HS athlete
--Parents Guide

--Training G
uide
--Training Profiles
--Pace Calculator
--the Harrier
--HS Track 2004
DONNA ON THE SIDE
at BorderClash

110 scenes
from the sidelines

Mead Spokane WA star Laef Barnes relaxes after the race with orange juice, a banana and friend Bailey Schutte.
NTN Selections - Fremont girls accept
11/24/04 -- The Fremont Plain City UT girls, undefeated Utah champions, accepted an at large invitation to the first Nike Team Nationals in Portland OR Dec. 4, raising the field to 33, with eight final selections -- four California automatics and four at large -- to be made Sunday Nov. 28. Fremont received the extra at large bid that resulted when only one of the Midwest region automatic slots for girls was accepted due to state association issues. Status of NTN selections.
The Harrier Super 25
New York still holds #1 spots in new rankings
Nov 23 -- The Harrier magazine Super 25 rankings released today, based on results through Nov 21, continue Fayetteville-Manlius NY boys and Saratoga Springs NY girls as the #1 high school cross country teams in the country. New in the top 10 are Christian Brothers Academy NJ boys, Marshall MN boys, Dana Hills CA boys, Ventura CA girls, Roxbury NJ girls, and Smoky Hill Aurora CO girls (with the expected return of defending Foot Locker national champ Katelyn Kaltenbach from injury). Super 25 national team rankings

BOYS
GIRLS

1.Fayetteville-Manlius NY (1)
2.York Elmhurst IL (2)
3.Ferris Spokane WA (5)
4.The Woodlands TX (3)
5.Royal Simi Valley CA (4)
6.Jesuit Portland OR (6)
7.Christian Bros Academy NJ (12)
8.Cedar Cliff PA (7)
9.Marshall MN (11)
10.Dana Hills CA (14)


1.Saratoga Springs NY (1)
2.Ventura CA (14)
3.West Plains MO (2)
4.Flathead MT (4)
5.Smoky Hill Aurora CO (15)
6.Kingwood TX (5)
7.Clarkston MI (3)
8.Yankton SD (7)
9.Roxbury NJ (NR)
10.Bowling Green OH (10)
FAYETTEVILLE-MANLIUS - Five First Men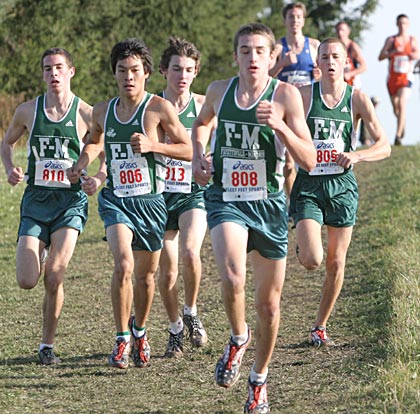 They personify team. They run for each other. They race as one. You could even say that FM is a team of five first men.
Northeast editor Don Rich's story tells why Fayetteville-Manlius NY is the #1 team in the nation and how they got a 9-second spread in the New York Federation championships.
Foot Locker Northeast preview
Girls - Could it be a year of Foot Locker firsts?
Three girls from one team. Two homeschooled athletes.
Can Aislinn Ryan catch Nicole Blood a 2nd time this season?
Boys - Cory Thorne, Chris Barnicle and Levi Miller could lead a very tight race for eight valuable spots.
THIS WEEK
results and other news posted through Nov 25
a huge weekend . . .
single race showdowns in New Jersey, New York and Massachusetts, with 13 NTN Northeast region ranked teams jockeying for position for the NTN Selection Sunday 3 picks, plus Border Battles in Arizona and Ohio and furious division finals in California's Southern Section.
1 Northeast CT, MA, ME, NH, NJ, NY, PA, RI, VT
Northeast Week Nov 20 -- Two meets. Two US#1's. 13 ranked teams. 108 miles apart. But the repercussions from "Feds" at Bowdoin Park NY and "All-Groups" at Holmdel Park NJ could be felt nationwide.
New York Federation Championships -
Complete Federation Results
Both US#1 teams were in this race -- Saratoga girls and Fayetteville-Manlius boys -- and both won, so the interesting fights were for second. F-M boys 34 (3 4 8 9 10 with 9 second spread), NE#3 Lockport 152 (6 26 31 32 57)), Burnt Hills Ballston Lake 186 (7 25 27 59 68), NE#10 Saratoga 208 (18 29 38 58 65)). Saratoga girls 22 (1 3 5 6 7), Shenendehowa 142, Bethlehem 145, NE#2 Bay Shore 148, NE#5 Hilton 151, NE#6 Cicero North Syracuse 166.
Don Rich report:
Saratoga - "it was the margin that was remarkable."
Fayetteville-Manlius - if you thought Manhattan was crazy, look at this. OK, the 12-second spread that Fayetteville-Manlius unleashed on an unsuspecting Manhattan Invitational field in October was pretty impressive. Well, try just 9 seconds at Feds.
An opposing coach admires Fayetteville-Manlius:
"Kind of like they peaked all season"
"Knowing how difficult it is to have five or more runners 'peak' at one point in time, their performance is even more impressive. Kind of like they peaked all season! Great dedication, team chemistry (at least looking in from the outside) and probably some pretty decent coaching too!" --- Lockport NY coach Bob Eberhardt after his team, and every other NY boys' team was soundly defeated by US#1 Fayetteville-Manliuis at the NY Federation Championships 11/20.
New Jersey All Group Meet of Champions -
Complete New Jersey MOC results and stories


Christian Brothers Academy

boys and Roxbury girls, both ranked #4 in the NTN Northeast region, won big and then awaited the New York results to see if they could move up. Roxbury 73, Msgr Donovan 138. CBA 69, NE#6 Morris Hills 96.
Ed Grant's New Jersey report - No Surprises
Massachusetts State Meet
Complete Massachusetts results
No NTN ranked teams, but Chris Barnicle is one of the favorites in the Foot Locker Northeast regional at Van Cortlandt Park, New York City, next week. Chris Barnicle 14.09 (2.9 miles) leads Newton North boys 62 over Brockton 67 at Gardner MA. Fastest girl of day is Alexandra Krieg 16:50, who led Wellesley 37 to Division 2 championship.
2 Southeast AL, DE, FL, GA, MD, NC, SC, KY, TN, VA, WV, DC, PR
3 South AR, LA, MS, OK, TX
Mississippi State Meet - Tupelo girls (below) score a perfect 15 for fourth straight 5A title. Pearl sweeps 4A -- 6th straight for the boys.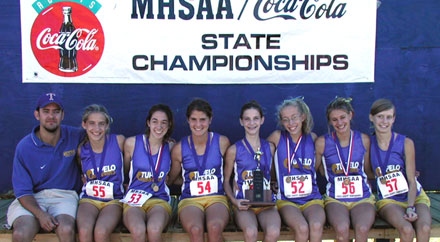 4 Midwest IL, IN, MI, OH, WI
5 Heartland IA, KS, MN, MO, NE, ND, SD
6 Southwest AZ, CO, NV, NM, UT
BORDER WAR - Arizona sweeps again . Kenny Cormier 15:46.2 leads Arizona boys 106 (New Mexico 140, Nevada 219). Marie Lawrence 17:42 wins girls race, but Arizona 133 (New Mexico 146, Nevada 186) wins team title.
Mike Elder reports: Cormier and Lawrence are impressive; Team Arizona sweeps. Meet proceeds under USATF and Arizona Road Races auspices after Arizona Athletic Association ruling against all star meets
Kenny Cormier


Marie Lawrence


photos by Doyle Jensen, Nevada TrackStats
7 Northwest AK, HI, ID, MT, OR, WA, WY
BorderClash - 6th running of unique event on campus of Nike World Headquarters, Beaverton OR. The best of Washington and Oregon face off.
BorderClash
Oregon sweeps! OR boys 103-109, OR girls 93-117
Brie Felnagle breezes, Kenny Klotz wins a close one
Rich Gonzalez report: OREGON SAYS "FOUR - BUT NO MORE"!
Brie Felnagle produced the expected, yet no one knew it would be so painful. Kenny Klotz produced the unexpected, yet no one knew he would make it look so easy. And Oregon produced the impossible, just when it seemed everything looked so bleak.
Leo Collins report: Oregon Ambushes Washington on a great day for cross country
David Frank report: Kenny Klotz - no one is doubting him now
California news is covered on DyeStatCal.
DyeStatCal flash report:
Fastest girls' day in CA history as 95:10 does not make State meet! Ventura girls (90:44) destroy course record! - Royal boys win D1 title... Serrano's Kauren Tarver topples Liza Pasciuto's frosh course record!
14 NTN ranked teams ran at Mt. SAC Saturday in prelude to California state meet next week, which makes two straight weeks of jockeying for invitations to the Nike Team Nationals at Portland Dec. 4. Girls preview - Boys preview
California girls - California's top ranked girls team, Ventura, smashes Mt. SAC record with team time of 90:44 in powerful Southern Section finals. more on DyeStatCal . -- collage by Bill Leung


College Choices 2005



The first 155 college choices by the class of 2005 are listed by college and state in College Choices 2005 lists. Here are some of the latest additions to the list.

Nicole Leach PA - UCLA


Alexandria Anderson IL - Texas


Illinois quadruple champ (sprints/LJ) Alexandria Anderson - to Texas.
Colorado XC champ John McGuire - to Stanford
Multi events star Lauren Stewart TN - to Stanford
HS indoor high jump record holder Scott Sellers TX - to Kansas State.
Texas 400m champ Katie Baker TX - to Texas A&M (correction).
multi event star Jenna Utecht FL - to Florida.
Arcadia, Penn Relays, and Jr Nat hurdle champ Nicole Leach PA - to UCLA. Story
HS sophomore mile record holder Jeff See OH - Ohio State
The early signing period is Nov 10-17. Send college choices of the class of 2005 to John Dye at

[email protected]

giving the name of the athlete, your name, your association with the athlete, and a way to verify the information.

Brandon Bethke CA - Wisconsin

NTN Regional Rankings Nov 19
Northeast automatic bids are Sunday
With only the Northeast and California regional selections and two national at large bids still to come, here are the new teams in the top four this week: Winter Park FL boys to SE#2, Jefferson Alexandria VA boys to SE #4, A&M Consolidated TX boys to SO#3, Rancho Cucamonga CA boys to CA#4, Roxbury NJ girls to NE#4, Mountain Brook AL girls to SE#3, Lake Braddock VA girls to SE#4, Marcus Flower Mound TX girls to SO#4, South Tahoe CA girls to SW#2, and Maria Carillo CA girls to CA#4. The top two in each region are invited to the first Nike Team Nationals in Portland December 4, and the third and fourth place teams are considered for national at large bids. Sunday November 21 is the third Selection Sunday. The selection committee will extend invitations to the Northeast region. Selections will be completed on Nov. 28 with California region automatics and the last two at large bids.
Selection Sunday - NTN Top 4 - complete NTN Regional rankings
Foot Locker Regional Stats
Top returnees, favorites, top 10 finishers last 5 years, range of winning times and national finals qualifying times (8th place in the region), links to DyeStat coverage since 1999.
MIDWEST - NORTHEAST - SOUTH - WEST
Foot Locker Favorites - DyeStat identifies the top contenders for the coveted spots in the Foot Locker Cross Country Championship finals in San Diego Dec. 11. 8-part series by Steve Underwood.
6th of series: NE Boys - Too close to call, as Cory Thorne is only national finalist returning. South Girls - South Boys - MW Girls -- Mw Boys - NE Girls -
DyeStat Elite
2,127 XC performances
DyeStat Elite listings as of 11/14 have 2,177 performances at 3 miles and 5k. This includes the weekend's state meets. See national leaders in the Nike List at left. If we are missing your performance, send us your times that meet the criteria in accordance with the page, How to Get Ranked. Nov 14 DyeStat Elite
VISIT

TRACK-TECH.COM
for


USA Open T&F Camp, FL,
USA Open XC Camps, CO,
USATF Jr Elite Camps CA
T&F TRAINING software
USATF Development Videotapes

Tucson Elite
Throwing Camp
Jan 15-17 at Tucson AZ
Build a base for a successful season in shotput, discus, hammer and javelin. Staffed by current & former U. of Arizona athletes.
Web Site - email


DyeStat uses Hy-Tek
for meet results

The Harrier
by Marc Bloom