the best of Washington v. the best of Oregon on the campus of Nike world HQ
Oregon sweeps!!! OR boys 103-109, OR girls 93-117.
Kenny Klotz and Brie Felnagle win individual honors.

Rich Gonzalez report: OREGON SAYS "FOUR -- BUT NO MORE"!
Brie Felnagle produced the expected, yet no one knew it would be so painful. Kenny Klotz produced the unexpected, yet no one knew he would make it look so easy. And Oregon produced the impossible, just when it seemed everything looked so bleak.
Leo Collins report: Oregon Ambushes Washington on a great day for cross country
David Frank's report: Kenny Klotz - no one is doubting him now

Donna on the Side - 110 photos of the sideline scenes
Kenny Klotz and Brie Felnagle win individual honors
Klotz edges Laef Barnes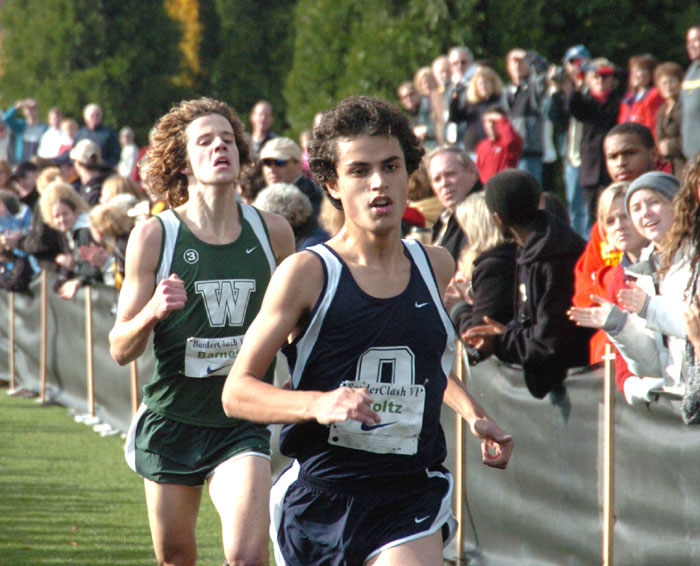 Felnagle by 20 seconds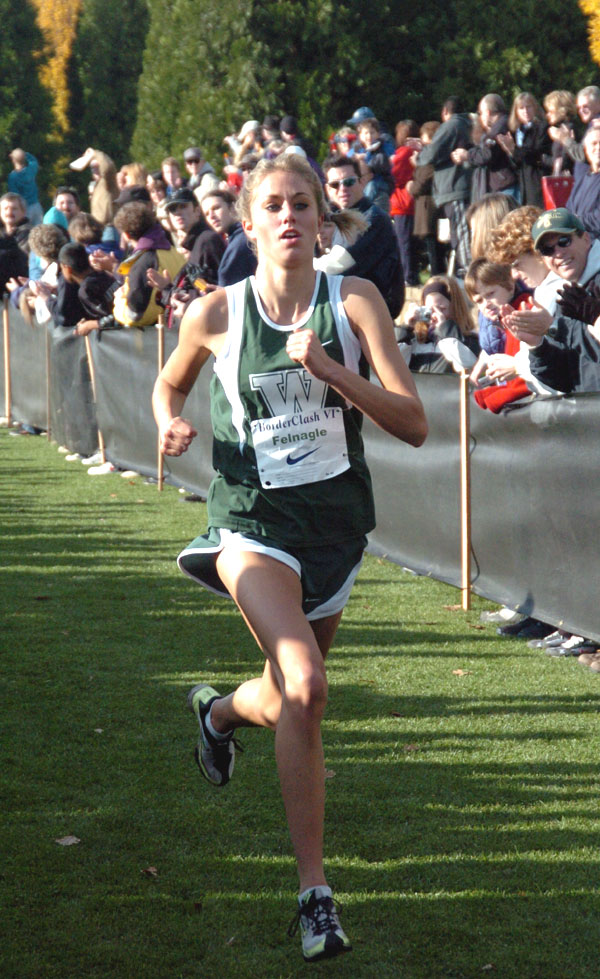 the teams
Washington has swept team honors in three of the last four years, and they have a formidable lineup again. The boys are led by the near dead heat 4A finishers Kelly Spady of Kamiak and Robbie Barany of Eisenhower Yakima, plus Mead's Laef Barnes. The girls are led by undefeated 4A champion Brie Felnagle of Bellarmine. Fastest in the Oregon state meet were Central Catholic Portland jr Kenny Klotz and Coquille jr Holli Dieu.
The two states face each other at opposite ends of the soccer field. When the cannon fires, they race towards each other before turning into the chute to start a 4.5k journey through the Nike campus.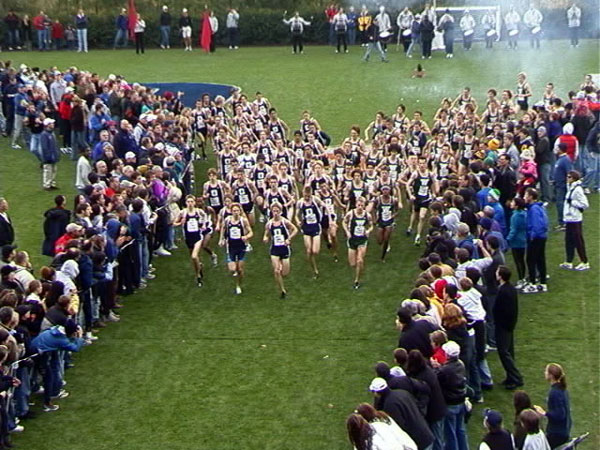 Now in its sixth year, this unique meet is already a classic in the Pacific Northwest. The top 40 boys and top 40 girls from each state's cross country championship are invited to a weekend in Beaverton. After registering in the Prefontaine Building, with Pre's statue and museum nearby, the 160 athletes enjoy a Saturday night dinner with name runners. Then, on Sunday morning, the two states race toward each other in medieval jousting style before turning in to the 4500 meter course that winds through the spectacular campus of Nike world headquarters.

Athletic images are everywhere on the Nike campus, including the bigger than life size poster of Steve Prefontaine (left) and the statue of Michael Johnson, complete with gold spikes, at the track in the woods (right).
Prior Years
top 10 runners score
BOYS

GIRLS

Year

Team

Individual

Team

Individual

Washington 89, Oregon 124

Galen Rupp OR 13:47

Washington 102, Oregon 111

Katie Leary OR 16:00

Oregon 104, Washington 117

Lauren Jesperson OR 13:47

Washington 91, Oregon 126

Amanda Miller WA 16:31

Washington 92, Oregon 133

Chris Lukezic WA 12:59

Washington 73, Oregon 170

Jessie McLaughlin WA 15:14

Washington 104, Oregon 109

Michael Kiter WA 13:06

Washington 87, Oregon 130

Jodee Adams-Moore WA 15:25

Oregon 69, Washington 103

Ian Dobson OR 12:13

Oregon 95, Washington 117

Paris Edwards OR 14:35

Note: The course was 2.5 miles the first year, 4200m the 2nd and 3rd years, 4600m in year IV, and 4500m in year V
2003 - Washington sweeps team scoring, but Oregon salvages individual honors with Galen Rupp and Katie Leary.
2002 - A split decision is won by Oregon boys and Washington girls, ending a streak of two straight Washington sweeps
2001 - Washington sweeps 2nd straight year behind Chris Lukezic and Jessie McLaughlin
2000 - Jodee Adams-Moore and Michael Kiter lead Washington sweep.
1999 - Oregon sweeps inaugural event behind Ian Dobson and Paris Edwards.
Schedule
Saturday November 20

12-3 pm

registration at Prefontaine Hall

2-4 pm

course run through

630-730 pm

dinner, Tiger Woods Center

Sunday November 21

1030 am

girls race

1115 am

boys race