by Don Rich, Northeast Region editor
Fayetteville-Manlius is clearly the favorite in the boys' race heading into the the first Nike Team Nationals on December 4th. But they don't necessarily see themselves that way. And that, in essence, is one of the reasons they are the team they are (see Meet 'the new Stotans" - Oct 9).

They personify team. They run for each other. They race as one. You could even say that FM is a team of five first men.

DATE /
MEET

POINTS

SPREAD

Jared
Burdick
(SR)

Tommy Gruenewald
(SO)

John
Heron
(JR)

Owen
Kimple
(JR)

Andrew McCann
(JR)

9/11 – Vernon-Verona-Sherrill

15

:12

5th man

2nd man

4th man

3rd man

1st man

9/18-East Syracuse-Minoa

23

:14

5th man

4th man

3rd man

1st man

2nd man

10/2-McQuaid

19

:15

1st man

2nd man

5th man

4th man

3rd man

10/9-Manhattan

15

:12

3rd man

1st man

4th man

2nd man

5th man

10/30-OSHL @ Tully

15

:29

2nd man

1st man

5th man

3rd man

4th man

11/6-Section 3 Champs

15

:28

2nd man

1st man

4th man

5th man

3rd man

11/13-States

32

:27

1st man

4th man

3rd man

2nd man

5th man

11/20-Federations

34

:09

5th man

1st man

4th man

3rd man

2nd man
Photo by TullyRunners.com of Fayetteville-Manlius'
"five first men" about 4:30 into the Section III race 11/6.
(l to r: Kimple, Burdick, McCann, Gruenewald, Heron)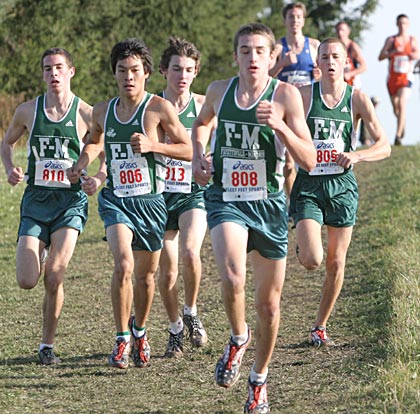 Fayetteville-Manlius has raced eight times. They have swept four, including the Manhattan Inv, their league and section meets. They ran the all-time best team average for Manhattan of 12:48.82. Their spreads have never exceeded 29 seconds, and their closest was nine seconds at their latest meet at NY Federations. Four of the top five have won a race. Each has been the 4th or 5th man on occasion. No one has been the 1st FM finisher more than four times. And here's the amazing part -- it doesn't matter to any of them, as long as they 'run like Stotans.'

Following FM's dominating performances this season, it appeared there may be a chink in the armor at the NY State meet on Nov 13th. They won by only 22 points over then NE#3 Lockport, a very talented team. Some wondered if they had just been 'training through' the race in order to be ready for Federations, followed by the NTN championships two weeks later.

Coach Bill Aris says yes, that was the plan. "I think college guys can hold a three-week peak, but not necessarily high school runners. I had to take a slight gamble going through States and fortunately we came through." Coming into the meet, Aris had been a little worried about the state course at Chenango Valley State Park. It's tough, and he felt they might get a bit dinged up. "We ran hard. It wasn't our prettiest, but it was our hardest. We were ascending our peak."

With the meet won, the fine-tuning began. What followed a week later was the 9-second spread, five in the top 16, and a 118-point win over the same Lockport team which had gotten so close the week before. "We've had a bulls-eye we have been wearing all season, and at States, Lockport hit the outer rings, but not the middle."

Amazingly, FM's 4th and 5th runners at States would wind up running 1st and 2nd for the team at Feds. That's the Stotan way. Aris says they never, ever focus on the competition. They simply worry about their own race "and take care of our business each week." And the night before Feds, he knew they were ready. "When we met, they looked and felt as tight and together, relaxed and focused as I have seen all season. Then they went out and ran a selfless race."

What does Aris think of the coming competition at NTN? "We don't target anybody or any team in competition. At NTN, every team will be a great team, and widths of a piece of paper separate them. We have nothing but respect for any team we face."

But when asked how well his team is prepared for NTN, he was direct, as always. "We're better than we were at Manhattan."
The 2004 season by week.

9/11 - Vernon-Verona-Sherrill Inv: - US#25 (NE#5) Fayetteville-Manlius NY boys open with a perfect 15 on a 12-sec spread, 16:31 to 16:43, for 5k. The soggy course got slower as the races progressed. The course is the site of the Section III championships.
15 Fayetteville-Manlius
#1 Andrew McCann, a junior, posted the fastest time of the day at 16:31. The course had one substantial hill and is mostly winding, wooded trails.
1 1 Andrew McCann JR 1 Fayetteville-Manlius 16:30.7 5:19 AA
2 2 Tommy Gruenewald SO 1 Fayetteville-Manlius 16:36.3 5:21 AA
3 3 Owen Kimple JR 2 Fayetteville-Manlius 16:37.8 5:22 AA
4 4 John Heron JR 3 Fayetteville-Manlius 16:39.6 5:22 AA
5 5 Jared Burdick SR 1 Fayetteville-Manlius 16:42.3 5:23 AA
11 Tim Page SR 6 Fayetteville-Manlius 17:39.4 5:41 AA
12 Danny Marnell JR 4 Fayetteville-Manlius 17:42.0 5:42 AA

9/18 - Now NE#1, they use a 14-second spread to total just 23 points in big win @ East Syracuse-Minoa Invitational NY.
1. Fayetteville-Manlius 23
1. Owen Kimple (11) 16:18
3. Andy McCann (11) 16:20
4. John Heron (11) 16:21
6. Tom Gruenewald (10) 16:23
9. Jared Burdick (12) 16:32
16.Tim Page (12) 17:27
17.Danny Marnell (11) 17:30

9/25- off

10/2 - Run a record 15:20 3.0 average on slippery McQuaid NY Inv course in Rochester, with 5 of top 7 against ranked teams Lockport and Parkview (GA).
1 FAYETTEVILLE MANLIUS 19 1 2 4 5 7 32 39
(times below are for 3.0, plus conversions)
1 Jared Burdick 12 FM 15:12.0 + 92 = 16:44.0 (185.3) 16:32.0
2 Tommy Gruenewald 10 FM 15:15.0 + 92 = 16:47.0 (184.3) 16:35.0
4 Andrew McCann 11 FM 15:23.0 + 92 = 16:55.0 (181.7) 16:43.0
5 Owen Kimple 11 FM 15:24.0 + 92 = 16:56.0 (181.3) 16:44.0
7 John Heron 11 FM 15:27.0 + 92 = 16:59.0 (180.3) 16:47.0
34 Tim Page 12 Fayetteville-Manlius 16:29
42 Danny Marnell 11 Fayetteville-Manlius 16:37

10/9 - Put an exclamation point on their McQuaid statement, improving on their 19 to a perfect 15 at Manhattan Inv with unprecedented sweep of first 5 places against CBA and all-time record 2.5-mile avge of 12:48.82 at hilly Van Cortlandt Park.
1 Fayetteville-Manlius 15
1 Tommy Gruenewald 10 FM 12:41.9 + 235 = 16:36.9 (187.7) 16:24.9
2 Owen Kimple 11 FM 12:48.4 + 235 = 16:43.4 (185.5) 16:31.4
3 Jared Burdick 12 FM 12:49.5 + 235 = 16:44.5 (185.2) 16:32.5
4 John Heron 11 FM 12:50.7 + 235 = 16:45.7 (184.8) 16:33.7
5 Andrew McCann 11 FM 12:53.2 + 235 = 16:48.2 (183.9) 16:36.2
27 Jeoff King Fayetteville-Manlius 13:47.0
83 Bayes Fayetteville-Manlius 14:47.4

Train for three weeks
10/16 - off
10/23 - off

10/30 - Now US#1, they are perfect again, sweeping the OHSL Championships @ Tully HS on a 16:10 average with a 29-second compression.
1. 15 Fayetteville-Manlius (16:10.8 80:53.6)
========================================
1 1 Tommy Gruenewald SO 15:54.5
2 2 Jared Burdick SR 15:58.3
3 3 Owen Kimple JR 16:17.7
4 4 Andrew McCann JR 16:19.7
5 5 John Heron JR 16:23.4
10 10 Geoff King SO 2 Fayetteville-Manlius 16:51.2 5:26 CA 7
14 14 Danny Marnell JR 6 Fayetteville-Manlius 17:07.0 5:31 CA 8

11/6-Perfect again in winning Section III Class AA with 16:31 avg in muddy conditions. Remember, the first time they ran the course their fastest guy was 16:31.
1. 15 Fayetteville-Manlius (16:31.5 82:37.3)
PLACE PTS NAME PLACE SCHOOL TIME Rating
--------------------------------------------------------------------- ------
1 1 Tommy Gruenewald SO 1 Fayetteville-Manlius 16:15.1 190.0
2 2 Jared Burdick SR 1 Fayetteville-Manlius 16:31.0 184.7
3 3 Andrew McCann JR 1 Fayetteville-Manlius 16:32.0 184.3
4 4 John Heron JR 2 Fayetteville-Manlius 16:35.6 183.1
5 5 Owen Kimple JR 3 Fayetteville-Manlius 16:43.6 180.5
13 13 Danny Marnell JR 7 Fayetteville-Manlius 17:42.2 5:42 10.5
14 14 Tim Page SR 3 Fayetteville-Manlius 17:45.0 5:43 10.5

11/13- NY State Championships @ Chenango Valley State Park. Is there a chink in the Fayetteville-Manlius NY armor? Maybe a little one. US#1 FM didn't sweep, but they still handled a talented field in the Class AA boys, going 7-8-13-15-23, with displacers, scoring 32 points, 22 better than NE#2 Lockport.
1 Fayetteville Manlius 32
ind team number name time
-----------------------------------------------------------------
7 3 315 Jared Burdick-12 16:11.1
8 4 317 Owen Kimple-11 16:14.9
13 6 318 John Heron-11 16:23.8
15 7 319 Tom Gruenewald-10 16:26.9
23 12 316 Andrew McCann-11 16:38.3
51 28 321 Geoff King-10 17:13.8
52 29 320 Danny Marnell-11 17:14.4
Score : 32 Time gap (1 - 5): 0:27.2 Time total (1 - 5): 81:55.0

11/20 - NY Federation Champs @ Bowdoin Park - OK, the 12-second spread that Fayetteville-Manlius unleashed on an unsuspecting Manhattan Invitational field was pretty impressive. Well, try just nine seconds at Feds. Soph Tom Gruenewald led the pack at 16:09 in 6th place, and in less time than you can zap your coffee, Andrew McCann, Owen Kimple, John Heron and Jared Burdick were across the line; the final scorer in 16th. Their 34 points ultimately dispelled any discussion about their status as the nation's #1 team.
1. 34 Fayetteville-Manlius (16:15.2 81:15.6)
=============================================
1 3 Tom Gruenewald SO 16:09.5
2 4 Andrew McCann JR 16:12.8
3 8 Owen Kimple JR 16:16.8
4 9 John Heron JR 16:17.7
5 10 Jared Burdick SR 16:18.8
6 ( 44) Danny Marnell JR 17:14.6
7 ( 72) Geoff King SO 17:32.4