Northeast Region Nov 27, 2004 at Van Cortlandt Park, New York NY
Nicole Blood leads a record 4 Saratoga NY girls into finals and "best ever" talk heats up again; Chris Barnicle wins "an absolute war" by 7 seconds with next eight runners in a 7-second blanket.

Don Rich report - History re-written again at historic Van Cortlandt Park
Ed Grant report - Unprecedented feat by Saratoga girls
There's electricity, and then... there's kinetic energy - Don Rich talks to Saratoga
Chris Barnicle Q&A "I didn't use my crazy kick or anything like that. I'll save that for San Diego."

Girls seeded race slide show - Boys seeded race slide show

Boys
1.Chris Barnicle MA 15:27
2. Cory Thorne NH 15:36
3. Bobby Papazian NJ 15:37
4. Ryan Sheridan NY 15:38
5. Kevin Tschirhart NY 15:39
6. Jeff Weiss PA 15:43
7. John Martinez NY 15:43
8. Craig Miller PA 15:43
9. Tradelle Ward CT 15:47
10. Ayalew Taye ME 15:54
Girls
1.Nicole Blood NY 17:42
2. Aislinn Ryan NY 17:47
3. Hannah Davidson NY 17:52
4. Nichole LIster NY 18:11
5. Lindsay Ferguson NY 18:16
6. Caitlin Lane NY 18:19
7. Laura Cummings NY 18:19
8. Kathleen Dicamillo NY 18:23
9. Chantelle Dron NH 18:30
10. Brittany Sedberry NJ 18:33

We're going to San Diego!

John Martinez, Jeff Weiss and Craig Miller race for the last qualifying spots at the Foot Locker Northeast regional in Van Cortlandt Park, New York. They finished 7th, 6th, and 8th. photo by Don Rich

Saratoga girls are together early and late

Nicole Blood wins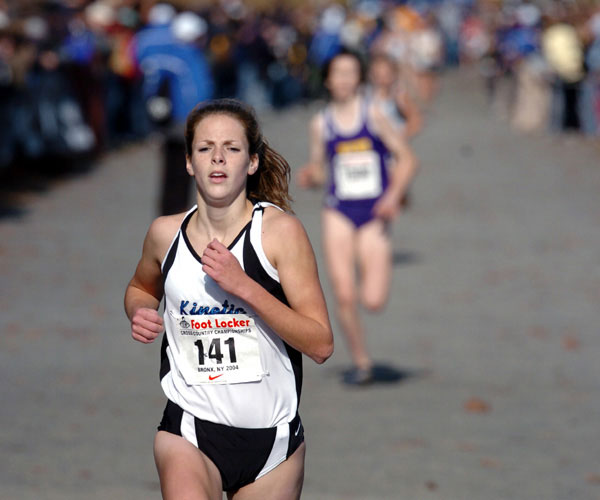 Chris Barnicle wins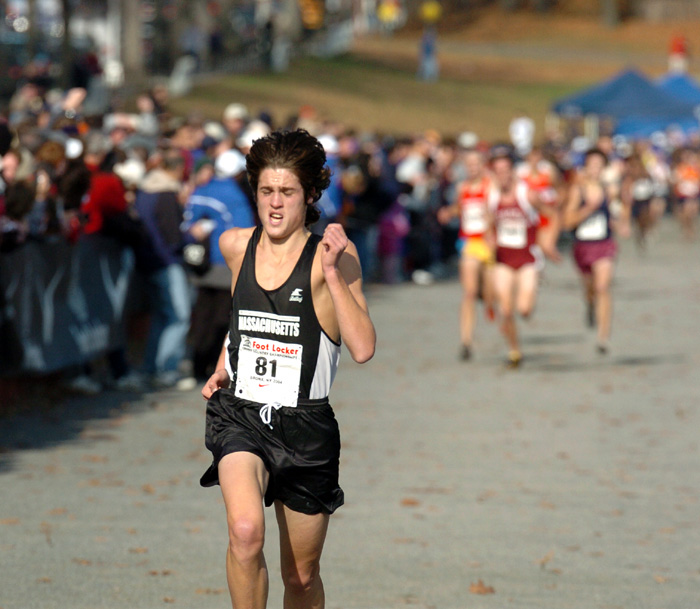 photos by Don Rich

History re-written again at historic Van Cortlandt Park
by Don Rich
Historic Van Cortlandt rewrote history once again. It was a race that demonstrated sheer talent, finely honed and precisely aimed. The Saratoga girls were targeting San Diego, and they hit the mark. Nicole Blood (17:41.8), Hannah Davidson (17:52.1), Lindsey Ferguson (18:16.2) and Caitlin Lane (18:18.3) went 1-3-5 and 6...that's right, half of the Foot Locker finalist berths! And New York runners swept all eight spots. Three girls broke 18, with a brisk headwind for the first 600 meters of the race, and the buzz about the country's #1 team is heading for legendary proportions. First, the non-Saratoga qualifiers. Aislinn Ryan of Warwick Valley took it out hard, and by the first turn had pulled the eventual finalists into her slip-stream. She ran behind Blood much of the race, and finished 2nd in 17:46.8. New York's Nichole Lister moved up from 9th in 2003 to grab 4th in 18:10.6. Laura Cummings of Bay Shore will return to the national race after a one-year hiatis, finishing 7th in 18:19.0. And Holy Family's Kathleen Dicamillo was 8th in 18:23.2. Chantelle Dron, the homeschooler who went in 2002, nearly qualified outright, finishing as the first runnerup in 18:30.0. And
2003 finalist Brittany Sedberry was 10th in 18:33.0. They still have a chance to go under the new NTN-Foot Locker qualifying arrangement.
Saratoga coach Art Kranick said his US#1 team may have even more amazing races in them."We haven't tapered back yet. We'll see if we can improve on what we did today. If that's possible." He echoed the sentiment veteran coaches and pundits alike were sharing after the amazing display, that this is the best (high school girls') team in the US, ever.
The guys' race was an absolute war. 2003 finalist Cory Thorne of Portsmouth, NH will return to San Diego. He finished 2nd in 15:36.5.
But it was Chris Barnicle of Newton MA who pushed the pace after entering the woods, then put it away going up the final hills, before backing off on the finish to win comfortably in 15;27.2. The pack entering the woods was huge, as they had tried to tuck behind other runners on the start to avoid the wind. But Barnicle was afraid "the kickers" would endanger his race, so that's when he decided to accelerate. Other favorites fared very well, with NJ champ Bobby Papazian 3rd in 15:37.2; super soph Ryan Sheridan of NY, 4th in 15:37.8; an obviously healthy again Kevin Tschirhart of NY, 5th in 15:39.3; Jeff Weiss, of McGuffey, PA, the first of two PA qualifiers, 6th in 15:42.6; John Martinez of NY, 7th in 15:42.8, and 4:06 miler Craig Miller of Manheim Township, 8th in 15:43.0. Two other favorites were the alternates, Tradelle Ward, CT, and Ayalew Taye, ME, 9th and 10th. Barnicle was pleased with his race, but already looking forward to December 11th after missing out last year because of lost training to injuries, "I'm just as strong as those guys. I think I can take it."
Unprecedented feat by Saratoga girls
by Ed Grant
Saratoga Springs (NY) performed the unprecedented feat of placing four runners among the top eight at the Footlocker Northeast Regional meet today (Nov. 20) at historic Van Cortlandt park.
Running as the Kinetic TC, Nicole Blood and her teammates took four of the first six places as New York swept the field, claiming all eight automatic qualifying positions in the girls' race.
Blood scored her third win of the season over Aislinn Ryan of Warwick Valley, finishing 25 yards ahead in 17:41. Ryan, who had led the field into the hills ran 17:46 with Hannah Davidson of Saratoga third in 17:52. The other Saratoga qualifiers were Lyndsey Ferguson in fifth at 18:16 and Caitlynn Lane in sixth at 18:18. All four return next year; Davidson and Lane are freshmen.
The boys' race went as expected with Chris Barnicle of Newton North, Mass., winning by 45 yards from Cory Thorne of Portsmouth, N.H., in 15:27. New Jersey state champion Bobby Papazian of Gill-St. Bernard's School, nipped Melville, N.Y., soph Ryan Sheridan for third in 15:37 with Kevin Tschirhart of Northport, N.Y., fifth in 15:39. New York also claimed the most qualifying positions in this race with John Martinez of North Rockland finishing seventh to join Sheridan and Tschirhart in the San Diego finals.
Chris Barnicle Q&A with Don Rich
"I didn't use my crazy kick or anything like that. I'll save that for San Diego."
Did the race go out a little slower than you thought it might?
"It was the wind, it was pretty bad. It was in my face the whole way, and I got a pretty good start, so I was right up front. I tried to tuck in right behind Cory Thorne a little bit, but it didn't really work. Coming around the Foot Locker guy I was thinking we were jogging. And I was worried about getting out-kicked by a bunch of people because it went out so slow. I'm not that confident in my kick, even though my coach says I have a pretty good kick.
"After the first mile, there's a slight downhill, and I pushed it a little bit on that and that separated the pack. Corey and Kevin and another guy were with me. Then after the next-to-last uphill, I really pushed it on the downhill, and that really separated the pack. It was just Kevin with me, and we pushed it. It was a lot like the race at Manhattan where it was Kevin and I, and I thought if I was able to get him at Manhattan, I could get him here. I pushed more on the downhills, and coming onto the field, I heard I had a 30 meter lead, so I sort of relaxed. I didn't use my crazy kick or anything like that. I'll save that for San Diego."
What's the finals look like to you?
"I think it's Scott MacPherson, Andrew Bumbalough, maybe that kid from Colorado, John McGuire has been running pretty well (McGuire survived a three-man dash for the 7th and 8th spots, getting the nod by less than a second in the Midwest). I think they're all strength runners and that it will come down to the end. No one is going to be running the last 400 meters in 54, so I think whoever is strongest will win the race, if it goes out well. And if it comes down to 400 meters, I think I'm just as strong as those guys. I think I can take it."
What's the difference between narrowly missing it last year, and this year?
"I was injured last year. I got shinsplints and I was out for a week-and-a-half to two weeks and I aqua jogged every other day, but still I lost fitness. By then it was mid-October, probably the most important part of the season. So I feel like I should have qualified last year. Last year was a sick field. It was the best field the Northeast has ever had. It was stacked last year, so I kind of shrugged it off and said 'I'll get them in track. And I got most of them, except McDougal."
One of the Northeast runners wore a GPS watch in the race. Here is the satellite tracking of his race at Van Cortlandt Park

provided by Terry Reiber
Some of the nation's finest runners ever have planted their spikes on the Van Cortlandt Park course, where Broadway turns from bright lights to sylvan delights. Take the 7th Avenue subway to the end of the line, which is an elevated station at 242nd street, and you will see the huge, inflated "Foot Locker man" guarding the first turn 800 meters into the race.
Schedule
| | |
| --- | --- |
| 8:30 a.m. | Walk Through |
| 9:45 a.m. | Freshman Boys |
| 10:10 a.m. | Freshman Girls |
| 10:40 a.m. | Sophomore Boys |
| 11:10 a.m. | SEEDED GIRLS |
| 11:45 a.m. | SEEDED BOYS |
| 12:10 a.m. | Sophomore Girls |
| 12:40 p.m. | Junior Boys |
| 1:05 p.m. | Junior Girls |
| 1:30 p.m. | Senior Boys |
| 1:55 p.m. | Senior Girls |
Top Returnees - (undergrads in last year's top 50)
BOYS

GIRLS

5 Thorne, Cory 11 PORTSMOUTH NH 15:29.7
10 Barnicle, Chris 11 NEWTON MA 15:42.1
15 Papazian, Bobby 11 PITTSTOWN NJ 15:59.5
20 Giddings, Eric 11 SOUTH PORTLAND ME 16:05.6
29 Tschirhart, Kevin 11 NORTHPORT NY 16:13.7
32 Majak, Guor 11 CONCORD NH 16:23.5
35 Smith, Leo 11 EAST ROCHESTER NY 16:25.5
36 Mcdermott, Kevin 11 WEST HEMPSTEAD NY 16:26.7
37 Eden, Will 11 EDGEWATER MD 16:27.1
42 Miller, Levi 11 BELFAST ME 16:29.8
43 Koloseus, Jay 10 Guilford CT 16:30.7
46 Hall, Alex 10 MANCHESTER NH 16:33.3
48 Forys, Craig 9 HOWELL NJ 16:34.6
50 Raucci, David 11 Germantown NY 16:37.7

1 Blood, Nicole 10 GANSEVOORT NY 17:44.7
2 Sedberry, Brittany 10 Beesley's Point NJ 18:16.4
3 Ryan, Aislinn 10 BELLVALE NY 18:21.0
4 Ferguson, Lindsey 10 GREENFIELD CTR NY 18:23.9
7 Clausen, Jennifer 10 JACKSON NJ 18:26.1
8 Kieffer, Allison 11 WEST ISLIP NY 18:26.7
9 Lister, Nichole 11 Rodman NY 18:31.3
11 Cummings, Laura 11 BAY SHORE NY 18:36.2
13 Junod, Nicki 10 Cicero NY 18:41.2
14 Crane, Shannon 11 DEPEW NY 18:44.0
20 Salamon, Ruby 11 SARATOGA SPRINGS NY 19:05.0
21 Lyons, Kerri 10 WILTON CT 19:05.9
22 Mckinney, Arianna 11 BLACKWOOD NJ 19:07.3
23 Dougherty, Ellen 11 WADING RIVER NJ 19:09.4
24 Parks, Marie 11 North Syracuse NY 19:11.1
25 Laakso, Christine 12 FITCHBURG MA 19:13.9
26 Brogan, Leah 11 TOMS RIVER NJ 19:16.7
28 Vahanian, Cameron 10 GANSEVOORT NY 19:21.5
29 Heigis, Clara 9 WALPACK NJ 19:22.3
32 Brousell, Anna 10 WILMINGTON DE 19:25.2
34 Cundy, Fiona 11 ENDWELL NY 19:27.6
40 Stensland, Juli 11 GLEN GARDNER NJ 19:38.2
41 White, Katie 11 BURLINGTON VT 19:39.3
42 Nagle, Emily 11 ANNAPOLIS MD 19:41.2
43 Swayne, Kerry 9 HORSHAM PA 19:41.7
45 Petri, Lindsay 10 GIRARD PA 19:42.6
46 Smith, Amanda 11 GREEN BROOK NJ 19:43.1
48 Dicamillo, Kathleen 11 GARDEN CITY SOUTH NY 19:44.0 49 Sinclair, Halsey 9 SILVER SPRING MD 19:44.5
50 Delay, Karyn 11 SARATOGA SPRINGS NY 19:45.2
Prior Years on DyeStat
1st place

8th place

Fastest

Slowest

Fastest

Slowest

BOYS

15:23

15:38

15:31

15:54

GIRLS

17:34

18:07

18:19

18:32
2003 - Nicole Blood stands alone, Ben True edges an 8-second pack
BOYS
GIRLS
1 True, Benjamin 12 NORTH YARMOUTH ME 15:22.8
2 Gras, Victor 12 BELMONT MA 15:25.1
3 Coombs, Gavin 12 GRISWOLD CT 15:27.9
4 Mcdougal, Joshua 12 PERU NY 15:28.6
5 Thorne, Cory 11 PORTSMOUTH NH 15:29.7
6 Lomong, Lopez 12 MARIETTA NY 15:30.0
7 Anderson, Jonathan 12 CINNAMINSON NJ 15:30.4
8 Haji, Ahmed 12 W HARTFORD CT 15:30.9
9 Khadraoui, Mohamed 11 Paterson NJ 15:35.1
10 Barnicle, Chris 11 NEWTON MA 15:42.1
1 Blood, Nicole 10 GANSEVOORT NY 17:44.7
2 Sedberry, Brittany 10 Beesley's Point NJ 18:16.4
3 Ryan, Aislinn 10 BELLVALE NY 18:21.0
4 Ferguson, Lindsey 10 GREENFIELD NY 18:23.9
5 Koons, Frances 12 Allentown PA 18:24.7
6 Donaldson, Lindsay 12 LINCOLN MA 18:25.4
7 Clausen, Jennifer 10 JACKSON NJ 18:26.1
8 Kieffer, Allison 11 WEST ISLIP NY 18:26.7
9 Lister, Nichole 11 Rodman NY 18:31.3
10 Centrowitz, Lauren 12 ARNOLD MD 18:31.9
2002 - Brendan Fennell is leader of a gang finish; Ari Lambie tops Blood
BOYS
GIRLS
1. Brendan Fennell NY 15:33
2. Hakon Devries NY 15:34
3. Jon Pastore PA 15:36
4. Kevin Tschirhart NY 15:37
5. Ben True ME 15:37
6. Ian Gottesfeld PA 15:38
7. Ahmed Haji CT 15:40
8. Victor Gras MA 15:48
9. Josh McDougal NY 15:51
10. Justin Scheid NJ 15:52
1. Ari Lambie MA 17:34
2. Nicole Blood NY 17:48
3. Katy Trotter NJ 17:56
4. Chantelle Dron NH 18:09
5. Meghan Owen CT 18:11
6. Caitlin McTague NY 18:12
7. Laura Cumming NY 18:14
8. Sara Powell MA 18:19
9. Angie Saterstad PA 18:37
10. Jesse Mizzone NJ 18:39
2001 - Natasha Roetter repeats; Peter Meindl wins boys.
BOYS
GIRLS
1. Peter Meindl NY 15:29
2. Jonathan Pierce NY 15:32
3. Andy Weilacher PA 15:35
4. Mint Henk VT 15:35
5. Brian Dalpiaz NY 15:37
6. Marc Pelerin NJ 15:40
7. Tony Truax NH 15:41
8. Ben Stern MD 15:43
9. Brendan Sullivan NY 15:49
10. Andrew Pitts MA 16:00
1. Natasha Roetter MA 17:48
2. Molly Huddle NY 17:59
3. Tracey Brauksieck NY 18:00
4. Laurel Burdick NY 18:14
5. Liz Gesel NH 18:19
6. Jessica Cickay PA 18:21
7. Lindsay Van Alstine NJ 18:25
8. Stephanie Madia PA 18:27
9. Caroline Bierbaum MA 18:31
10. Kristin Coon NY 18:32
2000 - Seton McAndrews and Natasha Roetter
BOYS
GIRLS
1 SETON MC ANDREWS 12 NY 15:33.3
2 BRIAN MC GOVERN 12 CT 15:34.2
3 JUSTIN ROMANIUK 12 NY 15:43.7
4 PATRICK BENSEN 12 MA 15:45.4
5 BRENDAN FENNELL 10 NY 15:45.7
6 MINT HENK 11 VT 15:46.1
7 CHARLES MILLIOEN 12 NY 15:46.3
8 PETER MEINDL 11 NY 15:49.6
9 MARC PELERIN 11 NJ 15:50.1
10 BRIAN BOYETT 12 NJ 15:53.6
1 NATASHA ROETTER 11 LEXINGTON MA 17:58.2
2 MEGHAN OWEN 10 DANIELSON CT 18:07.9
3 JULIA PUDLIN 11 BRYN MAWR PA 18:08.9
4 DANIELLE COON 12 GANSEVOORT NY 18:11.2
5 NICOLE BOYKIN 12 WHITE PLAINS NY 18:12.5
6 ANGELA KUDLA 11 PENDELTON NY 18:27.6
7 LAUREL BURDICK 11 MANLIUS NY 18:29.7
8 MICHELLE WALE 12 PINE BUSH NY 18:31.6
9 CATHA MULLEN 10 BRONXVILLE NY 18:40.5
10 ANGIE SATERSTAD 10 LYKENS PA 18:41.1
1999 - Dan Coval and Melissa Donais

BOYS
GIRLS
1 DAN COVAL 12 HOLLAND PA 15:38
2 TRISTAN COLANGELO 12 GLOUCESTER MA 15:47
3 DAVID BARRETT 12 LONDONDERRY NH 15:47
4 JARROD SHOEMAKER 12 SUDBURY MA 15:48
5 COLIN INGRAM 12 NORTH HAMPTON NH 15:48
6 BRIAN MC GOVERN 11 NEWTOWN CT 15:50
7 SCOTT MUNRO 12 LIBRARY PA 15:51
8 JOSHUA BARCHARO 12 SOMERVILLE MA 15:54
9 BRIAN KERWIN 12 POINT PLEASANT NJ 15:59
10 JOSEPH IATAURO 12 GRAHAMSVILE NY 16:05
1 MELISSA DONAIS 10 BRADFORD MA 18:07
2 DANIELLE JELLEY 12 WESTBURY NY 18:12
3 JILLIAN MASTROIANNI 12 SAYVILLE NY 18:14
4 LAUREL BURDICK 10 MANLIUS NY 18:16
5 KATHRYN POLIZZOTTO 12 STOW MA 18:20
6 MOLLY LANDRETH 11 NEWBURYPORT MA 18:21
7 CODI VACHON 11 MANCHESTER NH 18:22
8 TRACEY BRAUKSIECK 10 CUYLER NY 18:25
9 MICHELLE WALE 11 PINE BUSH NY 18:36
10 JESSICA SCHENK 12 GROTON CT 18:40
Foot Locker Championship index page