DyeStat Elite - 11,617 performances that won listing in DyeStat's own national rankings - there were 3,573 in cross country - 3,500 indoor - 4,544 outdoor.
Top Returnees - DyeStat Elite performers who will be back in 2004 - we have 3,776 returnees, including a bunch of 2003 US#1 performers.

Outdoor - Nine US#1 performers from the 2003 boys rankings will be back in 2004. Florida's football-sprinter stud Xavier Carter is a triple top returnee (100, 200, and 400). Jason Richardson (110H, 400H) is a double leader. On the girls side, Alandra Sherman was the US#1 hurdler of 2003 at 100m and 300m so she is naturally the top returnee for 2004. Shalonda Solomon, brilliant anchor of Poly Long Beach CA's record setting relay teams, moves up as top bet to fill Allyson Felix's shoes in the 100 and 200. Katya Kostetskaya, from Arkansas via Russia, starts her junior year top rated in the 800 and 400H (European junior champion).
Indoor - Very talented returning group of girls led by 3-event leaders Natasha Hastings (300, 400 and USR 500) and Erica McLain (55H, LJ, TJ). Double event leaders are Katya Kostetskaya (800, 1500), Sarah Bowman (1000, Mile), and Nicole Blood (3000, 2-mile). Galen Rupp (3000 and 2-mile) is the only double leader in the boys lists.
Cross Country - Foot Locker finalists lead three of the four returnee lists, including girls champion Zoe Nelson, Flathead MT, who had the four best 3-mile times of the 2002 season and then won at 5k in San Diego, plus Nicole Blood (17:04 5k) and Galen Rupp (14:56 5k). The fourth leader is Mark Matusak (14:20 3 miles).
New Faces - the freshmen (and younger) athletes who made DyeStat Elite national rankings. These are the stars of the future, and for some, like Nicole Blood, the future is now. Proving again that girls mature earlier than boys, there are 387 girls on these lists and only 31 boys - 418 new faces

Outdoor - North Carolina hurdler Kris Fant is the leader at both 110m and 300m. Elizabeth Olear, the newest of California's inexhaustible flow of girl sprinters, leads at 100 and 200 meters.
Indoor - Nicole Blood, already in her third year on the Saratoga NY varsity, leads five events from 1000 to 2-mile. Shana Woods, who cracked the lineup of the record setting Poly Long Beach CA relay squads, leads three events.
Cross Country - Foot Locker finalist Nicole Blood leads the 5k list.

right, Maryland 8th grader Devon Williams, second on the New Faces 800m list at 2:09.72.
Nike Athletes of the Year - the select few who dominated in 2003. (coming)
2003 World Championships
in Athletics
Aug 23-31, Paris France


Day 5 Aug 27 - TV today at 2:30 pm Eastern ESPN2

M-200 round 1 and quarters.
W-200 semis
W-100H finals
W-1500 prelim
M-1500 final
W-400 final
Decathlon second day - US champion Tom Pappas is second after 5 events.

Day 4 Aug 26

Allyson Felix signs pro contract with adidas.
Rich Gonzalez' insider story on DyeStatCal.
W-200 quarters - Torri Edwards 22.66 and Kelli White 22.67 win 200m quarterfinal heats, but Allyson Felix 23.33 is sixth and out by 0.04.
W-200 1st round - Allyson Felix 23.46 -0.6 is fourth in heat, but advances to quarter finals at 8 pm Paris time. 100m champion Kelli White 22.97 +0.2 wins her heat. Torri Edwards 22.83 -0.7 is second in her heat and advances. Another US high school runner, Virgil Hodge of Washington Irving HS NY, ran for St. Kitt's and Neves. She was sixth in Felix' heat in 24.17 and did not advance.
M-400H round 1 - Joey Woody 48.53 is the 2nd fastest heat winner (Olympic champion Felix Sanchez 48.43). Eric Thomas 48.87 also advances.
M-PV prelims - Derek Miles, Tim Mack advance to finals. Jeff Hartwig out.
W-100H semis - Jenny Adams, Miesha McKelvy advance to the finals; Gail Devers does not. In a heat with two false starts and two stand ups, Devers breaks fast but slips to third.
M-400 final - USA goes 1-2-6 with Jerome Young 44.50, Tyree Washington 44.77 and Calvin Harrison 44.96.
Decathlon 400 - Tom Pappas USA 47.58 runs a PR, but Dmitry Karpov KAZ goes a tick faster at 47.33 to hold his lead at the end of Day 1, 4599 to 4546. USA's Bryan Clay did not finish and dropped from 3rd to 16th overall.
Decathlon HJ - Tom Pappas 6-10.25 was second in the high jump to move into second place with 3616 points after four events. Dmitry Karpov KAZ 6-11.5 was first in the high jump and first overall with 3657 points. USA's Bryan Clay, the previous leader, slipped to third with 3529 points.
W-5000 prelim - Lauren Fleshman ran a personal best 15:12.71 but was 11th and out.

Day 3 Aug 25 - Men's 100 sprinters, Stacy Dragila fall. Women's hurdlers win big.
DyeStat Elite Stats
4,542 performances in final 2003 outdoor lists
Ari Lambie leads three events, and Allyson Felix and Katya Kostetskaya lead two. Xavier Carter and Kerron Clement lead two and just miss in a third. Eight new US records.
Tables show the cutoff for ranking (intended to yield the top 100 athletes in National Federation events, less in others), how many athletes made the cutoff, and who was the best performer of the season.
BOYS

Event

Cutoff

#

Best

B-100

10.70

125

Earvin Parker TX 10.29

B-200

21.60

103

Xavier Carter FL 20.69

B-400

48.20

88

Xavier Carter FL 45.88

B-800

1:54.3

139

Mike McGrath OR 1:48.56

B-1500

4:00

25

Sam Vazquez FL 3:46.47

B-Mile

4:18

110

Steve Magness TX 4:01.02

B-3000

8:45

35

Galen Rupp OR 8:10.42

B-2Mile

9:20

95

Chris Solinsky WI 8:46.44c

B-110H

14.30

100

Jason Richardson TX 13.51

B-300H

38.30

94

Kerron Clement TX 35.42

B-400H

54.50

45

Kerron Clement TX 50.13

B-HJ

6-8

128

Scott Sellers TX 7-3.25
Mike Morrison NJ 7-3.25

B-LJ

23-3

101

Ramonce Taylor TX 25-0.75

B-TJ

47-2

111

Chessley Johnson TX 51-1

B-PV

15-0

118

Tommy Skipper OR 18-3 USR

B-SP

58-0

94

Zach Lloyd NV 66-7.75

B-DT

170-0

132

Leif Arrhenius UT 209-6

B-JT

190-0

44

Thomas Jordan PA 224-2

B-4x100

42.00

94

Bowie Arlington TX 40.06

B-4x200

1:29

123

Port Arthur Memorial TX 1:24.12

B-4x400

3:19

94

Winslow NJ 3:10.47

B-4x800

7:58

135

Hoover N. Canton OH 7:41.74

B-SMR

3:38

78

Vineland NJ 3:22.75

B-DMR

10:35

66

Saline MI 10:10.69
GIRLS

Event

Cutoff

#

Best

G-100

12.00

122

Allyson Felix CA 11.29

G-200

24.54

102

Allyson Felix CA 22.11 USR

G-400

56.00

112

Stephanie Smith GA 52.04

G-800

2:14

101

Katya Kostetskaya AR 2:05.95

G-1500

4:44

54

Ari Lambie MA 4:20.20

G-Mile

5:04

135

Ari Lambie MA 4:37.23

G-3000

10:15

42

Megan Kaltenbach CO 9:44.21

G-2Mile

11:03

130

Ari Lambie MA 10:11.90

G-100H

14.54

114

Alandra Sherman TX 13.25

G-300H

44.50

112

Alandra Sherman TX 41.24

G-400H

63.50

56

Katya Kostetskaya AR 57.52

G-HJ

5-6.5

101

Sharon Day CA 6-2

G-LJ

18-9

85

Tianna Madison OH 20-7.25

G-TJ

38-6

101

Erica McLain TX 43-1

G-PV

11-3

102

Kira Costa CA 13-8.5

G-SP

42-6

92

Michelle Carter 54-10.75 USR

G-DT

137-0

80

Billie Jo Grant CA 183-6

G-JT

135-0

47

Angela Hoover PA 159-7

G-4x100

48.00

105

Alief Elsik TX 44.63

G-4x200

1:43

113

Alief Elsik TX 1:34.51 USR

G-4x400

3:56

111

Poly Long Beach CA 3:35.55 USR

G-4x800

9:32

118

Bayshore NY 8:53.26

G-SMR

4:15

38

Wilson Long Beach CA 3:53.28 USR

G-DMR

12:40

74

Red Bank NJ 11:37.86 USR
More rankings
Gourley's list - Hammer Throw rankings updated July 27.
Jim Spier's Top 5 - Jim's June 11 update.
Roth's Race Walk -- updated July 3
---
2003-2004 Meet Calendar - It's early, but we need meet information now on all major meets for cross country, indoor and outdoor. Send specifics - name of meet, date, place, contact information, and any other significant information by email to John Dye at [email protected]
Allyson Felix is considering turning pro, Long Beach newspaper reports.
Solinsky, Grayson are Wisconsin Athletes of the Year
Stevens Point sr Chris Solinsky and Catholic Memorial sr Brittany Grayson were named 2003 Wisconsin athletes of the year by wisconsintrackandfield.com. Solinsky was the Foot Locker cross country national champion and US#1 at 3200 meters. Grayson was Wisconsin Div 1 hurdle champion at 100 and 300 meters.
College Choices 2003 - National letter of intent signing period ended August 1. We have 1,386 college choices by the class of 2003.
About Us - the story of DyeStat, 1995 to 2004
High school track is getting bigger and better,
and the Internet is a big reason -- Jeff Hollobaugh on espn.com.


Nike ID shoes - purchases help support DyeStat


Hawaii September 20, 2003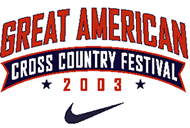 Sep 26-27 Cary NC
the Harrier
Cross Country Report
Award winning track writer Marc Bloom's unrivalled coverage of high school cross country and distance running.
8 issues for $32
SUBSCRIBE NOW
and get big
Pre-Season issue in late August

click here to shop at Eastbay;
purchases help support DyeStat