| Results, stories and pix: Boys - Girls | Photo Albums: the unique start - Boys race - Girls race
| Donna on the Side - 80 photos of the sideline scenes
| Preview | Schedule | Prior Years | the meet's own web site | Poster | Entries: OR girls - OR boys - WA girls - WA boys
Washington Sweeps
Boys: WA 89, OR 124. Girls: WA 102, OR 111
Galen Rupp OR 13:47 leads six boys under 14 minutes (4.5k course)
Katie Leary OR 16:00, 31 seconds faster than last year's winner
Start of boys race, after runners merge in the center of the field.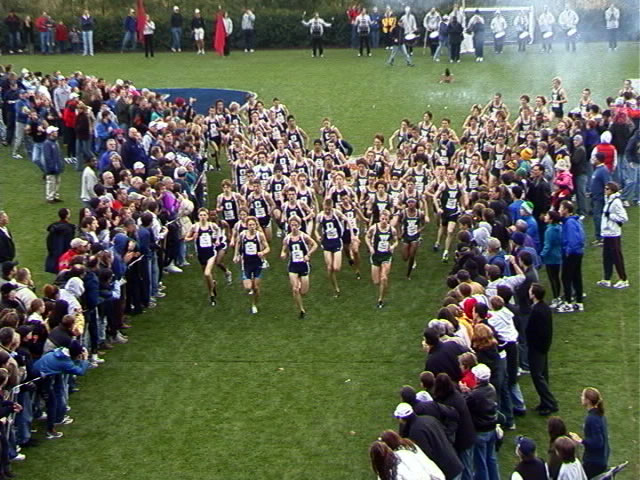 Now in its fifth year, this unique meet is already a classic in the Pacific Northwest. The top 40 boys and top 40 girls from each state's cross country championship are invited to a weekend in Beaverton. After registering in the Prefontaine Building, with Pre's statue and museum nearby, the 160 athletes enjoy a Saturday night dinner with name runners. Then, on Sunday morning, the two states race toward each other in medieval jousting style before turning in to the 4600 meter course that winds through the spectacular campus of Nike world headquarters.

Athletic images are everywhere on the Nike campus, including the bigger than life size poster of Steve Prefontaine (left) and the statue of Michael Johnson, complete with gold spikes, at the track in the woods (right).
Preview
Leading runners.
OR girls
Katie Leary (Klamath Union HS, Klamath Falls, OR) 2003 Oregon state 4A XC champ, 3x BC qualifier
Danielle Jordan (North Medford HS, Medford, OR) 3rd place 2003 Oregon state 4A XC, runner up 2003 state 4A 3000m, top Oregon returnee from BC 4 (4th place at BC4), 2002 state 3A 3000m champ.4x BC qualifier.
Megan Armstrong (Tualatin HS, Tualatin, OR) 4 x state 4A track champ at 1500m and 3000m (2002 and 2003), 2002 state 4A xc champ
OR boys
Galen Rupp (Central Catholic HS, Portland, OR) 2 x oregon state 4A xc champ (2002/2003), 2003 state 4A track 3000m champ, Foot Locker national finalist 2002 and considered one of the favorites for 2003, 3x BC qualifier, top returning BC from 2002.
Ryan Vail (Gresham HS, Gresham, OR) Runner-up 2003 state xc, 4th at 2003 state 4A track meet.
Stuart Eagon (Beaverton HS, Beaverton, OR) 3rd place 2003 4A state xc champs, 4th place in 2 mile at national Outdoor Track champs.
Zuber Ahmed (Benson HS, Portland OR) - 4th place 03 4a XC Champs - Great story here. I think there has been an article in the Oregonian about him.
WA girls
Brianna Felnagle (Bellarmine Prep, Tacoma, WA) 2003 state 4A 1600m champ. 2003 state 4A 800m runner-up.
Stephanie Lenihan (Davis HS, Yakama, WA) 2002 1st team all state xc, 2003 1st team all state track
Amanda Miller (Eastmont HS, Yakama, WA) Defending BC 4 champ, 2003 state 4A 800m champ. 2003 state 4A 1600m runner-up. 2002 state track 3A 800 & 1600m champ, 2001 3A XC champ
WA boys
David Kinsella (Inglemoor HS, Kenmore) 3rd state track 1600m, 4th state track 3200m
Laef Barnes (Mead HS, Spokane, WA) 3rd at BC 4 (Top washington returnee) 2003 state 3200m 3rd place.
Evan Garber (Mead HS, Spokane, WA)2003 state 3200m 3200m champ. 2003 state 1600m runner-up
Schedule
Saturday, November 22, 2003
| | |
| --- | --- |
| 2:00 - 3:30 | Registration |
| 3:30 - 5:00 | Course Run-through |
| 5:00 - 6:00 | Team Activity |
| 6:30 - 8:00 | Dinner / Presentation |
Sunday, November 23, 2003
| | |
| --- | --- |
| 10:30 | Girls' race |
| 11:15 | Boys' race |
| 12:00 | Awards presentation (the top 10 individuals in each race and top combined State team will receive special awards) |
Prior Years
2002 - A split decision is won by Oregon boys and Washington girls, ending a streak of two straight Washington sweeps. Just after the mile mark are the Japanese gardens. Below are Lauren Jesperson and Galen Rupp of Oregon and Carl Moe of Washington. They remained the top 3 to the end, with Moe kicking past Rupp for second.

.
top 10 runners score
BOYS

GIRLS

Year
Team
Individual
Team
Individual

IV

2002
Oregon 104, Washington 117
Lauren Jesperson OR 13:47
Washington 91, Oregon 126
Amanda Miller WA 16:31

III

2001

Washington 92, Oregon 133
Chris Lukezic WA 12:59
Washington 73, Oregon 170
Jessie McLaughlin WA 15:14

II

2000

Washington 104, Oregon 109
Michael Kiter WA 13:06
Washington 87, Oregon 130
Jodee Adams-Moore WA 15:25

I

1999

Oregon 69, Washington 103
Ian Dobson OR 12:13
Oregon 95, Washington 117
Paris Edwards OR 14:35
Note: The course was 2.5 miles the first year, 4200 meters the 2nd and 3rd years, and 4600 meters in year IV.