| Results | Schedule | Entry Information |
Meet cancelled due to more rain and mud.
The Dip becomes unpassable.
Postponed 2 weeks by Hurricane Isabel, the Bull Run Invitational at Hereford HS, north of Baltimore, was cancelled completely after one JV race Saturday (10/4) when runners were sliding downhill trying to climb The Dip. Already waterlogged by 62 inches of rain in the past year (20 more than normal), the course couldn't handle another half-inch of rain on race day. Meet director John Roemer said, "Many of the 382 runners in the boys JV/Open race could not run, much less remain vertical on the return through the Dip. Many runners simply sat down and slid nearly 60 feet, bouncing off the tree we cushioned with a mat ( photo below)."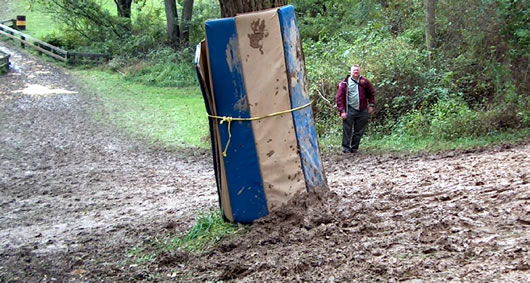 SANCTION: MPSSAA and NFHS for Maryland, Pennsylvania, Delaware,
Virginia, West Virginia, District of Columbia, New Jersey and
other states.
COURSE: 3.0 miles. Site of the Maryland State Cross Country
Championships. Grass and dirt trails with rolling hills and
two challenging trips into the Dip. Spikes permitted. Map is
on back of Reunion Run entry form and at the web site
http://www.milesplit.com/dyestat/.
DEADLINE: Entry form and fees must be received no later than
Friday, September 5. NO EXCEPTIONS.
ENTRY FEES: $50 Boys Team – 7 Varsity, unlimited JV.
$50 Girls Team – 7 Varsity, unlimited JV.
$85 for Girls + Boys teams. Schools must enter a varsity
team in order to enter JV events.
Nonscoring varsity teams (fewer than 5 runners) may
compete for individual awards. 1 runner – $25, 2 – $30,
3 – $35, 4 – $40.
MAIL TO: Hereford High School 410-887-1910
Attn: Mike Kalisz, Athletic Director 410-887-1944 FAX
17301 York Road
Parkton, Maryland 21120
ENTRY INFO: Each school may enter one boys and one girls varsity team
with a maximum of 7 runners each. JV races are open to all
other members of your team. For example, if your boys
team has 20 runners, 13 may run in the JV race. JV races
will not be scored. Coaches are responsible for their JV
runners' times & are allowed on the course during JV races.
Coaches are not allowed on the course in the finish area
during varsity races.

AWARDS: Varsity – Individual awards to the top 15 finishers.
Numbered ribbons to places 16-100, and participant ribbons
to all finishers thereafter. Team awards to the first 3 teams
and individuals on the first team. JV – Medals to the top 5 finishers and participant ribbons to every finisher thereafter.
DIRECTIONS: Interstate 83 to Exit 27, travel east on Mt. Carmel Road (Rte.
138) 0.5 mile to York Road. Left on York Road (north).
Hereford High School is 0.5 mile on right.
CONCESSIONS: Quality food and beverages are sold throughout the day.
Concessions are provided by the Hereford High School
Sports Boosters Club.
MEDICAL INFO: Towson Sports Medicine is providing certified athletic
trainers for the meet. We have medical stations at the finish
line and in a classroom adjacent to the course. This is the
same medical coverage we have at the Maryland State
Cross Country Championships.
LITTER: Bring trash bags to keep your area clean.
REST ROOMS: Rest rooms are available near the gymnasium. Portable
toilets are in the spectator's area.
COURSE WALKS: Course walks are held at 8:00 AM and 12:50 PM
T-SHIRTS: Custom-designed, long-sleeve T-shirts are available for
purchase. These four-color shirts sell out quickly, so take
advantage of the enclosed order form to receive a discount
and to reserve your shirts.
Long-sleeve T-shirt – $15 if ordered in advance.
$18 on race day.
All runners competing in the Reunion Run Open Race will
receive a T-shirt as part of the $15 entry fee ($18 race day).
BAD WEATHER: There is no rain date. We will run rain or shine.
ELITE RACES: Boys and girls varsity teams interested in a very competitive
event may run in elite races regardless of their school's
enrollment. Please indicate your interest in competing in
elite races on the entry form.

LARGE, MEDIUM, In addition to the elite races, we offer large, medium, and
SMALL RACES: small school divisions based on enrollment. We will send
coaches a schedule by September 12. Please provide a
carefully-printed e-mail address if you haven't already.
OPEN RACE: The Hereford Bull Run Invitational also hosts the Reunion
Run for adults and children in 8th grade or younger. We
encourage course alumni for the 30 years of the Maryland
State Cross Country Championships and the Hereford
Invitational, active and former coaches, parents, and others
to register. This race is for men and women and is run on
the Bull Run Invitational 3-mile course at 12:30. The
registration form for this race is attached. $15 Reunion Run
fee if received by September 15. $18 on race day.
Volunteers and officials are free.
RESULTS: Robert Hall's firm WMD BTI will post varsity results shortly
after each race. Results will be posted on the web site
http://www.milesplit.com/dyestat/ during the weekend.
T-SHIRT ORDER FORM
Coach's name
School

Number of long sleeve sizes ordered ($15 each):
Medium
Large
Extra Large
Total amount enclosed $

Please make out a separate check to: BULL RUN INVITATIONAL
T-shirts will be sold for $18 on race day. Please mail this order form and a check to guarantee reservation of your shirts and receive the discounted price. These sell out quickly!