| Results, Pix and Stories | Donna on the Side: Part 1 Registration - Part 2 Race Day
Pix Pages: Boys ROC - Girls ROC - Seeded Boys - Seeded Girls - Small School Boys - Small School Girls
New venue for Great American, the $16 million SAS Soccer Park at Cary NC, draws rave reviews. Runners come up a short hill to finish with a half oval on the stadium grass.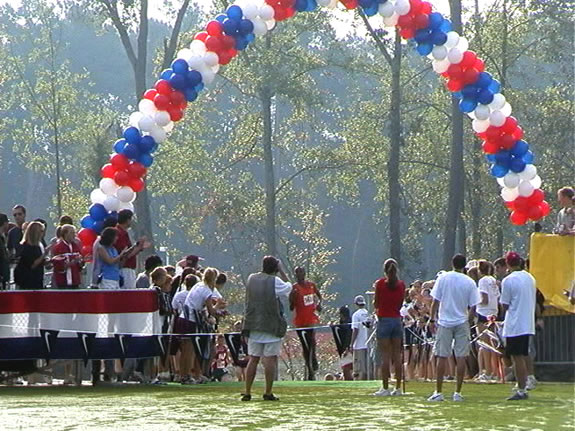 | Previews | High School Entries | Schedule | Prior Years | the meet's own web site | Directions |
the Colorado Connection - three of the four major races at the Great American were won by Denver runners. Denver West soph Mohamed Ige won the Boys Nike Race of Champions in frontrunning 15:48. Smoky Hill CO teammates Ryan Deak and Katelyn Kaltenbach won the seeded invitational races in the fastest times of the day -- Deak 15:26 and Kaltenbach 18:05.
Mohamud Ige -

grabbed the lead on the opening downhill and never relinquished it. Remembering his loss to Ryan Deak 2 weeks ago, Ige said, "I wasn't going to give up the lead this time."




Ryan Deak and Katelyn Kaltenbach - Each used a lethal kick to win. Deak "threw a few surges" at Gavin Coombs in the last mile and won comfortably. Kaltenbach wanted to run smart and not go out too fast, but almost waited too long. She made up 5 seconds in the last 400 meters and beat Jennie Barringer in a sprint to the finish by 0.4 second.


Strong claims for Number One ranking by
The Woodlands TX boys and Saratoga NY girls

Brian Sullivan - lead runner for The Woodlands TX boys. "The guy that won (Mohamud Ige) went out really hard, but I knew that we just needed to be patient. We did what we were supposed to do and we came out on top."


Action Pix pages
ROC Boys
ROC Girls
Seeded Boys
Seeded Girls
Small School Boys
Small School Girls



Dan Green - coach of The Woodlands TX boys, winners of 10 Texas state championships and 2 US#1 rankings in his 33 years of coaching. "This is the strongest team I've ever had." Recalling last year's loss when his first two runners were DQ'd for following Bobby Curtis off course, Green said, "We kind of had a score to settle, not with anybody in particular, but just with us. You hardly ever hear about that (a DQ) in a race like this. These guys trained really hard over the summer because they wanted to come back here and prove they could be Number One in the nation. When it was announced this year that we were the pre-season Number One, nobody was giddy about it. We thought that was a mythical thing. We hadn't done anything yet to earn it.We peaked for this. Now we are going to kick back and take some time off and then try to peak again for our state meet."


Nicole Blood - Coming off a tendonitis injury that knocked her out of the AOC Raleigh national outdoor meet in June, Blood resumed her place at the head of the Saratoga NY girls, who placed their five scorers in the top 22 finishers. "The injury made me realize how lucky I was. It's healed now, and I'm back to where I was or even better."


SATURDAY - High School
The best face to face team matchups of the year - 18 high school teams ranked in The Harrier's Super 25 - a glittering collection of Foot Locker individual candidates.
FRIDAY - College
Nike Race of Champions Men - Travis Laird 25:33.9 leads Northern Arizona 112 to repeat victory (Central Michigan 120)
Nike Race of Champions Women - North Carolina State 45, Shalane Flanagan North Carolina 16:44.6 - Wolfpack's tight pack (5-6-8-11-15) overcomes Tar Heels' 1-3-4 leaders.
University Women - North Florida 97, Jenny Lake, South Carolina St 18:29.9
University Men - Massachusetts-Lowell 55, Terah Kipchiris, Coastal Carolina 26:46.7
Small College Women - Johnson County 60, Marta Zimon, Milligan 19:53.5
Small College Men - Stonehill 44, Joe Soul, Stonehill 27:44.4
Donna on
the Side
at the Great
American

Part 1 - Registration Day - left, Sarah "Vanna White" Bowman of Virginia points out the letters on the course map. Sarah's also a Julia Roberts look alike.

Part 2 - Race Day
The Hill - the most significant feature of the course to runners is a 400-meter long inclined plain. It is traversed three times in the 5k configuration -- downhill at the start, a speed trap for the unwary, and uphill the second and third miles, a severe strength test.

Looking downhill from the start

Entering the woods at bottom of the hill
Nike Race of Champions
There are 30 races, but the heart of Great American from the start has been the Nike Race of Chmpions. Before Great American, top national teams rarely ran against each other. Marc Bloom provided national rankings in The Harrier magazine, but there were very few face to face tests of team strength. The Nike Race of Champions annually pits 10 or more national boys and girls team powers in an early season matchup.
New owners and a new venue mark the 5th running of the Great American Cross Country Festival. Since Rick Hill launched the Festival in Charlotte in 1999, it has been a unique event that lives up to the name festival. It is now a fixture on the high school and college cross country calendar. The new owners, National Scholastic Sports Foundation, promise to use their long experience of running national indoor and outdoor meets to make GACCF bigger and better than ever. NSSF is grooming the SAS Soccer Park to overcome the problems of previous venues and become a permanent home for the festival.
High School Entries
High School entries feature many top ranked national teams and individuals. The ROC has 18 teams ranked in The Harrier's Super 25 national team rankings List #2 September 22, headed by US#1 The Woodlands TX boys and US#2 Saratoga Springs NY girls. Four more teams are ranked in The Harrier's top 10 regional teams.
Unattached Individuals
63 unattached high school runners will compete in the Great American. The individual runners are entered in the Seeded Invitational races, except for four girls who will run in the Adult Open race Friday night. The individual entries include many top ranking runners: Andy Biladeau FL, Gavin Coombs CT, Ryan Deak CO, Victor Gras MA, Chris Spooner PA, Erik Stanley TX, Sarah Bowman VA, Jessica Cickay PA, Katelyn Kaltenbach CO, Carmen Mims KY, Jenny Morgan OH, Katie Niehaus SC, Katie Albright NC, and Lindsey Scherf NY.
Previews
Plenty of room for team tents
on spacious grounds of the SAS Soccer Park.

Nike representatives at the meet
Josh Rowe, director of youth running (right),
with Nike runners Kara and Adam Goucher.

Prior Years
Schedule
FRIDAY, SEPTEMBER 26
1 Small College Women 5K 2:15 pm
2 Small College Men 8K 2:45 pm
3 University Women, Seeded 5K 3:15 pm
4 University Men, Seeded 8K 3:40 pm
5 Nike Race of Champs, Univ. Women 5K 4:15 pm
6 Nike Race of Champs, Univ. Men 8K 4:40 pm
7 Univ "B", Open & Club Women 5K 5:15 pm
8 Univ "B", Open & Club Men 8K 5:40 pm
9 Corporate Challenge, Men + Women 3K 6:15 pm

SATURDAY, SEPTEMBER 27
10 Community Fun Run 2K 7:30 am
11 Small School Champ, Boys 5K 7:55 am
12 Small School Champ, Girls 5K 8:20 am
13 Nike Race of Champions, Boys 5K 9:00 am
14 Nike Race of Champions, Girls 5K 9:25 am
15 Invitational Boys, Seeded 5K 9:50 am
16 Invitational Girls, Seeded 5K 10:15 am
17 Invitational Boys, Red 5K 10:40 am
18 Invitational Boys, White 5K 11:05 am
19 Invitational Boys, Blue 5K 11:30 am
20 Invitational Girls, Red 5K 11:55 am
21 Invitational Girls, White 5K 12:20 pm
22 Invitational Girls, Section Blue 5K 12:45 pm
23 JV Boys, Section I 5K 1:10 pm
24 JV Boys, Section II 5K 1:35 pm
25 JV Girls, Section I 5K 2:00 pm
26 JV Girls, Section II 5K 2:25 pm
27 Special Scholastic Boys 5K 2:50 pm
28 Special Scholastic Girls 5K 3:15 pm
29 Elementary School 2K 3:40 pm
30 Middle School Boys & Girls 3K 4:00 pm


Directions
SAS Soccer Park, Cary, NC
From Raleigh Durham International Airport and from the West: Exit the airport and take I-40 Eastbound. Exit at exit #290. Take right at the end of the ramp. Go 100 yards to first traffic light, make left turn. Go ¼ miles; street ends on Chapel Hill Road. Park is directly across the street. Make right, go 50 yards, and make left into the Park.
From East: Take I-40 to Exit #290. Make right at end of the ramp to first traffic light. Follow directions above to the Park
Admission
Admission to the course, Soccer Park and event is FREE to everyone.
Parking
Each team will be giving a parking pass at registration. It must be displayed at all times. For all other cars there will be a $10.00 per day parking fee.